---
Crew
Director – Gary Nelson, Screenplay – Gene Quintano & Lee Reynolds, Based on the Novel Quatermain by H. Rider Haggard, Producers – Yoram Globus & Menahem Golan, Photography – Alex Phillips, Additional Photography – Frederick Elmes, Music – Michael Linn, Visual Effects – Cannon Films Visual Effects Division (Supervisor – Ermano Bramonte), Flying Effects – Kevin Mathews, Mechanical Effects – Germano Natali, Makeup – Colin Arthur, Production Design – Trevor Williams, Additional Production Design – Leslie Dilley. Production Company – Cannon.
Cast
Richard Chamberlain (Allan Quatermain), Sharon Stone (Jesse Houston), James Earl Jones (Umslopogaas), Robert Donner (Swarma), Henry Silva (Agon), Martin Rabbett (Robeson Quatermain), Aileen Marson (Nyleptha), Doghmi Larbi (Nasta), Cassandra Peterson (Sorais)
---
Plot
Allan Quatermain and Jessie Houston are preparing to leave Africa and return to America to marry. A man being pursued by natives suddenly collapses on their doorstep, babbling feverishly about Quatermain's missing brother Robeson and a lost city of plentiful gold. And so Quatermain and Jesse abandon their travel plans and set out on an expedition to find the lost city.
---
Allan Quatermain and the Lost City of Gold is a sequel to Cannon's King Solomon's Mines (1985). Both films were reportedly shot back-to-back, although how much this was the case is a good question – Quatermain has a different director and technical crew to King Solomon's Mines, while there are also a number of credits for additional filming. Almost every comment I have read concerning Allan Quatermain and the Lost City of Gold tends to talk about it in the tones of ridicule reserved for the works of Edward D. Wood Jr, with several even go so far as to call it "the worst movie they have ever seen."
Certainly, Allan Quatermain and the Lost City of Gold is a slightly better film than Cannon's King Solomon's Mines, although this is hardly a recommendation – the excruciating camp has merely been toned down and Richard Chamberlain's unctuous quips kept to a minimum. (Lost City of Gold does have the significance of sporting more of H. Rider Haggard's novel King Solomon's Mines (1885) than the previous film did, even though it credits one of Haggard's Quatermain sequels as source). On the other hand, it is not particularly good film either.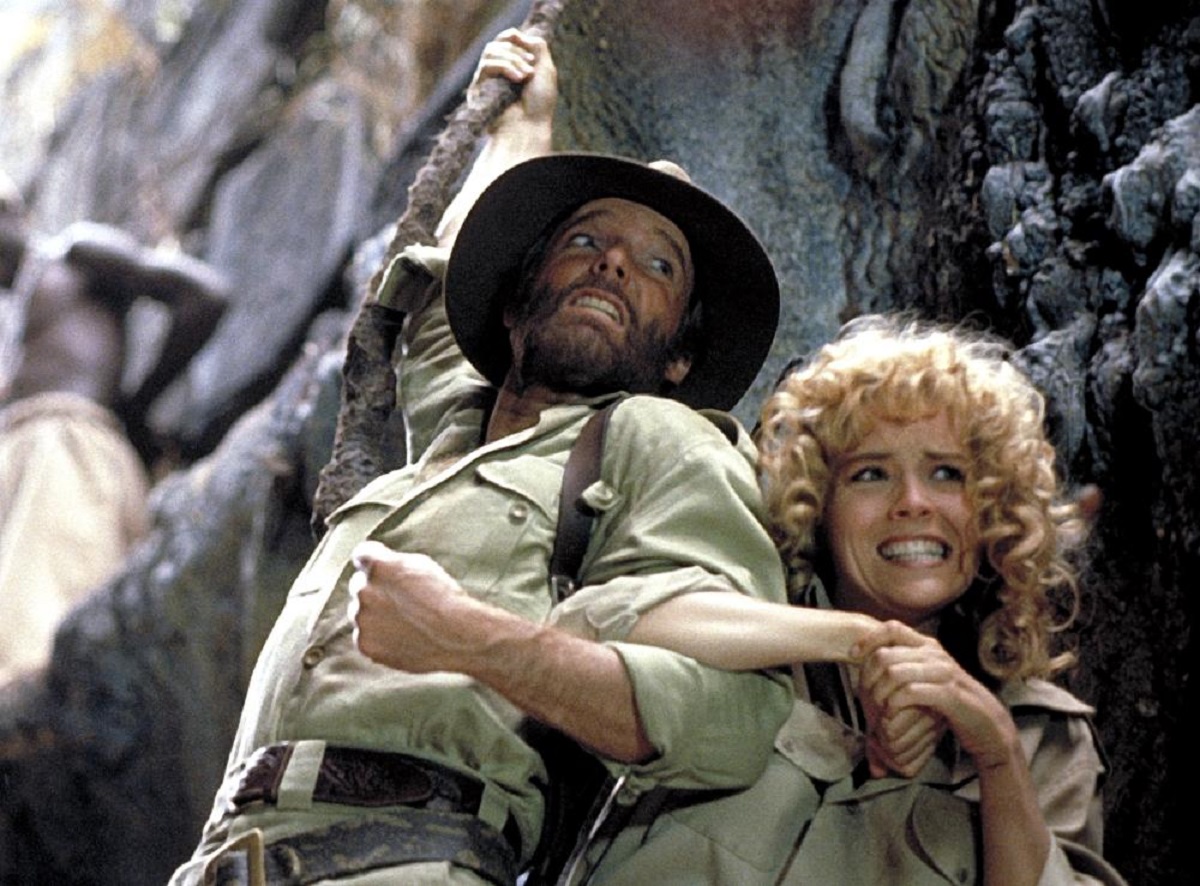 Sharon Stone (who appeared in these films way before becoming a major star) has a demeaning role that requires her to spend the entire film screaming – there is one particularly ridiculous scene where she tries to tell a nest of snakes to attack a pursuer. Henry Silva hams atrociously in his role as the high priest, only being outdone by the gibbering, quivering idiocy that one would hesitate to say passes for Robert Donner's performance as a cowardly mystic. An award-winning actor like James Earl Jones must have wondered what he was doing in a film like this – and only have been thankful that it finds nothing for him to do. (One can also spot Elvira herself, Cassandra Peterson, playing one of the queens of the lost city – the bad one, naturally).
One hesitates to level racial criticisms at these Great White Hunter films – it is a genre that necessarily requires an acceptance of certain caricatures – but the idiocy with which anyone in the film of dark skin is portrayed borders on the offensive.
Allan Quatermain was directed by Gary Nelson, a veteran tv director best known for his work at Disney, which included films like Freaky Friday (1976) and The Black Hole (1979). To his credit, Nelson does a better job than J. Lee Thompson did in the original. The widescreen photography at least gives an expansive look to the climax during the native attack on the city and the fight over the Pit of Sacrifice. The effects, opticals and sets however are still as cheap and unconvincing as they were first time around.
---
---