(I Sette Magnifici Gladiatori)
---
USA. 1985.
Crew
Director – Bruno Mattei, Screenplay – Claude Fragass [Claudio Gragasso], Producer – Alexander Hacohen, Photography – Silvano Ippoliti, Music – Dov Seltzer, Special Effects – Alain & Jean-Manuel Costa, Art Direction – Armand Mellon. Production Company – Cannon.
Cast
Lou Ferrigno (Han), Carla Ferrigno (Pandora), Sybil Danning (Julia), Brad Harris (Scipio), Dan Vadis (Nicorette), Barbara Pesante (Anakora), Yehuda Efroni (Emperor), Mandy Rice-Davies (Lucilla), Robert Mura (Vendrix), Ivan Beshears (Goliath)
---
Plot
The warlord Nicorette conducts a reign of terror. He is unable to be killed because of the powers of immortality bestowed upon him by his mother, the blind witch Anacora. A group of village women led by Pandora go to Anacora for help and she gives them a sword forged by the gods, the only thing that can kill Nicorette. However, this is only able to be wielded by one destined man – any others who try to pick it up will have their hands burned. The women set out on a quest to find the one wielder, along the way gathering a ragtag band of fighters to come to their village's aid.
---
The basic plot of Akira Kurosawa's The Seven Samurai (1954) has passed through an remarkable number of variations on film – Kurosawa started it off in shogunate Japan, The Magnificent Seven (1960) updated it to the Wild West, Message from Space (1978) and Battle Beyond the Stars (1980) set it outer space, World Gone Wild (1988) in a post-holocaust venue, while The Seven Magnificent Gladiators rewrites it for the Italian sword-and-sandal cycle.
The Seven Magnificent Gladiators bears all the hallmarks of the Italian Peplum cycle, more commonly known as the sword-and-sandal genre, that was at its height in the early 1960s – it was shot in Italy with an Italian production crew, it features men with big muscles including some of the stars of the original 1960s Italian muscleman film (Brad Harris, Dan Vadis). In actuality, the film was made by US-based producers Menahem Golan and Yoram Globus. The film was shot fairly much back-to-back with Golan-Globus's Hercules (1983), an hysterically awful revamping of the original Italian muscleman movie, which also starred Lou Ferrigno, Sybil Danning and Brad Harris. [Sybil Danning had also appeared in the aforementioned Seven Samurai revamping Battle Beyond the Stars].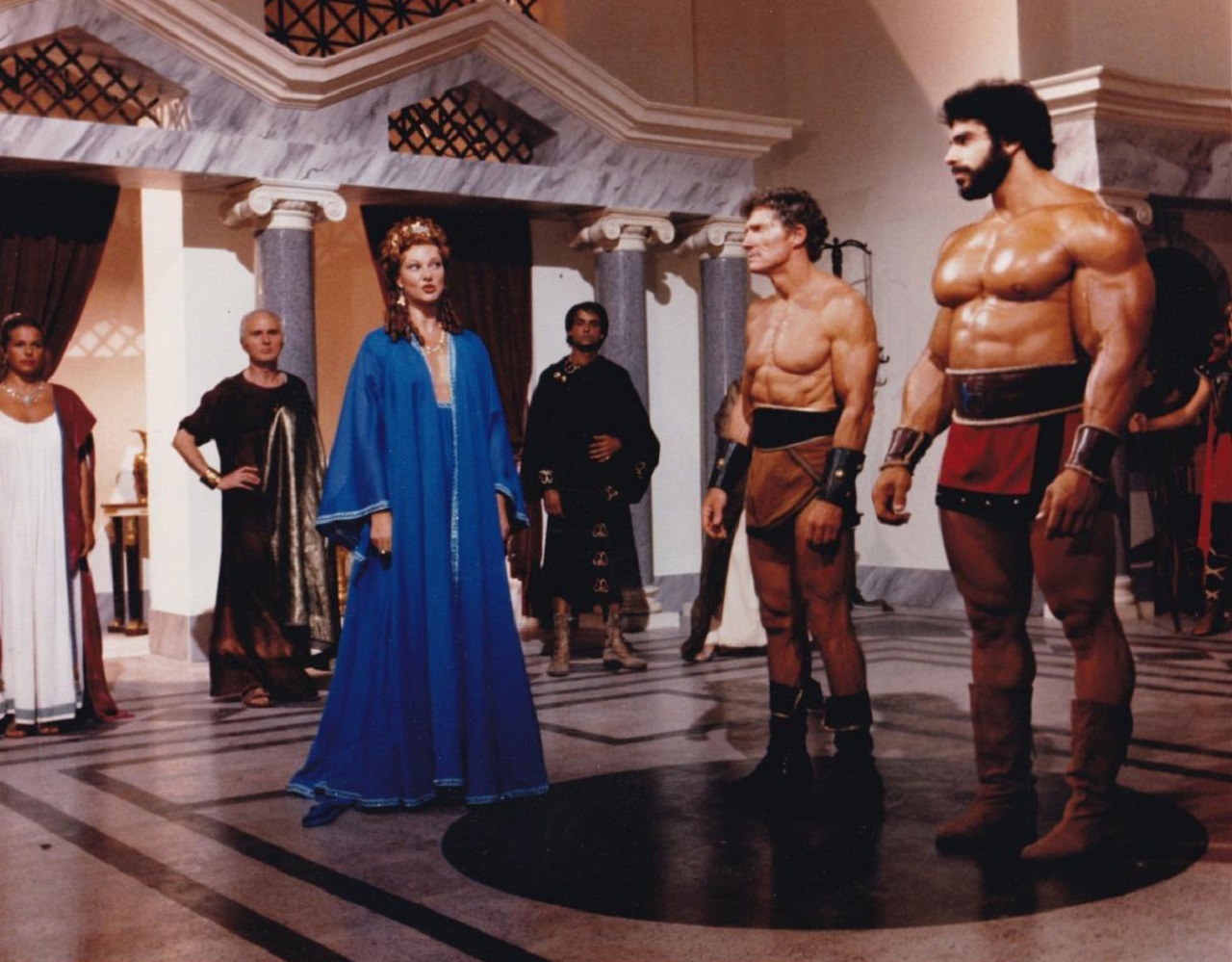 The usual silliness of the Italian sword-and-sandal films – bad dialogue/dubbing/acting – results. The film has been shot entirely on location in Ancient Roman ruins – there are no interiors or constructed sets, for instance. The result is more like a group of grown people playing hide'n'seek than any adventure that one can take seriously. The stunt-work is shoddy, with obvious cuts made whenever swords are meant to strike.
The film certainly has an unusual cast – one of the village women is played by Mandy Rice-Davies who achieved a certain notoriety in 1962 as one of the call-girls caught with Britain's war minister John Profumo.
Bruno Mattei aka Vincent Dawn (1931-2007) was an Italian director of this era. In genre material, Mattei also made the nun horror Hell of the Living Dead/Zombie – Creeping Flesh (1980), The Other Hell (1981), Rats Night of Terror (1984), Robowar (1988), Terminator II/Shocking Dark (1989), Death by Telephone (1994), Eyes Without a Face (1994), Cruel Jaws (1995), Snuff Killer (2003), Cannibal Holocaust 2 (2004), Land of Death/In the Land of Cannibals (2004), The Tomb (2006), Island of the Living Dead (2006) and Zombies The Beginning (2007). Screenwriter Claude Fragass (real name Claudio Fragasso) later went on to direct the notorious bad movie Troll 2 (1990)
---
Full film available here
---