---
Hungary/West Germany/Austria. 1988.
Crew
Director – Istvan Szabo, Screenplay – Istvan Szabo & Peter Dobai, Producer – Artur Brauner, Photography – Lajos Koltai, Music – Gyorgy Vukan, Art Direction – Jozsef Romvari. Production Company – Objektif Studio-Hungarofilm/Mokep/CCC Filmkunst/ZDF.
Cast
Klaus Maria Brandauer (Erik Jan Haunssen/Karl Schroeder), Erland Josephson (Dr Bettelheim), Karoly Eperjes (Captain Nowotny), Grazyna Szapolowska (Valerey de la Meer), Adriana Biedrzynska (Wally), Gyorgy Cserhalmi (Count Trantow-Waldbach), Walter Schmidinger (Joseph Goebbels), Idiko Bansagi (Sister Betty), Colette Pilz-Warren (Dagma)
---
Plot
In 1918, German soldier Karl Schroeder is wounded in action. He is placed in the hospital of Dr Bettelheim who uses hypnosis to calm Karl's anxiety and nightmares. Karl becomes fascinated with hypnosis and is soon able to employ it himself to calm a crazed soldier who is threatening to detonate a grenade. Amazed at Karl's hypnotic abilities and gift of being able to predict things that are about to happen, Bettelheim places him on the stage. Choosing the name Erik Jan Hanussen, Karl's remarkable predictions make him a sensation in post-War Berlin. His prediction that Adolf Hitler will become the Chancellor in 1933 unwillingly propels him into the political arena, even though he assiduously avoids taking sides and claims merely to tell what he sees. However, when Hanussen predicts the burning of the Reichstag, this has him labelled as seditious by the Nazis.
---
This fine effort comes from the Austrian director Istvan Szabo and actor Klaus Maria Brandauer who previously collaborated on the acclaimed Mephisto (1981) and Colonel Redl (1985). Also on board is Erland Josephson who had a previous encounter with stage hypnotists in Ingmar Bergman's The Magician/The Face (1958).
Szabo constructs a tight plot and Klaus Maria Brandauer, one of the most underrated of all European actors, makes the most of the sharp, clever dialogue. Szabo stages the film dynamically and it is never more captivating than when Brandauer is on screen – persuading an hysterical soldier to give him a grenade and go to sleep, sweeping a whole courtroom onto his side, humiliating a heckler by hypnotising him into thinking he is a rooster, or convincing a woman to set a curtain on fire by conjuring memories of her childhood. Szabo also mobilises the character of Hanussen as a potent symbol of the historical transition that Germany underwent in the period between the two World Wars. Hanussen is an absolutely fascinating film.
The only complaint is the lack of interest in the background, which may well be due to budgetary reasons. The opening battlefield scenes are unconvincing – there is a complete deficiency of any mud and dirt. Berlin in between the Wars is one of the most fascinating periods of Twentieth Century histor, but little of that is shown bar one obligatory decadent party scene and a mention, while nothing is shown of the country's massive over-inflation and economic collapse.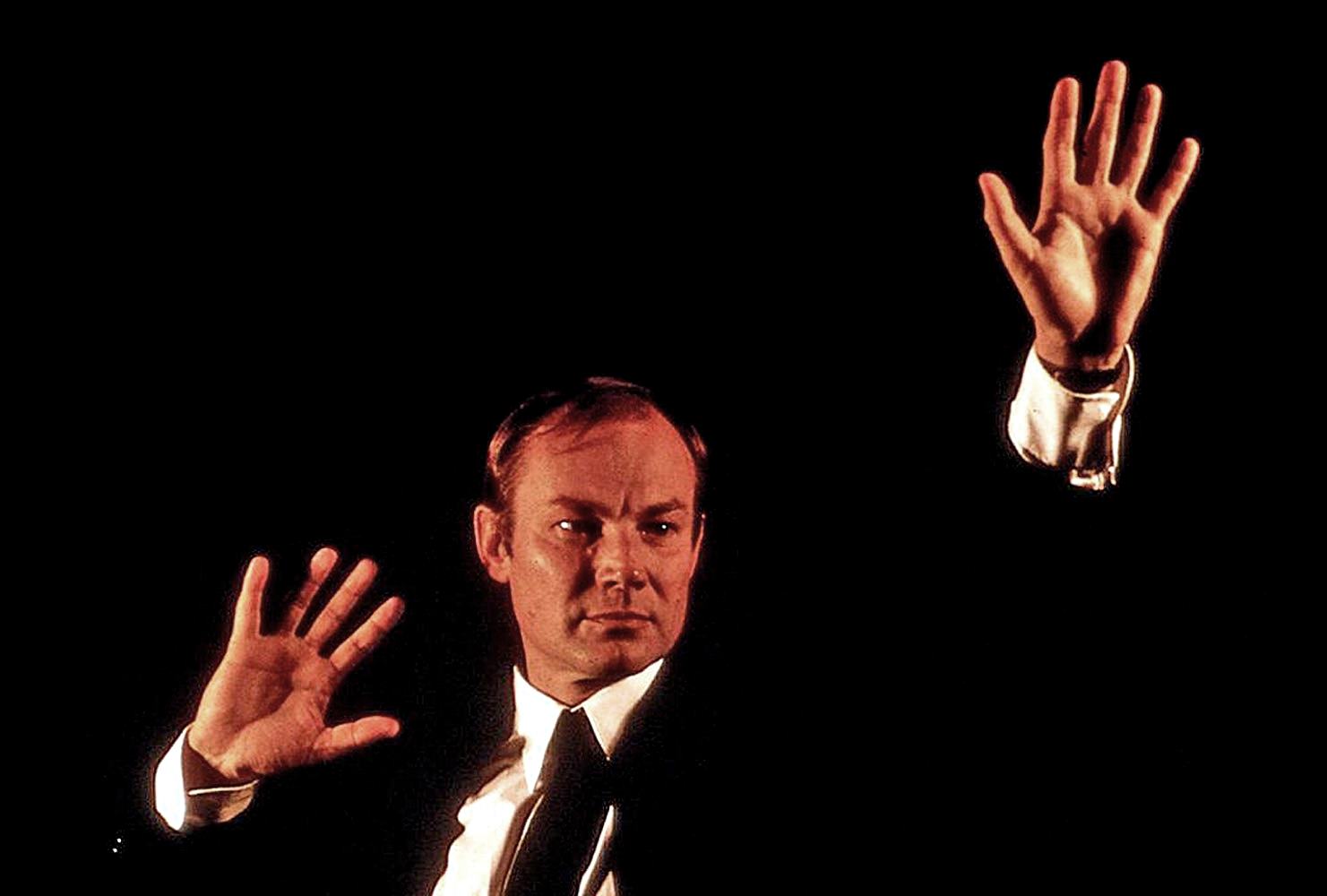 One of the interesting things about the film is that Erik Jan Hanussen was a real person – a stage hypnotist, astrologer and supposed clairvoyant who operated a theatre in Berlin just before the Second World War. Although, as soon as you read about the real Hanussen, the film here becomes an almost complete fiction if not whitewash. As opposed to the figure presented here, the real Hanussen was a charlatan who sought favour with Nazis, made predictions that Adolf Hitler was a great man and had high-ranking members of the Nazi Party, including reportedly Hitler himself, coming to seek divinations. The bizarre irony of this was that, despite his favour with Nazis, Hanussen was born a Jew but kept his origins well disguised. He was murdered under mysterious circumstances in 1933.
A more historically realistic version of Hanussen was depicted in the Werner Herzog film Invincible (2001) where Hanussen (as played by Tim Roth) is seen as nasty and bullying. Herzog's film concerns the also true character of a Jewish-Polish strongman that is hired as part of Hanussen's act but caused a sensation when he refused to deny his ethnicity.
An earlier version of the story, Hanussen (1955), co-starring Klaus Kinski, was made in West Germany, although is not available in English.
---
---