---
Crew
Director – Matt Clark, Screenplay – Hugh Leonard, Based on his Play Da and his Novel Home Before Night, Producer – Julie Corman, Photography – Alan Kivilo, Music – Elmer Bernstein, Special Effects – Maurice Foley, Production Design – Frank Conway. Production Company – Filmdallas.
Cast
Martin Sheen (Charlie Tynan), Barnard Hughes (Da), Karl Hayden (Young Charlie), Doreen Hepburn (Mother), William Hickey (Drumm)
---
Plot
Playwright Charlie Tynan is preparing for the opening of his new play when he receives a phone call to inform him that his father has died. He flies back to his childhood home in Ireland for the funeral. Wandering through the house and remembering growing up, he is joined by the ghost of his curmudgeonly, irascible father or 'Da' who refuses to lie down and stay dead.
---
This charming film was a labour of love for most of those involved – for star/executive producer Martin Sheen who laboured for some ten years to bring the project to the screen, and for producer Julie Corman (the wife of Roger Corman – this is a film that is light years in quality away from the usual B-budget exploitation films associated with the Corman name).
This was particularly the case for Irish writer Hugh Leonard who has, with a regard that could almost be called obsessive, reworked this autobiographical memoir both as a two-volume novel – Home Before Night (1979) and Out After Dark (1989) – and as a stageplay – Da (1974), which also originally starred Barnard Hughes who plays the title character here – before tackling the screenplay for the film. Da has so far been the only directorial outing for Matt Clark who is better known as an actor.
The collective effort has paid off and Da is a film of great charms. Indeed, one is hesitant about calling Da a ghost story at all – it has more in common with The Odd Couple (1968) than it does The Haunting (1963). The film's greatest success is its casting. (The oddest thing about this is an evocation of Ireland where the principal actors are all American, although all the actors manage a particularly good grasp of regional colloquialism). One is used to Martin Sheen in bland, painedly sincere roles and seeing him play with wry wit and tenderness is an effectively surprising turn. The centre of the show though is Barnard Hughes' performance as the titular Da, which he plays with a great obstinate charm – it is a shame that Hughes' performance here was overlooked when it came to awards season that year.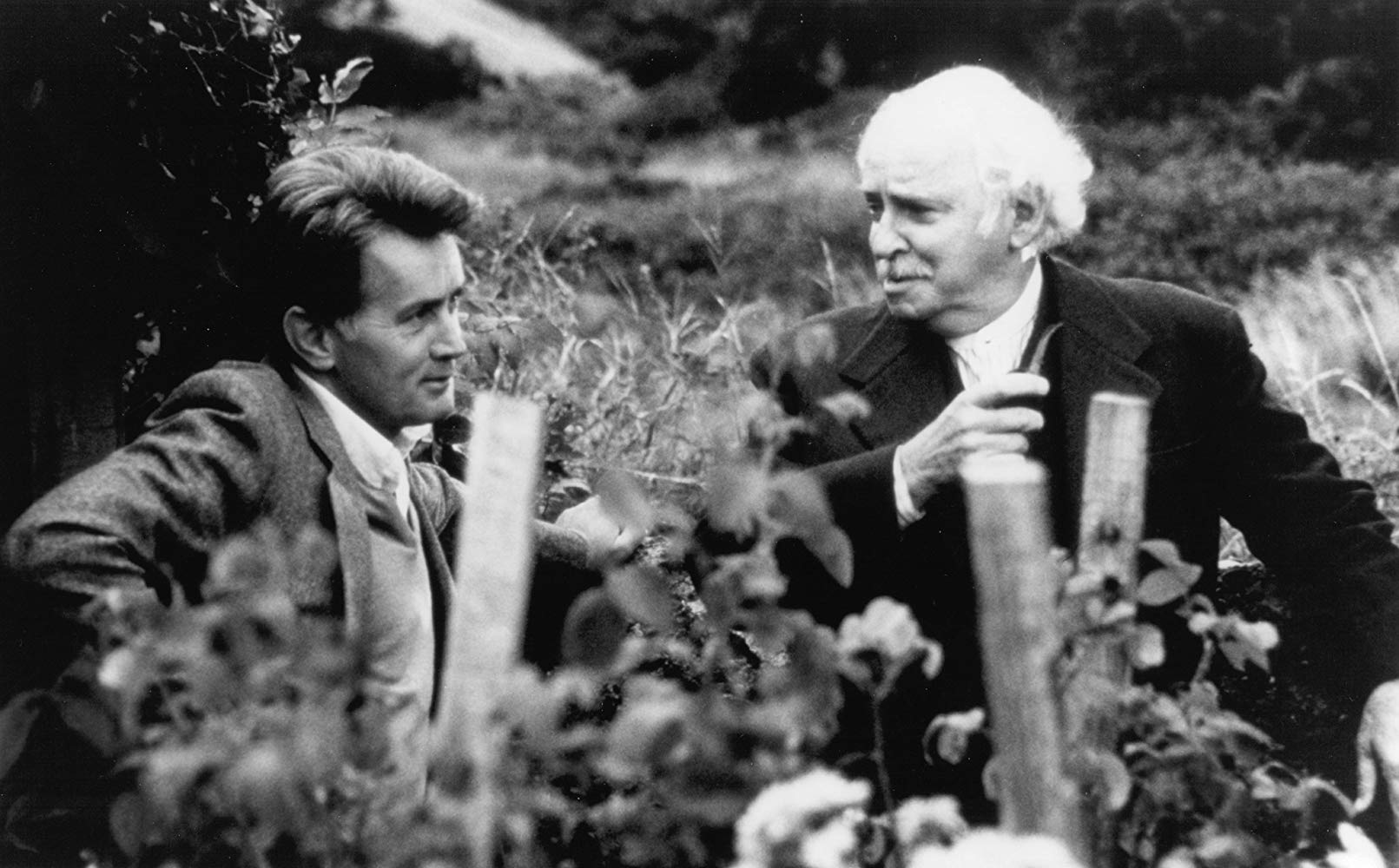 The writing is wry and sardonic. Hugh Leonard does a perceptive of turning the character of Da inside out – the whole film is no more than a tribute to his cranky, irascible and stubborn-headed father. Leonard resolutely refuses to let the film become the sentimental story that a Hollywood mainstream equivalent with an eye toward the awards would opt for. There are many moments in the film that come with a wonderfully sly wit – like Barnard Hughes' interruption of young Charlie's nervous attempts to pick up a girl where he succeeds in charming her himself.
Hugh Leonard's narrative playfulness is particularly clever. He refuses to conduct anything like a simple autobiographic memoir but instead resurrects the father as a ghost and allows Martin Sheen's present self to walk through the past – there is a lovely moment when middle-aged Sheen meets up with his younger self (Karl Hayden) who berates him about the loss of his ideals.
---
---