---
Crew
Director – John Lee Hancock, Screenplay – Kelly Marcel & Sue Smith, Producers – Ian Collie, Alison Owen & Philip Steuer, Photography – John Schwartzman, Music – Thomas Newman, Visual Effects – Cosa VFX & Luma Pictures (Supervisors – Vincent Cirelli & Simon Mowbray), Special Effects Supervisor – J.D. Schwalm, Production Design – Michael Corenblith. Production Company – Disney/Ruby Films/Essential Media & Entertainment/Hopscotch Features/BBC Films.
Cast
Emma Thompson (P.L. Travers), Tom Hanks (Walt Disney), Colin Farrell (Travers Robert Goff), Annie Buckley (Young P.L. Travers), Paul Giamatti (Ralph), Ruth Wilson (Margaret Goff), Bradley Whitford (Don DaGradi), Jason Schwartzman (Richard Sherman), B.J. Novak (Robert Sherman), Kathy Baker (Tommie), Melanie Deanne Moore (Dolly Voght-Scott), Rachel Griffiths (Aunt Ellie), Ronan Vibert (Diarmuid Russell), Andy McPhee (Randolph Bellhatchet)
---
Plot
In 1961, P.L. Travers, the author of the Mary Poppins books, is persuaded to travel to Hollywood to meet with Walt Disney to discuss leasing him the rights to the books for a planned film adaptation. Travers deplores the idea but does so out of financial necessity. Once in America, she abhors the culture around her and dismisses Disney's efforts to charm her. In the meetings with screenwriter Don DaGradi and the Sherman Brothers who will write the songs, she disapproves of just about every aspect of the proposed film. This leaves Disney and the rest of the team tearing their hair out in frustration. Through the process, Mrs Travers remembers back to her own childhood growing up in Australia and the difficult relationship she had with her father and his problems with alcohol.
---
Saving Mr. Banks is a film about the making of Mary Poppins (1964). In particular, the film concerns itself with the creative struggle that occurred between Australian-born author P.L. (Pamela Lyndon) Travers (1899-1996) who was extremely reluctant to release the movie rights to the books and Walt Disney who was determined to obtain them. His two-decade persistence resulted in a compromise in which he agreed to surrender creative say-so to Travers over almost every aspect of the production.
Saving Mr. Banks falls into a certain sub-genre of biopics that concern themselves with genre authors. Others in this vein might include Finding Neverland (2004) concerning Peter Pan creator J.M. Barrie and Miss Potter (2006) about Beatrix Potter. You could also look to filmic equivalents like Gods and Monsters (1998) and Hitchcock (2012). There is a fascination in these in tracing the development of key works through the lives of their creators. In this respect, Saving Mr. Banks accepts the thesis argued in the documentary The Shadow of Mary Poppins (2002) that Mary Poppins was created by P.L. Travers as an idealised response to her troubled relationship with her alcoholic father (who becomes represented in the Mary Poppins stories by the children's father Mr Banks).
There is also the tendency in these films to write cleaned-up, if not completely fictionalised narratives – Finding Neverland being a particularly onerous example. Some of P.L. Travers' life is cleaned up – we get no mention of Madge Burnand who was believed to be her lesbian companion for many years, nor of the son she adopted. I would also question whether there actually was the figure of the nanny (played by Rachel Griffiths) who entered the Goff household and became the clear model for Mary Poppins – from interviews I have seen, Travers gave no indication of such a figure when asked about the inspiration for Mary Poppins (although Travers did admittedly fictionalise much of her own biography).
In that Saving Mr. Banks is co-produced by Disney, Travers' response to the Mary Poppins film is made into an overwhelmingly positive one whereas in reality she had a love-hate affair with the film ever after – on one hand, sending Disney a telegram after the premiere saying how much she loved it, but reviling other aspects (the casting of Dick Van Dyke, the animation) such that she refused to release any sequel rights for many years but then changed her mind and became involved with one for Disney in the 1980s. She would only sanction the making of a Broadway version (which appeared in 2004 after her death) so long as no Americans were involved in the production.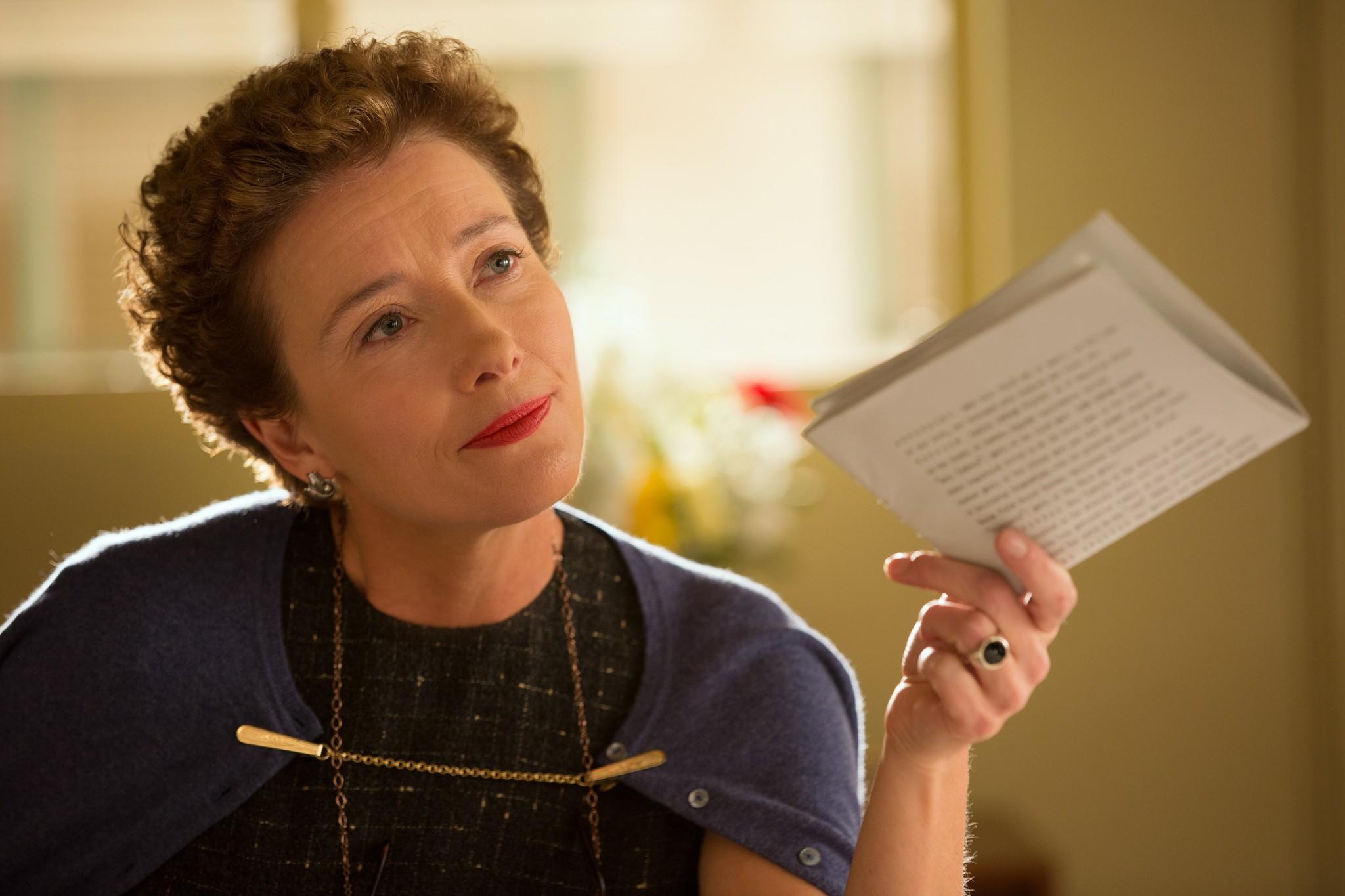 That said, the audio recordings of the pre-production sessions for Mary Poppins are played over the end credits (where we get to hear Travers' actual voice) and the surviving Sherman Brothers Richard is present as a consultant, so you get the impression that the film has made an effort to follow what happened as much as possible.
In reality, Saving Mr. Banks resembles less Finding Neverland or Miss Potter than it does Dreamchild (1985), the Dennis Potter scripted film in which the aging Alice Liddell, the model for Lewis Carroll's Alice in Wonderland (1865), travels to the US. Both films are centred around the idea of an aging and iron-willed spinster coming up against unrefined American culture where by the end both change the other in surprisingly affecting ways. Both are in essence the comedic playing out of the contrasts between staid British traditionalism and vibrant but vulgar American popular culture, eventually allowing the old lady to rediscover aspects of her childhood.
Much of Saving Mr. Banks plays out on our recognition factor about Mary Poppins. The amusement in the film is in seeing Emma Thompson's P.L. Travers disapproving of just about every aspect of the classic we are familiar with from the inclusion of animation to all the familiar songs, the way the Banks house should look, even to Mr Banks having a mustache. There are all manner of cute in-jokes, like her saying she will have "a spoonful of sugar" with her tea. The writing in the way the battle reflects her memories of her childhood and how these eventually reconcile at the end is very well done. The film gets an enormous emotional uplift out of finally seeing her give in and the charm of the scene with her dancing with Jason Schwartzman. There film also achieves a very nice sense of period with perfect recreations of LAX and Disneyland the way it looked back during the 1960s without having to resort to cliches ie. characters turning on tv's and being instantly bombarded by the formative events of the period.
The film is a triumph for Emma Thompson who received several awards nominations for the part. The role of the prim, proper Englishwoman with the sharp tongue is something that Thompson can do in her sleep and she carries it off to perfection. Without her, the film would be considerably the less. The role also seems a personal one for Thompson in that one should remember she played a Mary Poppins-modeled character in Nanny McPhee (2005) and Nanny McPhee and the Big Bang/Nanny McPhee Returns (2010), which she also wrote (and it should be noted changed the original character of Nurse McPhee in the books to become more of a Mary Poppins-like nanny).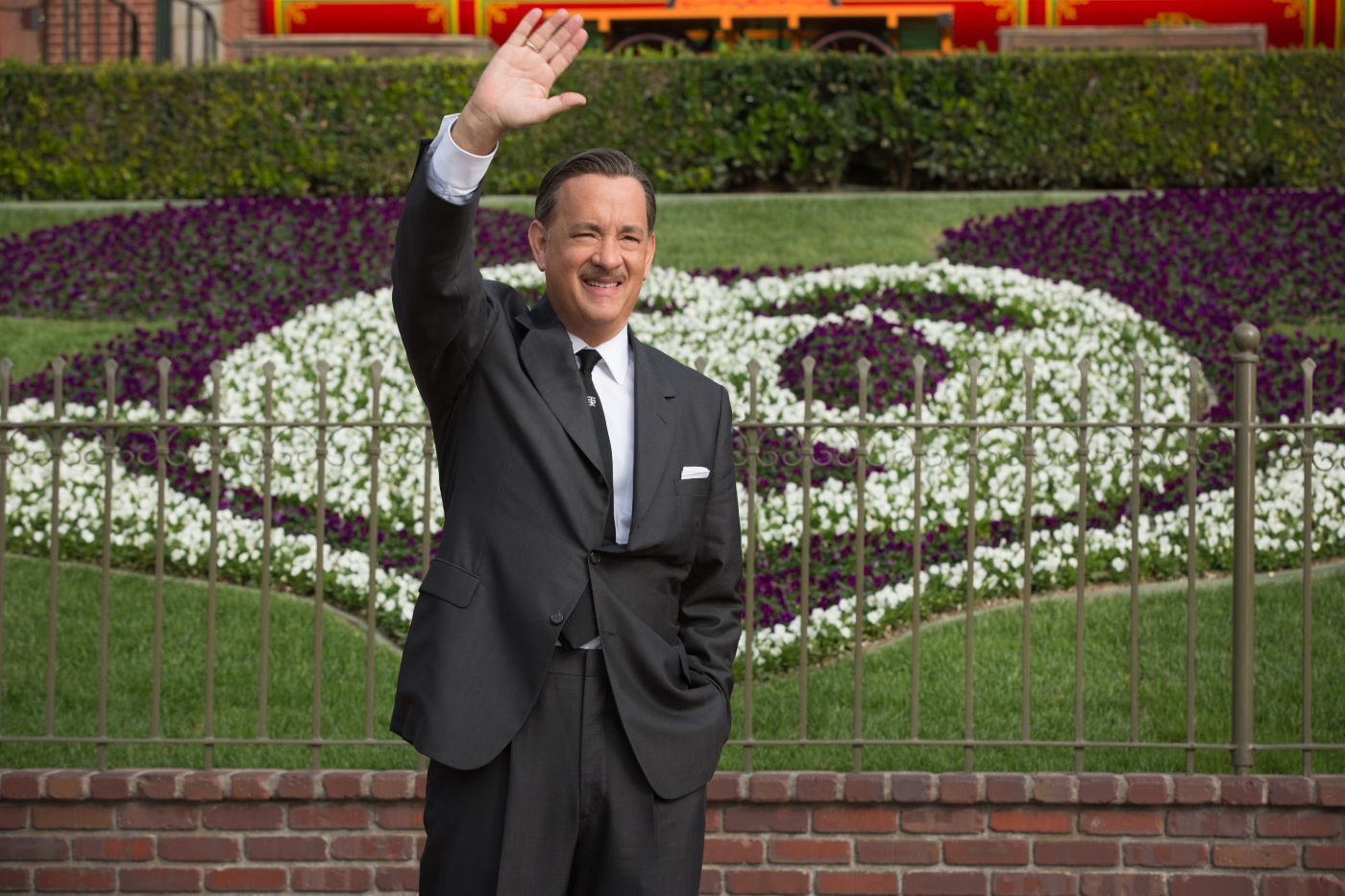 Tom Hanks looks about twenty years too young to be a Walt Disney who one should remember was in his early sixties at the time of the film's timeframe (and died only two years after Mary Poppins was released). Nevertheless, Hanks barnstorms with great effect opposite Emma Thompson and gets the essential character of Walt down well such that those who knew Disney have spoken about the striking recreation of his mannerisms.
Saving Mr. Banks was the fifth film from director John Lee Hancock who had previously made the non-genre likes of The Rookie (2002), The Alamo (2004), The Blind Side (2009) and subsequent to this The Founder (2016). The script for Saving Mr. Banks comes from British writer Kelly Marcel, daughter of Terry Marcel, the British director of the cheap fantasy film Hawk the Slayer (1980). Kelly Marcel was previously creator/producer on the tv series Terra Nova (2011) and subsequent to this wrote the adaptation of Fifty Shades of Gray (2015) and the Marvel Comics film Venom (2018). Her script for Saving Mr. Banks apparently sat on the Hollywood Black List of best unproduced screenplays.
Subsequent to this film, Disney revived Mary Poppins for Mary Poppins Returns (2018).
(Winner in this site's Top 10 Films of 2013 list. Winner for Best Adapted Screenplay and Winner for Best Actress (Emma Thompson) at this site's Best of 2013 Awards).
---
---