(Nochnoy Dozor)
---
Russia. 2004.
Crew
Director – Timur Bekmambetov, Screenplay – Timur Bekmambetov & Laeta Kalogridis, Based on the Novel by Sergei Lukyanenko, Producers – Konstantin Ernst & Anatoli Maksimov, Photography – Sergei Trofimov, Music – Yuri Poteyenko, Visual Effects Supervisor – Vladimir Leschinski, Animation Supervisor – Victor Luckysov, Special Effects Supervisor – Petr Gorshenin, Production Design – Mukhtar Mirzakeyev & Valeri Viktorov. Production Company – Channel One Russia/Bazelevs Production.
Cast
Konstantin Khabensky (Anton Gorodetsky), Vladimir Menshov (Boris Gesser), Mariya Poroshina (Svetlana Nazarova), Galina Tyunina (Olga), Dmitri Martynov (Yegor), Anna Dubrovskaya (Larisa), Aleksei Chadov (Kostya), Aleksandr Samojlenko (Bear), Anna Slyusaryova (Tiger Cub), Ilya Lagutenko (Andray), Zhanna Friske (Alice), Rimma Markova (The Witch), Viktor Verzhbitzky (General Zavulon), Aleksei Maklakov (Semeon)
---
Plot
There exist supernatural beings known as Others who are divided into forces of Light and Dark. Centuries ago both sides were pitted against one another in a massive battle. The opposing generals saw that they were so evenly matched that the conflict would destroy both sides and decided upon a truce. They agreed to create two forces – the Night Watch and the Light Watch – to police and maintain the balance. In Moscow of 1992, Anton Gorodetsky goes to a witch to ask her to cast a spell to bring the woman he loves back to him and abort the other man's child that she is pregnant with. Just as the witch is about to cast the spell, members of the Night Watch burst in and fight to prevent the witch clapping her hands and completing it. Anton is able to see them and they realise that he is one of The Others. Twelve years later and Anton is working with the Night Watch. He is assigned to follow a young boy Yegor who has been given The Call, which places him in a hypnotic trance that distantly draws him to come to a vampire. Anton breaks the Truce by killing the vampire Andray. Andray's lover Larisa, a human that he converted to vampire with the Night Watch's permission, is still alive and uses The Call to draw Yegor back to feed her hunger. While on the metro, Anton also sees the woman Svetlana and realises that she has a curse on her that is creating a massive storm over Moscow and drawing an airliner down to crash into the city.
---
Night Watch – which should not be confused with Ole Bornedal's Danish thriller Nightwatch (1994) and its English-language remake Nightwatch (1998) – created a great deal of buzz before it appeared in the West. It was the biggest box-office success ever in its native Russia. The film's relatively low budget (only the equivalent of $US 5 million) yet extraordinary ambition in terms of scope and special effects became a major talking point. That talking point also became a very divided one. In Russia, Night Watch was slammed for attempting to become the Russian equivalent of a Hollywood blockbuster. (Although this surely seems a flawed argument that assumes that the only films a foreign country should make are serious cultural ones and that to aspire to commercial success is a bad thing). In English-speaking countries, Night Watch met a reception that vied between praising the film's visuals and dismissing it for an overly complex and confusing storyline. It nevertheless gained a small cult.
The film is adapted from Night Watch (1998), a novel by popular Russian writer Sergei Lukyanenko. Sergei Lukyanenko has also written three sequels, Day Watch (2000), Twilight Watch (2003) and Final Watch (2006) and then later rebooted the series with New Watch (2013) and Sixth Watch (2016), along with a host of other books in the science-fiction and fantasy genres. The film version is handled by director Timur Bekmambetov who had previously made a couple of English-language films for Roger Corman's Concorde-New Horizons with the gladiator film The Arena (2001) and the war film Escape from Afghanistan (2002).
In watching Night Watch, you are struck by the extraordinary ambition of the exercise, both conceptually and technically. The film almost emerges as an attempt to conduct something on the order of The Matrix (1999) for the horror genre. Or perhaps as the type of epic that you sense Clive Barker was trying to make with Nightbreed (1990). The plot falls into the theme of the immortals/supernaturals conducting a secret war behind the curtain of human history that we have seen in films such as Highlander (1986), Blade (1998) and Underworld (2003). Although the plethora of ideas and conceptual dexterity to be found in Night Watch is a world beyond anything that most of these films try.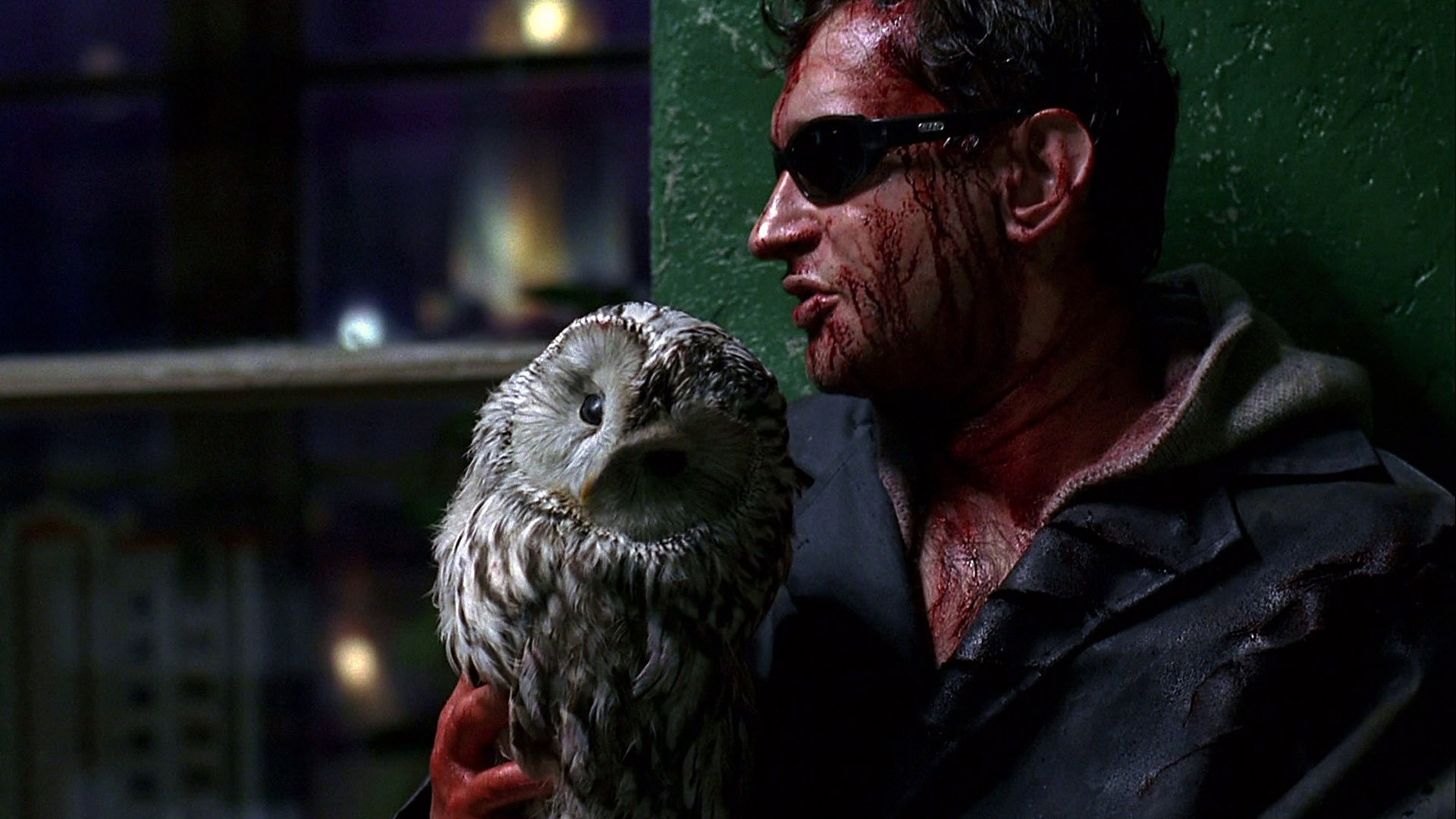 Certainly at times, Night Watch is almost a film with too many ideas for its own good – vampires, shapechangers, witches, clairvoyance, curses that are creating a storm over the city, secret police forces, and of course a destined ultimate showdown between good and evil. Night Watch is a film where it is not always easy to understand what is going on, while the characters seemed cramped in trying to obtain any screen time in between the plot and action. However, Night Watch has an undeniably dazzling originality of ideas – I particularly liked the idea of The Gloom, a dimension where The Others partially exist and appear from to battle and influence events, and where warriors use flashlights that illuminate the supernatural reality of the mundane world. Despite initial confusions, the story does pull together at the climax, which ties the beginning and everything that has happened together in some dazzling ways, not to mention arrives at a downbeat ending that holds a jolting sting.
Timur Bekmambetov directs with the restless fidgety excess energy of an MTV director. Bekmambetov's camera is constantly on the move, darting into closeups, slow-motion, visual cut-ups, snaking off to view incidental action (even off to follow the entirely unrelated fall of a bolt from the airplane wing down into an apartment at one point) and always trying to dazzle us with what his special effects department can do. While Bekmambetov's restlessness results in a film that is dense to the point of being claustrophobic, what you cannot deny is that he creates something that is afire with wild imagination.
The opening few scenes where The Night Watch burst into the witch's apartment to stop her, transforming into animal forms to slam a frying pan between her hands before they come together to clap, while she calls a doll that comes to life with spider legs to protect her and all around the mundane world is stilled in motion and filled with buzzing flies, is so extraordinary it makes you sit up and pay attention in a big way. The battle with the vampire Andray, with Konstantin Khabensky trying to fight a person that exists on another mortal plane where he is only able to see his opponent in a mirror, comes with an amazing imagination.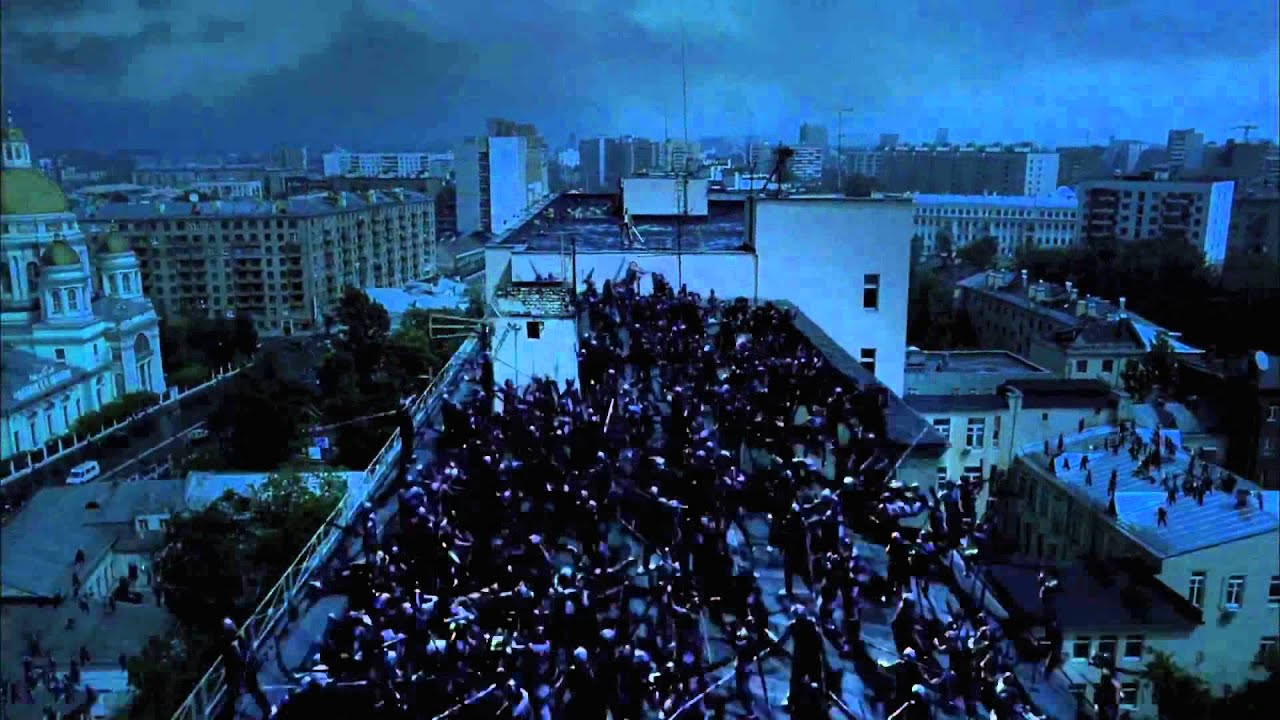 Timur Bekmambetov constantly tosses in all manner of astonishing throwaway images – we momentarily see a vampire's point-of-view where a victim's head becomes entirely a silhouette of red veins; the opposing general produces a sword from out of his spinal column; a race through the street is interrupted by a collision with another Other who causes the van to flip in mid-air and then continue on as though nothing happened. Particularly striking is the climactic battle, where Bekmambetov suddenly pulls back to show armies crowding across an apartment roof and then a phantom bridge stretching across the sky above the city. While the effects work is occasionally variable, what you cannot deny is that they are in the service of a film that is genuinely imaginatively fired-up.
One of the most visually exciting things about Night Watch, at least in the English language version released by Fox Searchlight Pictures, is the subtitles. Rather than the usual nondescript translations that appear at the bottom of the screen, these are fluid and all over the place – appearing from behind objects or people as they move, the phrase "Come to me" dissolving out of wisps of blood as The Call goes out, the word "No" blasting all over the screen as the Night Watch burst into the apartment to stop the witch clapping her hands.
Timur Bekmambetov followed Night Watch up with the filming of the next book in Sergei Lukyanenko's series, Day Watch (2006). Bekmambetov has announced a third film in the series, tentatively titled Twilight Watch or Dusk Watch. Bekmambetov puts plans for this on hold to travel to the US to make the super-assassins action film Wanted (2008), Abraham Lincoln, Vampire Hunter (2012) and the remake of Ben Hur (2016), as well as producing a number of other projects including the animated 9 (2009), the NASA Moon landing/alien possession mockumentary Apollo 18 (2011), the alien invasion film The Darkest Hour (2011), The Snow Queen (2012), Unfriended/Cybernatural (2014), Hardcore Henry (2015), Unfriended: Dark Web (2018), The Drone (2019), Syostry (2022) and Resurrected (2023).
(Nominee for Best Adapted Screenplay at this site's Best of 2004 Awards).
---
---