---
Crew
Director – Robert Zemeckis, Screenplay – Caroline Thompson & Robert Zemeckis, Based on the Documentary Marwencol, Producers – Chareylanne Martin, Jack Rapke, Steve Starkey & Robert Zemeckis, Photography (3D) – C. Kim Miles, Music – Alan Silvestri, Visual Effects Supervisor – Kevin Baillie, Visual Effects/Animation – Atomic Fiction (Supervisor – Seth Hill) & Framestore (Supervisor – Romain Arnoux), Visual Effects – Method Studios (Supervisor – Sean Konrad), Miniature Effects Supervisor – Dave Asling, Special Effects Supervisor – James Paradis, Makeup and Doll Design – Bill Corso, Production Design – Stefan Dechant. Production Company – ImageMovers.
Cast
Steve Carell (Mark Hogancamp/Cap'n Hogie), Leslie Mann (Nicol), Merritt Wever (Roberta), Eiza Gonzalez (Carlala), Neil Jackson (Kurt/Major Meyer), Gwendoline Christie (Anna), Leslie Zemeckis (Suzette), Stefanie Von Pfetten (Wendy), Janelle Monae (GI Julie), Diane Kruger (Deja Thoris), Eric Keenleyside (Larry/Friar), Falk Hentschel (Captain Topf/Louis), Matt O'Leary (Lieutenant Benz/Carl)
---
Plot
Mark Hogancamp was left badly beaten by neo-Nazi thugs outside a bar after admitting a preference for wearing women's shoes. He has made a slow recovery, left scarred and with no memory of his life prior to the attack. Haunted by PTSD, he has sought his own process of healing by building a replica of a WWII era Belgian village that he calls Marwen in the garden of his home in upstate New York. The village is people with dolls, including his own stand-in, the Air Force officer Cap'n Hogie, who leads a team of women fighters who are counterparts of the women in his life, as well as a constantly attacking troupe of Nazis. He photographs the dolls in lifelike poses and these have been acclaimed and are about to appear at an exhibition. At the same time, Nicol moves in across the street from Mark's house. Mark is attracted to her and creates a new doll in her likeness. As Nicol starts to break down Cap'n Hogie's barriers, Deja Thoris, the witch that haunts Marwen, warns Mark that anybody who becomes close to Cap'n Hogie will bring further Nazi attacks.
---
Welcome to Marwen is based on the true story of Mark Hogancamp. In 2000, Hogancamp was beaten up outside a bar by thugs after admitting to an enjoyment for crossdressing. This left Hogancamp scarred and with almost no memory of his life before the attack. When his medical insurance ran out, he created his own therapy by building the model WWII era village in the garden of his home in Kingston, New York. The town is peopled by doll characters based on the people around him, in effect becoming a fantasy version of his own life. He named the town Marwencol as a concatenation of his own name and that of the barmaid Wendy and Colleen, a neighbour he had a crush on (who becomes played by Leslie Mann in the film).
Hogancamp began taking photographs of the dolls in poses and in 2006 these caught the attention of photographer David Naugie who ran a magazine article about Marwencol. Hogancamp's photos went on to become exhibited and gain widespread acclaim. One of these photos entitled Rescuing the Major, which shows a soldier carrying another on his back while under enemy fire, had the irony of being assumed to be real and used in promotion on social media demonstrating the heroism of US soldiers. Hogancamp's story became the basis of the documentary Marwencol (2010), which won a host of awards before being adapted into this film.
Welcome to Marwen is made by Robert Zemeckis. Zemeckis will always be known for massive hits such as Back to the Future (1985) and sequels, Who Framed Roger Rabbit? (1988) and Forrest Gump (1994). Zemeckis has been a genre regular over the years. (See bottom of the page for his other films). He has always been a technical innovator, particularly with his merging of live-action and animation on Roger Rabbit and live-action and film footage in Forrest Gump. During the 2000s, Zemeckis became one of the pioneers of the motion-capture animation process (using actors in mocap suits and animating a film around their movements) with The Polar Express (2004), Beowulf (2007), A Christmas Carol (2009) and the subsequent Pinocchio (2022), while he has also acted as producer for other works using the motion capture process such as Monster House (2006), Mars Needs Moms (2011), Real Steel (2011) and Finch (2021).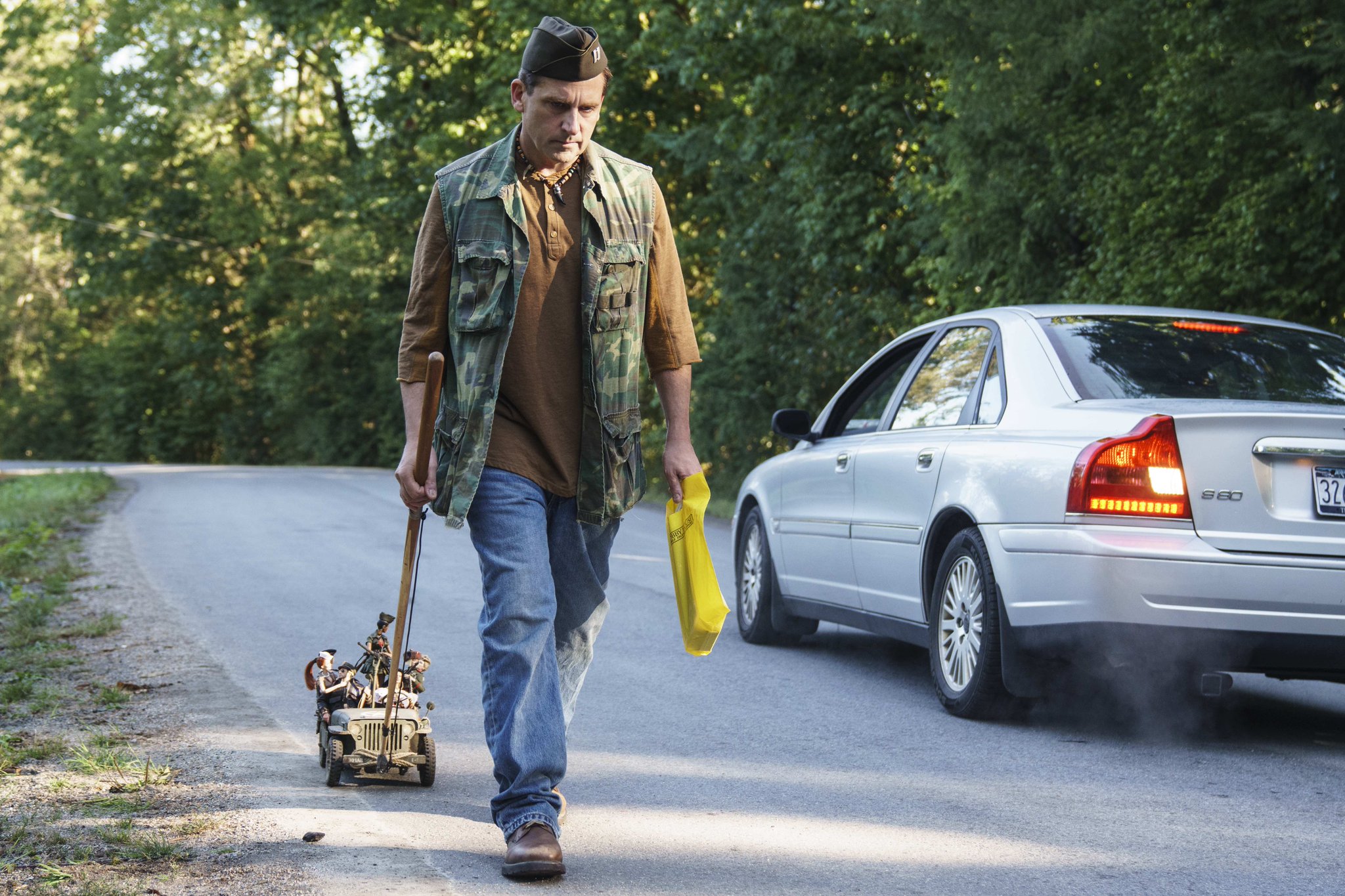 With both A Christmas Carol and Mars Needs Moms earning back well under what it cost to make them and with a planned remake of The Beatles' Yellow Submarine (1968) being cancelled on him. Zemeckis abandoned interest in motion capture animation. Throughout the 2010s, he has moved away from fantastical subject matters into an interest in true-life stories with the likes of Flight (2012) and The Walk (2015), plus the fictional WWII drama Allied (2016). In all of these though, there remains Zemeckis's interest in technological challenges – Flight was conceived around a big effects scene where Denzel Washington lands a plane upside down, The Walk around the vertiginous 3D scenes with Joseph Gordon-Levitt walking a tightrope between the towers of the Empire State Building, and Allied  its detailed recreations of the WWII era.
Welcome to Marwen is another of Robert Zemeckis's true-life based films. It is also one where he has a clear interest in the technical challenges – that of bringing to life a toy village where dolls move and interact with one another, while being imprinted with the recognisable facial features of Steve Carell, Leslie Mann and other cast members. This takes Zemeckis back to the motion capture process he favoured in the 2000s.
The results are odd to say the least. When you think about the tragic but life-affirming true story of Mark Hogancamp, what you expect is a small intimate film about a man coming out of his shell and discovering unexpected success. I thought what we would get is something akin to the recent Goodbye Christopher Robin (2017) about a shell-shocked man coming to rediscover a joie de vivre. Instead what we get feels more like Zack Snyder's bloated and ridiculously overblown Sucker Punch (2011), a film that keeps swinging between tragedy and an allegorical fantasy where what happens in the imagined world is a symbolic mirroring of events on the outside. Or else Peter Jackson's Heavenly Creatures (1994), a real-life crime story that ended up being hijacked by Jackson's flights of fantasy and special effects flourishes. Here and in these last two cases, the films have the feel of the respective directors having indulged their own idiosyncratic predilections.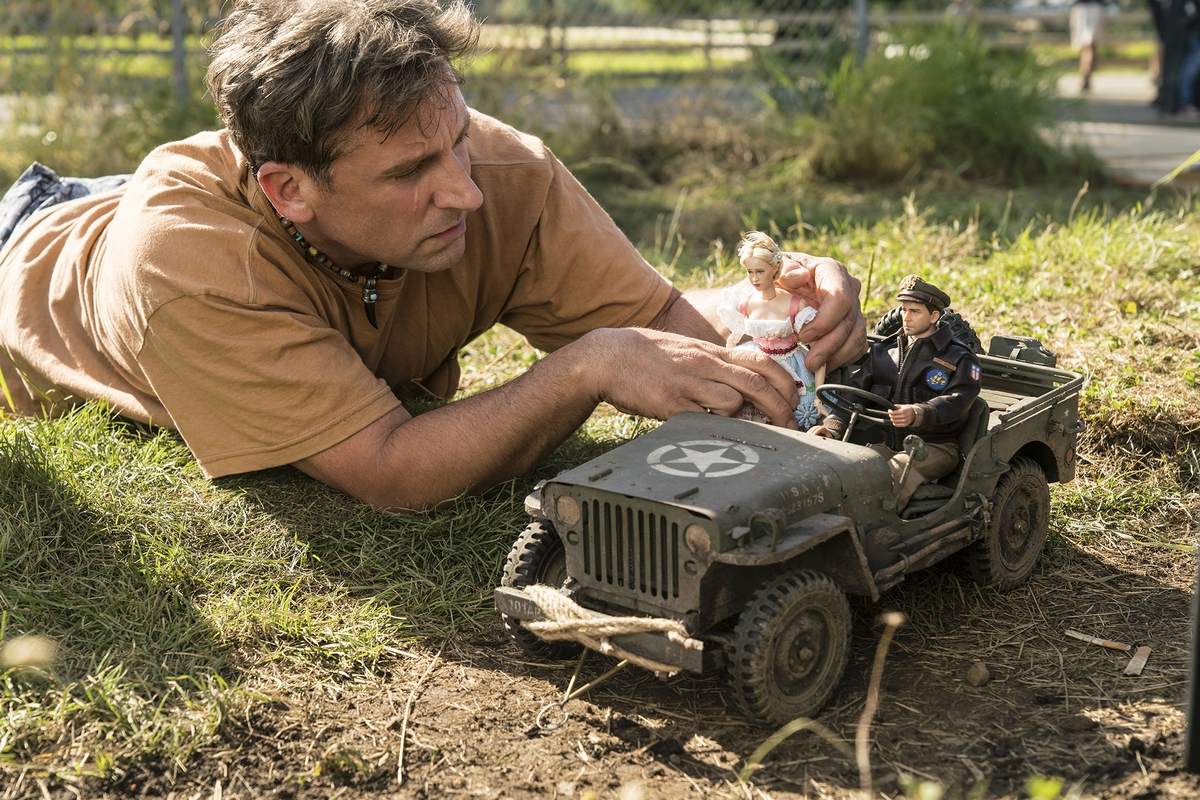 And it is this bending of Mark Hogancamp's tragedy to Robert Zemeckis's predilections that unbalances Welcome to Marwen. It is clear that Zemeckis was intrigued by the idea of making a film about CGI dolls come to life first and with Hogancamp's story second. This ends up with ridiculous results. I mean, while Hogancamp clearly suffered from PTSD, did he really cower on the floor of his home thinking he was being shot up by Nazi snipers? Did he ever have to crawl out of a courtroom thinking he was caught in the midst of a firefight between lifelike doll figures? Not to diminish what Hogancamp went through or the realities of PTSD but it seems to me that Zemeckis is falling into the pitfall that dogs a lot of Peter Jackson's work, which is that he has settled on effects as a substitute for allowing the actors present to demonstrate their inner states by doing what they do – acting. Does the image of a courtroom being shot up by dolls really offer anything more than what a more mundane representation of Steve Carell cowering in fear and then run out of the court would have done?
The other question you come away with is is Mark Hogancamp's model building (at least as depicted in the film) something that is therapeutically beneficial? I suppose it is no different from other practices such as art therapy. On the other hand, in that it is self-administered it comes without any sense of objectivity or neutrality. I don't suppose that many therapists would exactly encourage patients to retreat into a world where they are tortured, their tormentors are repeatedly executed and strung up, and there is a witch who seems to drive the patient away from closeness to others. The way the film portrays it, what we see is someone preferring an imagined world over the real world and diving deeper into it in preference to confronting the real world.
And the other thing that gets me is how Hogancamp's obsessions end up being ever so slightly creepy at times, at least when you look at them through the eyes of the other characters in the film. I mean, how would you feel is you had just moved into a new home and before you had ever spoken with your neighbour you found out that they had purchased a doll and made a character in your likeness – not to mention how the neighbour then has his counterpart engaged in a romance with your doll in their fantasy? Upon other occasions, Merritt Wever comments on how her character always ends up being photographed topless, while Leslie Mann discovers he has created characters out of porn films (played by Robert Zemeckis's own wife, herself a former actress in softcore erotica) and drawn them in naked poses. All of which strongly suggests that Hogancamp is creating sexualised fantasies of the people around him.
The film regards this as fairly harmless but I keep wondering what the people in real life would think about that. Methinks that somewhere in there a certain creepiness factor might cross their minds. There is one scene in the middle of the film where the fantasies that Steve Carell has built up about Leslie Mann come to a crashing real world disappointment. This plays the disparity between fantasy and reality out with reasonable effectiveness but the film lets Carell off the hook by going out on the cliche of him settling for the secondary character who has been right under his nose all along.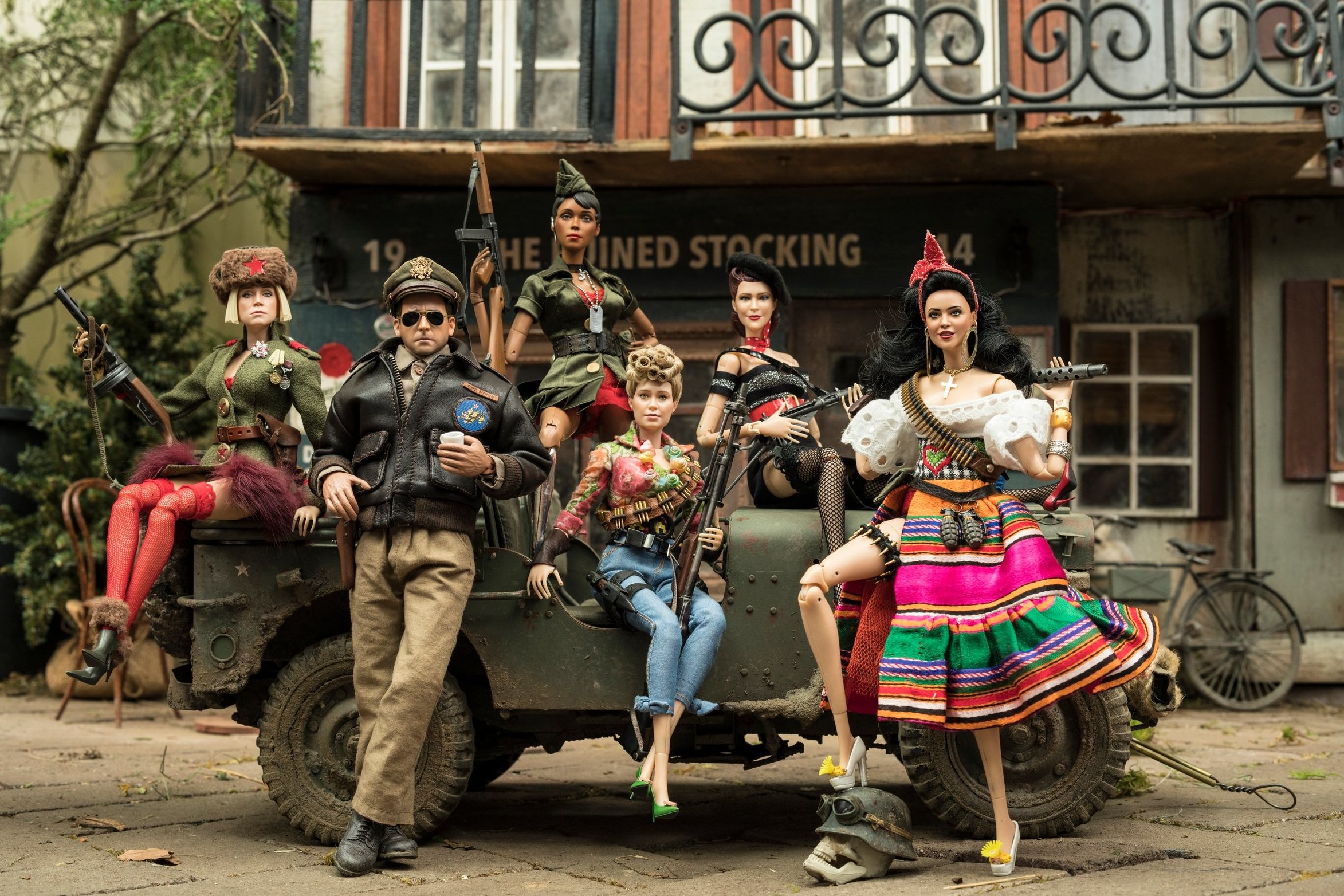 Welcome to Marwen ended up being a massive box-office flop in release at Christmas 2018. It was made on a budget of only around $40 million but ended up earning back a mere $10 million domestically and an even more pitiful $2 million in international sales, leaving it with a loss of nearly $30 million. Critical reception was uneven. The film was clearly pitching for the positive upbeat drama favoured by the Academy Awards crowd but this failed to come to pass. Maybe at the end of the day audiences just weren't that interested in tuning into a visual effects spectacle about a cross-dressing man playing with dolls.
Robert Zemeckis's other films are:– I Wanna Hold Your Hand (1978), Used Cars (1980), Romancing the Stone (1984); his time travel trilogy Back to the Future (1985), Back to the Future Part II (1989) and Back to the Future Part III (1990), the toon film Who Framed Roger Rabbit? (1988), the immortality black comedy Death Becomes Her (1992), the alien contact film Contact (1997), the ghost story What Lies Beneath (2000), the computer-animated Christmas fantasy The Polar Express (2004), the computer-animated adaptations of Beowulf (2007) and A Christmas Carol (2009), Flight (2012), The Walk (2015), Allied (2016), the remake of The Witches (2020) and the live-action remake of Pinocchio (2022). Zemeckis has also produced a large number of other genre films including the Tales from the Crypt (1989-96) cable tv horror anthology series, the two film spinoffs Tales from the Crypt Presents Demon Knight (1995) and Tales from the Crypt Presents Bordello of Blood (1996), Peter Jackson's The Frighteners (1996), the voodoo film Ritual (2002), the computer-animated Monster House (2006) and Mars Needs Moms (2011), Real Steel (2011), the tv series' Manifest (2018-22) about a planeload of temporally displaced passengers and Project Blue Book (2019-20) about the US Air Force's true life UFO investigation department and the robot film Finch (2021). Zemeckis is also a producing partner in Dark Castle Entertainment, which have made a number of horror films including House on Haunted Hill (1999), Thir13een Ghosts (2001), Ghost Ship (2002), Gothika (2003), House of Wax and The Reaping (2007).
Zemeckis co-writes the script with Caroline Thompson, best known for her collaborations with Tim Burton – the scripts for Edward Scissorhands (1990), The Nightmare Before Christmas (1993) and Corpse Bride (2005), as well as other scripts like The Addams Family (1991), Homeward Bound: The Incredible Journey (1993), The Secret Garden (1993) and City of Ember (2008). She made her directorial debut with the adaptation of the children's classic Black Beauty (1994) and went onto make Buddy (1997) in which Rene Russo adopts a chimpanzee and her reinterpretation of the fairytale Snow White (2001).
---
---