---
Crew
Directors – Roger Allers & Jill Culton, Co-Director – Anthony Stacchi, Screenplay – Steve Bencich & Ron J. Friedman, Producer – Michelle Murdocca, Music – Ramin Djawadi, Animation – Sony Pictures Imageworks, Animation Supervisors – Renato Dos Anjos & Sean Mullen, Visual Effects Supervisor – Doug Ikeler, Production Design – Michael Humphries. Production Company – Sony Pictures Animation.
Voices
Martin Lawrence (Boog), Ashton Kutcher (Elliot), Debra Messing (Beth), Gary Sinise (Shaw), Jane Krakowski (Giselle), Billy Connolly (McSquizzy), Jon Favreau (Reilly), Patrick Warburton (Ian), Gordon Tootoosis (Gordy), Cody Cameron (Mr Weenie)
---
Plot
Boog is a grizzly bear that has been domesticated by the park ranger Beth and leads a life of luxury from his home in her garage. One day Boog discovers a deer, Elliot, who has been captured by the hunter Shaw and mounted on the hood of his truck while still alive. Boog intervenes to free Elliot but Elliot responds by following him home. Boog resents the intrusion. Elliot tempts Boog out of doors and takes him on a sortie where the two break into a mini-mart and go crazy. They are caught and Beth decides that it is time to repatriate Boog with his natural environment. He and Elliot are dropped in the wild. Boog find that life there is very different to what he is used to and tries to find his way back home to his beloved garage. Meanwhile, hunting season arrives and human hunters, including a ruthlessly determined Shaw, come after the animals. Boog's only hope is to organise the animals of the forest to stand up against the hunters.
---
Open Season was one of a glut of animated talking animals films that came out in 2006. Others included The Ant Bully (2006), Barnyard (2006), Flushed Away (2006), Happy Feet (2006), Ice Age 2 (2006), Over the Hedge (2006) and The Wild (2006). This reviewer was known to have cursed frequently throughout the year at the thought of having to view yet another of these seemingly identical films. There were times that the trailers of these were unable to be distinguished apart.
None of these were truly bad films – it is just the identical interchangeability had an exhausting effect. To its credit, Open Season is an amiable enough film. There is little to truly complain about. Alas, amid the vast number of very similar films surrounding it at the time, it slips into a quick forgettability. The stretched and stylised, as opposed to anthropologically correct, style of animation is very similar to the same year's Barnyard.
The characters and their arcs are all predictable. Boog is the familiar character of the domesticated animal that is released into the wild away from his domesticated life and eventually comes to find himself there – a character that we have seen in films such as Lady and the Tramp (1955), Dr. Dolittle 2 (2001), Madagascar (2005), Flushed Away and The Wild. His relationship with the one-antlered deer Elliot and their journey together wherein the hero's grudging tolerance of his initially annoying companion becomes friendship by the end, seems a little too closely modelled on the relationship between Shrek and the donkey in Shrek (2001). The jokes about the animals improvising from the junk and detritus of human civilisation are overly familiar from almost any of the abovementioned films. The villain of the show comes entirely by the numbers, although surprisingly the pompous deer that ridicule and make fun of Elliot are never subject to any comeuppance as they should in a film like this.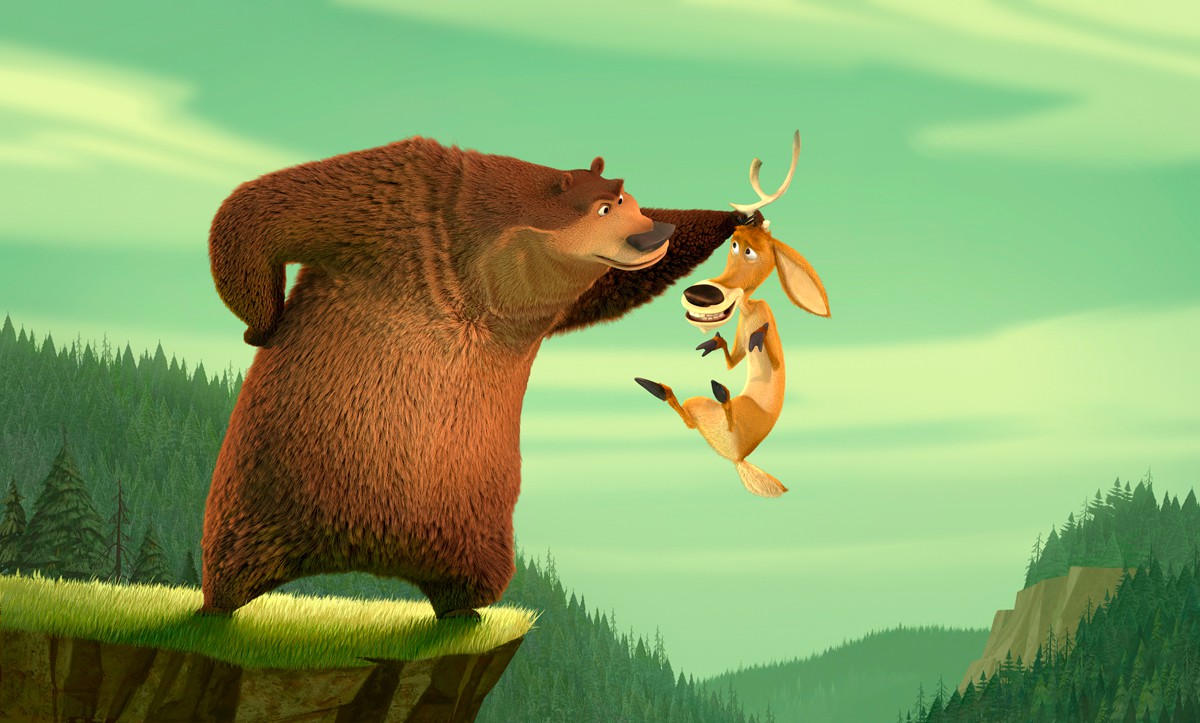 At least in its favour, Open Season never overdoes the incessant pop culture thing with smartass animals constantly making hip one-liners and culture quotes. There are some silly sequences where the filmmakers let loose with a penchant for slapstick – the montage scenes with Boog and Elliot messing around in the mini-mart, and especially the big climactic set-piece with the animals going into action against the hunters – the ducks acting as bombers while holding skunks, the use of pillaged camping equipment to fire arrows tipped with flaming marshmallows, using bras as catapults and so on.
There were two sequels with Open Season 2 (2008) and Open Season 3 (2010), which were released direct to dvd.
Open Season was the first animated film from Sony Pictures Animation, a division of the visual effects company Sony Pictures Imageworks, which in turn is owned by the production company Sony Pictures Entertainment. Sony Pictures Animation next went onto make Surf's Up (2007), Cloudy With a Chance of Meatballs (2009), Hotel Transylvania (2012), The Emoji Movie (2017), Peter Rabbit (2018), The Mitchells vs the Machines (2021), Vivo (2021) and Wish Dragon (2021), as well as conduct a series of collaborations with Aardman Animations on Arthur Christmas (2011) and The Pirates! Band of Misfits (2012).
Roger Allers had co-directed The Lion King (1994) and went onto solo direct Kahlil Gibran's The Prophet (2014). Jill Culton subsequently went on to direct Abominable (2019).
---
---