(Offret)
---
Crew
Director/Screenplay – Andrei Tarkovsky, Photography – Sven Nykvist, Special Effects – Lars Höglund, Lars Palmqvist & Svenka Stuntgruppen, Art Direction – Anna Asp. Production Company – Svenska Filminstituet/Argos Films/Film Four International.
Cast
Erland Josephson (Alexander), Allan Edwall (Otto), Susan Fleetwood (Adelaide), Gudrun S. Gisladottir (Maria), Sven Wollter (Victor), Filippa Franzen (Marta), Valerie Mairesse (Julia), Tommy Kjellqvist (Gossen)
---
Plot
Alexander, a retired actor and arts critic, is having a birthday party at his country home attended by his family and friends. They watch an announcement of impending war on tv. The tv then goes dead and they realise that a nuclear blast has occurred. Before he goes to bed, Alexander kneels and prays, saying he will forsake everything he has if things can be restored to the way they were that morning. The postman Otto then tells Alexander that if he goes to the Icelandic maid Maria, whom some believe to be a witch, all will be put right. Alexander does and she asks him to make love to her. He does so and when he awakes again everything is as normal and he realises that he must keep his side of the bargain.
---
The Sacrifice was the final film of Andrei Tarkovsky, the émigré Russian who came to attention through the acclaimed likes of Ivan's Childhood (1962), Andrei Rublyov (1969) and The Mirror (1976), and in particular gained worldwide critical acclaim with his two masterful ventures into science-fiction, Solaris (1972) and Stalker (1979). The Sacrifice was Andrei Tarkovsky's final film – he died of cancer the same year at the age 54.
The Sacrifice is a much more difficult film than either of Tarkovsky's other genre works. All of Andrei Tarkovsky's films are portentously slow – it is nothing for people in a Tarkovsky film to sit in silence for three or four minutes at a time. Here though Tarkovsky's slowness, instead of conveying a haunting beauty, reduces the pace of the film to virtually inert. Hardly anything occurs throughout. The first two shots of the film go on for ten minutes apiece – during which time Tarkovsky manages to philosophically discourse upon existentialism and the meaning of science. Perhaps it is that Tarkovsky is working from his own original screenplay rather than adapting other literary works and through doing so his own proclivities end up being magnified.
The shadow of Ingmar Bergman hangs over The Sacrifice every step of the way – the film is reality one of the gloomy Scandinavian period dinnertable dramas that Bergman specialised in one is reminded very much of Bergman's Shame (1968). Tarkovsky shoots in Sweden, in Swedish language and the film is financed by the Svenska Filminstituet that backed a great many of Bergman's films – Tarkovsky even casts regular Bergman actor Erland Josephson and uses his regular cinematographer Sven Nykvist and art director Anna Asp. (He has also wanted to shoot the film on Faro Island, which Bergman made his home for many years and shot many of his films, but could not obtain permission to shoot there).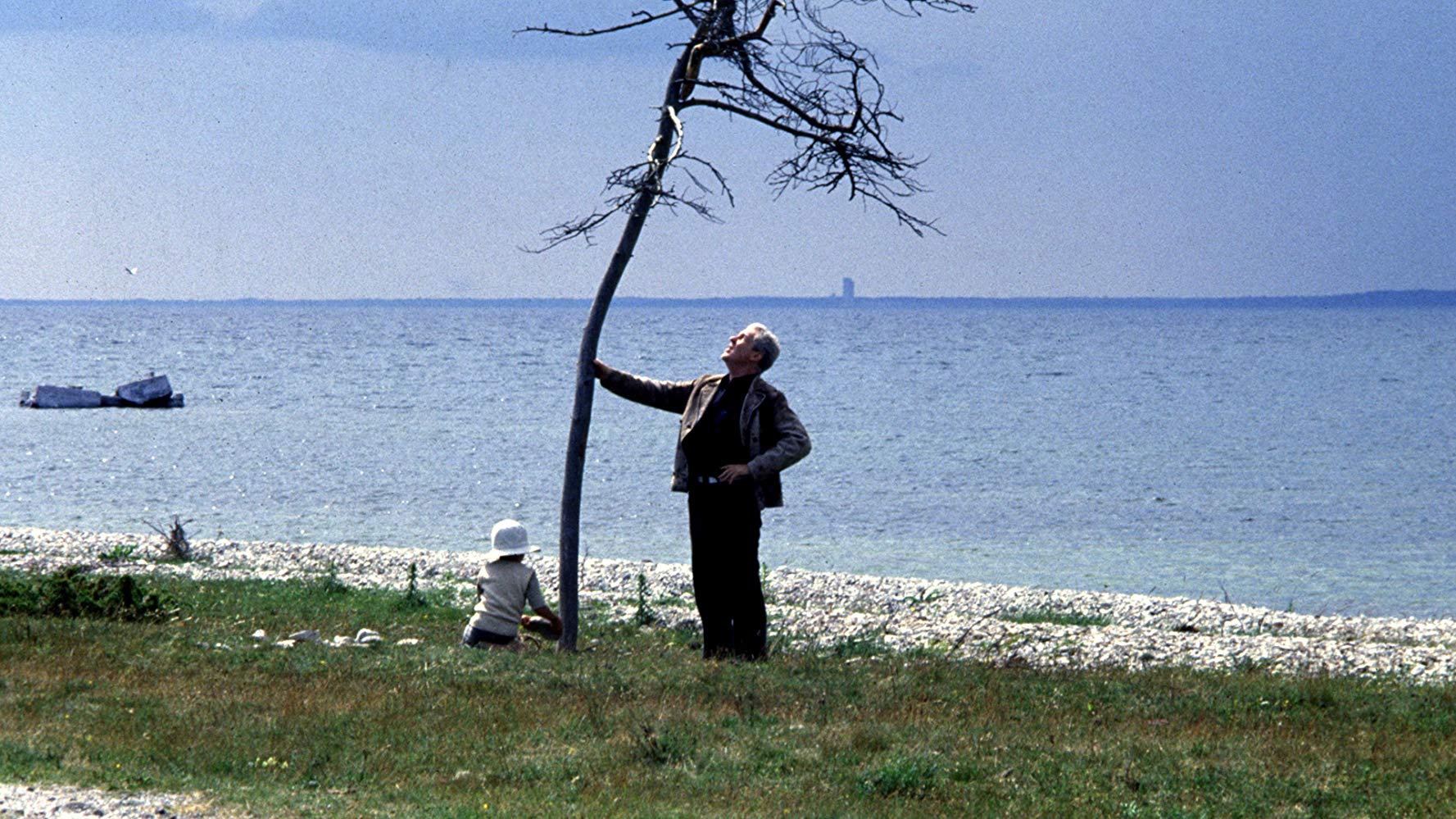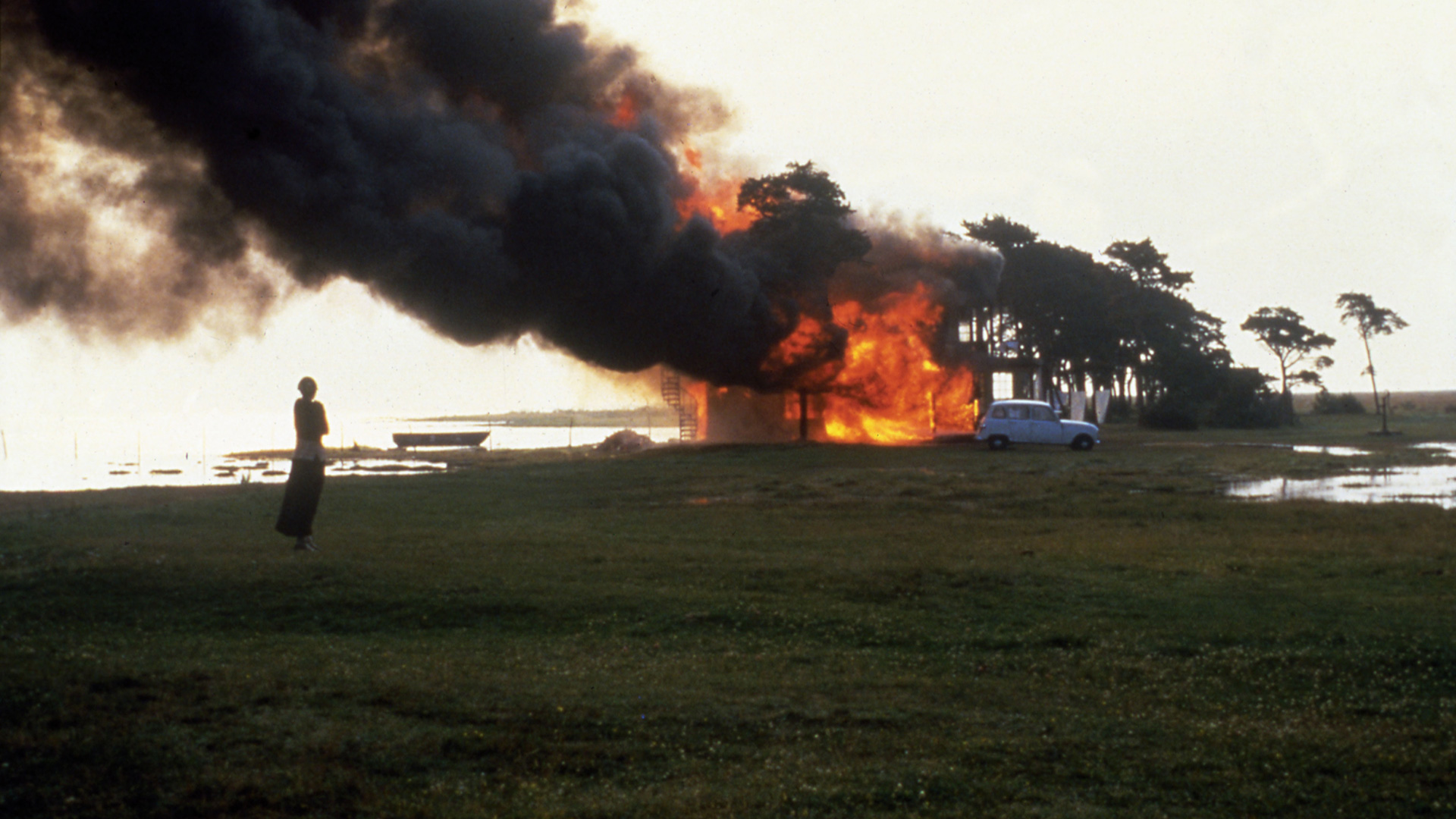 Despite the endurance chore that The Sacrifice is, no Andrei Tarkovsky film is ever without moments of great beauty and haunting philosophical contemplation. The dropping of the bomb is shown with remarkably effective economy – nothing more than the rattling of a china cabinet and the tv and power going off (although this is scientifically inaccurate – EMP would only have made the tv go to hash, unless we are to presume that the local power station has been bombed). The one moment of beauty in the film is the scene where Erland Josephson goes to maid and rumoured witch Gudrun Gisladottir and she accepts him into her arms and they start floating in mid-air as they make love.
The film is a reflection of Tarkovsky's own religious views. Faith and religion is something that Tarkovsky appears to have approached with a weightily cheerless Kierkegaardian existentialism. Stalker reflected similar views with its end belief in a simple-minded faith held in the invisible things around us. The Sacrifice strips the issue of faith back to a single stark question – if your greatest prayer could be answered, would you sacrifice everything for it? In the documentary Andrey Tarkovsky. A Cinema Prayer (2019), Tarkovsky also talks about how he built a dream house in the country near Myasnoe only for it to burn down and he have to rebuild it from scratch, an incident that has an uncanny reflection on Erland Josephson's actions here.
Like Stalker, the film ends on a simple moment of surprising hope. Erland Josephson burns his house down. His family, unable to understand why, have him carted away insane. As he is taken, we see his young son watering the tree that Josephson planted at the start of the film, saying that if he did a simple duty each day then he could change the world. The film is then appropriately dedicated to Tarkovsky's son Andrjkija.
---
---