,Hr/>
Crew
Director – David Jones, Screenplay – Harold Pinter, Based on the Novel by Franz Kafka, Producer – Louis Marks, Photography – Phil Meheux, Music – Carl Davis, Matte Effects – Westbury Design and Optical, Production Design – Don Taylor. Production Company – BBC Films/Europanda Entertainment B.V.
Cast
Kyle MacLachlan (Josef K), Jason Robards (Dr Huld), Polly Walker (Leni), Anthony Hopkins (The Priest), Alfred Molina (Titorelli), Michael Kitchen (Block), Robert Lang (Albert K), Catherine Neilson (Washerwoman), Juliet Stevenson (Fraulein Burstner), Tony Haygarth (Willem), Douglas Hodge (Inspector), David Thewlis (Franz), Patrick Godfrey (Court Usher)
---
Plot
Clerk Josef K is woken by two men and told that he is under arrest, although is not informed what the charges are. He is released under his own recognisance. I his attempt to find out what the charges are and obtain an acquittal for the unspecified crime that he believes he is innocent of, he finds himself caught in the labyrinth of a bureaucratic nightmare.
---
Franz Kafka (1883-1924) is one of the essential writers in 20th Century literature. Enormously influential, Kafka pinpointed the existential crisis of the man trapped inside a metaphorical labyrinth, of a person searching for meaning in a world where such things are perpetually held beyond his grasp. Few of Kafka's works were published in his lifetime, none of his novels ever completed – he in fact gave express orders that they be destroyed following his death, believing them worthless. Thanks to his friend who ignored these instructions, Kafka's work has survived. Kafka wrote the likes of The Metamorphosis (1915) about a man who inexplicably transforms into an insect; The Castle (1926) about a man's frustrated attempts to gain access to the authorities inside a vast castle; and Amerika (1927) about an immigrant trying to understand a surreal, entirely alien country.
The most well-known of Franz Kafka's novels is probably Der Prozess/The Trial (1925). The sense the book holds of being trapped inside a vast and incomprehensible procedure and of bureaucracies gone out of control touches something deep inside the 20th Century zeitgeist. Kafka's books are not easily translatable into film. That said, The Trial came out amid a seeming Kafka revival during the mid-1990s, which saw a Czech adaptation of Amerika (1994); two versions of The Castle (1994 and 1997); Steven Soderbergh's Kafka (1991), which placed the author inside an approximation of his own works; and Woody Allen's comedic homage Shadows and Fog (1991).
Orson Welles had earlier filmed his own version of the novel, The Trial (1962). It featured typically stunning Welles lighting effects but Welles's attempt at an accurate translation of the novel became a dull, picaresque series of encounters that only occasionally grasped the mindset of the book.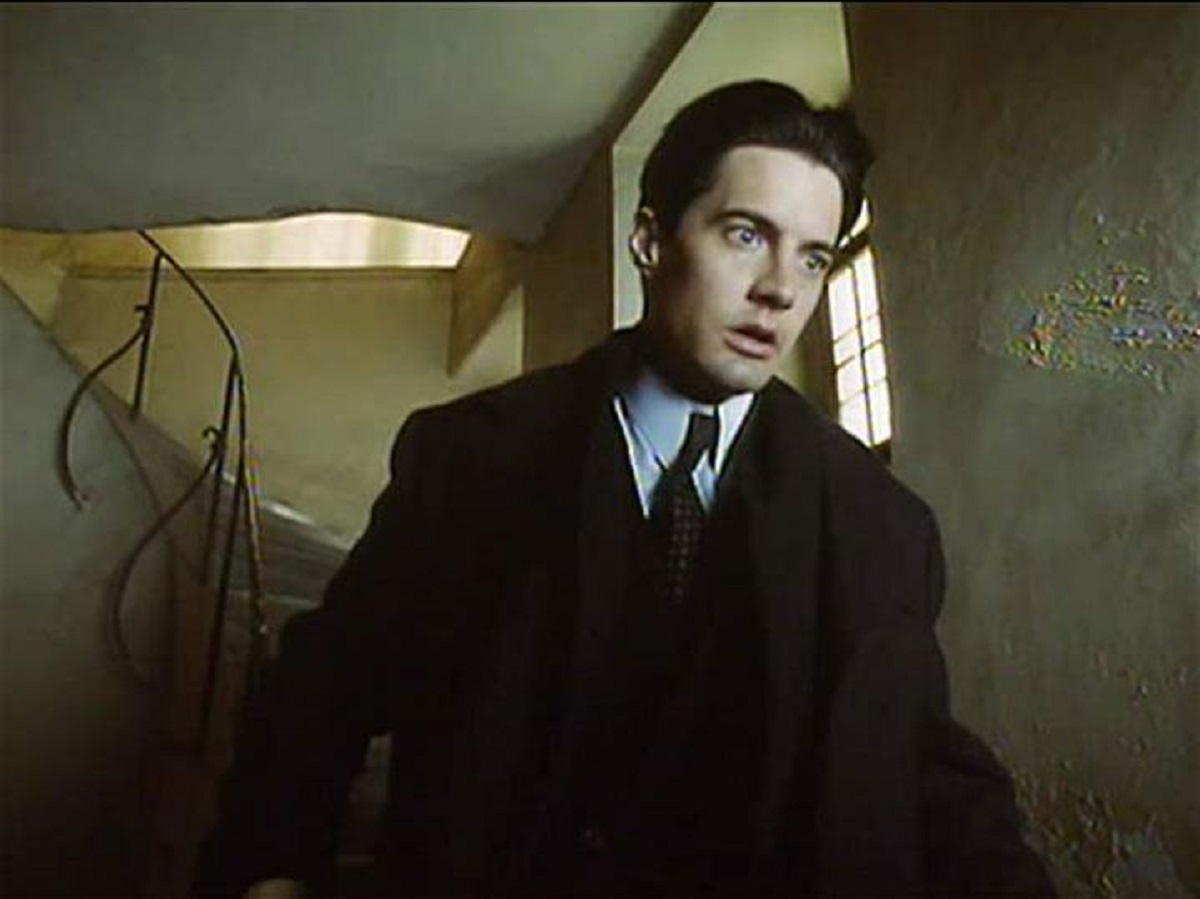 This 1993 version came with a screenplay by acclaimed playwright Harold Pinter and was directed by Welsh tv director David Jones, who had been responsible for respectable British dramas like the previous adaptation of Pinter's Betrayal (1982) and 84 Charing Cross Road (1986), as well as one excellent subsequent genre outing, Hallmark's adaptation of A Christmas Carol (1999).
Harold Pinter's script certainly has a much finer grasp of the essential nature of the book than Orson Welles did. While the film has a patchy unevenness that is the result of trying to accurately portray the book on screen, this version comes across with the paranoia and dark irony intact. There are a number of scenes that emerge memorably – the scene where Josef learns that the best way to have his case dismissed is to seek an Indefinite Postponement where, by paying utmost vigilant attention to it and keeping it in the public eye, one never advances it any further; or where Josef learns that the character of Block, who is made to live a tiny maid's cubbyhole and kiss the advocate's hand like a fawning slave, has been waiting five years and that his trial is not even in the planning stage yet. These scenes have the absurdist irony that is the very essence of Kafka.
On the other hand, David Jones doesn't get the classic opening scene right – we never get a sense of the shock confusion of Josef being woken and accused of a crime but is never told its nature. Although there is a certain edgy blackness to the scenes with the various warders eating Josef's breakfast, the neighbours watching through the window and the insistence that he should put on a black suit and not call a lawyer but that he is also completely free to do whatever he wants to.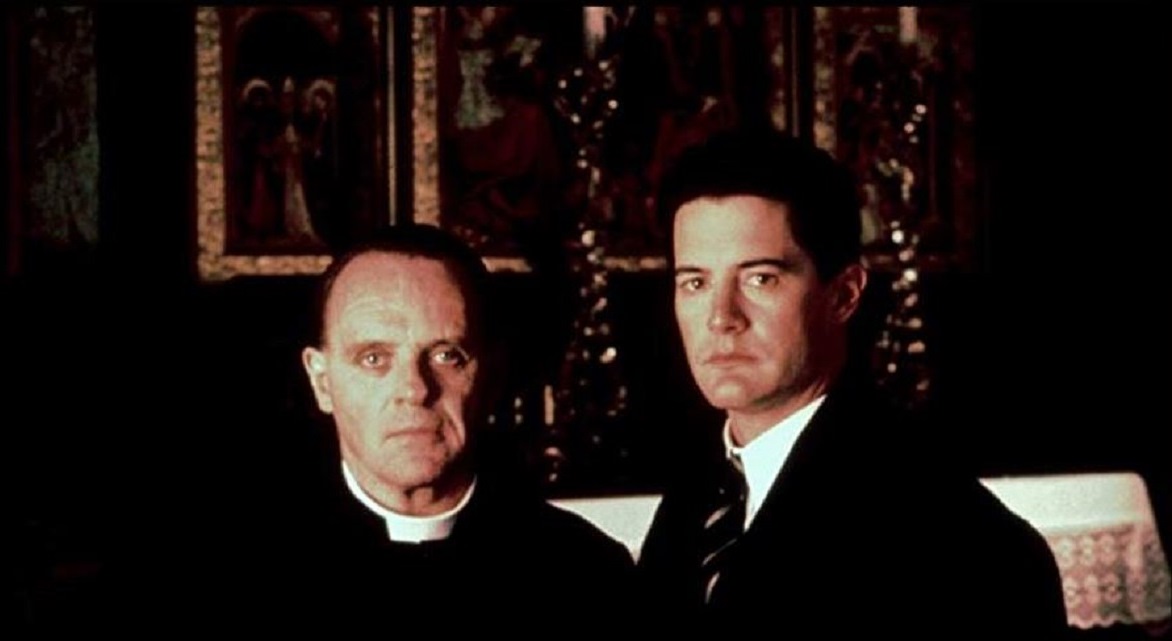 The insistence upon employing what feels like every member of the British Screen Actors Guild to fill the small parts – including names like Juliet Stevenson, Alfred Molina, Michael Kitchen, David Thewlis, Tony Haygarth, Polly Walker, Douglas Hodge, Paul Brooke, Roger Lloyd Pack, Trevor Peacock, Patrick Godfrey, Andrew Tiernan, Don Henderson and John Woodvine, as well as a headline name like Anthony Hopkins – tends to work against the sense of paranoia in that it feels undercut by the familiarity of the faces.
The role of Josef K has been cast with Kyle MacLachlan for clear international marquee name status but MacLachlan seems quite miscast in the part. MacLachlan is too strong-jawed an actor. The part of Josef K needs someone anonymous and mousy, someone whose life you can believe is collapsing into a nightmare around them, whereas with Kyle MacLachlan you have someone who is cut from the classically heroic mould. Orson Welles did a far better job when he cast the part of Josef K with Anthony Perkins who does the mousy, nervous and twitchy thing to perfection.
One thing the film does notably well is to go and shoot on location in the same city – Prague – that Franz Kafka lived when he wrote the book. David Jones nicely achieves the look of a retro 1940s no-when set amidst a vast and cavernous labyrinth of European apartment blocks. One of David Jones's more imaginative touches is to deliberately turn the place into a surrealist maze – a drab back room with an anonymous washerwoman ironing clothes opens into a huge arched court filled with people; the attic studio of painter Alfred Molina opens into a series of offices and so on.
---
---