---
Crew
Director – Spike Jonze, Screenplay – Charlie Kaufman, Producers – Steve Golin, Vincent Landay, Sandy Stern & Michael Stipe, Photography – Lance Accord, Music – Carter Burwell, Visual Effects – Gray Matter FX (Supervisor – Daniel Radford), Special Effects Supervisor – John Gray, Makeup Effects – Optic Nerve Studio (Supervisor – John Vulich), Production Design – K.K. Barrett. Production Company – Propaganda Films/Single Cell Pictures.
Cast
John Cusack (Craig Schwartz), Cameron Diaz (Lotte Schwartz), Catherine Keener (Maxine), John Malkovich (Himself), Orson Bean (Dr Lester), Mary Kay Place (Floris), Charlie Sheen (Himself)
---
Plot
Disillusioned with trying to make a living as a puppeteer, Craig Schwartz accepts a job as a filing clerk with Lestercorp on the 7½th Floor of New York's Merlin-Flemmer Building, a floor that has been built half-size to accommodate the original builder's dwarf wife. Despite being married, Craig falls for co-worker Maxine, although she constantly rebuffs him. Craig then finds a doorway behind a filing cabinet. This leads down a tunnel that transports one inside the head of actor John Malkovich where one is able to stay for fifteen minutes before being ejected beside the New Jersey Turnpike. Craig and Maxine start selling tickets to the discovery. However, after making a visit into Malkovich's head, Craig's wife Lotte returns, realising that she wants to be a man. Meanwhile, Maxine goes and seduces John Malkovich. When she discovers that Lotte was inside Malkovich's head at the time, she realises that she is in love with Lotte – but only when she is inside Malkovich.
---
Sometimes there emerge films so unique and original it is almost impossible to pigeonhole them. You know they will never inspire imitators. Eraserhead (1977) was one of these, as was The Nightmare Before Christmas (1993). The films of Marc Caro and Jean-Pierre Jeunet – Delicatessen (1991) and The City of Lost Children (1995) – and of Guy Maddin – Tales from the Gimli Hospital (1989), Archangel (1990), Careful (1992) and The Twilight of the Ice Nymphs (1997) – are others.
Being John Malkovich was certainly the most bizarre film of its year. That it managed to be a reasonably well-budgeted film and attract some A-list names, as well as be the directorial debut of an ingenue director Spike Jonze (who had only previously directed various music video clips for The Beastie Boys, The Chemical Brothers, Bjork, Puff Daddy and REM, whose lead singer Michael Stipe is one of the film's producers) makes one realise that not all hope is entirely lost in Hollywood. Not to mention that the film was nominated for Academy Awards for Best Director, Best Original Screenplay and Best Supporting Actress that year.
Just listen to the basic premise of the film:– an unemployed puppeteer (John Cusack) takes a job as a filing clerk on the 7½th floor of a building (which can only be gotten to by jamming a crowbar in the elevator door between floors). The floor has been custom-made for the original owner's dwarf wife and everyone is forced to walk stooped over due to lowered ceilings. There Cusack discovers a hidden doorway that leads down a tunnel that transplants him into the head of actor John Malkovich – although only for fifteen minutes before one is spat out on the New Jersey turnpike.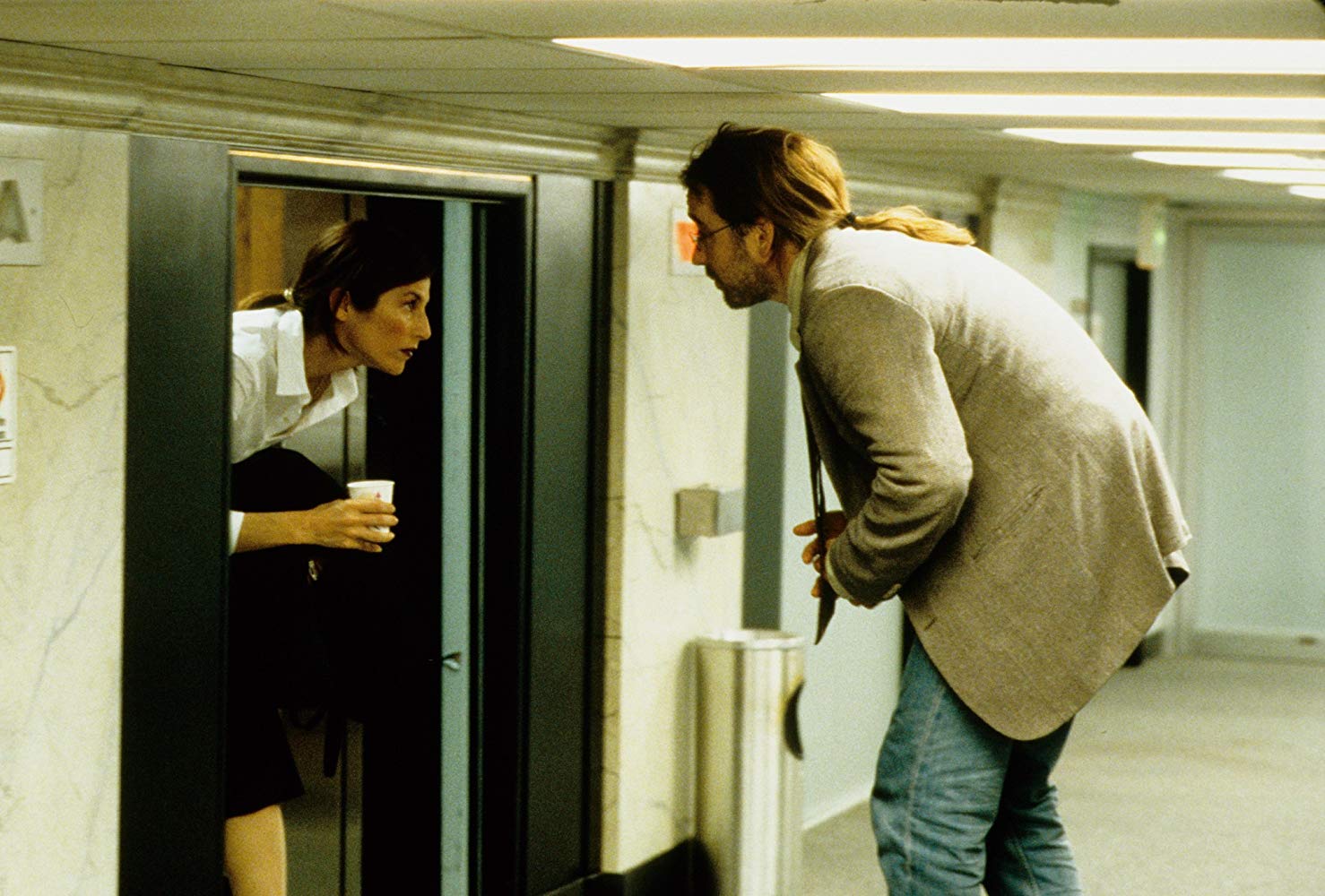 One of the joys of the film is the sense of internal logic it develops and screenwriter Charlie Kaufman's witty compounding of the central idea – such as John Cusack's wife Cameron Diaz going though the portal only to discover that she wants to be a transsexual and then having Cusack's object of desire Catherine Keener have sex with Malkovich while Cameron Diaz is inside his head and discover that she is in love with Diaz – but only when Diaz is inhabiting Malkovich's body. (There is a dinner-party scene where the frustrated desires all come to a head that is absolutely hysterical). Or else a scene that asks the logical next question of what would happen if Malkovich were to go through the portal and enter his own head.
The film has a share of throwaway moments that are downright bizarre – giant-size Emily Dickinson puppets hung from a bridge; a subtitled flashback from the point-of-view of a chimpanzee; the two rival women engaged in a chase and shootout through Malkovich's subconscious; the hysterically deadpan job interview with Mary Kay Place as a speech impedimentologist who cannot understand John Cusack and Orson Bean as a horny centenarian; and the moment where John Malkovich enters his own head and perceives a world of multiple Malkovich es. With visual inventivity like this, Spike Jonze has a promising career ahead of him.
The bizarreness of the concept is compounded by the witty meta-fictionality of casting real-life actor John Malkovich as himself. Why, Malkovich (who was Spike Jonze and scripter Charlie Kaufman's first choice) over any other actor is anybody's guess. (Trying to imagine how the script was pitched to raise financing and how A-list actor Malkovich was persuaded to come aboard what is essentially a culty midnight film makes the mind boggle). There is some wonderful acting in the scenes where Malkovich is taken over by John Cusack and gets to affect Cusack's gawky, hesitant mannerisms. There is some equally amusing other throwaway gags – like having Charlie Sheen act as therapist to Malkovich (and in one hilarious gag later turning up balding and forty plus), as well as Sean Penn who does an hilariously deadpan interview piece about wanting to get into puppeteering himself but not wanting to be seen as an imitator.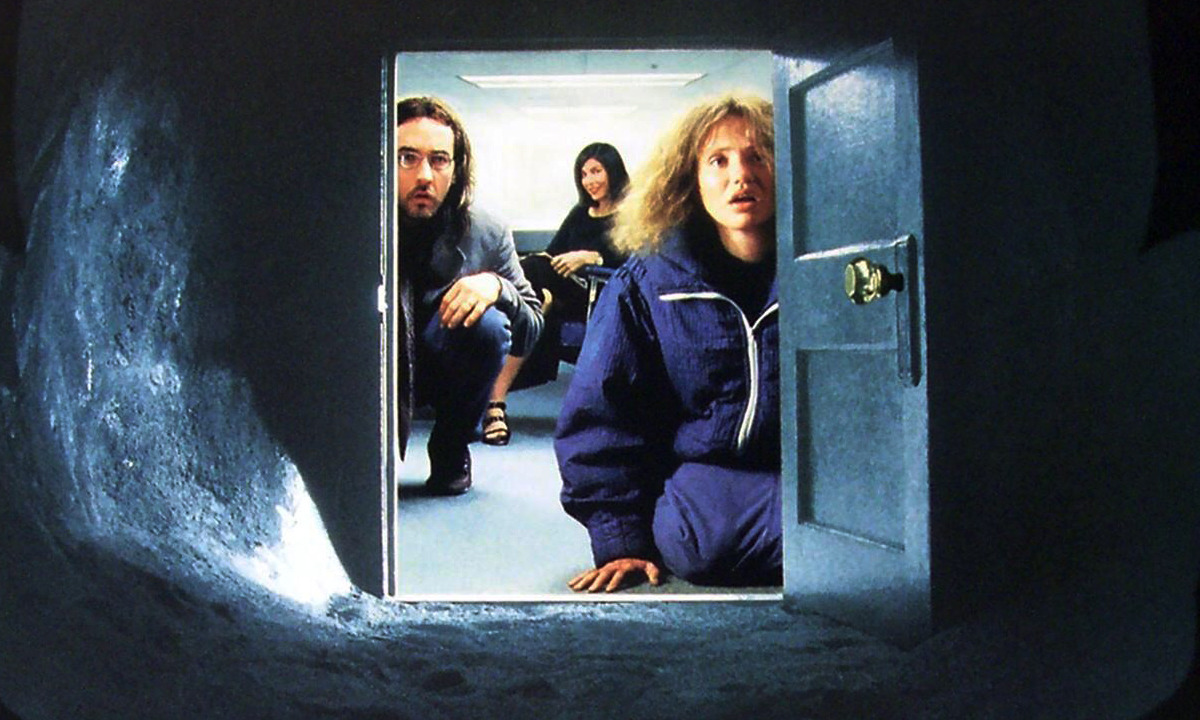 Spike Jonze also gets excellent performances from his cast. Cameron Diaz, shed of the star glamour she usually plays with, is dressed down drab and plain and proves wholly unrecognisable. This allows her the opportunity to do some real acting – her affectation of a mousy housewife is excellent and the scene where she realises her transsexuality is absolutely hysterical. Equally fine is Catherine Keener, an actress who is due greater recognition. Her cynical hard-edged performance, constantly deflating John Cusack's attentions, is extremely good.
Spike Jonze and Charlie Kaufman later reteamed to make the amusingly meta-fictional Adaptation. (2002). Without Kaufman, Spike Jonze next went onto make an adaptation of the children's classic Where the Wild Things Are (2009) and Her (2013) about the relationship between a man and an AI. Jonze is also a producer of the tv series Jackass (2000-2) and its various film spinoffs.
Charlie Kaufman later returned to genre material with the script for the quite brilliant sf film Eternal Sunshine of the Spotless Mind (2004) and then made his directorial debut with the amazing meta-fictional Synecdoche, New York (2008), followed by the stop-motion animated Anomalisa (2015) and the surreal identity-blurring I'm Thinking of Ending Things (2020).
(Nominee for Best Original Screenplay and Best Supporting Actress (Catherine Keener) at this site's Best of 1999 Awards).
---
---