---
Crew
Director – Tom McCarthy, Screenplay – Tom McCarthy & Stephan Pastis, Based on the Book by Stephan Pastis, Producers – Tom McCarthy & Jim Whitaker, Photography – Masanobu Takayanagi, Music – Rolfe Kent, Visual Effects Supervisor – Rich McBride, Visual Effects – Framestore (Supervisor – Nicolas Chevallier) & The Molecule, Special Effects Supervisor – Mark Hawker, Makeup Effects – Christina Kortum, Production Design – Philip Messina. Production Company – Slow Pony Pictures/Whitaker Entertainment.
Cast
Winslow Fegley (Timmy Failure), Ophelia Lovibond (Patty Failure), Wallace Shawn (Frederick Crocus), Kyle Bornheimer (Crispin), Craig Robinson (Mr. Jenkins), Kei (Rollo Tookus), Chloe Coleman (Molly Moskins), A-Can Carrier (Corrina Corrina), Caitlin Weierhauser (Flo), Santiago Veizaga (Gunnar), Ruby Marenko (Maxine Schellenberger), Alan H. King (Principal Scrimshaw)
---
Plot
In Portland, Oregon, eleven year-old Timmy Failure lives with his mother Patty who tries to support them. Timmy runs a detective agency in partnership with Total, his imaginary polar bear companion. Timmy takes on cases involving his schoolfriend Gunnar's missing backpack and what he believes to be the murder of the class hamster. At the same time, Timmy thinks he needs to move out of his mother's closet and set up operations in an office downtown. Timmy has been using the Failuremobile, his mother's Segway, which he has borrowed without her knowing to get around town but this is now stolen. He believes the thieves to be Russians, organised by his classmate Corrina Corrina. At the same time as he sets out to get the Segway back before his mother notices, he must also thwart the Russians' big sabotage plan.
---
Timmy Failure is the hero of a series of children's books. The books are the creation of Stephan Pastis, a former lawyer who became a cartoonist. Pastis published the first book with Timmy Failure: Mistakes Were Made (2013) and wrote a further six books with the final one appearing in 2018.
The film version is directed by Tom McCarthy who has some solid credits as an actor with roles in films such as Good Night, and Good Luck. (2005), Syriana (2005), Flags of Our Fathers (2006), The Lovely Bones (2009) and 2012 (2009), among other. McCarthy is also a director-writer. He made the acclaimed The Station Agent (2003), followed by the likes of The Visitor (2007), Win Win (2011) and Spotlight (2015), which had him nominated for Academy Awards both for directing and writing the script. He had previously ventured into the fantasy genre with The Cobbler (2014) with Adam Sandler finding the ability to turn into different people when he puts on their shoes. McCarthy co-writes the script for Timmy Failure with Stephan Pastis.
Timmy Failure: Mistakes Were Made emerged from Disney in 2020 almost without notice – it premiered at Sundance and was then dropped onto the Disney+ streaming service eleven days later. The film is an oddity and I am not particularly surprised it did no business. I suspect if theatres had been open, it would have been a marketing nightmare for Disney and would have ended up being a box-office failure.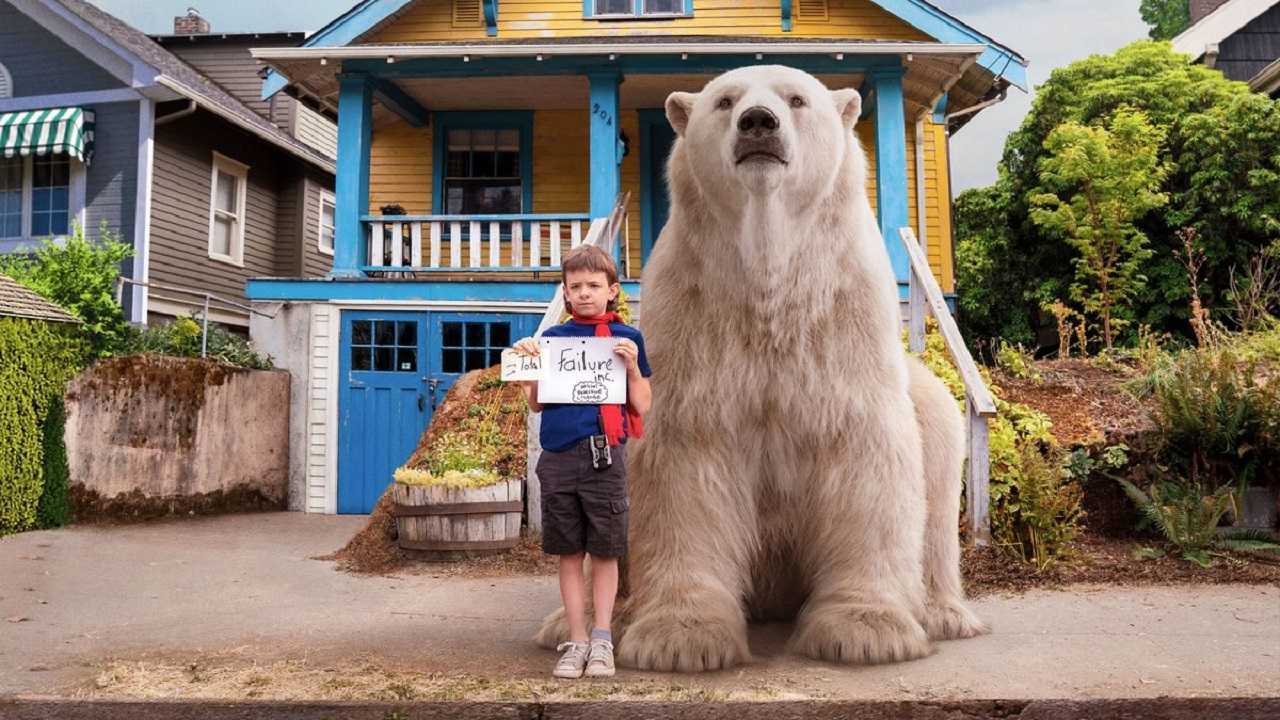 There's the central premise of a boy with an imaginary polar bear companion. Now we have had films about imaginary companions before from Harvey (1950) to Drop Dead Fred (1991), Bogus (1996) and Imagine That (2009). (See the page Films About Invisible and Imaginary Companions for more detail). The film comes at you in an oblique way where you are not quite what to make of it. The imaginary companion element is something that is just taken for granted – it is never actually specified throughout that that is what Total is meant to be.
The other oddity is the approach where Timmy acts as a child detective and we are given an unreliable narrator point-of-view in voiceover where what Timmy is saying in private detective jargon is clearly something quite different than what we see on the screen – the threat of the Russians appears to be entirely imaginary; his assistants – like best friend Rollo and his mother – are not people who would exactly agree that they are; while his cases are more him deciding if not entirely imagining that there is mischief at hand than anything else. It is quite a grapple as an adult trying to get where Timmy Failure is coming from – I imagine this would be even more confusing for the film's intended child audiences.
However, bear with Timmy Failure and it is an appealingly oddball film. Once its approach clicked with me, I began to like its eccentric sense of humour and the character's unique point-of-view. Tom McCarthy and Stephan Pastis do a fine job with the story, bringing it together in a nice and satisfying arc. The special effects creating the polar bear are modest and unobtrusive. And all of the cast stand up well in their performances with Craig Robinson, who I had previously only seen as a comedy actor, doing the best in a straight acting role as a surprisingly sympathetic school counsellor.
---
Trailer here
---