---
Crew
Director – Tom Hooper, Screenplay – Lee Hall & Tom Hooper, Based on the Musical by Andrew Lloyd Webber and the Book Old Possum's Book of Practical Cats by T.S. Eliot, Producers – Tim Bevan, Eric Fellner, Debra Hayward & Tom Hooper, Photography – Christopher Ross, Music – Andrew Lloyd Webber, Visual Effects Supervisors – Jason Billington, Phil Brennan, Kristin Hall, Matt Jacobs & Jessica Norman, Visual Effects – Lola VFX (Supervisor – David Hernandez) & Mill Film & MPC (Supervisors – Julian Burt & Steve Freeg), Special Effects Supervisor – Paul Dimmer, Production Design – Eve Stewart, Choreography – Andy Blankenbuehler. Production Company – Working Title/Amblin Entertainment/Monumental Pictures/The Really Useful Group.
Cast
Francesca Hayward (Victoria), Jennifer Hudson (Grizabella), Judi Dench (Old Deuteronomy), Laurie Davidson (Mr. Mistoffeles), James Corden (Bustopher Jones), Rebel Wilson (Jennyanydots), Idris Elba (Macavity), Ray Winstone (Crowtiger), Ian McKellen (Gus the Theatre Cat), Robbie Fairchild (Munkustrap), Mette Towley (Cassandra), Daniela Norman (Demeter), Jaih Betote (Coricopat), Laurent Bourgeois (Socrates), Jonadette Carpio (Syllabub), Zizi Strallen (Tantomile), Freya Rowley (Jellylorum), Naoimh Morgan (Rumpleteazer), Danny Morgan (Mungojerrie), Bluey Robinson (Alonzo), Eric Underwood (Admetus), Ida Sai (Electra), Jason Derulo (Rum Tum Tigger), Meow Meow (Griddlebone), Steven McRae (Skimbleshanks the Railway Cat), Taylor Swift (Bombalurina)
---
Plot
The cat Victoria is abandoned on the streets of London. There she is taken in by the Jellicle Cats where she is introduced to the variety of cats that live in the area in human houses or scavenging scraps from garbage cans. In the midst of this, the sinister Macavity attempts to woo Victoria. She also meets Grizabella, a former queen among the cats who is now ostracised by them. All of them are waiting for the upcoming Jellicle Ball where one of them will be selected to go to Heaviside Layer and the promise of a new life.
---
This is the film version of Cats (1981), the massively popular musical from Andrew Lloyd Webber. At the time that he launched Cats, Lloyd Webber was a young wunderkind riding on the popularity of shows like Jesus Christ Superstar (1970) and Evita (1978). Lloyd Webber based the musical on Old Possum's Book of Cats (1939), a whimsical book of poems about the nature of cats written by the celebrated T.S. Eliot. Lloyd Webber had been a fan of the book as a child and actually adapted Eliot's lyrics into songs. The musical premiered on Broadway in 1982 and ran until 2000 where it was the top longest running Broadway musical of all-time, until it was overtaken by Lloyd Webber's own The Phantom of the Opera (1988).
This is the film production. There had earlier been Cats (1988), a filmed version of one of the London stage shows. The rights had been obtained by Steven Spielberg during the 1990s who intended to produce an animated version but this never came about. The version we see finally came about from director Tom Hooper who emerged from British television in the 1990s and made a splash with his third feature film The Kings Speech (2010) and from there went on to the musical adaptation of Les Miserables (2012) and the true-life biographic The Danish Girl (2015).
Unlike the rapturous plaudits showered on the musical, Cats premiered with a miserable reaction. The visual effects and the casting were savagely, almost universally attacked – so much so that in an unprecedented move, the studio released a version of the film with improved visual effects a week after it premiered. The film won that year's award for Worst Film at the Golden Raspberries, along with Worst Actress, Worst Director and Worst Supporting awards for Judi Dench, Rebel Wilson and James Corden. Though it did earn a not immodest $76 million worldwide, the film was considered a huge box-office flop (where its success is confusingly not actually determined in terms of its earnings but in terms of returns subtracted from its budget).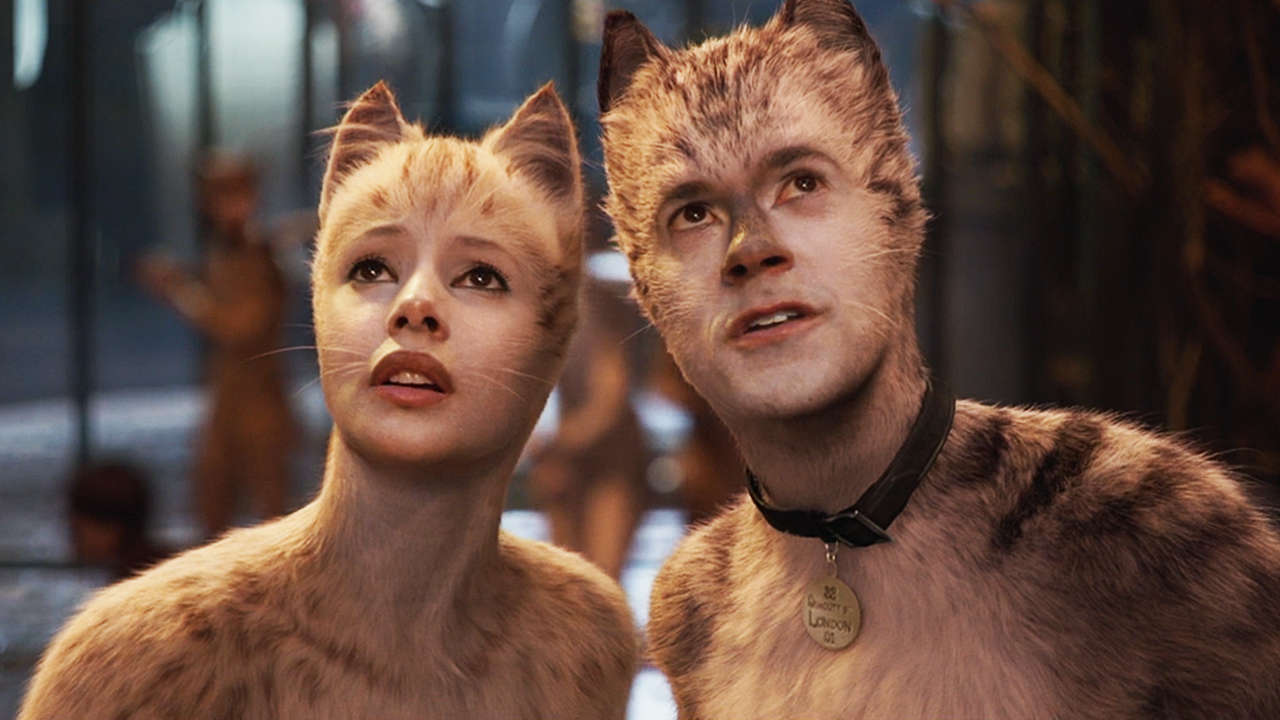 This review comes with qualifiers. Firstly, I have never seen the stage version and am not familiar with the musical. The second qualifier is that I was watching the re-edited version of the effects rather than the ones that went out with the film's premiere and received so much derision. Thirdly, I was watching the film at home on a tv screen, which, though a widescreen tv, is not the same as seeing everything on the cinema widescreen where I suspect the experience may have been slightly different.
All of that said, I enjoyed Cats far more than I was expecting to. This is a prime example of the reasons that I try not to read other reviews prior to watching a film. It feels like once a film gets a certain critical momentum, particularly with the advent of social media, people are swayed to fall in lockstep and start viewing it a particular way. I have seen it happen at critical previews or festival screenings when people are reacting to the word of mouth a film has received elsewhere. There is the sense that others have set the yardstick and as a result one keeps perceiving/expecting the film to be a certain way and unconsciously searching for evidence to support what everyone else is saying. Even watching Cats, I felt myself mentally adjusting, thinking that something was rather well done and then pulling back "Wait, I thought this was supposed to be a really terrible movie." I like to go into a film with that mental slate clean and without other's impressions swaying my thinking.
It feels like the people who had issue with the film were either adherents of the musical who felt disappointed in some regard. Or else the issue that they had was the sense of uncanny valley in seeing cats with human features and the faces of some recognisable actors. The effect looks odd for a couple of minutes but as soon as you settle into it seems quite natural. You only feel that the people making said comments have never watched any of the mocapped digital characters we have had since the early 2000s – everything from The Gollum in The Lord of the Rings films to Tom Hanks in The Polar Express (2004) to Avatar (2009) and The Hulk in the Marvel Cinematic Universe, reaching perhaps the peak of the art with Dawn of the Planet of the Apes (2014) and War of the Planet of the Apes (2017). These all place actors in mocap suits and give us digital faces that bear the likenesses of the actors to various degrees.
Perhaps the nearest to what we have here was Andy Serkis's Mowgli (2018), which gave us the Jungle Book characters with facial features that were a mix of human and animal. There is nothing about Cats that is any different to these. All one can say about the naysayers of the film is that you haven't seen enough of these other films. Contrarily, I would say that the visual effects and mocap work here is extremely good and creates a wide variety of anthropomorphic characters where the faces of well-known actors recognisably come through.
And actually you soon end up being absorbed in the playful and extraordinarily colourful show being put on around you. The blur of colour, choreography and song absorbs you in its whirl. There are some enormously entertaining sequences with Rebel Wilson as a plus-size cat dancing around a giant-sized kitchen accompanied by mice, or of a gregariously entertaining James Corden conducting a raid on a garbage can.
The set design for the film is extraordinarily colourful ranging from giant replicas of kitchens, bedrooms and a giant garbage can to an old decaying theatre. The streets are an amazing glitter of neon colours that seems to range through every colour of the spectrum. If Cats didn't have so bad a rap, it should have won the year's award for production design.
Where I do think Cats falls down is more to do with Andrew Lloyd Webber as a dramatist than anything to do with the effects. This is a film entirely arranged around a series of musical set-pieces. There is nothing to it that could even be vaguely described as a plot. Like Seth Rogen, I kept being confused as to why people were using the term Jellicle all the time and what it actually meant – this is a film that seems to assume you have watched the musical (or at least read its program book) – although from what I gather the musical didn't do much to explain the term, which had been made up by T.S. Eliot in his book. The screen is inundated with characters that are difficult to tell apart. The film has a villain who seems to do assorted nefarious things – trying to tempt innocent Victoria, imprison others – but whose schemes do zilch to impact on the plot. A more traditional fantasy plot would have the characters trying to escape from or fight against his influence and schemings. There's the climactic trip to the Heaviside Layer – a meaningless phrase that sounds like it belongs more in a science-fiction film – but just seems a magical piece of handwave that means precisely nothing.
(Winner for Best Production Design at this site's Best of 2019 Awards).
---
---