---
USA. 2007.
Crew
Directors – Steve Hickner & Simon J. Smith, Screenplay – Spike Feresten, Barry Marder, Andy Robin & Jerry Seinfeld, Producers – Jerry Seinfeld & Christina Steinberg, Music – Rupert Gregson-Williams, Visual Effects Supervisor – Doug Cooper, Production Design – Alex McDowell. Production Company – DreamWorks Animation/Columbia 81 Productions.
Voices
Jerry Seinfeld (Barry B. Benson), Renee Zellweger (Vanessa Bloome), Matthew Broderick (Adam Flayman), Patrick Warburton (Ken), John Goodman (Layton Montgomery), Chris Rock (Mooseblood), Barry Levinson (Martin Benson), Kathy Bates (Janet Benson)
---
Plot
The bee Barry B. Benson graduates from class and prepares to enter the workforce in the beehive. Barry is unenthused about the job options facing him – stirring honey, cleaning up etc – where he is expected to remain until he dies. Barry joins a group of 'pollen jocks' – the bees who go out to gather and distribute pollen – on one of their sorties. However, Barry becomes separated from the group and is battered by various human objects until he lands in the apartment of Vanessa Bloome. She prevents him from being swatted by her boyfriend Ken. Barry breaks the bee laws to speak and thank Vanessa. She is startled but the two quickly become friends. However, while walking through the supermarket with Vanessa, Barry realises that humans are exploiting bees for their honey. After discovering the shocking way that the bees are treated in the human hives, Barry comes up with the idea of taking humanity to court and suing for the exploitation of the bees over the centuries.
---
The tv series Seinfeld (1990-8) was one of the cultural icons of the 1990s and enjoyed enormous success during its eight seasons on air. Following the series' demise, star/creator Jerry Seinfeld seemed to be stuck with the fate that dogged so many who enjoyed similar kinds of success in a hit tv comedy (Henry Winkler, most of the cast of M.A.S.H. (1972-83), Roseanne Barr, Drew Carey, Fran Drescher) – that their subsequent career became a long downward slide into cameos and guest roles but nothing that ever approached the heyday of their success. Indeed, up until Bee Movie, Jerry Seinfeld has not appeared on anything on screen since the end of Seinfeld in 1998, excepting in a series of American Express commercials alongside an animated Superman. Seinfeld then re-emerged with Bee Movie, an animated movie where he not only voiced the central character but also co-produced and co-wrote the script. Seinfeld even went so far as to make a promotional appearance at the Cannes Film Festival wearing a bee suit and being winched between buildings.
Bee Movie comes from DreamWorks Animation. Throughout most of the 00s and beyond, DreamWorks have demonstrated a strength that showed that they were strong contenders for the animation crown held by Disney with efforts like Antz (1998), The Prince of Egypt (1998), The Road to El Dorado (2000), Spirit: Stallion of the Cimarron (2002), Sinbad: Legend of the Seven Seas (2003), Shark Tale (2004), Madagascar (2005), Over the Hedge (2006), Kung Fu Panda (2008), Monsters vs Aliens (2009), How to Train Your Dragon (2010), Megamind (2010), Rise of the Guardians (2012), The Croods (2013), Turbo (2013), Mr. Peabody & Sherman (2014), Home (2015), Trolls (2016), The Boss Baby (2017), Captain Underpants: The First Epic Movie (2017) and Abominable (2019), but most of all Shrek (2001) and sequels. Quite whether that still remains to be the case after the principals founders sold the company, which they did in 2007 (it subsequently known as DreamWorks Animation), remains to be seen.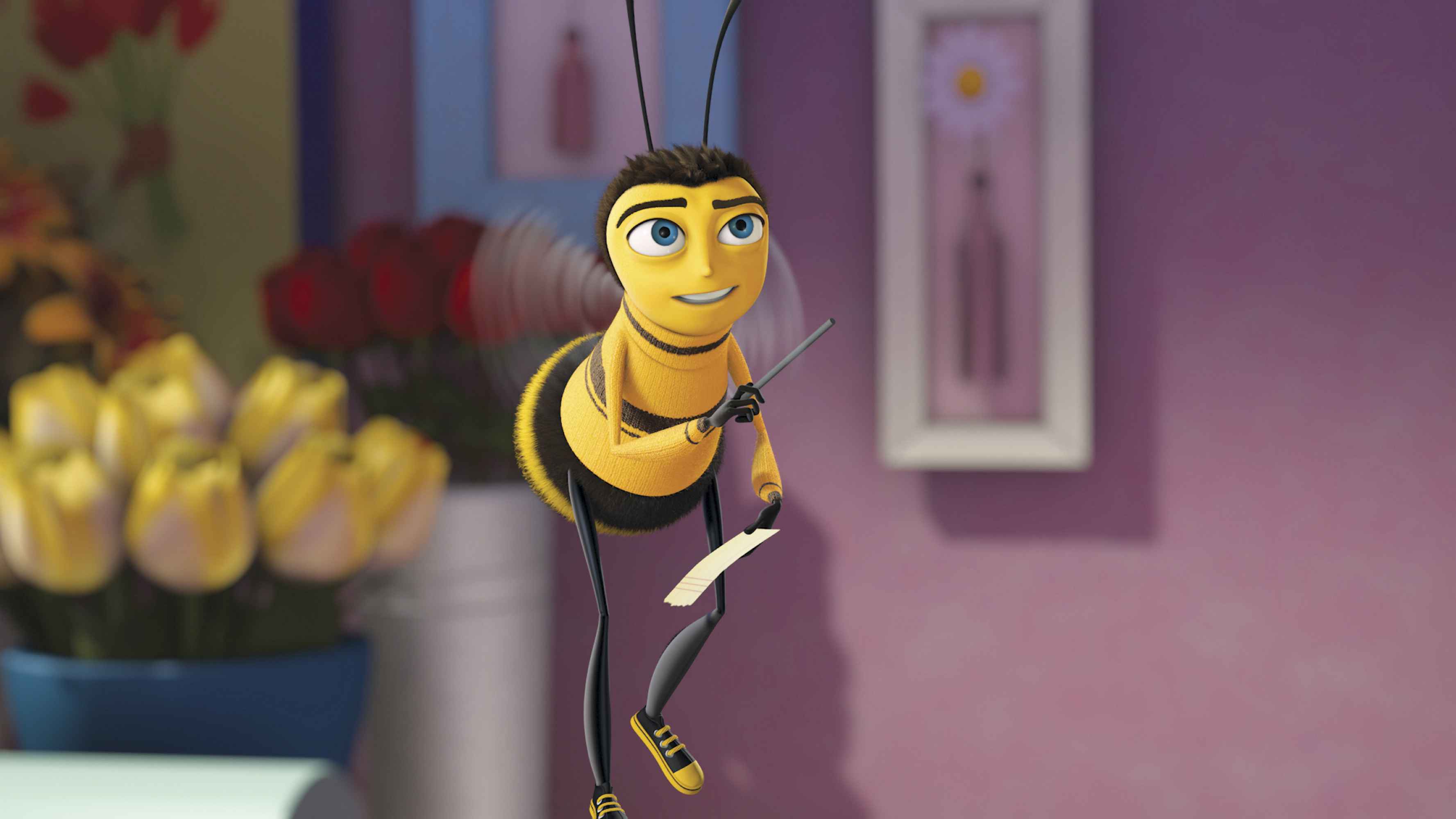 The first section of Bee Movie plays on the familiar riffs of the DreamWorks animated film. The main theme of the film is fairly much the same one that we had in Antz – the character who refuses to accept his place as an anonymous part of the operation of the hive and sets out to find his own individuality and destiny.
As in Shrek 2 (2004) and Shark Tale, the characters live in a world that is an anthropomorphised version of our own – thus the bees in the hive drive cars, attend graduation ceremonies, wear tuxes, sunbathe, the pollen jocks are dressed in aviator glasses and leather jackets, there are even areas of the hive where public service announcements are given in both English and Spanish.
In order to create such an anthropomorphised vision, Bee Movie has to conveniently ignore some of the basic biological facts about bees – in actuality, bees are a matriarchal society where the females make the honey and males are servile drones, yet this is set aside in order for Jerry Seinfeld to be the hero, while no mention is made of the queen (excepting to make a lame drag queen joke later in the piece). The opening introduction even plays off the long held notion that bees are unable to aerodynamically fly (although in actuality this is a scientific urban legend).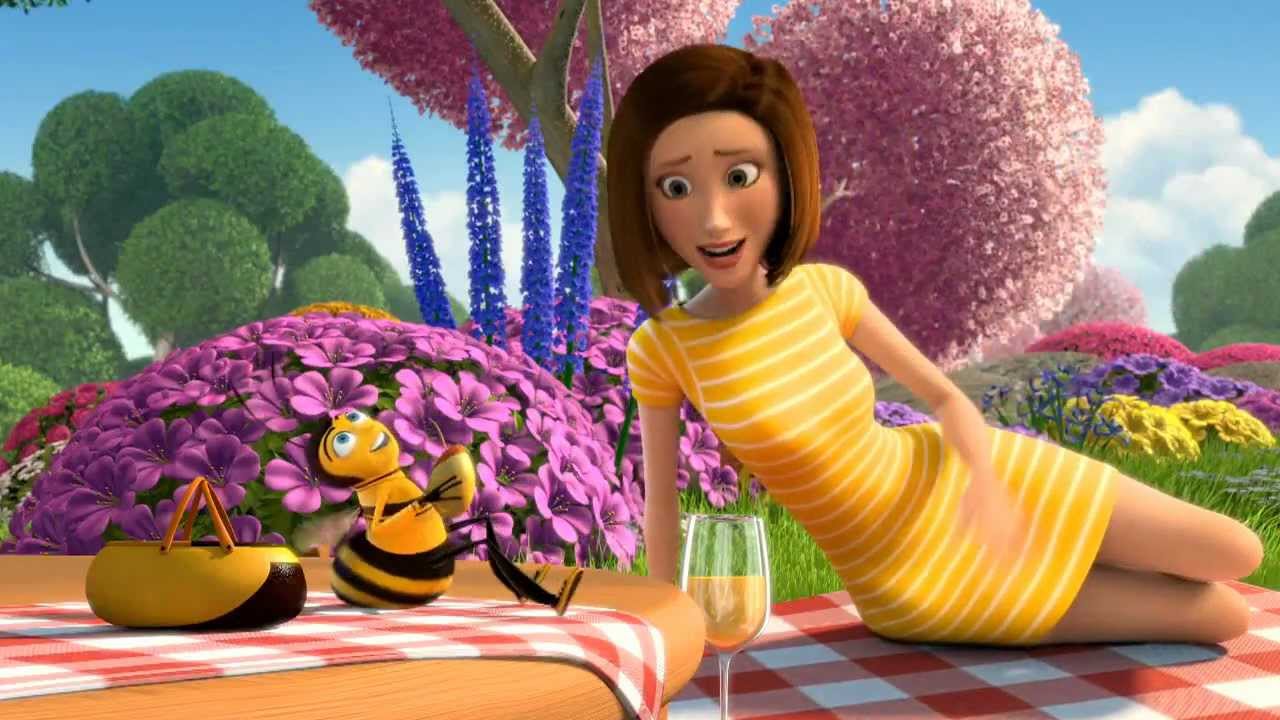 For the most part, Bee Movie gets by on a certain amiability without being truly standout. Some of the bee point-of-view takes on human society are amusing – Barry lamenting "I lost a cousin to Italian Vogue", or micro sword-duels held between Barry with his stinger and a pin-wielding store worker. Chris Rock has an amusing cameo as a mosquito – being introduced by Jerry Seinfeld as: "He's a lawyer too" to which the natural rejoinder is "I was already a bloodsucking parasite – I just needed a briefcase."
Eventually you have to applaud Jerry Seinfeld and his co-writers for packing Bee Movie with the maximum number of bee and honey-related puns and jokes that they can think of – the female bees even come with beehive hairdos. The soundtrack is packed with appropriate songs like Sugar, Sugar and the courtroom scenes feature a cameo from rock star Sting who is promptly berated for his facile appropriation of the name, while in a throwaway cameo Winnie the Pooh is seen being apprehended by the forces of law for stealing honey. There are a number of appealingly absurd images – especially the climactic scenes centred around the amusingly nonsensical image of Barry and a horde of bees having to land a plane.
---
Trailer here
Regular trailer here:-
---