---
Crew
Director – Jeff Fowler, Screenplay – Pat Casey & Josh Miller, Based on the Videogame by Sega, Producers – Toby Ascher, Takeshi Ito, Neal H. Moritz & Toru Nakahara, Photography (3D) – Stephen F. Windom, Music – Tom Holkenborg, Visual Effects Supervisor – Ged Wright, Visual Effects – Marza Animation Planet (Supervisor – David Nelson), MPC (Supervisor – Chris Uyede), Shade Visual Effects (Senior Supervisor – Bryan Godwin) & Trixter (Supervisors – Alessandro Cioffi & Michael Wortmann), Animation – Blur Studio (Animation Supervisor – Warren Grubb), Special Effects Supervisor – Alex Burdett, Digital Makeup – Digital Makeup Group, LLC (Designer – Bill Corso), Production Design – Sean Haworth. Production Company – Paramount/Sega Sammy Group/Original Films/Marza Animation Planet/Blur Studio.
Cast
Ben Schwartz (Voice of Sonic), James Marsden (Tom Wachowski), Jim Carrey (Dr Robotnik), Tika Sumpter (Maddie Wachowski), Lee Majdoub (Agent Stone), Adam Pally (Wade), Natasha Rothwell (Rachel), Neal McDonough (Major Bennington), Frank C. Turner (Crazy Carl), Donna Jay Fulks (Voice of Longclaw)
---
Plot
Sonic is a blue hedgehog with the ability to run at high speeds. He lives on an island on another world but his paradise is now invaded by echidnas. Longclaw, the owl that raised him, gives Sonic a bag of gold rings that can open portals and sends him to Earth. Ten years later, Sonic has grown up in the small town of Green Hills, Montana, living in a cave and keeping his existence a secret from the townspeople. He secretly looks in on local sheriff Tom Wachowski and his wife Maddie, envious of having a family. Feeling lonely, Sonic races around the town baseball field and inadvertently creates a pulse that drains power across the entire Eastern seaboard. This attracts the attention of the military who place Dr Robotnik in charge. As Robotnik arrives in town hunting him, Sonic chooses to reveal his existence to Tom. Forced to flee pursuit by Robotnik, Tom and Sonic head across country on a road trip to San Francisco to retrieve the bag of gold rings that Sonic accidentally let fall through a portal.
---
Sonic the Hedgehog was a videogame created by the Japanese company Sega in 1991. It became a success that propelled Sega to one of the top videogame companies of the era. The game was fairly simple in its original incarnation where the player had to move Sonic through a 2D obstacle course. Later versions of the game elaborated out on this and added characters and backstory to Sonic. The game was of such popularity that it produced a line of comic-books and accessories, even a soundtrack of the game's music. There were also several animated tv series with The Adventures of Sonic the Hedgehog (1993), Sonic the Hedgehog (1993-4) and the anime Sonic X (2005).
This was a live-action film from Paramount made in combination with Sega via their Marza Animation subsidiary that makes the cut-scenes for the videogame. Direction was handed over to newcomer Jeff Fowler who had only previously made the animated short film Gopher Broke (2004). The film was originally intended to be released in November 2019. However, after the trailer appeared online in April 2019, there was a massive fan backlash due to the fact that Sonic had been redesigned from the figure he was in the games to have a much more muscular human physique. Taking the response on board, the studio went back to the drawing board and redid all of the animation and released the film in February 2020 where it did good box-office and received reasonable reviews. (In fact, due to the Covid pandemic being declared a month after the film came out and most theatrical outlets being closed, Sonic the Hedgehog became one the biggest earning films of 2020).
According to the game's canon, Sonic was a regular terrestrial hedgehog until he was discovered and joined a high school track team. In contrast to this, the film invents a completely different background of him being of alien origin. The film pays lipservice to various pieces of game canon with Jim Carrey cast as the villain Robotnik (called Eggman in the original games). A mid-credits sequence introduces Miles Prower aka Tails, Sonic's sidekick, a fox who flies using his rotating tails, while the echidnas, regular villains of the games, turn up in the opening scenes. The golden rings make an appearance although in the games finding these serves to boost health points, whereas here they have been rewritten as magic portals.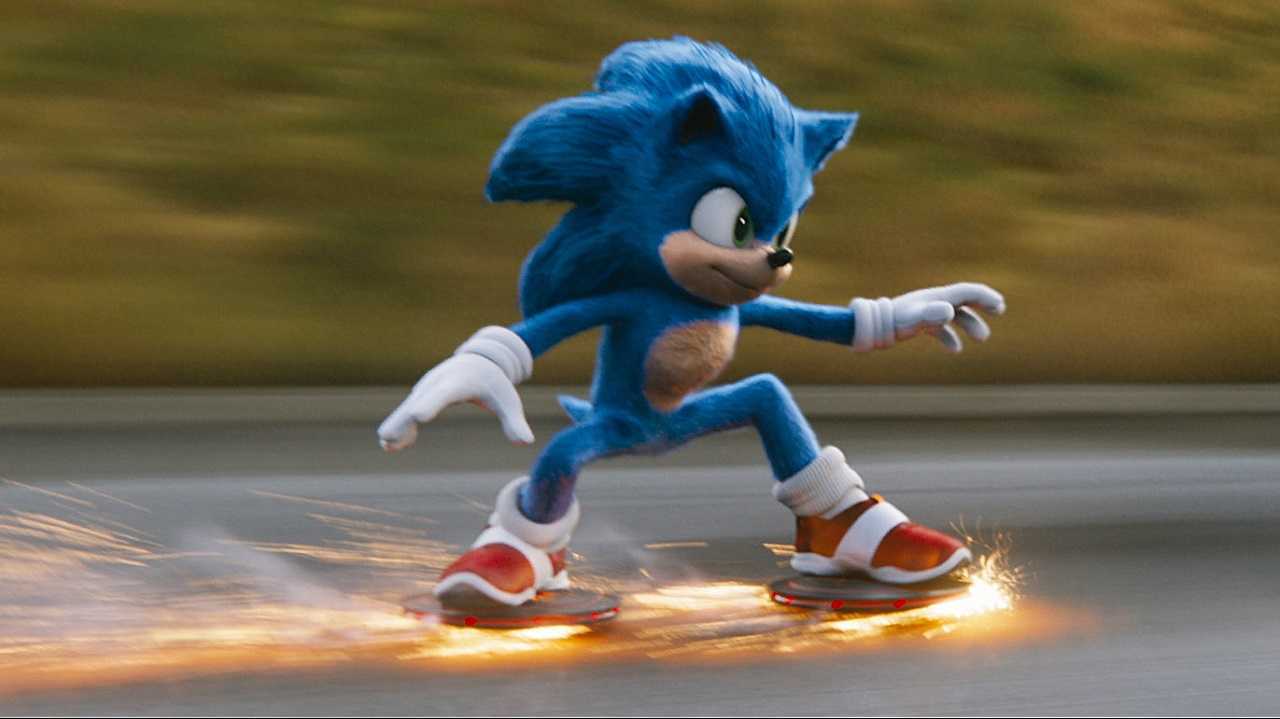 Stripped down to a plot level, Sonic the Hedgehog is incredibly basic. The character is an alien – nothing is explained about this other than that he was raised by an owl on another world (one that resembles the game arena for the original Sega games) and ends up in rural nowheresville USA. The plot is essentially a rehash of E.T. – The Extra-Terrestrial (1982) – cute alien makes friends with a human and they flee pursuit by bad guy government agents. Sonic is one of those characters who has been conceived to be anthropomorphically appealing – with a child's voice, eyes that take up nearly half its face anime-style and a manic habit of causing innocent-minded mischief. His relationship with James Marsden is a good old standard of the straight guy lumbered with the chaotic and uncontrollable non-human partner and their gradual shift from irritation to best buddies – it's a character trope that has served from Lethal Weapon (1987) to genre variants like Who Framed Roger Rabbit? (1988) and Hop (2011), which is notedly a film where James Marsden played essentially the same role he does here.
Sonic the Hedgehog is a film that actively resists any kind of intellectual engagement. Sonic is like a manic teenager who seems conceived as a single one of the Teenage Mutant Ninja Turtles by way of The Flash. The film overspills with pop culture references to everything from Speed (1994) and jokes about Men in Black (1997) to Sonic sitting reading The Flash comics. There's Jim Carrey giving the most Jim Carrey performance that we have seen him do in some time – ie. every line shouted from the rafters – and not seeming at all out of place as the villain of the show.
The surprise about the film is that despite its active resistance of any your brain cells, it is undeniable fun. It is directed with a great deal of energy. This none more so than an immensely entertaining sequence part way through – one undeniably borrowed from the scene with Quicksilver in action in X-Men: Days of the Future Past (2014) – where Sonic races through a barroom brawl that has been stilled in a single moment in time and wraps the combatants in toilet paper, redirects punches and even plants a moose head on the lead hooligan. It's a highly entertaining scene as much for the virtuosity of the choreography as the clear fun that all involved have in staging it.
This is rivalled a little while later by a scene where James Marsden and Sonic travel down a highway in an SUV pursued by Robotnik's remote controlled vehicle, which they keep despatching – only for every time they do so, for it to spout a smaller unit from inside just like a Matryoshka Doll and continue pursuit until we go from a vehicle that starts out the size of a truck to a flying unit the size of an eyeball. There is also an entertaining climactic scene on the side of San Francisco's Transamerica Pyramid with Sonic racing between and redirecting stilled missiles fired by Robotnik and then down the side of the building to save the falling James Marsden and Tika Sumpter with one of his rings. It is the sheer energy and exuberance of these scenes that marks Jeff Fowler as a director of promise.
Sonic the Hedgehog 2 (2022) was a sequel reuniting Jeff Fowler and most of the key cast.
Other films based on videogames include:- Super Mario Bros. (1993), Double Dragon (1994), Street Fighter (1994), Mortal Kombat (1995), Wing Commander (1999), Final Fantasy: The Spirits Within (2001), Lara Croft, Tomb Raider (2001), Resident Evil (2002), House of the Dead (2003), Alone in the Dark (2005), BloodRayne (2005), Doom (2005), DOA: Dead or Alive (2006), Silent Hill (2006), Hitman (2007), In the Name of the King: A Dungeon Siege Tale (2007), Postal (2007), Far Cry (2008), Max Payne (2008), Prince of Persia: The Sands of Time (2010), Tekken (2010), Angry Birds (2016), Assassin's Creed (2016), Warcraft (2016), Rampage (2018), Pokemon Detective Pikachu (2019), Monster Hunter (2020), Werewolves Within (2021), the tv series Halo (2022- ) and Uncharted (2022).
---
---