---
USA. 1996.
Crew
Director – Joe Pytka, Screenplay – Leo Benvenuti, Timothy Harris, Steve Rudnick & Herschel Weingrod, Producers – Daniel Goldberg, Joe Medjuck & Ivan Reitman, Animation Producers – Steven Paul Leiva, Jerry Rees & Ron Tippe, Photography – Michael Chapman, Music – James Newton Howard, Animation Directors – Tony Cervone & Bruce W. Smith, Live Action/Animation Visual Effects Supervisor – Ed Jones, Visual Effects Supervisor – James Lima, Visual Effects/Animation Effects – Cinesite (Supervisors – Carlos Aguello & Doug Tubach), Special Effects Supervisor – Darrell Pritchett, Production Design – Geoffrey Kirkland. Production Company – Warner Brothers
Cast
Michael Jordan (Himself), Wayne Knight (Stan Podalak), Bill Murray (Himself), Charles Barkley (Himself)
Voices
Billy West (Bugs Bunny/Elmer Fudd), Dee Bradley Baker (Daffy Duck/Tazmanian Devil/Bull), Kath Soucie (Lola Bunny), Danny DeVito (Swackhammer)
---
Plot
A group of aliens come to Earth to capture the Looney Tunes for their amusement park. The Looney Tunes convince the aliens to give them a chance by playing a deciding game of basketball. However, the aliens go and steal the talents of several top NBA players and transform into the giant Monstars. The Looney Tunes try to persuade a retired Michael Jordan to join their side.
---
Hoping to rekindle some of delight that Who Framed Roger Rabbit? (1988) was greeted with when it came out, Space Jam brings Warner Brothers' Looney Tunes out of mothballs (they having not appeared in anything bar the occasional tv special since the early 1960s) for a similar live-action/animation mingling.
That Space Jam is also a feature-length expansion of a Pepsi commercial that paired Bugs Bunny and NBA star Michael Jordan may well say something about the spirit of the enterprise – there seems something completely sad about the idea of a feature film being derived from a commercial. Nevertheless, it is good to see the Looney Tunes back in action again. With the vast leaps in computer and 3-D animation over the last few years, they are brought to life and integrated with the live action with far greater depth and roundedness than they ever had in the original shorts.
For all that, Space Jam is a disappointment. The central basketball game itself is lively enough but something that soon fades in memory. The film itself lacks either the energy or the visual invention that the Chuck Jones originals had. For visual humour, it substitutes one-liners and lame pop culture in-jokes – like having the Looney Tunes parody Pulp Fiction (1994).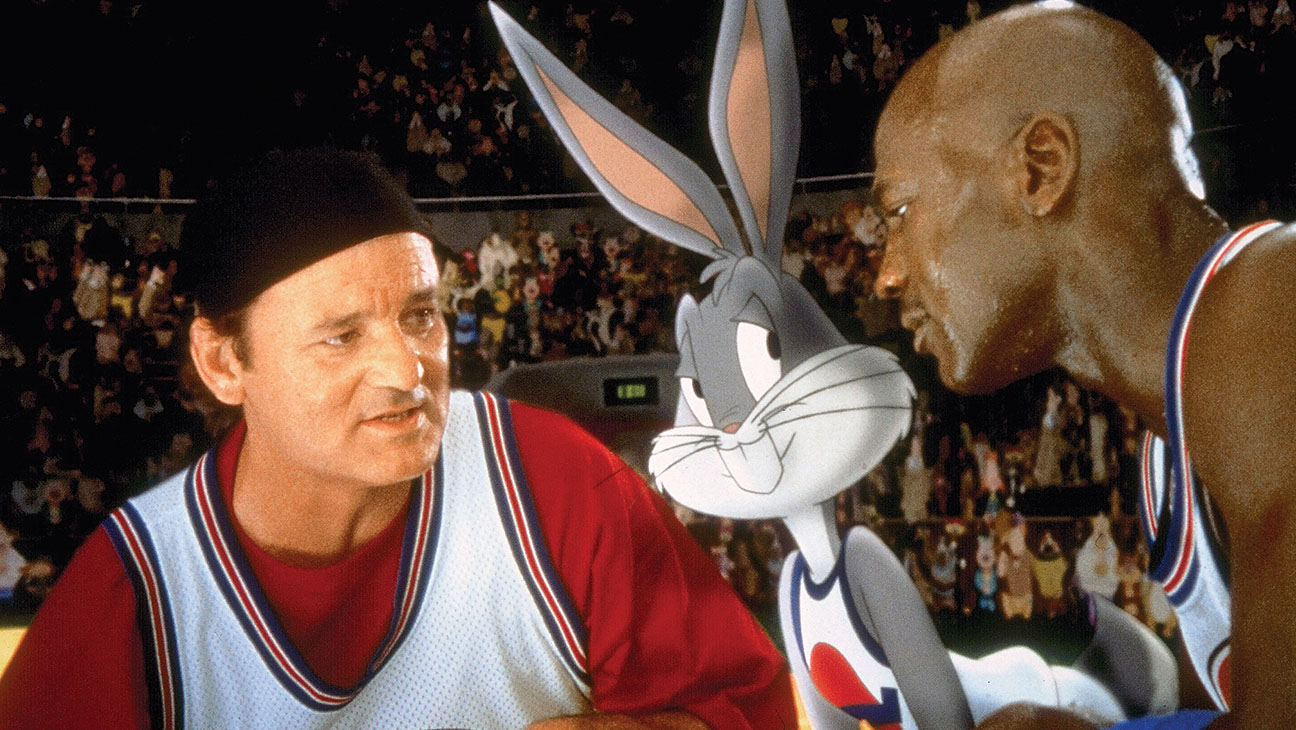 There is a good scene with Bugs and Daffy entering Michael Jordan's house that momentarily conjures something of the old Warner Brothers' classicism (and has at least one amusing joke on the characters' commercialism: "You know all those mugs and T-shirts and lunchboxes with our pictures on them – you ever see any money from all that? … We gotta get a new agent, we're getting screwed.")
The plot is thin on the ground – the reasons for having the basketball game in the first place seem contrived. Notedly, the story has to twist some of the Looney Tunes characters out of shape in order to set up its simplistic Toons vs the bad guys characterisations – traditional nemeses like Tweety and Sylvester or Road Runner and the Coyote are now seen on the same side. Michael Jordan is not much of an actor – although he certainly fares better than NBA stable-mate Shaquille O'Neal in Kazaam (1996), which came out around the same time as Space Jam – and it is becomes obvious that he is reacting to things that are not there in front of him during filming.
Space Jam: A New Legacy (2021) was a sequel featuring a different NBA star LeBron James. Looney Tunes: Back in Action (2003), which originally began as a sequel to Space Jam, is a much better revival of the Looney Tunes characters. The film was re-edited as Teen Titans Go! See Space Jam (2021).
---
---