---
USA. 1985.
Crew
Director – Michael Schultz, Screenplay – Louis Venosta, Producer – Rupert Hitzig, Photography – James A. Contner, Music – Mischa Segal, Music Supervisor – Suzanne Coston, Additional Music – Willie Hutch & Norman Whitfield, Visual Effects – Rob Blalack & Praxis Filmworks, Special Effects Supervisor – Gary Zeller, Animation Supervisor – Peggy Ryan, Production Design – Peter Larkin. Production Company – Motown Productions/Tri Star-Delphi III Productions.
Cast
Taimak (Leroy Green), Vanity (Laura Charles), Chris Murney (Eddie Arkadian), Julius J. Carry III (Sho'Nuff), Faith Prince (Angela), Leo O'Brian (Richie Green), Glenn Eaton (Johnny Yu), Thomas Ikeda (Master)
---
Plot
Martial arts novice Leroy Green is told by his instructor that he has learned all that he can be taught and that he must go out into the world and find the mysterious Final Level – The Glow that allows spirit to take over from body and mind. On the streets of New York City, the unworldwise Leroy saves beautiful DJ Laura Charles, who is being pressured by ruthless record promoter Eddie Arkadian to plug his girlfriend's music video clip on her MTV show. In the process of doing so, Leroy falls in love with Laura. When Laura takes Leroy on as her personal bodyguard, Arkadian hires the evil gang leader and martial arts master Sho'Nuff to dispose of him.
---
The Last Dragon is a completely bizarre effort that quite defies any easy description and sits in a category all of its own. One of the strangest aspects about the film was the Motown Records name on the credits. Motown, a record label specialising in promoting Black artists, was founded in 1959 by Berry Gordie. Motown was responsible for producing successes such as The Commodores, Marvin Gaye, The Supremes, The Temptations, Stevie Wonder and most famously The Jacksons. By the 1970s, Berry Gordie was trying to stretch his wings and expanded the Motown empire onto film. Motown Productions, as the film wing was called, produced a number of African-American themed films such as Lady Sings the Blues (1972), Mahogany (1975), which Berry Gordie also directed, The Bingo Long Travelling All-Stars and Motor Kings (1976), Scott Joplin (1977), Thank God It's Friday (1978) and The Wiz (1978).
Seen today, The Last Dragon stands a truly amazing crosscut of the 1980s pop culture. The film was clearly influenced by the newly emergent phenomenon of MTV, which had just started in 1981. It also came out at a time when filmmakers were hitting onto the notion of placing pop songs on film and selling spin-off soundtracks after the huge success had by the likes of Saturday Night Fever (1977), Grease (1978) and Flashdance (1983). A substantial part of the plot of The Last Dragon is set around discos, while the heroine/love interest is a disc jockey for a music video channel. Not to mention the fact that the heroine role has been cast with Vanity, the luscious Prince protege who had a brief acting/singing career during the 1980s before giving up and becoming a Christian minister. Faith Prince also gives a tongue-in-cheek performance that seems to have been modelled on 1980s bimbo pop queen Cyndi Lauper.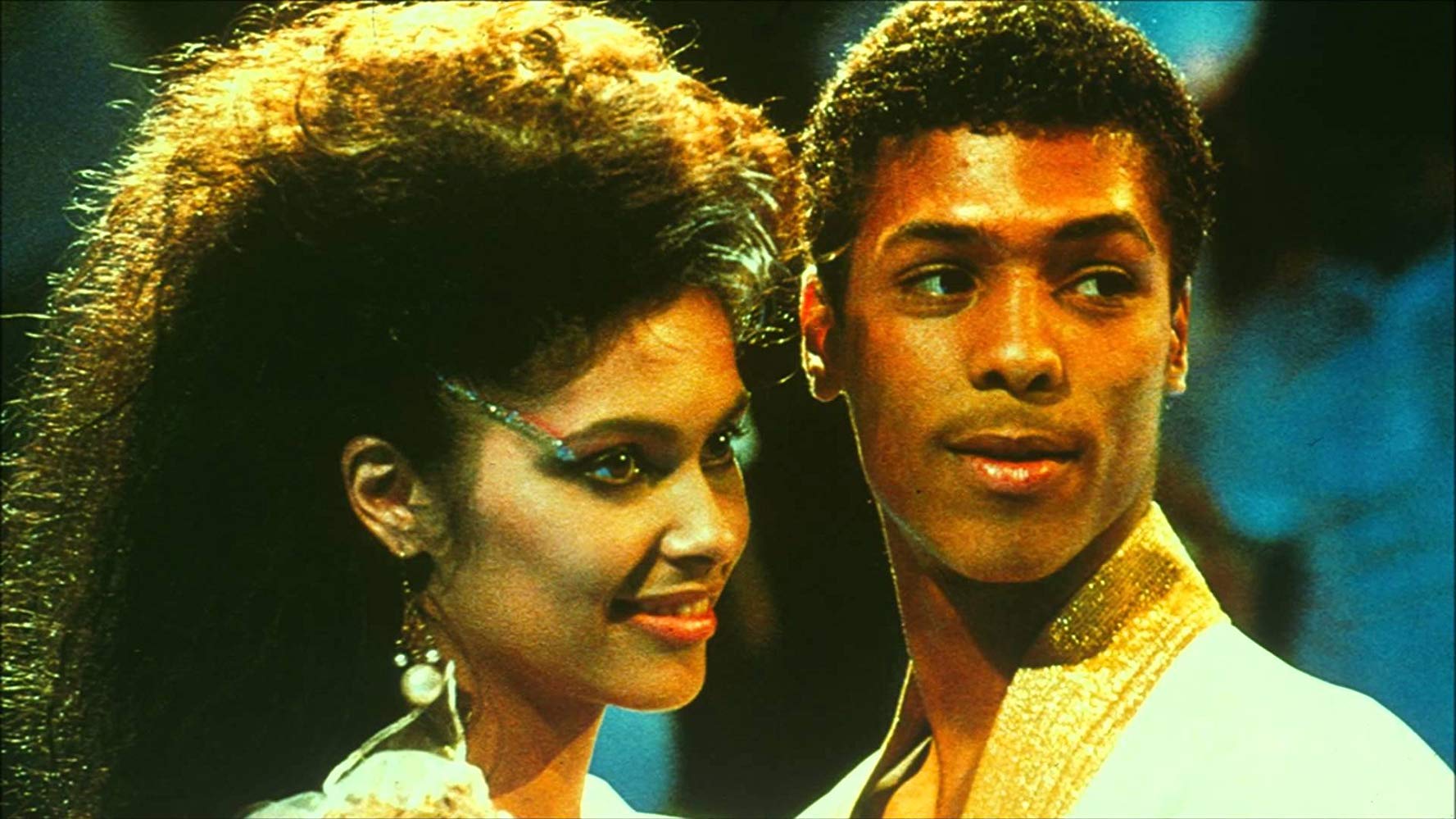 Amidst all of this, The Last Dragon is also a martial arts film. It came along just a year too early to tap into the first Hollywood stabs at imitating Hong Kong Wu Xia cinema that came with Big Trouble in Little China (1986) and The Golden Child (1986). Had it done so, The Last Dragon might have been an even more demented film than it is. Instead, The Last Dragon feels like it has reached back to Hong Kong kung fu films of the 1970s for its sources – the spirit of Bruce Lee holds a hagiographic status throughout.
Although The Last Dragon has not even gone that far – it has more the feel of one of the anodised Hollywood popularisations of kung fu cinema such as The Karate Kid (1984). Indeed, The Last Dragon reads as a madcap pop music version of The Karate Kid fed through the 1970s Blaxploitation fad. Neither the original Hong Kong martial arts films nor their numerous American copies did much to crossover into fantasy (with minor exceptions) and here the filmmakers end up bizarrely crossbreeding the kung fu film with Star Wars (1977), which was the only fantastical model around at the time for The Last Dragon to draw inspiration from.
In its stew of elements, The Last Dragon is a film that quite defies belief. It seems to be construed as a willful multi-lane pileup of different cinematic styles – it is a kung fu film produced by Motown Records, is set amid New York disco-land and MTV arena with a bit of Star Wars Force mysticism thrown in for measure. The cultural miscegenations that the film manages are downright hilarious – like the Black gang leader (Julius J. Carry III) dressed in full samurai gear who faces off with hero Taimak in a theatre showing Bruce Lee films; a Black pizzeria; jive-talking Asians. Not to mention the diminutive Caucasian record producer who keeps deadly fish in a tank in his office like some kind of James Bond villain. At the apex of its crazed lunacy, The Last Dragon turns junk culture into delightfully loony iconography – with Bruce Lee seen as a kind of martial arts Buddha and fortune cookies as auguries of wisdom.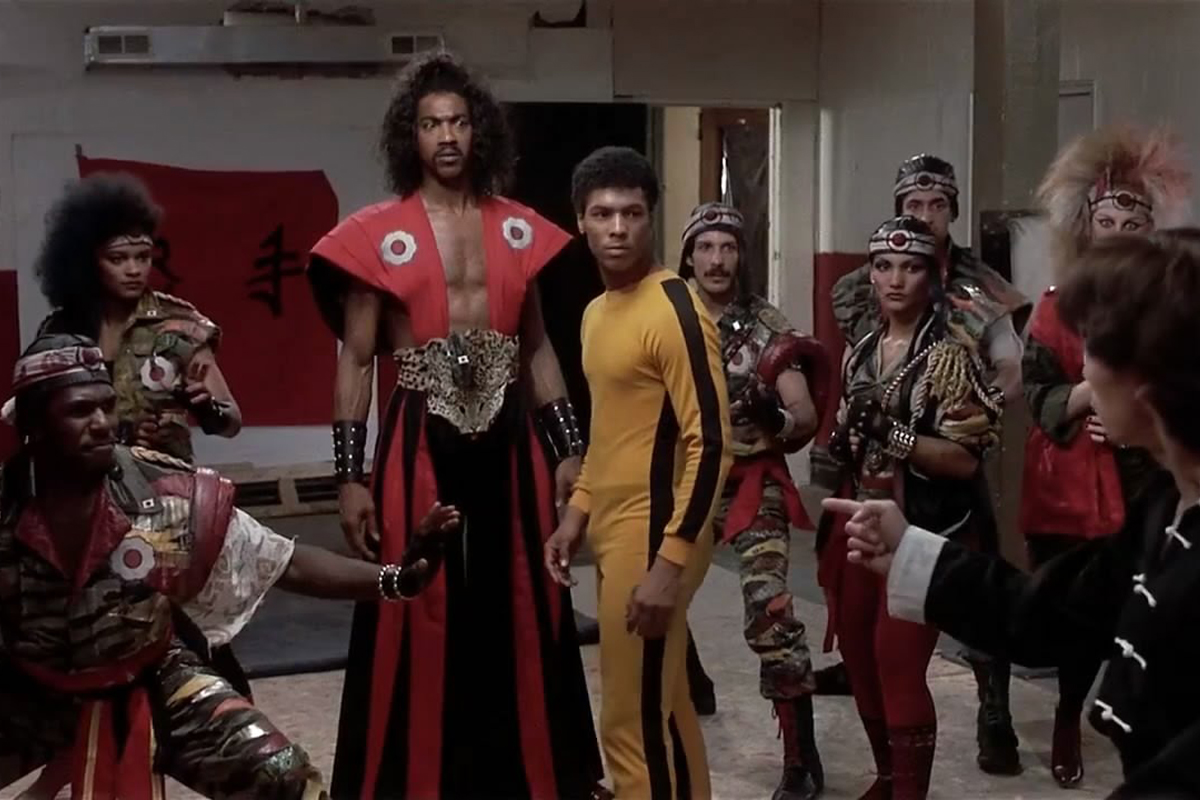 All of this is played with tongue planted decidedly in cheek. The acting of the villains in particular is so far gone we could be looking at new means of interstellar exploration – Julius J. Carry III steals a large part of the film as the self-titled 'Shogun of Harlem'. With lines of dialogue like record producer Chris Murney's dressing down of bimbo girlfriend Faith Prince: "Without that outfit you're nothing but a dental hygiene school dropout from Kew Gardens getting by on her tits," to which the natural rejoinder is: "And you know what, Eddie? You're nothing but a misguided midget asshole with dreams of ruling the world. Also from Kew Gardens. And also getting by on my tits," what more can one say.
The Last Dragon starred 20 year-old Taimak (real name Taimak Guirriello) and tried to pump him up as a martial arts star. Taimak, who made his acting debut with The Last Dragon, is not much of an actor but has some decent martial arts moves. (Taimak never onto anything of an acting career and nowadays acts as a martial arts trainer to various stars). That said, The Last Dragon never works as a martial arts film – the martial arts have a basic competence but director Michael Schultz has not studied the genre in anything but a cursory way and fails to enervate the action in any interesting way.
As director, Berry Gordie chose Michael Schultz who was one of the first Black directors in Hollywood. Schultz had previously made 1970s pop culture films like Car Wash (1976), Greased Lightning (1977) and Sgt. Pepper's Lonely Hearts Club Band (1978), another surreally bizarre marriage of music and film that has a strong reputation in bad movie circles. Schultz's only other subsequent genre entries have been tv movies that have included the comic-book adaptation The Spirit (1987), the time travel film Timestalkers (1987) and the comedic Tarzan in Manhattan (1989).
---
---