USA/West Germany. 1978.
Crew
Director – Michael Schultz, Screenplay – Henry Edwards, Based on the Stage Musical Sgt. Pepper's Lonely Hearts Club Band on the Road by Tom O'Horgan & Robin Wagner, Producer – Robert Stigwood, Photography – Owen Roizman, Music/Lyrics – John Lennon & Paul McCartney, Music Arranged and Directed by George Martin, Optical Effects – Todd C. Ramsay, Electronic Visuals – Ron Hays, Special Effects – Phil Cory, Production Design – Brian Eatwell, Choreography – Patricia Birch. Production Company – Robert Stigwood Organization/NF Geria II Filmgesellschaft m.b.H.
Cast
Peter Frampton (Billy Shears), Barry Gibb (Mark Henderson), Robin Gibb (Dave Henderson), Maurice Gibb (Bob Henderson), Frankie Howerd (Mean Mr Mustard), Donald Pleasence (D.B. Hoffler/Brockhurst), Sandy Farina (Strawberry Fields), George Burns (Mr Kite), Paul Nicholas (Dougie Shears), Dianne Steinberg (Lucy), Steve Martin (Dr Maxwell Edison), Aerosmith (Future Villain), Alice Cooper (Father Sun), Billy Preston (Sgt. Pepper), Earth, Wind & Fire (Themselves), Carel Struycken (The Brute)
---
Plot
Sgt. Pepper's Lonely Hearts Club Band were a central fixture of the town of Heartland, USA through both World Wars and all the times in between, always having made people dance happily – until Sergeant Pepper died in 1958. The band is revived in the present by the three Henderson brothers and lead singer Billy Shears. They receive the offer of a contract from record magnate D.B. Hoffler and are asked to go to Hollywood immediately, although this means Billy having to leave behind his girlfriend Strawberry Fields. In Hollywood, they are promoted to great success. Meanwhile, the evil Mr Mustard moves in with the intentions of taking over Heartland. Upon orders from a computer, he steals the original band's magically empowered instruments from the town museum and distributes them to various people around the country. To stop Heartland collapsing into ruin, the band must go on a quest to retrieve the instruments.
---
Sgt. Pepper's Lonely Hearts Club Band (1967) is of course the famous double-album from The Beatles. It was the band's eighth album and came at the point where the Fab Four had tired of the mass pop phenomenon they had become. It was also the first album released after the band's much publicised trip to India and failed experiment with Eastern mysticism. Stylistically, their evolving interest had taken them into the arena of more experimental, studio-based music. To this extent, Paul McCartney came up with the idea of creating an alter ego for the band to allow them to operate freely. The result was an enormous success and is considered one of The Beatles greatest works, if not one of the greatest albums of all time in various polls. The rights to the album were obtained by Robert Stigwood who first produced an off-Broadway play Sgt. Pepper's Lonely Hearts Club Band on the Road (1974) by Tom O'Horgan and Robin Wagner that ran for 66 performances. This film very loosely adapts the play.
Robert Stigwood was an Australian born music agent who became a showbiz promoter and later theatrical producer in the UK in the 1960s. During his career, Stigwood managed names such as Eric Clapton, Cream, Rod Stewart, The Who and especially The Bee Gees. Stigwood also moved into theatrical production during the 1970s and was instrumental in producing works such as the British production of Hair and the original stagings of Sweeney Todd and Evita. Stigwood moved into movie production with the film version of Jesus Christ Superstar (1973) and produced a number of other hit music-based films with Tommy (1975) and Bugsy Malone (1976), before hitting a peak with the dual hits of Saturday Night Fever (1977) and Grease (1978). 1978 however seemed to be the year Stigwood's cinematic ambitions collapsed in on themselves with Sgt. Pepper's Lonely Hearts Club Band costing a then-expensive $18 million but failing to earn its budget back, as well as the flop John Travolta-Lily Tomlin romance Moment by Moment (1978). Stigwood has only sporadically produced films since then with the likes of the stalker film The Fan (1981), the film version of Evita (1996) and the two widely derided sequels to his most popular hits with Grease 2 (1982) and Staying Alive (1983).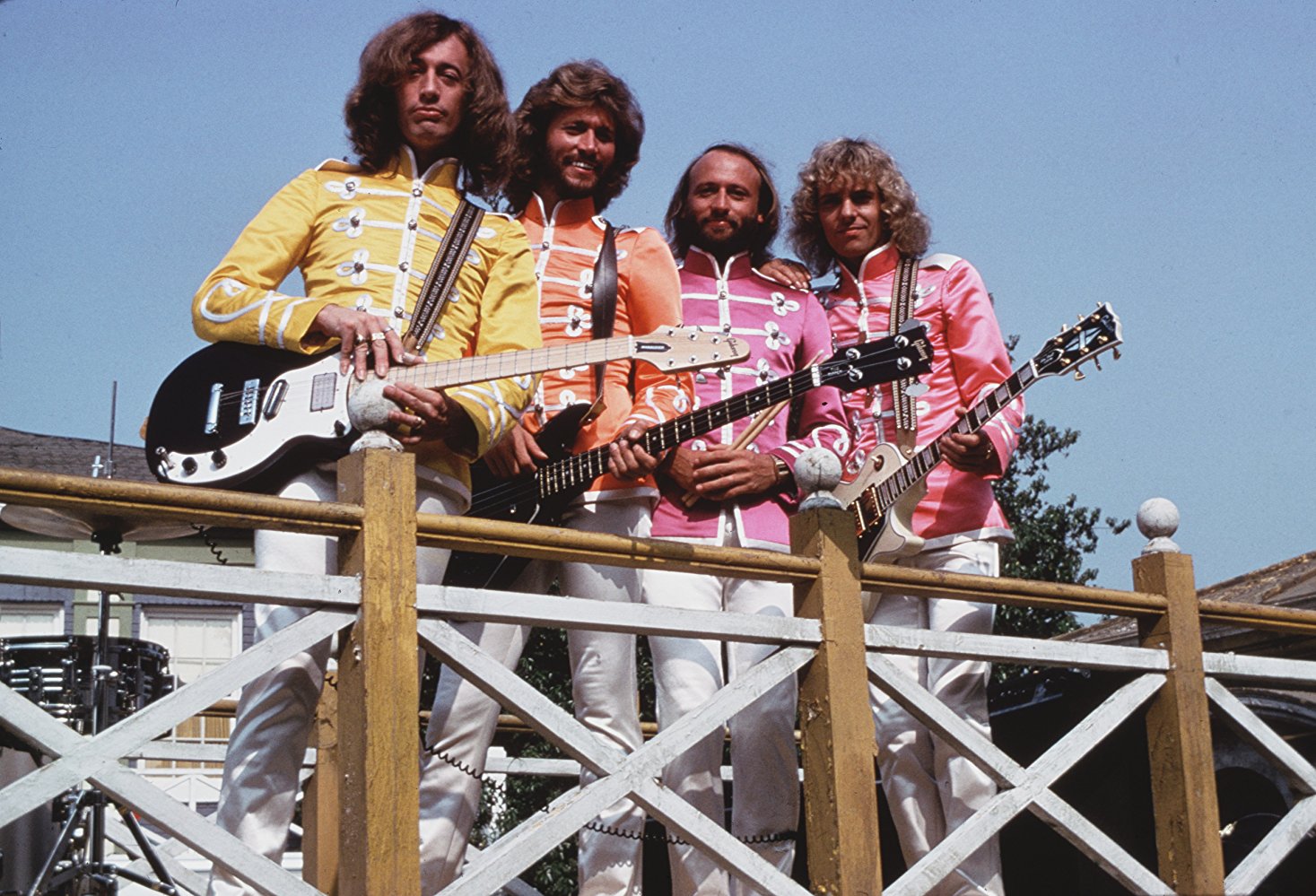 Sgt. Pepper's Lonely Hearts Club Band is one of those films that you sit back wondering why it didn't occur to somebody involved with the production that it would be a colossal disaster. One up there along the lines of conducting a hip Me Generation remake of King Kong (1976) and an even worse sequel to it with King Kong Lives (1986), allowing Joel Schumacher to make Batman & Robin (1997), the moment that George Lucas decided to let Greedo shoot first or conceived of Jar-Jar Binks, Nick Cave's proposed sequel to Gladiator (2000) with Maximus resurrected throughout time, or that Paulie Shore was ever a movie star.
When it comes to the film, the music is served up without any respect to the source material. The Beatles originally started out writing ditty little pop songs that became a worldwide phenomenon, while their later material started artistically expanding and by the time of Sgt. Pepper album had ventured into 1960s consciousness-expanded psychedelia. The failure of the Sgt. Pepper film is to not see that the original music was very much a product of its decade and in trying to crassly translate it to the US circa 1978. Thus the music created by four lads from Liverpool is played out by The Bee Gees who, though they were British born, are the quintessence of the disco era (and were an integral part of the success of Stigwood's Saturday Night Fever and its massively successful spinoff soundtrack). In the film, they are made into American icons who come from somewhere as quintessentially All-American as to be named Heartland. There is also the incongruity of seeing Beatles songs played out with R&B and funk bands and disco singers. Somehow the acid-tinged surrealism of the lyrics seems out of place amid the generation that discovered coke as their drug of choice.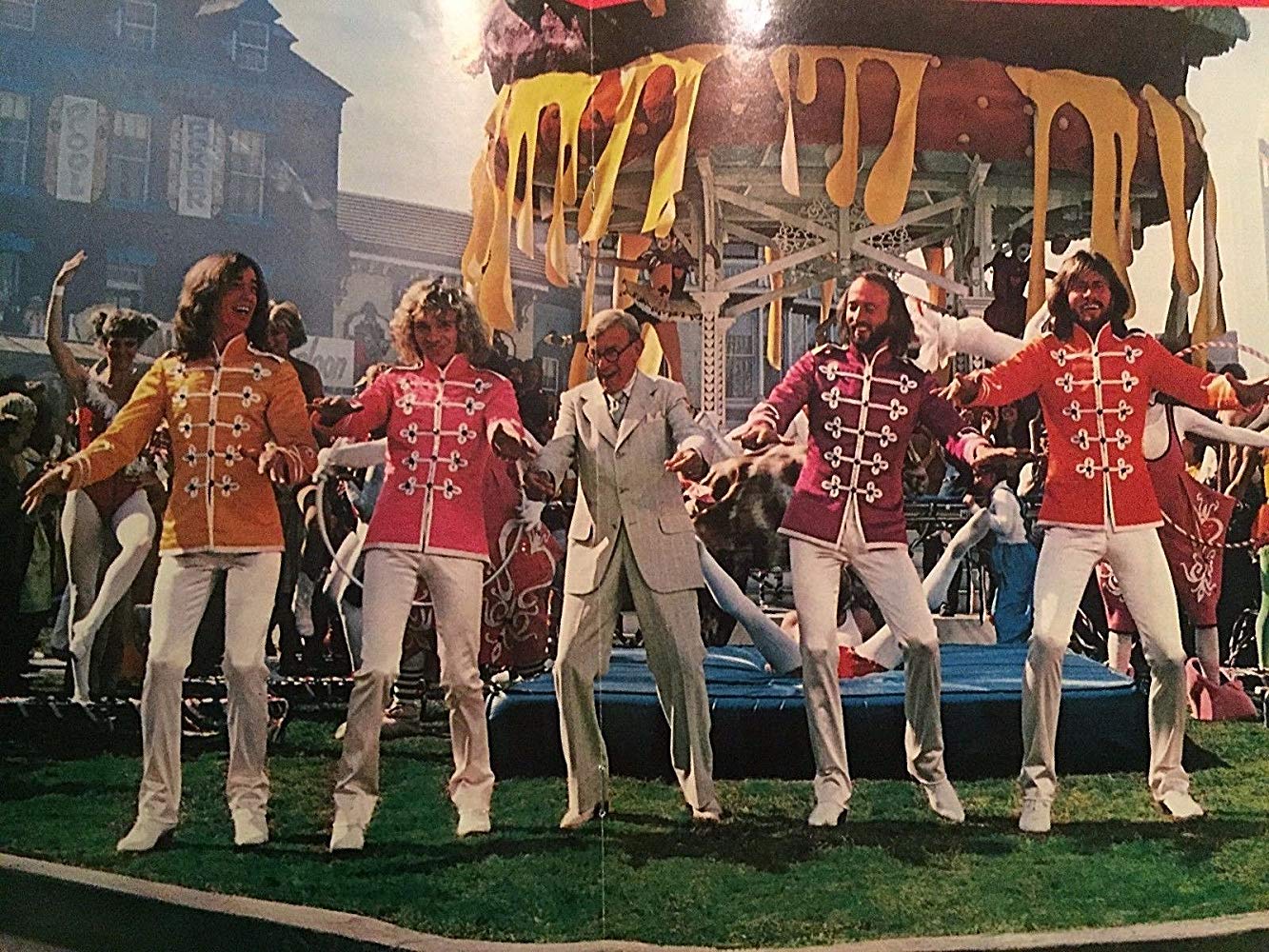 The film's script seems stretched into an absurd pretzel shape in order to fit the film around the various songs (which include several from other Beatles albums). Peter Frampton's lead singer is named Billy Shears to wind in With a Little Help From My Friends. Love interest Sandy Farina gets the improbable name of Strawberry Fields so the song of the same name can be used as a tribute to her, while we also get an R&B band named Lucy and the Diamonds who, to justify the singing of Lucy in the Sky with Diamonds, get to perform against a billboard. Peter Frampton and Sandy Farina spend the night in a barn for the sole reason that they can be greeted the next morning with the song Here Comes the Sun Again. Frankie Howerd's villain is given a routine Plot Coupons quest to deliver the magical musical objects to various people who are given names such as the Sun King and Dr Marshall so as to wind in the particular songs of the same name. Frequently the song lyrics make no sense in the context they are used – when Strawberry Fields is sung here, it is used to refer to Peter Frampton's girlfriend Sandy Farina, rendering nonsensical lyrics in the song like "I'm going down to Strawberry Fields" that treat it as a location. The creative use of The Beatles' music in a dramatic structure worked far better in Across the Universe (2007), which actually thought to add a plot to the mix.
Mostly, the film ends up with a WTF bizarreness. Sgt. Pepper's Lonely Hearts Club Band came out not long after the massive success of Star Wars (1977) and so we get random science-fiction elements – such as Frankie Howerd being massaged by two black-skinned female robots and being given orders by a computer-voice to deliver the magic musical objects. (Exactly who is giving him the orders is something we never find out). Some of the most bizarre moments involve Steve Martin as Dr Marshall who, as per the song, has a magic hammer. The film then has Martin walking through his laboratory zapping people with the hammer and turning them into Boy and Girl Scouts before he and Peter Frampton engage in a duel with rods that emits energy discharges. Aerosmith turn up and do a serviceable rendition of Come Together as Peter Frampton tries to save Sandy Farina from where she is tied up to rotating neon coins while Steve Tyler is eventually despatched by falling from the stage onto a floor with dollar bills for patterns. The climax of the film has Sergeant Pepper materialising from a weather vane, magically zapping a suicidal Peter Frampton as he jumps from the roof in a rendition of Get Back, before running through the town, restoring things aright, resurrecting Sandy Farina and transforming Frampton and The Bee Gees into their spiffy gold and white suits for the climactic reprise of the title track along with a host of celebrity names.
Director Michael Schultz had previously made 1970s pop culture films like Car Wash (1976), Greased Lightning (1977) and would go onto the surreally bizarre martial arts/disco film The Last Dragon (1985). Schultz's only other subsequent genre entries have been tv movies that have included the comic-book adaptation The Spirit (1987), the time travel film Timestalkers (1987) and the comedic Tarzan in Manhattan (1989).
---
---