---
Crew
Director/Screenplay/Producer – Jim Wynorski, Photography – Jacques Haitkin, Music – Alan Howarth, Visual Effects – Tony Doublin, Animation Effects – Ernest D. Farino, Makeup Effects – Steve Neill, Production Design – Wayne Springfield. Production Company – Harwood Productions.
Cast
Melanie Vincz (Inspector Angel Wolfe), Raven De La Croix (Whitestar), Angela Aames (Heather McClure), Paul Coufos (Rick Stanton), Bob Tessier (Koro), Angus Scrimm (Dr Sen Do/Lee Chuck), Blackie Dammett (Prager), Linda Shayne (Cindy Blake), Kenneth Tobey (Captain Hendry), Angelique Pettyjohn (Whiplash), Art Hern (Inspector Charles Chang)
---
Plot
Police detective Angel Wolfe is brought in after her brother is killed during the robbery of a Chinese jewellery store. She uncovers that the thieves were operating on behalf of Dr Sin Do and seeking one of the halves of the Eyes of Avatar, which comes from Lemuria and prophesies great power to the one who unites the halves. Unknown to Angel, the missing half of the stone levitates itself into her handbag. She learns that Dr Sin Do holds a martial arts competition for girls at his heavily guarded base on Golgatha Island. Girls are only permitted to enter in teams of three. To get there, Angel recruits the American Indian warrior girl Whitestar and offers a pardon to get the ultra-tough Heather McClure whom she had previously busted out of jail. Together the three travel to the island where they must fight in the competition in order to confront the mysterious Sin Do.
---
The Lost Empire was the first film from Jim Wynorski. In the three decades since then. Wynorski became a prolific director of exploitation films, mostly for the video market during its heyday and more recently for cable. Wynorski has dabbled frequently within genre material, making horror, action and science-fiction, often with tongue planted in cheek. (See below for a full list of Jim Wynorski's other genre films). Most common has been Wynorski's dabbling in softcore erotica – all of his films make a virtue of their T&A content and he was one of the directors prominently associated with the late 1980s/early 90s Scream Queen fad. He has been a frequent contributor to the softcore parody film beginning with the popular The Bare Wench Project (1999) and including titles such as The Witches of Breastwick (2005), The Breastford Wives (2007), The Da Vinci Co-ed (2007) and Cleavegefield (2008), among others.
In a typically Wynorski move, the opening shot of The Lost Empire is an iris-out from a woman's ample cleavage. He has you completely won over within the first couple of scenes. Police are in the midst of a hostage scene outside a school, the mysterious Inspector Wolfe turns up on a motorcycle all dressed in black leather, their face covered by a motorcycle helmet, before bursting into the school corridors on the bike, shooting the terrorists and delivering the line "If you're going to come to school, punk, you better learn to count," and taking off their helmet to reveal that it is a woman (Melanie Vincz) beneath as she shakes loose a gorgeous flow of platinum blonde hair. The entire film exists in an absurdly improbable realm – one where it is perfectly normal for police detective Melanie Vincz to go to work in a slinky silver bodysuit with plunging neckline that reveals her (naturally) ample cleavage.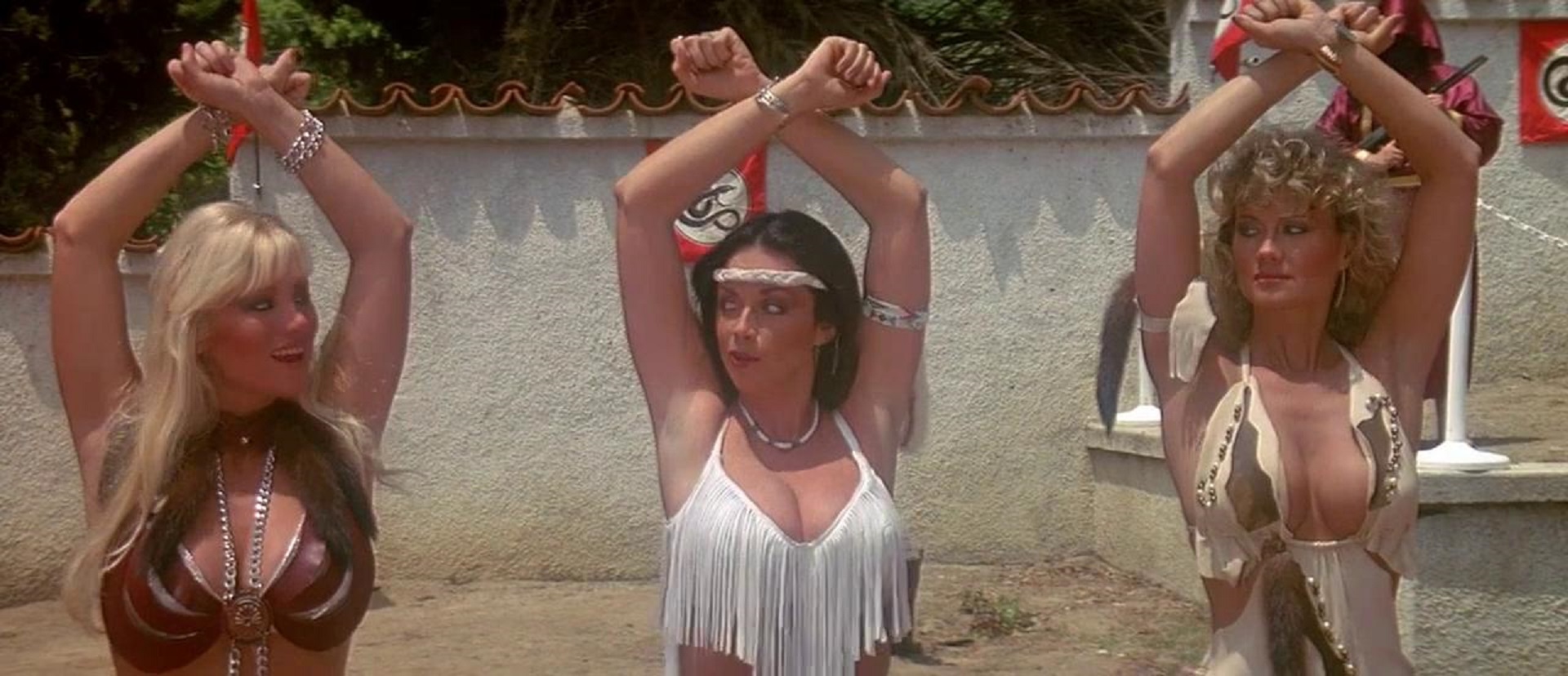 The Lost Empire was made in the era of Charlie's Angels (1977-81) – indeed, where another action film would usually just give us one girl going to join the fight, the set-up has been contorted in order to have three girls to go into action. (Moreover, Wynorski takes it further than Charlie's Angels and gets all of them unclothed at various points). Wynorski launches with relish into the idea of the three girls getting kickass.
In one preposterously entertaining scene, we visit a prison and witness a catfight in the yard that involves 1970s exploitation actress Angelique Pettyjohn in black leather bondage gear and wielding a bullwhip against opponent Angela Aames, which naturally also manages to turn into a mud wrestling fight and end up with a bystander rendered topless. You get the feeling the three girls have been cast based on their bra size rather than acting talent, nevertheless what they lack in ability they amply compensate for in their enthusiasm. If nothing else, they give the impression they are having an enormous amount of fun on the set.
Surprisingly, in his first film, Jim Wynorski has made one of his best. (His later films seem tinged with far too much of a knowing cynicism). The mix of elements – gratuitous T&A, B-budget action/martial arts, mad scientists, prison yard scenes and girl-on-girl catfights, even an ape running around – adds up to a good deal of cheesily ridiculous fun that frequently flies on in the face of budgetary shortcomings. The villain of the piece seems to have been modelled on the classic Asian super-villains of the 1930s and 40s as embodied by Fu Manchu and invariably gets to wield a raygun against one of the heroines who is tied-up at the climax – not to mention goes out with a cry of "I shall return", which was always the last line of the Christopher Lee Fu Manchu films of the 1960s (which here is amusingly followed by Melanie Vincz's drawl "Is that right?").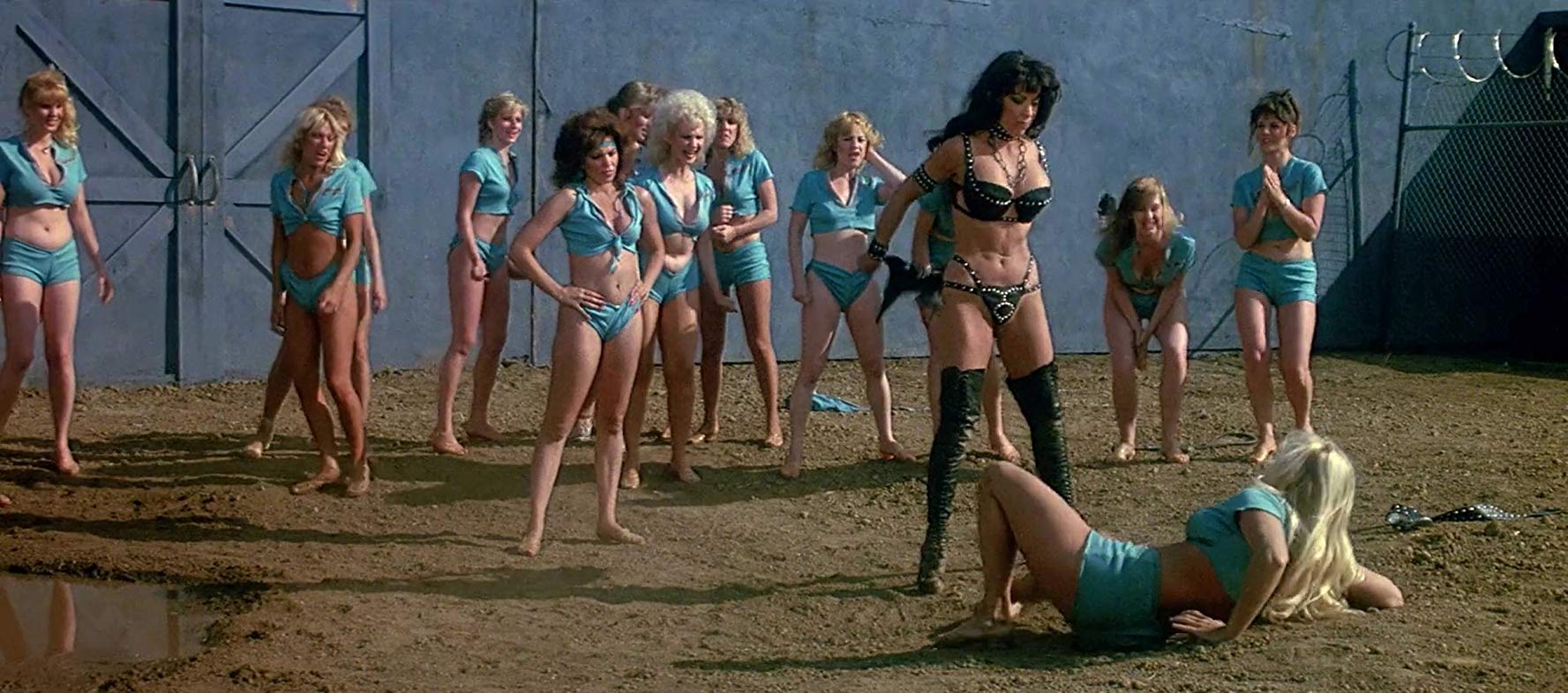 The actual plot holding everything together is fairly slim. The girlfight on the island is essentially a ripoff from the Bruce Lee classic Enter the Dragon (1973) but is never one that Wynorski much engages in. Mostly we see the girls training in various scenarios but he places surprisingly little into the scenes of them fighting one another, while the need for them to enter the competition in teams of three is of no relevance once they arrive there. One surprise is that the same idea was essentially ripped off a couple of decades later by the videogame adaptation DOA: Dead or Alive (2006).
The film's promised fantasy content however is slight. The video poster gives the idea of a Raiders of the Lost Ark (1981)-type adventure. The title The Lost Empire is never explained. Certainly, the island location comes nowhere near an empire and is easily accessed by plane flight, making it hardly somewhere that could be considered lost. One presumes that this has something to do with the Lemurians that are mentioned in the title scrawl and precisely once else throughout. The mystery jewel is said to come from Lemuria but is nothing more than a magical McGuffin that does extremely little throughout.
Jim Wynorski's other genre films are:- Chopping Mall (1986), Deathstalker II (1987), Not Of This Earth (1988), The Return of Swamp Thing (1989), Transylvania Twist (1989), The Haunting of Morella (1990), Sorority House Massacre II (1990), Sorority House Massacre 3/Hard to Die/Tower of Terror (1990), 976-Evil II (1991), Scream Queen Hot Tub Party (1991), Munchie (1992), Ghoulies IV (1993), Dinosaur Island (1994), Munchie Strikes Back (1994), Sorceress (1995), The Wasp Woman (1995), Vampirella (1996), The Pandora Project (1998), Storm Trooper (1998), The Bare Wench Project (1999), Desert Thunder (1999), Bare Wench Project 2: Scared Topless (2000), Crash Point Zero/Extreme Limits (2000), Raptor (2001), Thy Neighbor's Wife/Poison (2001), The Bare Wench Project 3: Nymphs of Mystery Mountain (2002), Gale Force (2002), Project Viper (2002), Bare Wench Project Uncensored (2003), Cheerleader Massacre (2003), More Mercy (2003), The Curse of the Komodo (2004), Gargoyle (2004), The Thing Below (2004), Alabama Jones and the Busty Crusade (2005), Bare Wench: The Final Chapter (2005), Komodo vs Cobra (2005), Sub Zero (2005), The Witches of Breastwick (2005), The Witches of Breastwick 2 (2005), A.I. Assault/Shockwave (2006), Cry of the Winged Serpent (2006), Bone Eater (2007), The Breastford Wives (2007), House on Hooter Hill (2007), Cleavegefield (2009), Fire From Below (2009), Vampire in Vegas (2009), Monster Cruise (2010), Dinocroc vs Supergator (2010), The Hills Have Thighs (2010), Camel Spiders (2011), Gila (2012), Piranhaconda (2012), Hypnotika (2013), Scared Topless (2013), Sexually Bugged (2014), Shark Babes (2014), Water Wars (2014), Scared Topless (2015), A Doggone Christmas (2016), Sharkansas Women's Prison Massacre (2016), Cobragator (2018) and Attack of the 50 Foot CamGirl (2022).
---
---