(Bella e Perduta)
---
Crew
Director – Pietro Marcello, Screenplay – Maurizio Braucci & Pietro Marcello, Producers – Sara Fgaier & Pietro Marcello, Photography – Salvatore Landi & Pietro Marcello, Music – Marco Messina & Sacha Ricci. Production Company – Avventurosa/Rai Cinema/Istituto Luce Cinecitta/MiBACT/Fondazione Cineteca di Bologna/Rolex Mentor/Protege Arts Initiative/Scam – Bourse Brouillon d'un Reve.
Cast
Tommaso Cestrone (Himself), Sergio Vitolo (Pulcinella), Elio Germano (Voice of Sarchiapone), Gesuino Pittalis (Gesuino)
---
Plot
Tommaso Cestrone is a shepherd who has dedicated his life to cleaning up the abandoned Palace of Carditello in the Campania region. One day, he finds a calf that he names Sarchiapone and adopts it. After Tommaso unexpectedly dies, the masked Pulcinella, an immortal figure who has the power to listen to the dead, descends from the afterlife. He has come at Tommaso's request and finds Sarchiapone waiting for him. Pulcinella takes Sarchiapone with him as he journeys across the countryside, looking for a new owner for the bullock.
---
Lost and Beautiful was the fourth full-length film for Italian documentary-maker Pietro Marcello. Marcello has previously made the likes of Crossing the Line (2007), The Mouth of the Wolf (2009) and The Silence of Pelesjan (2011), which all centre around Italian landscapes and culture and each run to about the 60 minute length. Marcello has also contributed segments to multi-director documentaries like Napoli 24 (2010) and Venice 70: Future Reloaded (2013). He subsequently went on to make the documentaries For Lucio (2021) and Futura (2021), plus the fiction film Martin Eden (2019).
Lost and Beautiful has a strange origin – it was actually started by Pietro Marcello as a documentary about Tommaso Cestrone who spent his life tending and restoring the abandoned Bourbon Palace at Carditello, asking no pay for doing so. Cestrone then died in Christmas Eve of 2013, before the documentary was completed. Marcello has dealt with this by turning the documentary footage into a peculiar fantasy film.
The first sections hold a beauty as we see Tommaso Cestrone wandering around tending the castle, which looks magnificent even in its ruined splendour. The sudden announcement of his death comes as a jolt. Thereafter, Pietro Marcello introduces the masked figure of Pulcinella who descends to Earth from the afterlife and takes a bull left by Cestrone and wanders through the countryside trying to find an owner for it.
Pulcinella is one of the character types in comedia dell'arte, the Italian pantomime tradition that dates from the 16th Century where plays were performed using masked figures representative of stock archetypes. Many of these figures, particularly Arlecchino or the Harlequin, are still around today. Pulcinella, who is usually seen as nasty and back-stabbing and will often pretend to be stupid (although is portrayed more as an amiable innocent here), has evolved into English to be known as Punch.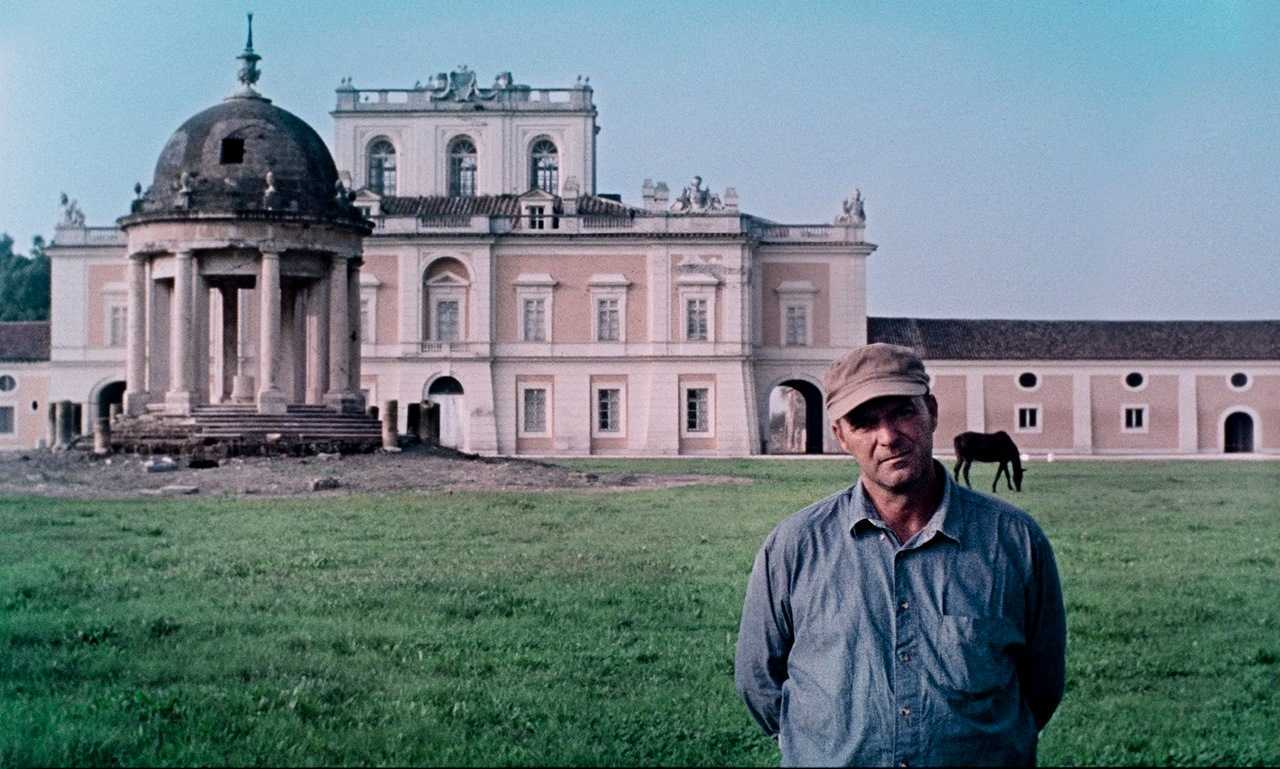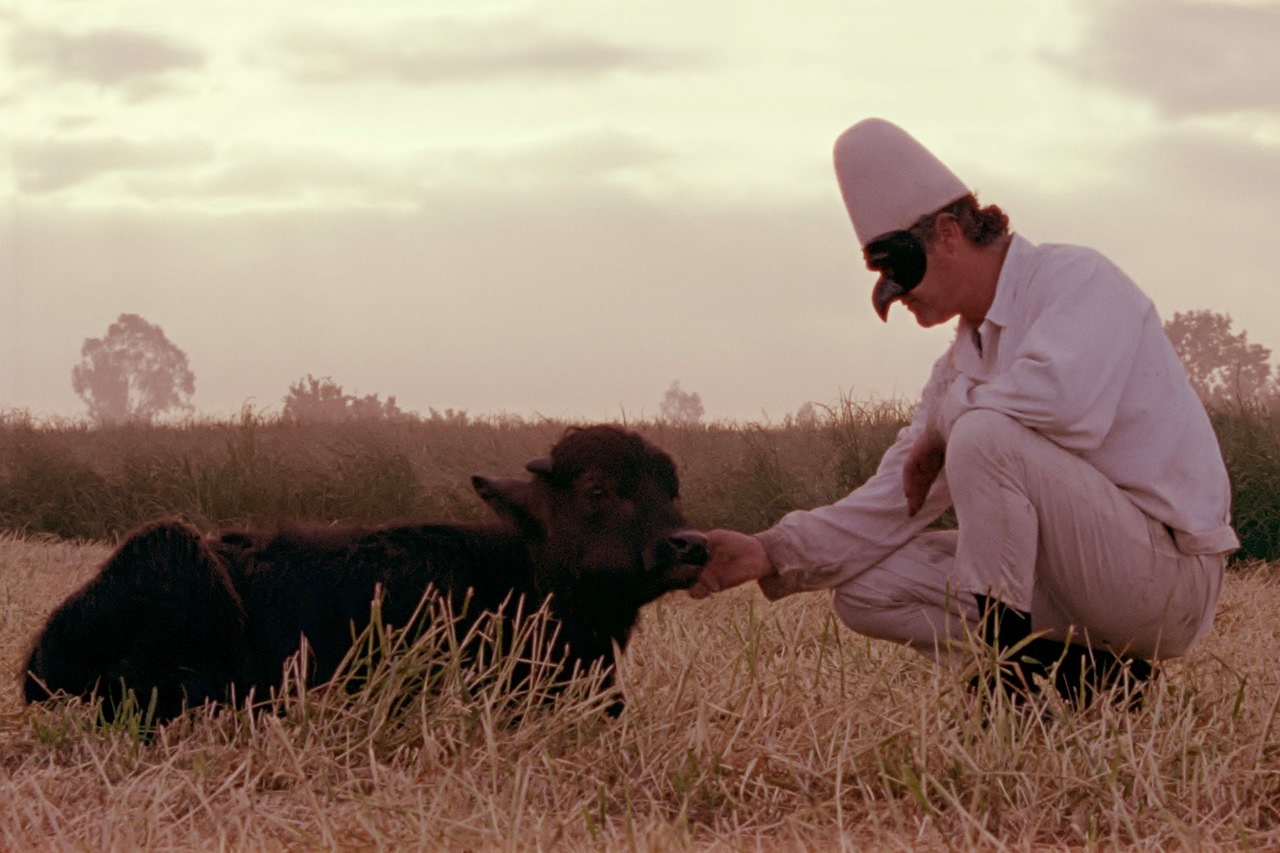 I suppose I should have had some indication about Lost and Beautiful from the fact that it is narrated by a bull. Pulcinella's arrival is followed by a seemingly endless series of scenes lacking in any real plot with the masked Pulcinella wandering around the countryside with the bull in tow, talking to it, talking to other people he encounters along the way, where he stays a night with one couple before meeting another shepherd Gesuino who takes ownership of the bull but sells it before Pulcinella realises that it is a magical bull and a mistake has been made.
Gesunio also introduces Pulcinella to a magic brook and the Tree of Death and in the closing scenes Pulcinella decides to sip from the brook and become a mortal – shades of the angels becoming human that we see in Wings of Desire (1987). The last we see of the bull is it gloomily reflecting that that is life as it is herded into the cattle car to be shipped to the slaughterhouse.
All of this sounds far more interesting than it is on the screen. If 87 plotless minutes of characters wandering the countryside talking to cattle is your thing then by all means enjoy. I found it as pretentious as they come. On the plus side, the film is often prettily photographed, which sort of redeemed the dullness.
---
---