(Zhuo Yao Ji 2)
---
Crew
Director – Raman Hui, Screenplay – Sunny Chan, Jack Ng & Su Liang, Producers – Bill Kong, Doris Tse & Yee Chung Man, Photography – Anthony Pun, Music – Leon Ko, Visual Effects Supervisor – Ellen Poon, Production Design – Guillaume Aretos, Lee Kin Wai & Yohei Taneda. Production Company – Edko Films/Dream Sky Picture Co., Ltd./China Film Co., Ltd./Edo (Beijing) Films Limited/Tencent Penguin Pictures (Shanghai) Co., Ltd./Shanghai Tao Piao Piao Movie & TV Culture Co., Ltd./Tianjin MaoYan Media Co., Ltd./Dadi Century (Beijing) Co., Ltd./Zhe Jiang Hang Dian Film Co., Ltd./Huoerguosi Jinyi Film Co., Ltd./Tianjin Wuba Film Culture Co., Ltd./Huaxia Film Distribution Co., Ltd./Zhejiang Films & TV (Group) Co., Ltd./Champion Star Entertainment Ltd..
Cast
Tony Leung Chiu-wai (Tu Sugu), Bai Baihe (Huo Xiaolan), Jing Boran (Song Tianyin), Li Yuchun (Zhu Jinzhen), Tony Yang (Yunqing)
---
Plot
Left to claim his title amongst the monsters, Wuba is forced to flee with the rise of a more aggressive monster. He becomes lost and eventually winds up in the company of another monster BenBen. BenBen accompanies the human Tu Sugu who is on the run for debts owed due to his compulsive gambling habit. Meanwhile, Xiaolan and Tianyin have been missing Wuba. They join the Monster Hunter Bureau where they are outfitted with more sophisticated monster hunting tools. However, once out in the field, they decide they want to protect the monsters instead of capture them.
---
Monster Hunt (2015) was a massive hit, becoming the most successful film of all-time in China. I cannot say I was a fan – the film was simplistic and seemed to only ever centre around a series of excruciating slapstick routines that were allowed to dominate much of the film. Monster Hunt 2 was a sequel and expectedly broke a host of box-office records upon opening.
Monster Hunt 2 is more of the same but with the addition of Hong Kong star Tony Leung Chiu-wai as a problem gambler on the run from debtors who has befriended a monster that takes Wuba under its wing. It is essentially a film whose only real plot as a sequel is to have the characters from the original miss the monster and then for it and them to be reunited.
If the slapstick element was a problem in Monster Hunt then by the time of Monster Hunt 2 it has gone into overdrive. It is a film filled with tiresome and noisy slapstick sequences – ones with the monster loose in a gambling den or scenes of Tony Leung Chiu-wai escaping through an alley with the use of a collapsible cart and then producing a fake wall curtain to hide from pursuers. There are some incredibly silly sequences with Jing Boran being able to empathically see through Wuba's eyes.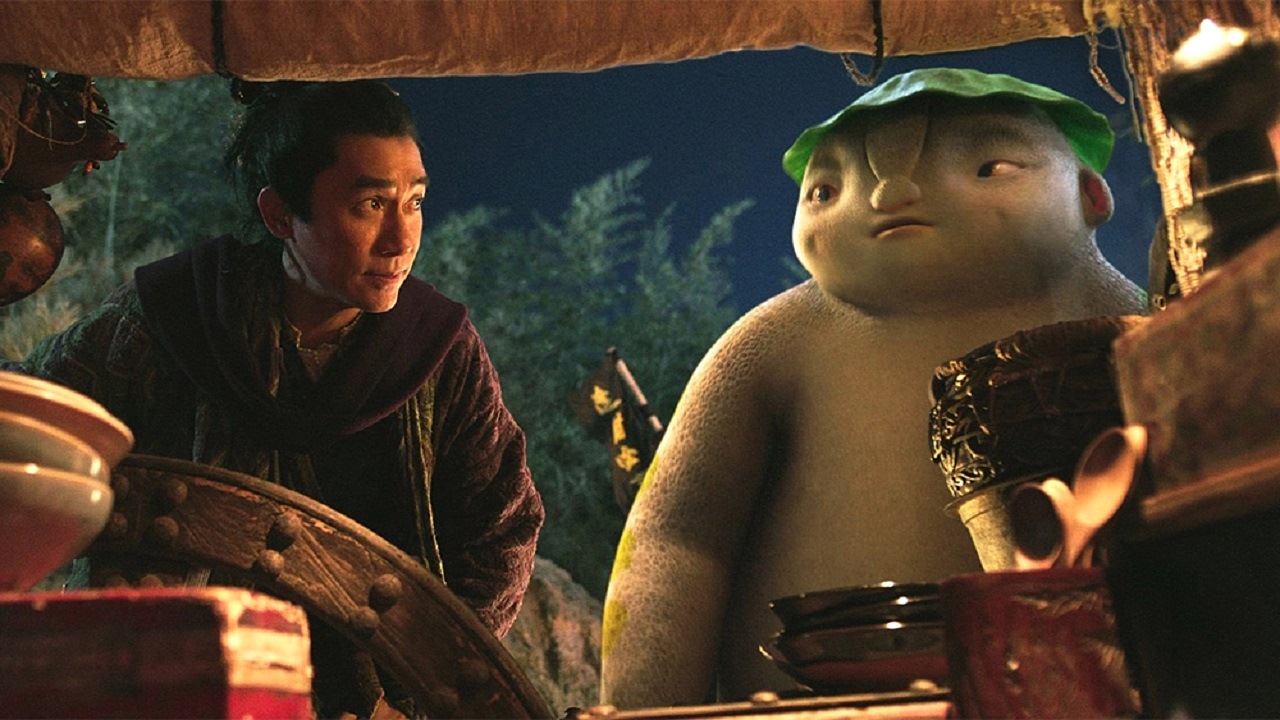 Certainly, the CGI effects are a vast improvement and the creatures come in much more detail and depth than they did in the first film. There is an undeniable outlandishness to some of the effects – scenes with the monsters hopping about on their stomachs and then pinned around a stone wall by red cords.
The expanded budget – one that comes from being a sequel to the top Chinese box-office hit – has also allowed the film to display a lavish series of set dressings and costumes. But never has it felt though that so much has been afforded to something that seems to resist having any kind of brain its body.
---