---
Crew
Director – Tim Hill, Screenplay – Ken Daurio, Cinco Paul & Brian Lynch, Story – Ken Daurio & Cinco Paul, Producers – Christopher Melendrani & Michele Imperato Stabile, Photography – Peter Lyons Collister, Music – Christopher Lennertz, Visual Effects – Rhythm and Hues Studios (Supervisor – Raymond Chen), Special Effects Supervisor – Alan E. Lorimer, Production Design – Richard Holland. Production Company – Universal/Relativity Media/Illumination Entertainment/Dentsu Inc.
Cast
James Marsden (Fred O'Hare), Kaley Cuoco (Sam O'Hare), David Hasselhoff (Himself), Gary Cole (Henry O'Hare), Elizabeth Perkins (Bonnie O'Hare), Tiffany Espensen (Alex O'Hare), Chelsea Handler (Mrs Beck)
Voices
Russell Brand (E.B.), Hugh Laurie (E.B.'s Dad), Hank Azaria (Carlos/Phil)
---
Plot
Fred O'Hare has been fascinated by the Easter Bunny ever since he was a young child and saw the Easter Bunny's chicken-drawn sleigh arriving at his home to leave eggs. 25 years later, the rest of Fred's family regard him as a deadbeat and order him out of the house to find a job. Fred's sister arranges for him to housesit the Beverly Hills mansion of a friend. Meanwhile on Easter Island, the Easter Bunny has been grooming his son E.B. to take over the job but E.B. instead has ambitions of being a rock drummer. E.B. heads down the rabbit hole and emerges in Hollywood to find his fame. He is run down by Fred who reluctantly takes him home. Fred then finds his life, the house he is sitting and attempts to find a job are turned into chaos by E.B.. A grudging friendship grows between the two of them and Fred sets out to help E.B. achieve his goal of appearing on a talent show. Meanwhile, back on Easter Island, the chick Carlos desires to become the Easter Bunny's successor and plots a revolution to overthrow E.B.'s father.
---
Illumination Entertainment made an impressive splash after they appeared seemingly out of nowhere with the delightful Despicable Me (2010), which became one of the sleeper animated hits of 2010. This immediately propelled Illumination Entertainment to the forefront of the animation market and left them with an enormous amount of promise for what they would do next – something that they promptly exhaust with their second film Hop here. One tried to go into Hop with positive expectations, despite the lameness of the film's trailer but the results are sad. It is almost as though Illumination have set out to squander every expectation that was heaped on their shoulders after Despicable Me by coming out with an utterly formulaic live-action talking animals film. Imagine a studio that can go from a work that rivals the quality of Pixar to something around the level of the Alvin and the Chipmunks films in the space of a single film.
Maybe things would have clued in when Illumination sought to hire the services of Tim Hill. Tim Hill is a director who has come to specialise in live-action talking animals films with the likes of Muppets from Space (1999), Garfield: A Tale of Two Kitties (2006), Alvin and the Chipmunks (2007), Grumpy Cat's Worst Christmas Ever (2014) and The SpongeBob Movie: Sponge on the Run (2020), as well as having written 68 episodes of Spongebob Squarepants (1999– ) and The Spongebob Squarepants Movie (2004) and produced Walking With Dinosaurs (2013). Almost all of Tim Hill's directorial outings blend live-action humans and CGI animals and make a virtue of the animals voicing hip, smartass one-liners and cracking lots of contemporary pop culture references. This is an irritating tendency that has taken over modern family entertainment. Among these, Tim Hill's films are some of the most excruciating.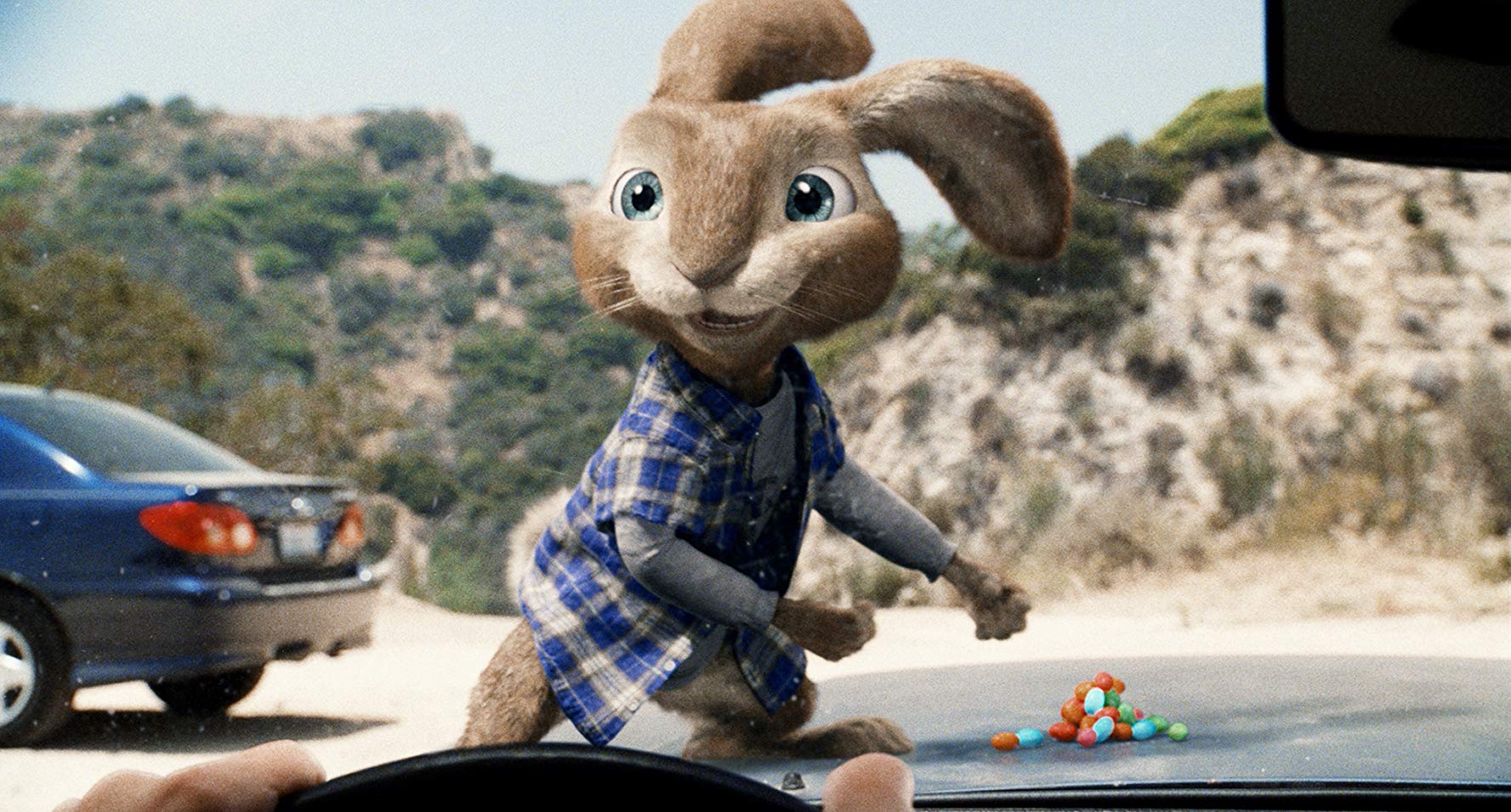 When you think of a film about a cute smartass talking Easter Bunny, your imagination comes up against a dead end. Let us for a moment digress and look at the tradition of Easter and the Easter Bunny. Easter is a holiday that has been established as a Christian celebration since 325 A.D. and represents the death and resurrection of Jesus Christ. There was the claim made in the writings of the monk Venerable Bede that this celebration and the name Easter is a derivation from pagan festivals held for the Anglo-Saxon goddess Eostre, although no proof of her existence has been found outside of Bede's writings. Easter is also associated with traditions of painting eggs different colours and in modern times of giving gifts of eggs made of chocolate or candy. The tradition is believed to have originated in the early Catholic Church where eggs were dyed red to symbolise the blood of Christ and cracked on Easter Sunday to represent the opening of his tomb and the resurrection. The idea of the Easter Bunny – a bunny that would hide eggs or egg-shaped candies around the home for children to find on Easter morning – grew out of German Christian traditions and was popularised by the Brothers Grimm.
Now, just stop for a moment and contrast these traditions of Easter with Hop. Is Hop a film commemorating the death and resurrection of Jesus Christ? Nope. Maybe something to do with the pagan goddess Eostre? Nope. Are there any bunnies that come and hide candied eggs around the house? Yes. Do maybe these eggs represent the blood of Christ or any Christian symbol? Nope. Does maybe Hop even pay tribute to Easter being a Christian tradition? Another big nope. Does Christ or Christianity even get the smallest namedrop somewhere throughout the film? Ahhhh, no to that either. All that we have is a film about a smartass talking bunny who, with predictable Tim Hill screen antics, desires to be a rock drummer. Now, I cannot say I am in favour of films that preach Christianity but I tend to think if you are going to set a film around one of the principal holidays on the Christian calendar it does seem a little insulting not to have any reference to the tradition whatsoever.
In removing all religious significance from the Easter Bunny story, this leaves Hop thin on the ground in terms of story material. In terms of mythology, all that we have is a film about a bunny who lives on Easter Island and travels the world delivering Easter eggs. After running out of secular ideas they can draw on, the writers have resorted to borrowing from the Santa Claus myth – the Easter Bunny now travels in a sleigh, which in one of the film's more ridiculous touches is drawn by a chattering of chicks. The plot elements of the Easter Bunny's son trying to fit in in the outside world, of an evil associate wanting to take over and run Easter his way, of the human who inherits the role at the end are all big cliche plot threads from various Christmas films, in particular ones that were used throughout the Santa Clause series – not too surprising given that Hop's co-writers Cinco Paul and Ken Daurio also wrote The Santa Clause 2 (2002).
The rest of Hop is based on a series of easy and exceedingly predictable audience-pleasing gags. Indeed, the plot seems to have almost been copied direct from Tim Hill's Alvin and the Chipmunks – smartass talking animal(s) end up shacked up with a down-and-out average joe; grudging friendship ensues even though average joe has his life and house turned upside down by the animal(s)' antics; talking animal(s) set out to prove themselves by succeeding as musicians.
The role of E.B. is voiced by British comedian du jour Russell Brand (and in fact was a probable part of the reason that Hop was a bigger box-office success than predicted), although Brand's casting results in the bunny talking with a high nasal register that quickly irritates. (The real Russell Brand can be briefly spotted as the stagehand who gives E.B. his stage call).
The one who ends up stealing the show is a surprisingly self-effacing David Hasselhoff – the line "Wait, you're not amazed that I'm a talking bunny?" and his reply "My best friend is a talking car" brings the house down. It is perhaps that some of his humour is more on the ball and less ingratiating, less rampant with the need to pitch everything to pop culture that makes Hop marginally more tolerable than most of Tim Hill's other talking animals films.
Illumination Entertainment subsequently went onto make the animated adaptation of Dr Seuss's The Lorax (2012), followed by The Secret Life of Pets (2016), Sing (2016), The Grinch (2018) and assorted sequels to these.
---
---