---
Crew
Director – Danny DeVito, Screenplay – Nicholas Kazan & Robin Swicord, Based on the Novel by Roald Dahl, Producers – Danny DeVito, Michael Shamberg, Stacey Sher & Michael Siegel, Photography – Stefan Czapsky, Music – David Newman, Visual Effects – Cinesite (Supervisor– Chris Watts), Digital Effects – The Computer Film Co, Special Effects Supervisor – Michael Lantieri, Production Design – Bill Brzeski. Production Company – Jersey Films.
Cast
Mara Wilson (Matilda Wormwood), Pam Ferris (Agatha Trunchbull), Embeth Davidtz (Jennifer Honey), Danny DeVito (Harry Wormwood), Rhea Perlman (Zinnia Wormwood), Paul Reubens (Bob), Tracey Walter (Bill), Kaimi Davael (Lavender), Jimmy Karz (Bruce Bogtrotter), Brian Levinson (Michael Wormwood), Jacqueline Steiger (Amanda Thripp)
---
Plot
Harry and Zinnia Wormwood give birth to a daughter Matilda. Harry is only interested in running his crooked used car sales business and Zinnia in playing Bingo meaning that Matilda is left on her own at home as she grows up, where she becomes a voracious reader. The Wormwoods eventually send Matilda to Crunchem School, where she demonstrates enormous intelligence and later the ability to mentally levitate objects. At the school, Matilda incurs the wrath of the brutal principal, Miss Trunchbull, a former Olympic athlete who has a reputation for throwing pupils out the window. Matilda is taken under the wing of the teacher Miss Honey. When Matilda realizes that Miss Trunchbull murdered Miss Honey's father and drove Miss Honey out of her own home, she sets out to set things aright and get back Miss Honey's doll.
---
Matilda seemed to be part of a mini Hollywood peak of interest in the works of children's author Roald Dahl that all came out in the same year, along with James and the Giant Peach (1996). (In an odd note concerning peculiar trends Matilda, Powder (1995) and Phenomenon (1996), were also three films that also appeared within the space of a year featuring individuals who revel in the pleasures of reading, have intelligences that exceed the scales of measurement and psi powers). However, the lack of financial success enjoyed by James and the Giant Peach and particularly Matilda's big losses on its $45 million dollar budget meant that the Roald Dahl revival ended right there.
One anticipated Matilda with a great deal of promise. Its trailer gave the appearance of being a children's film that came with the gleefully malicious Roald Dahl black humour left intact. It was also directed by actor Danny DeVito, whose other films, Throw Momma From the Train (1987), The War of the Roses (1989) and the later Death to Smoochy (2002) and Duplex (2003), show a strong proclivity for black humour.
For all that, Matilda fails to work. Somehow, in being transposed from the stifling confines of the British class school system to a US public school setting, the essence of Roald Dahl's tale gets lost. The joy of Roald Dahl's children's stories is their unabashed maliciousness – those who deserve it get their just desserts in spades, while the sweet and unassuming are rewarded. However, Danny DeVito mishandles this and Roald Dahl's black humour comes out as loud and unsubtle cartoonish farce. DeVito thunders at full steam but never hits the mark.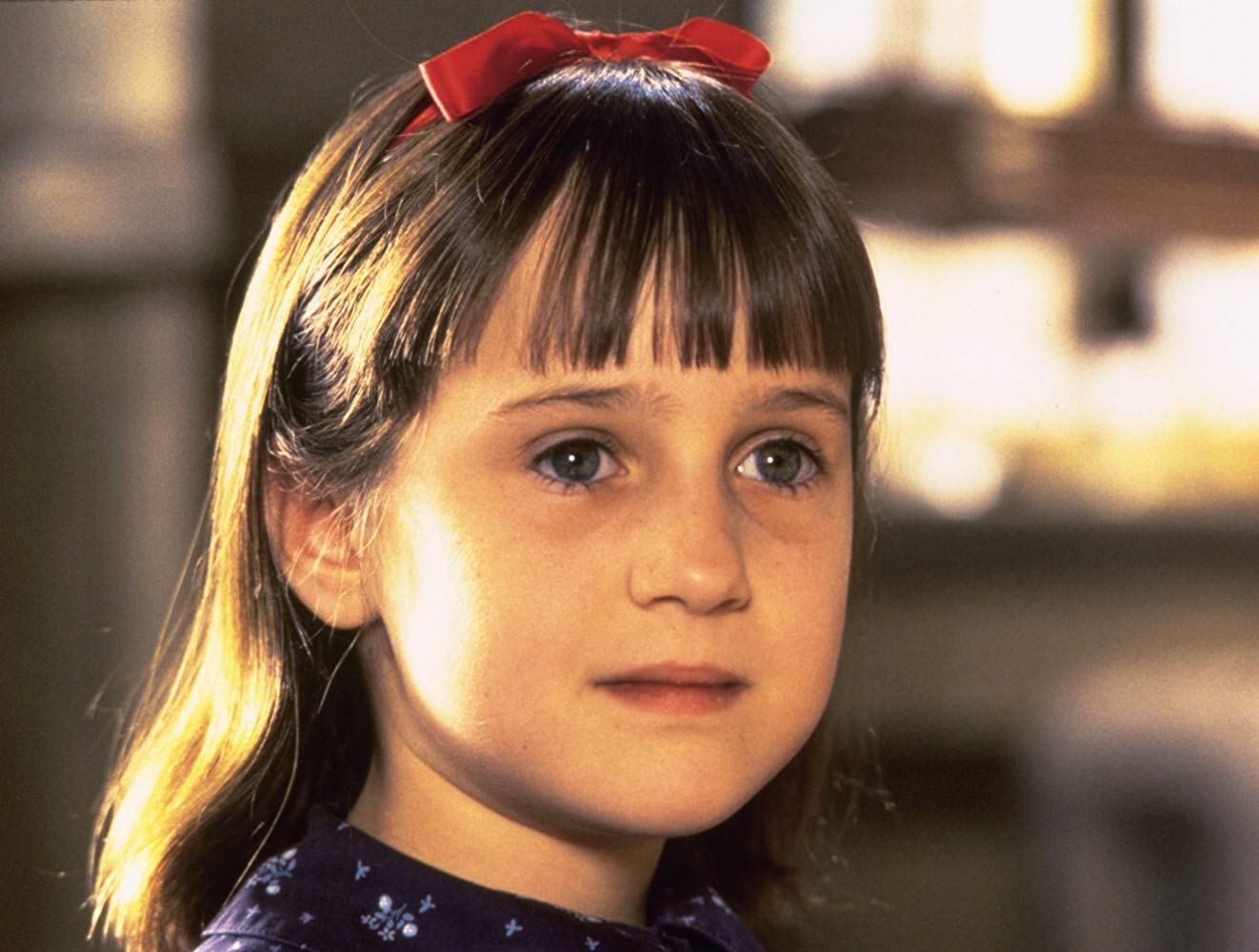 Matilda is astonishingly sadistic for a G-rated American children's film, with scenes of children being swung around and thrown out the window by their pigtails, locked up in torture chambers, being forcefed chocolate cake and taking revenge on their parents by gluing their hats to their head.
The one area that Danny DeVito oddly does have success in is not the black humour but rather the simple, sentimental scenes. Matilda's inherent superiority over her parents is touchingly portrayed and there is at least one magical scene where she levitates a deck of cards and flies them around the room. On the minus side, the title role does contain a precocious performance from Mara Wilson, although the uncommonly willowy and thin Embeth Davidtz does come across nicely as Miss Honey.
Other Roald Dahl screen works are:- the short-lived anthology tv series Way Out (1961), which Dahl wrote for and hosted; the screenplays for the James Bond film You Only Live Twice (1967) and Chitty Chitty Bang Bang (1968); the children's classic Willy Wonka and the Chocolate Factory (1971); the psycho-thriller The Night Digger (1971); the tv series Tales of the Unexpected (1979-81), an anthology series adapting Dahl's macabre tales; and adaptations of The BFG (1989), The Witches (1990), James and the Giant Peach (1996), Charlie and the Chocolate Factory (2005), Fantastic Mr. Fox (2009, The BFG (2016) and The Witches (2020).
(Nominee for Best Supporting Actress (Embeth Davidtz) at this site's Best of 1996 Awards).
---
---