---
UK. 1968.
Crew
Director – Ken Hughes, Screenplay – Ken Hughes & Roald Dahl, Additional Dialogue – Richard Maibaum, Based on the Novel by Ian Fleming, Producer – Albert R. Broccoli, Photography – Christopher Challis, Music/Lyrics – Richard M. & Robert B. Sherman, Special Effects – John Stears, Inventions – Rowland Emmett, Production Design – Ken Adam. Production Company – Warfield/Dramatic Features/United Artists.
Cast
Dick Van Dyke (Caratacus Potts), Adrian Hall (Jeremy Potts), Heather Ripley (Jemima Potts), Sally Ann Howes (Truly Scrumptious), Gert Frobe (Baron Bomburst), Lionel Jeffries (Grandpa Potts), James Robertson Justice (Lord Scrumptious), Benny Hill (The Toymaker), Robert Helpmann (The Child Catcher), Anna Quayle (Baroness Bomburst)
---
Plot
Jeremy and Jemima Potts love playing in an old wrecked vintage racing car. Their father inventor Caratacus Potts finds the car is about to be sold as scrap and struggles to find enough money to buy it. He then rebuilds it as a wondrous flying car, which they name Chitty Chitty Bang Bang after the noises its rickety engine makes. As they fly off to fantastical adventures, Baron Bomburst, the ruler of the kingdom of Vulgaria, becomes obsessed with owning Chitty Chitty Bang Bang and makes ruthless efforts to obtain it.
---
While the name of Ian Fleming is synonymous with James Bond, few also know about Fleming's other works. One of these was the children's story Chitty Chitty Bang Bang (1964), which he wrote for his son. This was duly adapted to the screen, courtesy of producer Albert R. Broccoli, who also produced all the James Bond films between 1962 and 1989 beginning with Dr No (1962). Broccoli brought Chitty Chitty Bang Bang to the screen as a lavish production with a script by Ian Fleming's good friend Roald Dahl, a famed children's author in his own right who is probably best known for Willy Wonka and the Chocolate Factory (1971).
The film is mounted part as a musical version of The Absent-Minded Professor (1961), part the gonzo slapstick chases mini-genre that was begun with The Great Race (1965) and part an attempt to copy the success of Mary Poppins (1964) – it features Dick Van Dyke and two cute children on a fantastical adventure, as well as a score from the Sherman Brothers.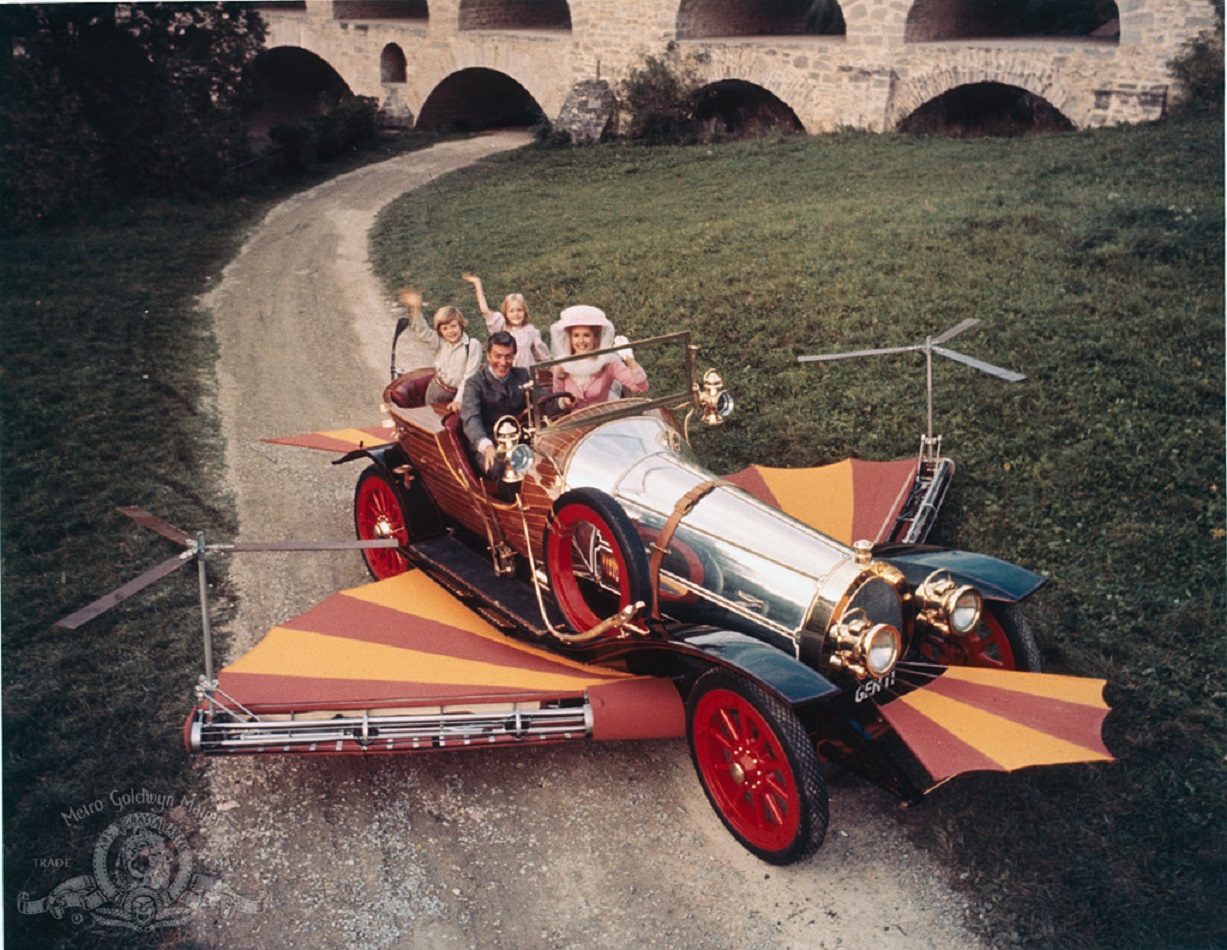 However, the result was an enormous box-office flop and fairly much critically reviled everywhere. There is adequate enjoyment in the bubbling lunacy of Dick Van Dyke's performance. Some of the musical numbers are, for once, quite decent and the dance sequences excitingly staged. However, at 2½ hours, the low level of juvenile humour and the buffoonish German caricatures become wearying. The film is well-budgeted, which can be clearly seen in the impressive gigantic sets. Although the budget apparently did not extend to getting better effects – the flights of fantasy are considerably unwound by the ever-present blue matte lines around the car.
Chitty Chitty Bang Bang was later mounted as a lavish stage musical in 2002, which enjoyed considerable success and won a number of awards.
Ken or Kenneth Hughes was a British director/writer who emerged in the early 1950s. Hughes made several crime films and thrillers such as Wide Boy (1952), Black 13 (1952), The House Across the Lake (1954), The Brain Machine (1955) – not an SF film despite the title – Confession (1955), Little Red Monkey (1955), The Long Haul (1957) and Wicked As They Come (1957), before having a reasonable hit with Joe MacBeth (1955), a modernisation of the Shakespeare play. In between these, he made one SF film with Timeslip/The Atomic Man (1955) about a man out of synch in time. He gained critical acclaim with The Trials of Oscar Wilde (1960) and Cromwell (1970). He was one of the directors involved on Casino Royale (1967) and later made the slasher films Night School/Terror Eyes (1981).
---
---