---
Crew
Director – Tim Burton, Screenplay – Ehren Krueger, Producers – Katterli Frauenfelder, Derek Frey, Ehren Kruger & Justin Springer, Photography (3D) – Ben Davis, Music – Danny Elfman, Visual Effects Supervisor – Richard Stammers, Visual Effects – Atomic Arts Ltd, Framestore (Supervisors – Richard R. Hoover & Hubert Maston), MPC (Supervisor – Patrick Ledda), Rise Visual Effects Studios (Supervisor – Jonathan Weber), Rising Sun Pictures (Supervisor – Dennis Jones) & Rodeo FX (Supervisor – Martin Lippman), Special Effects Supervisor – Hayley Williams, Production Design – Rick Heinrichs. Production Company – Tim Burton/Infinite Detective/Secret Machine Entertainment.
Cast
Colin Farrell (Holt Farrier), Danny DeVito (Max Medici), Nico Parker (Milly Farrier), Finley Hobbins (Joe Farrier), Michael Keaton (V.A. Vandevere), Eva Green (Colette Marchant), Alan Arkin (J. Griffin Remington), Deobia Oparei (Rongo), Roshan Seth (Pramesh Singh), Joseph Gatt (Neils Skellig), Sharon Rooney (Miss Atlantis), Miguel Munoz Segura (Ivan the Wonderful), Zenaida Alcalde Alcalde (Catherine the Greater), Douglas Reith (Sotheby), Phil Zimmerman (Rufus Sorghum), Lars Eidinger (Hans Brugelbecker)
---
Plot
1919. Holt Farrier returns from World War I, having lost an arm, and joins his two children Milly and Joe at the Medici Brothers Circus. He is hoping to slot back into his old job as a cowboy performer only to find the circus's owner Max Medici has fallen on hard times and sold off the horses. All Max can offer Holt is a job cleaning the elephant pen. The elephant Jumbo then gives birth to a baby. Max was hoping to promote this as a big news event but is upset when the baby proves to have giant, ungainly ears. When the baby is premiered in the ring, it is jeered at and gets the nickname Dumbo. When the mother causes the death of a sadistic handler, Max is forced to sell her off. Dumbo is heartbroken. Milly and Joe then discover that by using a feather they can get Dumbo to fly by flapping his ears as wings. Max turns this into a novelty act and it proves a hit. He is then approached by V.A. Vandevere who wants Dumbo as the prize attraction at his big, flashy New York circus Dreamland. Max agrees to a share sales offer with Vandevere and Dumbo becomes part of Dreamland. However, once there, Vandevere ignores warnings and decides he wants Dumbo to fly in the ring with the trapeze artist Colette Marchant on his back.
---
Dumbo (1941), the story of an elephant that flies using its ears, is one of the classic animated film from Disney's Golden Age between 1937 and 1942, a period that stretched from the studio's first film Snow White and the Seven Dwarfs (1937) and ended with World War II. Dumbo comes with an effortless anthropomorphic charm. The film has been held in disregard in recent years because of the controversy over the three crows, which were cast using African-American voice actors – the term 'Jim Crow' is used to refer to racial segregation laws in pre-Civil Rights era USA.
Ever since the mid-1990s, Disney have been conducting a series of live-action remakes of their films. These have included remakes of Disney animated films with the likes of The Jungle Book (1994) and 101 Dalmatians (1996) and of live-action Disney films such as That Darn Cat (1997), Flubber (1997), The Parent Trap (1998), Freaky Friday (2003), Herbie: Fully Loaded (2005), The Shaggy Dog (2006), Race to Witch Mountain (2009) and Tron Legacy (2010). Indeed, Tim Burton's version of Alice in Wonderland (2010) is often erroneously called a remake of the Disney Alice in Wonderland (1951) – although there is nothing that indicates it is a remake of the Disney film as opposed to one of dozens of film versions of the Lewis Carroll book.
It did however usher in a new era of live-action Disney remakes in the 2010s, which has included the likes of Maleficent (2014), Cinderella (2015), The Jungle Book (2016), Pete's Dragon (2016), Beauty and the Beast (2017) and Mary Poppins Returns (2018). Indeed, Dumbo comes out in 2019 amid no less than three other of these Disney animated remakes, alongside Aladdin (2019), Lady and the Tramp (2019), The Lion King (2019), Mulan (2020), Cruella (2021), Pinocchio (2022), The Little Mermaid (2023) and Peter Pan and Wendy (2023).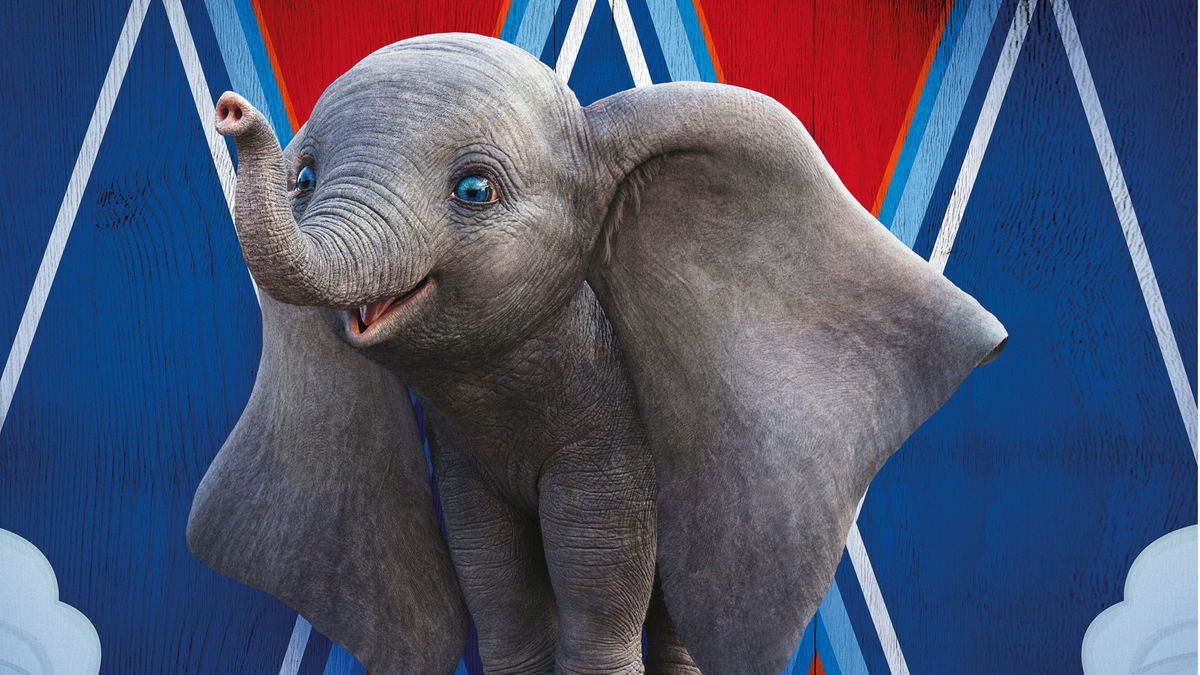 The live-action Dumbo comes from Tim Burton who has remained a genre regular ever since he first appeared in the mid-1980s with Pee-Wee's Big Adventure (1985). Over the next few years, Burton went onto a string of popular hits with the likes of Beetlejuice (19880, Batman (1989), Edward Scissorhands (1990), Batman Returns (1992), The Nightmare Before Christmas (1993) and Ed Wood (1994). Throughout these, Burton developed a distinctively quirky style – a love of oddball outsiders, the black-and-white zigzag creations, the lush synthesis of production design, costuming and music. It seemed for a time during the mid-1990s that Burton was the genre's hope.
Then a funny thing happened. And that is the Tim Burton of the 2000s and 2010s – one who has been happy to repetitively recycle his own style and seems to be constantly putting on a private party with the same troupe of performers. Burton has made a string of films during this period such as Planet of the Apes (2001), Big Fish (2003), Charlie and the Chocolate Factory (2005), Corpse Bride (2005), Sweeney Todd: The Demon Barber of Fleet Street (2007), Alice in Wonderland (2010), Dark Shadows (2012), Frankenweenie (2012), Big Eyes (2014) and Miss Peregrine's Home for Peculiar Children (2016) but most of these slip into a forgettable blandness, a mimicry of Burton's earlier films, that only makes you think back to how Burton in his heyday had something truly unique in his eccentric vision.
Dumbo promptly emerges as another Tim Burton wannabe. It is another of Burton's films about oddball outsiders. It has all the Burton regulars – multiple returnees Danny DeVito, Michael Keaton and Alan Arkin, as well as Eva Green who has become Burton's muse since his split with Helen Bonham Carter. Indeed, Burton revisits the same eccentric circus theme (one peopled by a line-up of oddball outsiders) that he did in Big Fish and has Danny DeVito essentially playing the same role as the circus master.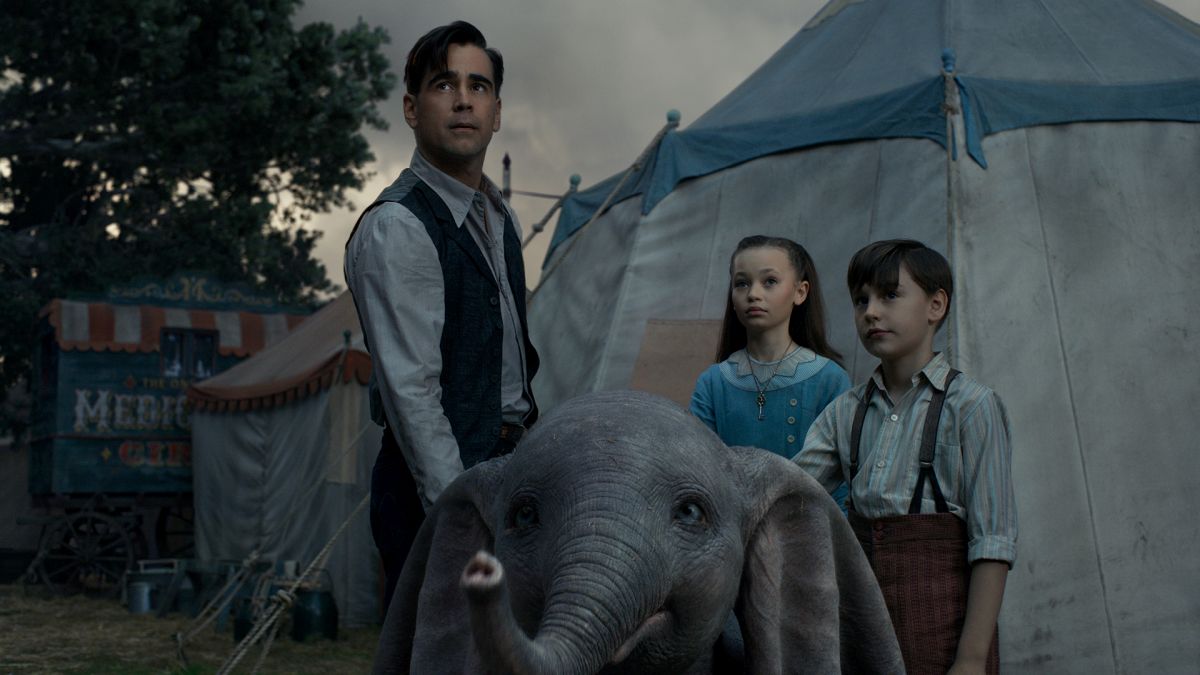 Ehren Kruger's script pays homage to the original upon multiple points. There is Timothy Mouse (although he doesn't get to speak); Dumbo does his high-dive act; there are the tender scenes with Dumbo and his mother touching trunks after she is labelled a mad elephant. We do get an appearance from the storks flying over in the opening moments, although they do not deliver babies. There is a pink elephant dance, although this has been considerably watered down and does not involve Dumbo getting drunk, merely him observing performers creating soap bubble shapes. Some elements have been dropped – there is not the cruelty of the scenes where Dumbo is forced to dive into a paddling pool (although the pool is seen in several scenes). There is no anthropomorphised train and most notably the racist caricatures of the crows have been dropped. There are barely any human characters in the original and essentially all of the human scenes we have here have been invented for the film. Bar the addition of the human characters, the script here follows the general outline of the original for two-thirds of the show up until the introduction of Michael Keaton after which it does its own thing.
On screen, Dumbo feels as awkward a beast as its title character. It is Tim Burton essentially making a Steven Spielberg film. All the scenes with Dumbo are played for cute and adorable. You get heart-wrenching moments with him being separated from his mother, believing a car is her trumpet and so on. Even the scene where he does the high-dive in the ring has all the drama it can pumped up by having Dumbo on a high ladder, surrounded by fire, with Nico Parker falling, before the triumphal surge where Dumbo actually does fly before the assembled crowd. The CGI effects used to bring Dumbo to life are very accomplished.
I liked Dumbo while I was watching it but sitting back afterwards, it felt the equivalent of a junkfood snack that was pleasant to eat but lacked anything substantial as a meal and could quickly be forgotten. It is a film where you can almost see Tim Burton pushing the cute button. Michael Keaton has been written in as an obvious black hat businessman and everything he does throughout from cheating Max and the children, exploiting Dumbo and engineering his own downfall can be seen from the moment he enters. (The only cliche the film bucks is that femme fatale Eva Green turns out not to be as black-hearted as he is). Much of the second half has been put together for big dramatic scenes – the scene where Eva Green nearly falls without a net, the rescue of Jumbo, Dumbo saving everybody as they are trapped in a burning tent while the circus goes up in flames (for no other reason than to have a big dramatic climax). Burton plays all of this predictably and by the book.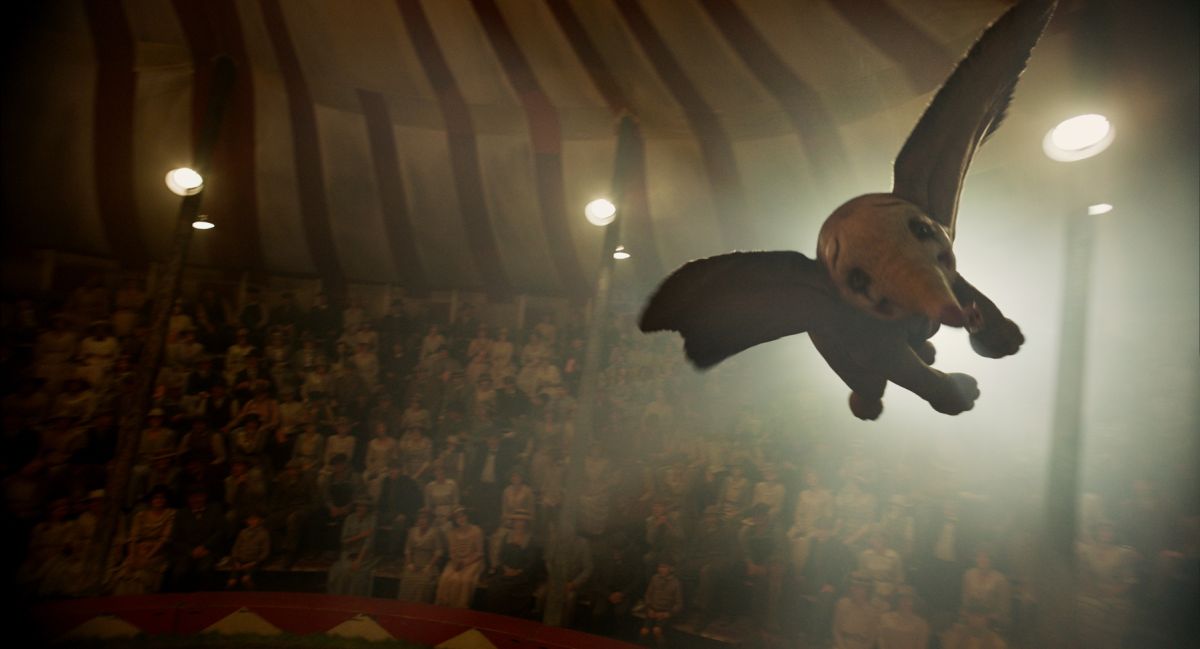 Tim Burton's other films of genre interest include the kitsch Pee-Wee's Big Adventure (1985); the bizarre ghost story Beetlejuice (1988); Batman (1989); the genteel artificial boy fairy-tale Edward Scissorhands (1990); Batman Returns (1992); Ed Wood (1994), a biopic of the world's worst director; the alien invasion comedy Mars Attacks! (1996); the ghost story Sleepy Hollow (1999); the remake of Planet of the Apes (2001); Big Fish (2003) about an habitual teller of tall tales; Charlie and the Chocolate Factory (2005); the stop-motion animated Gothic Corpse Bride (2005); the horror musical Sweeney Todd: The Demon Barber of Fleet Street (2007); Alice in Wonderland (2010); the film remake of the tv series Dark Shadows (2012); the stop-motion animated Frankenweenie (2012); and Miss Peregrine's Home for Peculiar Children (2016). Burton also produced Henry Selick's darkly brilliant stop-motion animated fantasies The Nightmare Before Christmas (1993) and James and the Giant Peach (1996); as well as the live-action conte cruel Cabin Boy (1994), Batman Forever (1995), the animated 9 (2009), Abraham Lincoln, Vampire Hunter (2012) and Alice Through the Looking Glass (2016). The Death of "Superman Lives": What Happened? (2015) is a fascinating documentary about Burton's failed Superman Lives project.
Screenwriter Ehren Kruger received a reputation with non-genre works like Arlington Road (1999) and Reindeer Games (2000). Since then Kruger has begun to specialise in genre scripts with the likes of New World Disorder (1999), Scream 3 (2000), Impostor (2002), The Ring (2002), The Brothers Grimm (2005), The Ring Two (2005), The Skeleton Key (2005), Blood and Chocolate (2007), Transformers: Revenge of the Fallen (2009), Transformers: Dark of the Moon (2011), Tin Man (tv movie, 2014), Transformers: Age of Extinction (2014) and Ghost in the Shell (2017), as well as produced Dream House (2011).
(Nominee for Best Special Effects at this site's Best of 2019 Awards).
---
---