---
Crew
Director – Vincente Minelli, Screenplay/Lyrics – Alan Jay Lerner, Based on the Musical by Alan Jay Lerner & Barton Lane, Producer – Howard W. Koch, Photography – Harry Stradling, Music – Barton Lane, Music Supervisor – Nelson Riddle, Makeup – Harry Ray, Production Design – John De Cuir, Choreography – Howard Jeffrey. Production Company – Paramount.
Cast
Barbra Streisand (Daisy Gamble), Yves Montand (Dr Marc Chabot), Larry Blyden (Warren Pratt), Bob Newhart (Dr Mason Hume), Simon Oakland (Dr Conrad Fuller), Jack Nicholson (Tad Pringle), John Richardson (Robert Tentrees)
---
Plot
When psychologist Marc Chabot gives a lecture on hypnotism, he discovers he has accidentally hypnotised one of his students Daisy Gamble. Talking to Daisy afterwards, he is amazed to find that she has the ability to guess things that are about to happen. Believing that he has found a genuine occurrence of telepathy, he places her under hypnotism to further examine this. She then starts to talk about her previous scandal-ridden life in 19th Century England. As Chabot begins to fall for Daisy, his increasing preoccupation with mysticism and reincarnation causes unpopular waves at the university.
---
On a Clear Day You Can See Forever is a musical that comes from Alan Jay Lerner. Lerner is best known for his collaborative work with Frederick Loewe on various Broadway musicals out of which resulted such film adaptations as Brigadoon (1954), My Fair Lady (1964), Camelot (1967) and Paint Your Wagon (1969).
Lerner's solo Broadway musical On a Clear Day You Can See Forever (1965) was undoubtedly inspired by the Bridey Murphy cycle, a real-life incident when an amateur hypnotist claimed to have hypnotically regressed a housewife to her previous life in 19th Century Ireland. See the film dramatisation The Search for Bridey Murphy (1956) for details.
The film adaptation of On a Clear Day You Can See Forever was a flop when it came out but is not without a number of pleasures. The spry, jocular dialogue and often ingenious twists of plot maintain a considerable liveliness. The opening scenes and the demonstration of Barbra Streisand's powers are handled with an appealingly offhand casualness, especially the charming scene where Yves Montand puts Streisand under and she starts picking up what he is doing before he even does and he shrugs "Ah well, you know the rest," whereupon she falls asleep. There are some wonderfully colourful and ostentatious sets and costuming – Barbra Streisand seems to wear a different eye-catching dress in every scene we see her.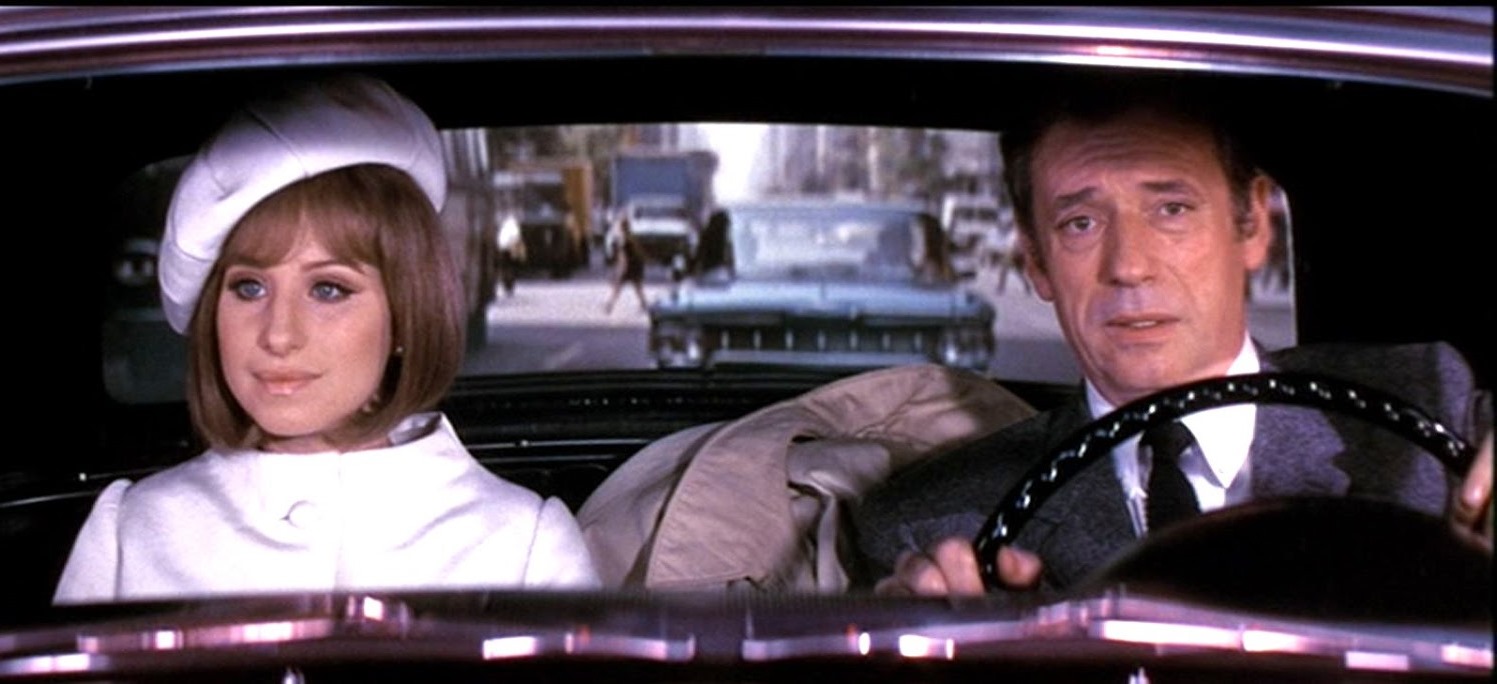 The great joy of the film is Barbra Streisand's performance – it is full of a bubbly, blithe dizziness and one where she demonstrates an extraordinary versatility of accents. Alas, Yves Montand is stodgy up against her. Crucially, this causes the plot to lose momentum about two-thirds of the way through – beneath the dancing charms of the earlier scenes, the romance between Streisand and Yves Montand never fires up. There is a decidedly wet-blanket ending that doesn't allow the two lovers to get together but informs us that they will by the year 2038, and a silly end credits sequence with Barbra Streisand doing butterfly swoops around a garden.
Director Vincente Minelli is the father of Liza Minelli. Minelli became known for directing principally musicals. These included the likes of An American in Paris (1951), Kismet (1955) and Gigi (1958), along with dramatic works such as Meet Me in St Louis (1944) and Lust for Life (1956). His two other ventures into genre material were the afterlife/diabolical temptation musical-comedy Cabin in the Sky (1942) featuring an all-Black cast and the musical Brigadoon (1954) about a timeslipped village.
---
---