---
Crew
Director – Vincente Minelli, Screenplay/Lyrics – Alan Jay Lerner, Based on the Musical by Alan Jay Lerner & Frederick Loewe, Producer – Arthur Freed, Photography – Joseph Ruttenberg, Music – Frederick Loewe, Special Effects – Warren Newcombe, Makeup – William Tuttle, Art Direction – Preston Ames & Cedric Gibbons, Choreography – Gene Kelly. Production Company – MGM.
Cast
Gene Kelly (Tommy Albright), Cyd Charisse (Fiona Campbell), Van Johnson (Jeff Douglas), Barry Jones (Mr Lundie), Hugh Laing (Harry Beaton), Albert Sharpe (Andrew Campbell), Virginia Bosler (Jean Campbell), Jimmy Thompson (Charlie Dalrymple)
---
Plot
Two Americans, Tommy Albright and Jeff Douglas, are on a hunting holiday in the Scottish Highlands. They stumble upon the village of Brigadoon where the inhabitants appear to still be living in the 18th Century. They learn that in 1754, when the village was threatened by witches, the villagers prayed and in answer the village became one with the mists, only able to emerge for a single day every century thereafter. When Tommy falls in love with one of the village girls, he must decide what he is to do before the village returns to the mists at nightfall not to return for another century.
---
Brigadoon (1947) was the first Broadway hit of lyricist Alan Jay Lerner and librettist Fredreick Loewe. They would go onto huge successes likes Paint Your Wagon (1951), My Fair Lady (1956), Camelot (1960) and On a Clear Day You Can See Forever (1965), most of which ended up being turned into films.
The screen adaptation of Brigadoon is a film that is at once both spectacular and slight. Lerner and Loewe customarily write their emotions on a larger than life canvas. Their Scotland is an absurdly caricatured never-never land of tourist hyperbole where everybody wears a kilt and sporran and the hillsides are covered entirely in purple heather.There is a dreadful silliness to much of the film – a number choreographed with pots and pans and women in mustachioed drag singing about waiting for their laddie to come reaches a particularly scatterbrained height. The happy wrap-up ending is feeble.
Despite an intriguing premise, the story is slimmer than slim, even seems padded to facilitate the stultifying song and dance numbers. There is little appreciation of the story's greater dramatic possibilities – for example the Brigadoonians, who emerge from the mists once a century, seem remarkably well adjusted for the fact that it has been only two days on their time-scale that have passed since they left their own time period.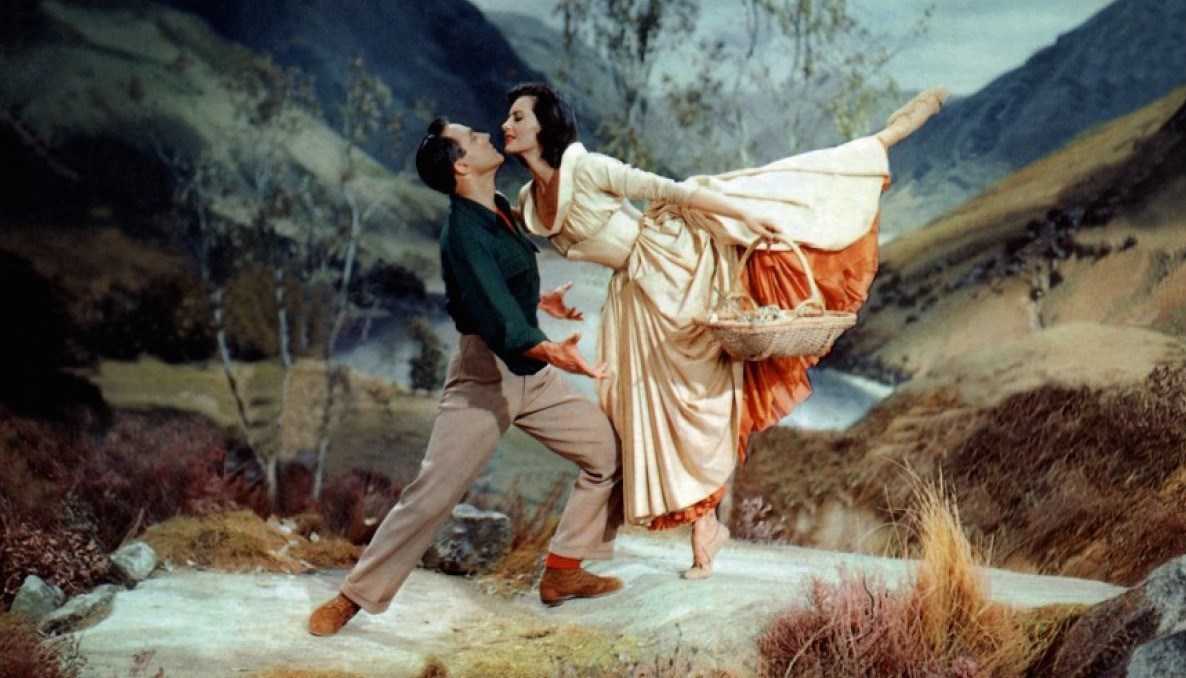 The plus side of the film is sly, warm-eyed Gene Kelly. He choreographs the film too – one number dancing up around stone walls in celebration of his love for Cyd Charisse is exhilarating. The hunt around the woods shows Vincente Minelli getting loose on the desire to imbue the film with some real energy, which the rest of it forces him to clamp down on. The opening scene with people vanishing as the sun touches them would be impressive were it not for its cloyingly sugary sweetness.
The film was remade for tv in 1996 starring Robert Goulet and Peter Falk as the two friends and with Sally Ann Howes as Fiona. The concept of the village out of time has proven a popular one and has appeared in various guises in places as varied as the splatter film Two Thousand Maniacs! (1964) and the Star Trek: Deep Space Nine episode Meridian (1994).
Director Vincente Minelli is the father of Liza Minelli. Minelli became known for directing principally musicals. These included the likes of An American in Paris (1951), Kismet (1955) and Gigi (1958), along with dramatic works such as Meet Me in St Louis (1944) and Lust for Life (1956). His two other ventures into genre material were the afterlife/diabolical temptation musical-comedy Cabin in the Sky (1942) featuring an all-Black cast and the reincarnation musical On a Clear Day You Can See Forever (1970) with Barbra Streisand.
---
---