---
USA. 1991.
Crew
Director – Kenneth Branagh, Screenplay – Scott Frank, Producers – Lindsay Doran & Charles H. Maguire, Photography (b&w + colour) – Matthew F. Leonetti, Music – Patrick Doyle, Production Design – Tim Harvey. Production Company – Paramount.
Cast
Kenneth Branagh (Mike Church/Roman Strauss), Emma Thompson (Grace/Margaret Strauss), Derek Jacobi (Franklyn Madson), Robin Williams (Dr Cozy Carlisle), Andy Garcia (Gray Baker), Hanna Schygulla (Inga), Wayne Knight (Piccolo Pete), Gregor Hasse (Frankie)
---
Plot
Private detective Mike Church is hired to find the identity of an amnesiac woman. Amateur hypnotist Franklyn Madison offers help. However, once in a trance, the woman begins to recall her previous life as the wife of expatriate German composer Roman Strauss – a short-lived marriage that ended in 1948 when she was found stabbed with a pair of scissors. Strauss was subsequently executed for the crime. As Church becomes involved with the woman, it becomes apparent that he is the reincarnation of Strauss and that the events that led up to the murder are beginning to replay themselves.
---
At the time he made Dead Again, Kenneth Branagh seemed the brightest young star of the British film industry. Branagh had singlehandedly breathed life and vitality back into cinematic Shakespeare with his directorial debut, the adaptation of Henry V (1989). Dead Again was Branagh's second directorial outing and he then subsequently went onto other directorial successes with Much Ado About Nothing (1993), Mary Shelley's Frankenstein (1994), Hamlet (1996), the remake of Sleuth (2007), even the Marvel Comics superhero film Thor (2011), the reboot of the Tom Clancy series Jack Ryan: Shadow Recruit (2014), the big screen remake of Disney's Cinderella (2015), the remake of Murder on the Orient Express (2017) and the Young Adult adaptation Artemis Fowl (2020).
With Dead Again, Kenneth Branagh attempted to breathe life into the reincarnation story, a genre that had been creatively exhausted by endless tawdry second-rate plots and had all but been relegated to the stuff of sudsy tv movies of the week by 1991. It is something at which Branagh largely succeeds, thanks to an outstanding thriller plot. The plot is one that crackles with tension and keeps one glued to the seat with a series of subtle and beautifully engineered surprise twists.
As director, Branagh shows of stylistically. The period recreations of 1940s Hollywood are superb – the flashbacks, photographed in stylish black-and-white, come with the self-conscious artifice reminiscent of Citizen Kane (1941). Branagh does a marvellous job of evoking a bygone era of cinema – the grand sweeps through ballrooms lit by tangible beams of dusky sunlight, of glossy Hollywood masques are excellent.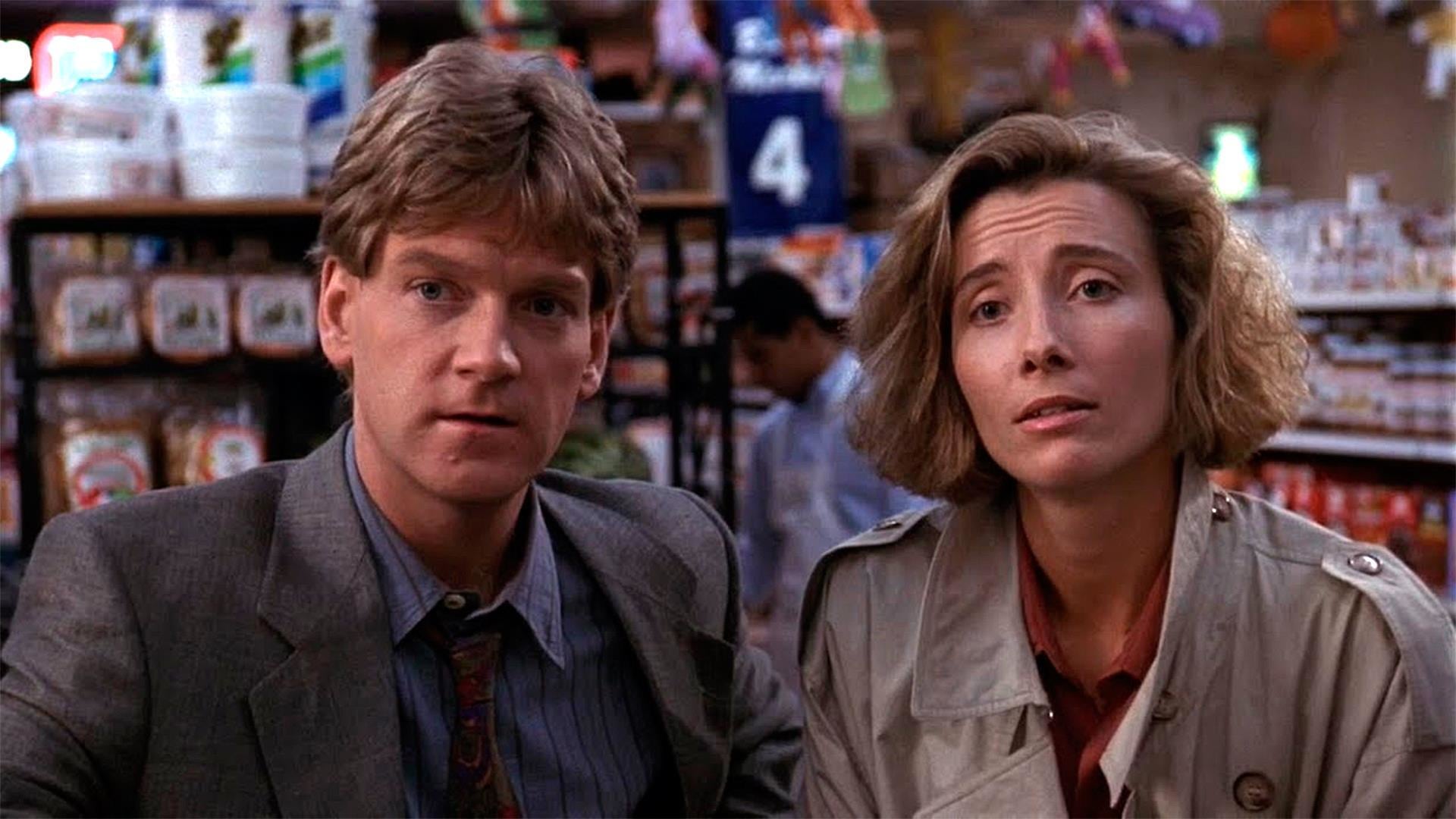 The climax though is the point where Branagh tries to pull just a little too much off, flickering between past and present, colour and black-and-white, throwing in cliched returns from the dead and ending on a very silly scene where he wheels a statue of scissors around to impale the villain.
Regrettably though, Kenneth Branagh – who has always been a better director than an actor – overtaxes himself during his own double casting. In the role of Strauss, the patent theatricality of his performance and German accent are as fake and obvious as the beard he wears, and with Church his attempts at an American accent fail to a glaring extent. Branagh's then wife Emma Thompson seems at her most aloofly bovine without any of the sparkle she usually brings to a performance – she simply does not seem like a modern American woman. Otherwise though, Branagh's cast is fine – he gives the great Derek Jacobi a welcome chance to enter the American marketplace and manages to tone Robin Williams down for a funny cameo as a New Age psychologist.
Dead Again was critically divided upon its initial release, although has come to be regarded in a far better light in subsequent years.
---
---