---
Crew
Director – Ronald Neame, Screenplay/Music/Lyrics – Leslie Bricusse, Based on the Novel A Christmas Carol by Charles Dickens, Producer – Robert H. Solo, Photography – Oswald Morris, Musical Sequences Choreographed by Ian Fraser & Paddy Stone, Photographic Effects – Jack Mills, Special Effects – Wally Veevers, Production Design – Terry Marsh. Production Company – Cinema Center Films/Waterbury Films.
Cast
Albert Finney (Ebenezer Scrooge), David Collings (Bob Cratchit), Alec Guinness (Jacob Marley), Edith Evans (Ghost of Christmas Past), Kenneth More (Ghost of Christmas Present), Suzanne Neve (Isabelle Fezziwig), Laurence Naismith (Fezziwig), Richard Beaumont (Tiny Tim), Frances Cuka (Emily Cratchit)
---
Plot
On Christmas Eve, miserly Ebenezer Scrooge receives a visit from the ghosts of Christmas Past, Christmas Present and Christmas Yet to Come who show him how his miserliness affects others and warn him of the fate that awaits him in Hell unless he changes his ways.
---
Charles Dickens' A Christmas Carol (1843) is a perennial that filmmakers see some need to trot out a new adaptation of every few years. There is a lengthy list of the numerous film adaptations at the bottom of the page.
This big-budget musical adaptation is no better or any worse than any other version. The story has been padded in a peculiarly oversized way, adding scenes of Scrooge's trip down to Hell, flights through phantom-filled skies and flashbacks to Scrooge's romance with Fezziwig's daughter. These do not serve any particular narrative purpose that the original story didn't already provide.
There has been a clear attempt to try and turn Scrooge into a 1960s musical a la My Fair Lady (1964) et al, even though such does not easily suit a story like A Christmas Carol – the casting, for instance, tries to squeeze as many members of the British Screen Actors Guild in as possible, although it is not a star-turn type of story. The songs, courtesy of Doctor Dolittle (1967) songwriter Leslie Bricusse, are often nice – Scrooge's plaintive song for Isabelle "You were so true to me," comes with naked emotion, especially when it is uttered by a character such as he.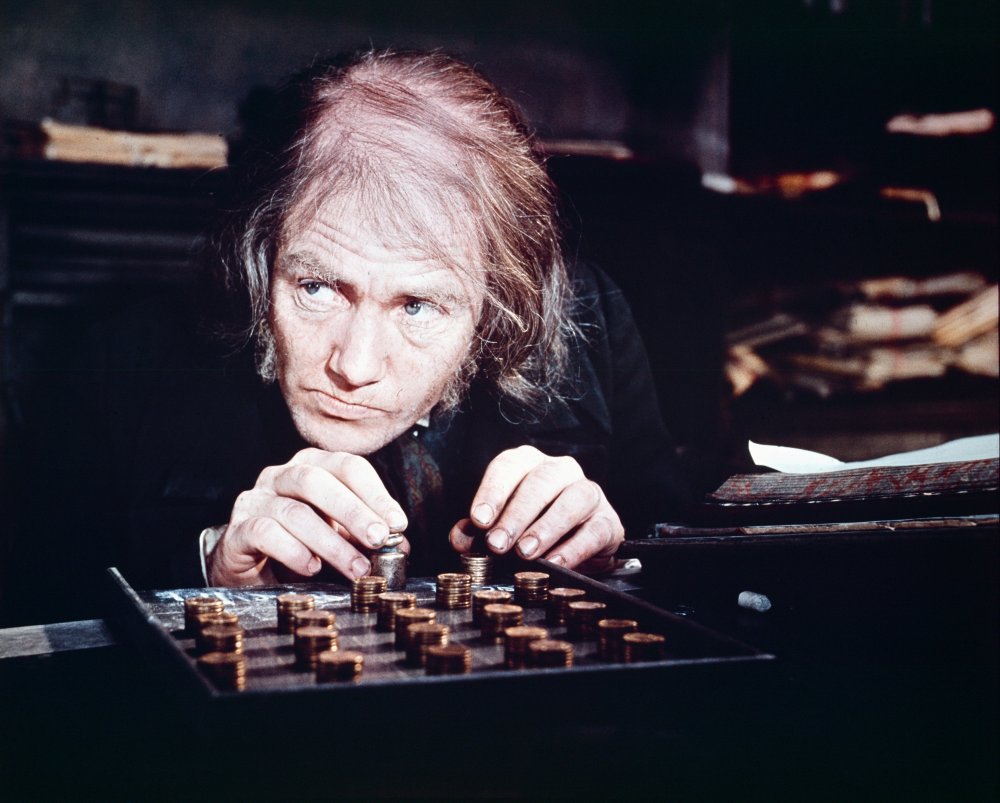 As Scrooge, Albert Finney gives a performance that seems patently and obviously a theatrical one, although is a good performance nonetheless – he convinces one of Scrooge's misanthropy in a physical way and lets loose with an acidic London accent that hits the character spot on. Although, once the character has repented, the sight of Albert Finney charging about in a bandy-legged, blithering dementia, like an old prospector doped up on moonshine, is a more dubious proposition.
British born Ronald Neame was a former cinematographer who had become a director in the late 1940s. Prior to this, Neame had made the acclaimed The Prime of Miss Jean Brodie (1969) and subsequently went on to make The Poseidon Adventure (1972) and Meteor (1979).
Other adaptations of A Christmas Carol include:– a number of lost silent adaptations made respectively in 1901, 1908, 1910, 1913, 1916, 1923 and 1928. Sound versions include:– Scrooge (1935), a British sound version with Seymour Hicks as Scrooge; A Christmas Carol (1938), an American version with Reginald Owen; a Spanish adaptation (1947); Scrooge (1951), a British production starring Alistair Sim; Scrooge (1970), a British-made musical adaptation starring Albert Finney; a short animated version A Christmas Carol (1971) from animator Richard Williams; Mickey's Christmas Carol (1983), a 25 minute animated short from Disney where the Scrooge role was played by Scrooge McDuck and Mickey Mouse was cast as Bob Cratchit; the modernized updating Scrooged (1988) with Bill Murray; The Muppet Christmas Carol (1992), which enacted the tale with the Muppets and starred Michael Caine as Scrooge; a British-German animated adaptation Christmas Carol: The Movie (2001); the conservative-backed An American Carol (2008) where a liberal filmmaker is persuaded of their ways; the animated Barbie in A Christmas Carol (2008); and Robert Zemeckis's motion-capture animated A Christmas Carol (2009) starring Jim Carrey. TV adaptations include A Christmas Carol (1943), a 60 minute live version, which was apparently one of the first ever experimental tv broadcasts; The Christmas Carol (1949), a half-hour American adaptation starring Taylor Holmes; A Christmas Carol (1950), a British adaptation starring Bransby Williams; A Christmas Carol (1953), a half-hour American adaptation starring Noel Leslie; a German production (1960); Carol for Another Christmas (1964), a production written by Rod Serling as a United Nations Special that updated the tale as an anti-war parable; a Canadian production Mr Scrooge (1964); A Christmas Carol (1977), a British production starring Michael Hordern; Scrooge (1978), a Canadian production starring Warren Graves; Rankin-Bass's one-hour animated adaptation The Stingiest Man in Town (1978); An American Christmas Carol (1979), starring Henry Winkler, which updated the story to the Depression era; Skinflint: A Country Christmas Carol (1979), starring Hoyt Axton, a bizarre American adaptation populated entirely by Country and Western singers; A Christmas Carol (1981), an American adaptation starring William Paterson; A Christmas Carol (1982), an American adaptation starring Richard Hilger; A Christmas Carol (1984), a lavish British-made production starring George C. Scott; a French tv adaptation (1984); Blackadder's Christmas Carol (1988), a sardonic take on the story using the characters from the popular British tv series Blackadder (1983-9); Scrooge: A Christmas Sarah (1990), a British version that cast Scrooge as a woman (Sarah Greene); A Christmas Carol (1994), a British-made ballet adaptation; A Christmas Carol (1997), an American-made animated adaptation; Ebenezer (1997), a bizarre American adaptation that recast the tale as a Western starring Jack Palance; Ms. Scrooge (1997), an American version that also cast the role with a woman (Cicely Tyson); A Christmas Carol (1999), an American production starring Patrick Stewart; A Christmas Carol (2000), a modernized adaptation where Scrooge (Ross Kemp) was a petty loanshark; A Diva's Christmas Carol (2000) with Vanessa Williams as a self-absorbed pop singer; Scrooge and Marley (2001), a one-hour adaptation starring Dean Jones; Hallmark's sex-reversed A Carol Christmas (2003) starring Tori Spelling; Hallmark's musical adaptation A Christmas Carol (2004) with Kelsey Grammer; the Italian-made A Christmas Carol (2004); the modernized Karroll's Christmas (2004) starring Tom Everett Scott; the Doctor Who tv special A Christmas Carol (2010) where a time-travelling Doctor becomes the Ghosts of Christmases Past and Present to intergalactic miser Michael Gambon; the low-budget Canadian-made A Christmas Carol (2015); and the dark adult BBC mini-series A Christmas Carol (2019) starring Guy Pearce. Also of interest is The Man Who Invented Christmas (2017) about Charles Dickens and the writing of A Christmas Carol.
---
---