---
Crew
Director – Hans Jürgen Syberberg, Story/Music – Richard Wagner, Producers – Harry Nap & Annie Nap-Oleon, Photography – Igor Luther, Music Conductor – Armin Jordan, Puppets – Buchwald & Atelier Stummer, Production Design – Walter Ackmann. Production Company – Gaumont/TMS Films.
Cast
Karin Krick & Michael Kutter (Parsifal), Edith Clever (Kundry), Martin Sperr (Titurel), Armin Jordan (King Amfortas), Aage Haugland (Klingsor)
Singing Voices
Reiner Goldberg (Parsifal), Yvonne Minton (Kundry), Hans Tschammer (Titurel), Wolfgang Schone (Amfortas), Aage Haugland (Klingsor)
---
Plot
The king Amfortas is suffering excruciating pain as a result of having been wounded by the spear that pierced Christ on the cross and no medicine will cure him. The spear has fallen into the hands of Klingsor, a dark figure who could not find admittance into Amfortas's castle and has built his own domain as a garden of pleasures that seduces all the knights that try to retrieve the spear. The youth Parsifal is brought before Amfortas after thoughtlessly shooting a swan in the king's gardens with an arrow. Amfortas sends Parsifal to retrieve the spear. However, Klingsor has the witch Kundry in his thrall and sends her to tempt Parsifal, Parsifal unaware that she is really his mother.
---
Parsifal is not an easy film to recommend to the casual genre sampler. First of all, it is a straight adaptation of Richard Wagner's 1882 opera and opera, particularly Teutonic opera, is very much an acquired taste. Secondly, the film is four-and-a-quarter hours long, which makes it heavy going even for the most dedicated opera fans – at least half the audience had walked out by half-time at the film festival screening I attended. Parsifal is among the heaviest of Wagner's operas and not exactly what one might call a lightweight diversion.
Furthermore, this is only a filmed version of the staged opera and little has been conceded in the way of standard commercial filmmaking – intertitle cards mark the place between acts; some of the camera set-ups are ten minutes long. Moreover, it all very obviously takes place on a stage with nothing having been done to make it appear a more naturalistic environment. (That said, the film uses the stage in many ways that a live performance never could – the sets are used in three-dimensional ways and can be approached from different angles, for instance). Director Hans Jürgen Syberberg also does not take the opportunity offered to open the story up – for example when fights and battles take place, he allows them to take place off screen just as Wagner did.
Parsifal has been called the greatest of all filmed operas and director Hans Jürgen Syberberg was hailed as one of the most promising new talents in the German film industry when the film first came out. One has not seen enough filmed opera to be able to evaluate the former, however Syberberg has not subsequently made any films that have been seen outside of German-speaking countries.
Parsifal is certainly an interesting film. Richard Wagner must have been half out of his mind with Christian guilt and suffering when he wrote it. It is one of the most extraordinarily tortured wallows in suffering and hysteric cravings for divine deliverance ever committed in any artistic medium. (Even Adolf Hitler, who worshipped the ground Wagner trod upon, had Parsifal banned in Nazi Germany). In one scene, King Amfortas/Arthur sings on for about half-an-hour writhing in his own pain.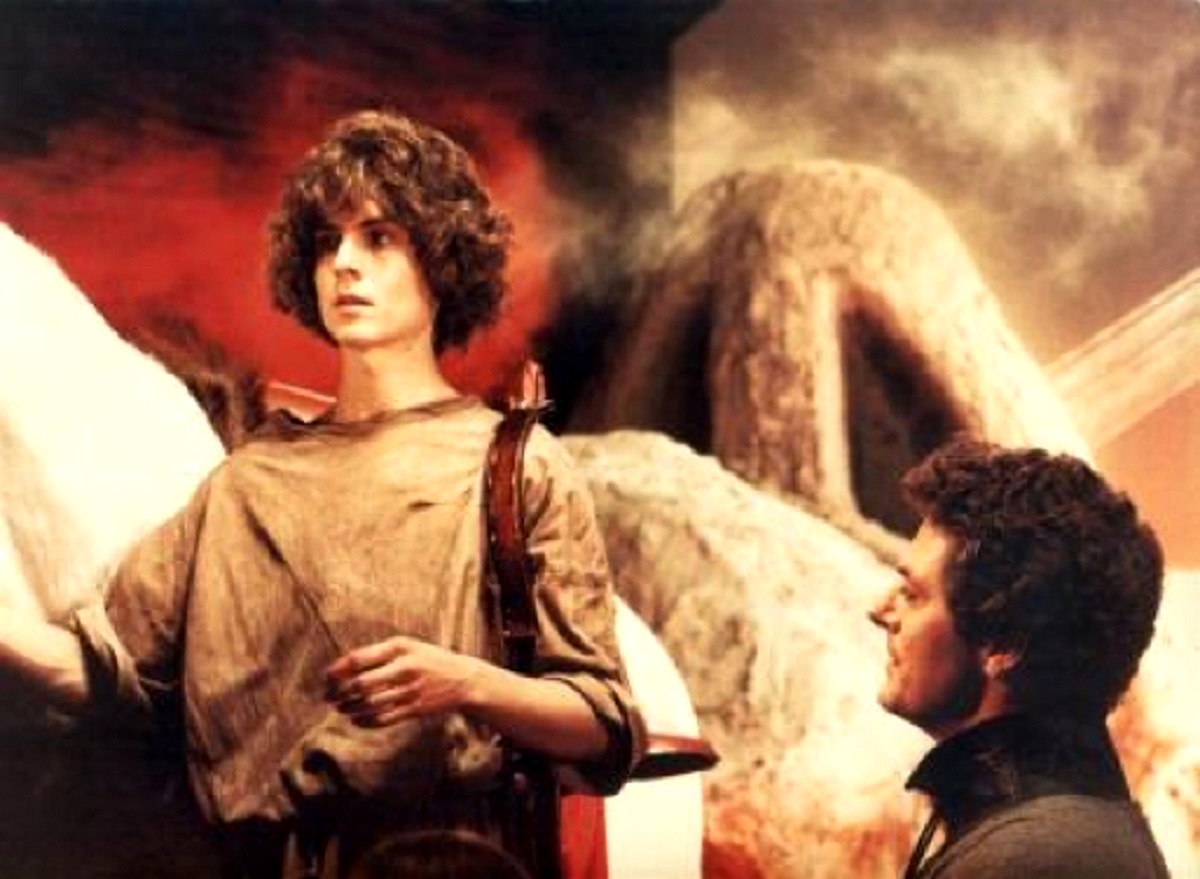 To be fair to Hans Jürgen Syberberg, the faults the film has are all Wagner's, not his. Wagner was not a particularly good dramatist and the storyline is often confused – take the character of Kundry who for no apparent reason switches between being a witch who lives as a wild woman in the forest, between being held in the thrall of Klingsor, between being cursed, then turning out to be the mother of Parsifal and (in a bizarre moment that Wagner seems to throw in without the slightest concern) trying to seduce him, before being granted her own Christian redemption.
Nevertheless, Hans Jürgen Syberberg's direction is often striking. Syberberg achieves remarkable effects by the simple old trick of front projection. There is one scene where a procession of soldiers have images projected across the fronts of their helms with striking effect. The film's final shot with the village seen in a crystal ball surrounded by Kundry's hair is astonishing. Syberberg is definitely eccentric though – he, to no clear point, has Parsifal played by both a boy and a girl – and sometimes to add to the confusion they even appear together in the same scene. The girl Karin Krick gives an extraordinarily good performance.
The majority of the characters in the film are actors who are lip-synching the libretto that is being sung by others. Krick however manages to portray an extraordinary serenity and aloofness, the living embodiment of Wagner's divine beatitudes. When she mouths the lyrics, she gives them an emotiveness that makes it appear that the words are coming from the centre of her being in a powerful baritone. The same unfortunately cannot be said for Michael Kutter as the male Parsifal who only looks uncomfortable in the part.
---
---