---
USA/Ireland/Canada. 2021.
Crew
Director/Screenplay – David Lowery, Producers – Tim Headington, Toby Halbrooks, James M. Johnston, David Lowery & Theresa Steele Page, Photography – Andrew Droz Palermo, Music – Daniel Hart, Visual Effects Supervisors – Kev Cahill & Eric Saindon, Visual Effects – Lucky Post Visual Effects (Supervisor – Tim Nagle), Maere Studios Visual Effects (Supervisor – Nicholas Ashe Bateman), Output Visual Effects (Supervisor – Dave Sadler Coppard) & Weta Digital, Special Effects Supervisor – Paul Byrne, Makeup & Prosthetics Designer – Audrey Doyle, Production Design – Jade Healy. Production Company – A24/Ley Line Entertainment/Bron Studios/Wild Atlantic Pictures/Sailor Bear Productions.
Cast
Dev Patel (Gawain), Alicia Vikander (Essel), Sean Harris (King), Sarita Choudhury (Mother), Ralph Ineson (Green Knight), Kate Dickie (Queen), Joel Edgerton (The Lord), Barry Keoghan (Scavenger), Erin Kellyman (Winifred)
---
Plot
The knight Gawain attends Christmas with the king. They are interrupted by the arrival of a creature that calls itself The Green Knight. The Green Knight challenges anybody present to strike off its head with one blow – if they succeed, they must let it return the favour and cut off their head. Gawain stands up to take the challenge. He is puzzled when the Green Knight bows to let him do so with ease – only for the knight to then pick up its severed head and walk out, telling Gawain he will see him in one year's time. As next Christmas approaches, Gawain sets out on a quest to find the Green Knight's home, The Green Chapel, encountering many strange adventures along the way.
---
The legend of Sir Gawain and the Green Knight is a poem that goes back to the 14th Century. It is written in Middle English although the author is unknown. It is designed as a spinoff from the Arthurian Legends based around the knight Sir Gawain. Gawain's quest and meeting with the Green Knight is one that comes rich in allegory and its meaning has been much debated. There have been several prior film adaptations of the story. Director Stephen Weeks made Gawain and the Green Knight (1973) with singer Murray Head as Gawain and then remade it for Cannon Films as Sword of the Valiant: The Legend of Sir Gawain and the Green Knight (1984) with Miles O'Keeffe as Gawain and Sean Connery as the Green Knight. There was also the tv movie Gawain and the Green Knight (1991), a Thames Television tv movie starring Jason Durr as Gawain.
This is a new version of the tale from David Lowery. Lowery appeared as an indie director with St. Nick (2009) and Ain't Them Body Saints (2013), before taking on the remake of Disney's Pete's Dragon (2016) and subsequently their remake of Peter Pan and Wendy (2023). In genre material, Lowery also produced the undeniably watchable true-life-based tv series Strange Angel (2018-9) about pioneering rocketry and occultism. I had been hugely impressed with Lowery's A Ghost Story (2017) and placed it on my Best of 2017 list. As a result, I greatly anticipated The Green Knight. It had received some very positive word of mouth during its theatrical release.
What is noticeable about the film is when you compare David Lowey's visuals to other contemporary works like Peter Jackson's The Lord of the Rings and The Hobbit movies and tv's Game of Thrones (2011-9). Jackson's works are all visual sweep and epic size, designed to overwhelm and awe you with effects and scenery. Game of Thrones goes to almost complete contrast – its more contained visual sweep is leavened by a focus on the mud and filth with characters that are morally blurred and far from heroic. These have become the two predominating outlooks on modern Epic Fantasy cinema.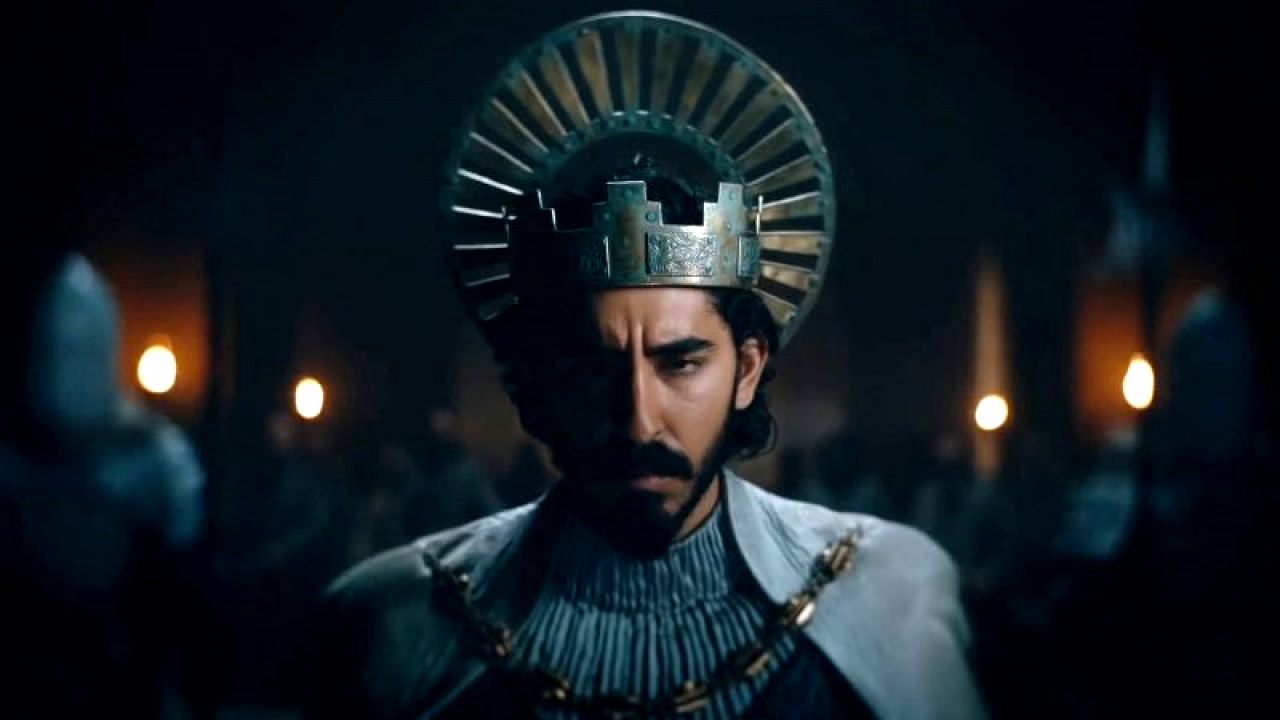 By contrast to these others, David Lowery's visuals are incredibly sparse. The court of Camelot sits mostly in darkness, while Sean Harris's king (and Dev Patel in the opening scenes) is outfitted with a halo-shaped crown that makes him look like the figure of Jesus from a mediaeval icon. The lighting schemes in these scenes – all faces lit by candle and orange light amid the darkness – are exceptional. The landscapes (shot in Ireland) are bare and empty, not self-consciously epic. When we enter the forests, the lighting scheme is reduced to the point the film seems to be taken place in mist illuminated by the smallest embers of remaining light.
What you expect of the film before sitting down to watch is a chivalric romance with a knight setting out and passing through a series of adventures before he meets his fate. However, this is exactly what we don't get. Despite the fact that the film has a runtime that is just over two hours long, hardly anything happens. After Gawain sets out, there are only sporadic adventures – the encounter with a bunch of teenage bandits (led by Barry Keoghan) where Dev Patel humiliatingly has his horse and belongings stolen and is left tied on the ground, wriggling to get free. There are a couple of undeniably effective sequences – a haunting and eerie meeting with Erin Kellyman as a woman who insists that her head was severed and dropped at the bottom of a lake (where Lowery borrows from another Celtic legend of St Winifred who was beheaded by her suitor after deciding to become a nun), and the image of nude giants striding across the landscape and disappearing into the mists. The pace of the film is funereally slow.
Lowery, for reasons unclear, offers a retelling of Gawain and the Green Knight that is much more ambiguous than any other. It is not clear from a watching of the film, for instance, that this is a work of Arthurian legends and that the court of the king we see in the opening scenes is meant to be Camelot and that Sean Harris's king is King Arthur or that Gawain's mother (Sarita Choundhury) is meant to be Morgan-le-Fay. Both characters and Kate Dickie's queen are given no names other than king, mother and queen.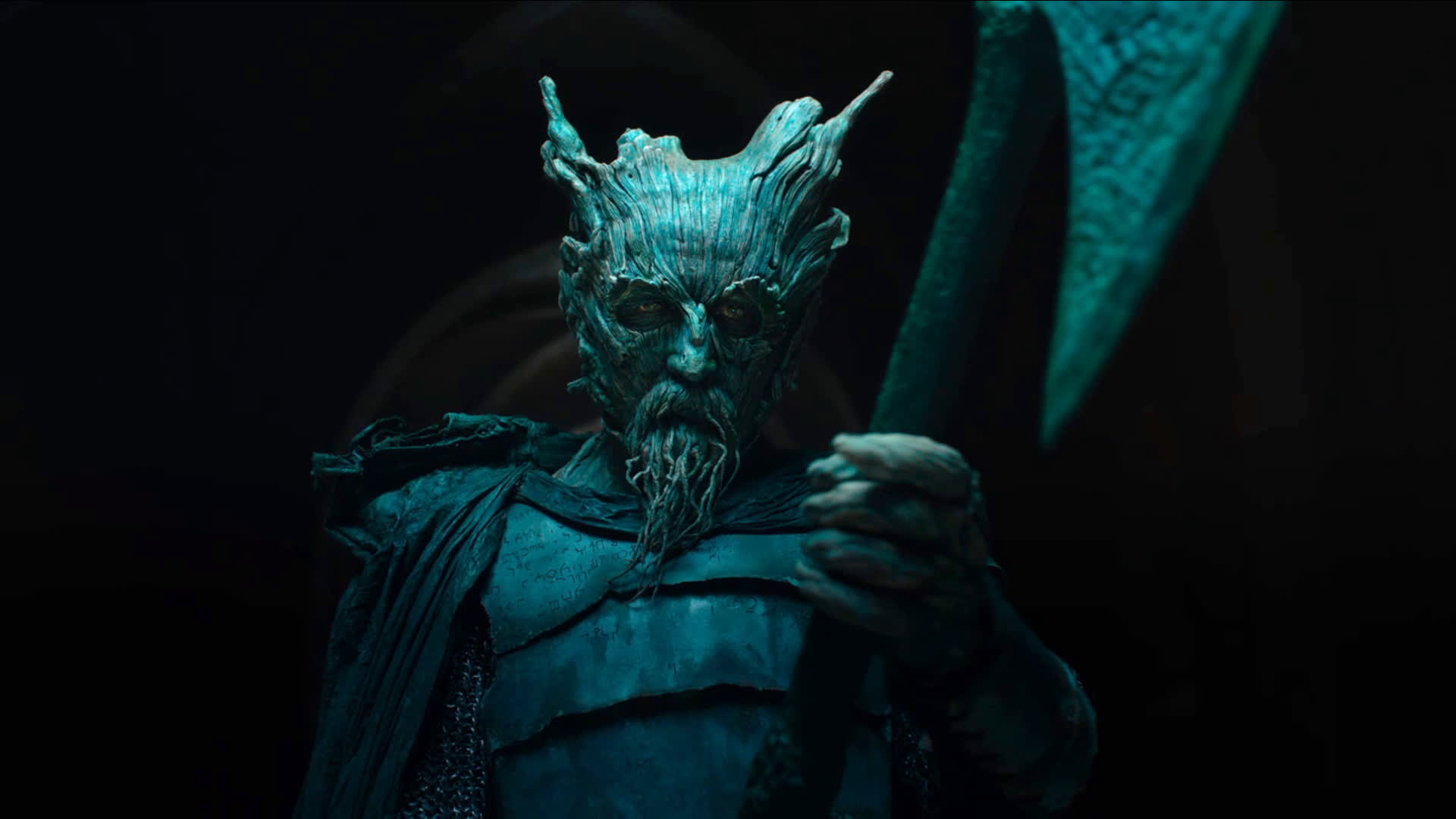 Similarly, the scenes with the Joel Edgerton as the Lord at the end and Alicia Vikander, doing a surprisingly seductive turn in a double-role as the Lord's wife, do not always make it clear what is happening. It is not until I went and did an in-depth reading of the poem that it became apparent that Lowery was being extremely faithful to the original in these scenes. However, the one thing he has omitted from the film is that The Lord is really the human form of The Green Knight. Thus the scenes where The Lady keeps trying to tempt Gawain, where The Lord asks Gawain to return to him with what he finds and the significance of the green sash are not at all clear. Watching the film, you are left puzzled feeling that they should mean more than they do.
More crucially, the film reaches an enigmatic ending that leaves everything uncertain. In the poem, Gawain surrenders to The Green Knight who merely nicks his neck and then reveals that he is really The Lord and that this has all been set up by King Arthur as a test of the honour. [PLOT SPOILERS]. On the other hand, none of this is clear in the film. Instead, Gawain runs away from the scene and then seems to have a flash forward fantasy of a future where he is appointed the king, gives birth by Alicia Vikander's Essed but then abandons her to marry Erin Kellyman, is hated by his subjects and then grows old, all before we return to the present and The Green Knight is waiting and raises his axe where the last line is him saying "Now, off with your head." It's an ambiguous ending that throws out much of the story's end in favour of one that shows Gawain as less than honourable – in fact, as a coward who runs away from his fate and who would have had a sad and unlikable future. Quite why David Lowery saw this as the more preferable ending than tradition is a mystery.
(Winner for Best Cinematography at this site's Best of 2021 Awards).
---
Trailer here
---