---
Germany/UK/Ireland. 1997.
Crew
Director – Anthony Hickox, Screenplay – Anthony Hickox, Michael Frost Beckner & Carsten Lorenz, Based on the Comic Strip Created by Harold R. Foster, Producer – Carsten Lorenz, Photography – Roger Lanser, Music – David Bergeaud, Visual Effects – Image Animation (Supervisor – Bob Keen), Animation – Brian Stevens Animated Films & TVC London, Special Effects Supervisor – Ian Wingrove, Production Design – Crispian Sallis. Production Company – Constantin Film/Legacy Film Productions Ltd/Celtridge Ltd/Babelsberg Film/Hearst Entertainment Inc
Cast
Stephen Moyer (Prince Valiant), Katherine Heigl (Princess Ilene), Thomas Kretschmann (Thagnar), Edward Fox (King Arthur), Joanna Lumley (Morgan Le Fay), Ron Perlman (Boltar), Udo Kier (Sligon), Warwick Davis (Pechet), Gavan O'Herlihy (King Thane), Anthony Hickox (Sir Gawain), Ben Pullen (Prince Arn)
---
Plot
In King Arthur's Camelot, Sir Gawain has been badly injured. On inspiration, the young squire Valiant dons Gawain's armour to take his place in a joust. Just then the Vikings of Thule under the orders of Morgan Le Fay invade Camelot and steal Excalibur. King Arthur discovers Valiant's deception. Seeing that Gawain is too badly injured, Arthur asks Valiant to pose as Gawain and take Princess Ilene to safety. She discovers his deception during the peril-laden journey but the two fall in love. As Valiant begins to discover his true destiny as a prince of Thule, he must take on Morgan Le Fay and her plan to have the Viking leader Sligon draw Excalibur from the stone and proclaim her queen.
---
Prince Valiant is one of the great syndicated newspaper comic strips. A creation of Canadian-born artist Harold R. Foster, Prince Valiant first appeared in 1937. It was immediately a different type of comic strip to anything else that was being printed around the time. Foster eschewed dialogue balloons in order to concentrate on his panels, which were some of the most elaborate and densely detailed for a newspaper strip, with the story instead relayed through text beneath the panel. Foster wrote and drew the strip until his retirement in 1971 where it was then inherited by other artists and became the stuff of reprints. During his time, Foster made Prince Valiant into a genuine saga – unlike most serial stories in other strips, he worked to a large predetermined story that followed Prince Valiant from childhood through adulthood and marriage. There was a previous film made out of the strip, the pedestrian Cinemascope spectacle Prince Valiant (1954), although that eschewed any fantastic content and does not concern us here, as well as a short-lived animated tv series The Legend of Prince Valiant (1991).
This film version was made coinciding with the renewed interest in sword and sorcery and heroic fantasy that came about as a result of the success of tv's Hercules: The Legendary Journeys (1994-9) and Xena: Warrior Princess (1995-2001). During this time a number of other popular heroes – Sinbad, Robin Hood, Conan, The Beastmaster, Sheena – were revived in various tv series and films.
Unfortunately, Prince Valiant's turn befell director Anthony Hickox. Hickox was previously known for horror films such as Waxwork (1988), Sundown: The Vampire in Retreat (1989), Waxwork II: Lost in Time (1992), Hellraiser III: Hell on Earth (1992) and Warlock: The Armageddon (1993), which all fail through Hickox's campy, splatter-heavy tone. Certainly, Anthony Hickox's films subsequent to Prince Valiant – Jill the Ripper/Tied (1999), Contaminated Man (2000), Submerged (2005) – have become much more serious in tone, but sadly not Prince Valiant. (Hickox himself can be spotted in an acting appearance at the start of the film, playing the part of Prince Valiant's mentor Gawain).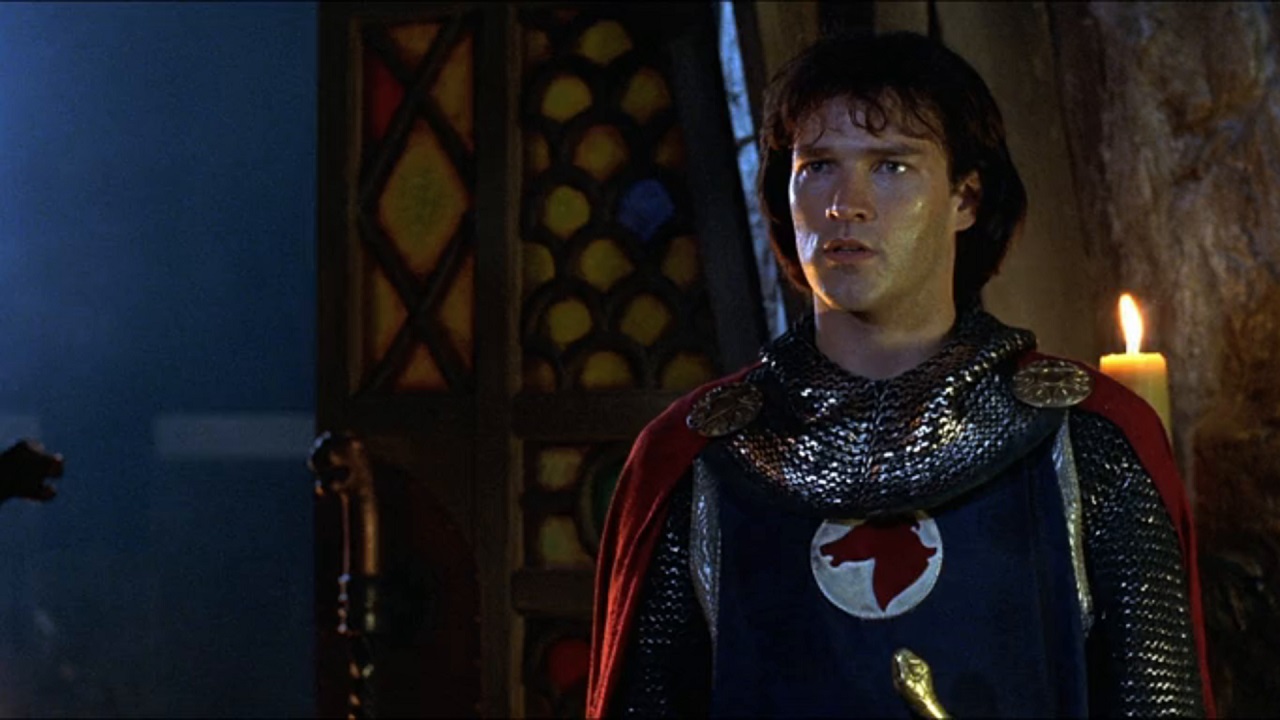 The surprise about the film, as the end credits reveal, is that it was originally intended for cinema release. Instead it was dumped straight to video and its clear to see why – Anthony Hickox takes little of it seriously and everything is budgeted and constructed like a cheap sword and sorcery film, the sort they made dozens of in Italy during the 1980s. The costumes, sets and animation effects are all cheap and unconvincing, the fight scenes dully choreographed.
The moderate name cast overacts with Joanna Lumley and Udo Kier being notably guilty offenders. The least dignified is Ron Perlman who goes through much of the film seeming like he is an extra who has strayed in from the filming of Braveheart (1995). Katherine Heigl, several years before gaining fame on tv's Grey's Anatomy (2005– ), does nothing to suggest Prince Valiant's love Ilene – she seems more like a modern American wannabe starlet with a bright smile that has been placed in period costume. Stephen Moyer, a few years before finding fame in tv's True Blood (2008-14) and here a complete unknown, is slightly better as Prince Valiant, although his formal, upper class British accent belies the working class squire he is meant to be.
By the time of the climax with modern colloquialisms – "We should stop meeting like this" – being bandied and Katharine Heigl dispatching Joanna Lumley's witch by sneezing just as she is about to blow the magic stasis powder, it is clear that Anthony Hickox had stopped taking much of any of the film seriously. It is a sad fate for Harold Foster's creation to befall.
---
---