---
Crew
Director – Giles Alderson, Screenplay – Simon Cotton & Johnny Grant, Producers – Jeet Thakrar & Lucinda Rhodes Thakrar, Photography – Andrew Rodger, Music – Nick Samuel, Visual Effects Supervisor – Lilly Heart Marriott, Special Effects Supervisor – Jamie Foote, Makeup Design – Brodie Mayhew, Production Design – Jamie Foote. Production Company – Picture Perfect Productions.
Cast
Richard Short (King Arthur), Joel Phillimore (Modred), Jennifer Matter (Vortigone), Stella Stocker (Guinevere), Richard Brake (Merlin), Tim Fellingham (Lancelot), Kris Johnson (Bedivere), Daniel Schutzmann (Percival), Stephen Uppal (Bannor), Georgia Curtis (Mathilde), San Newman (Brother Cedric), Audrey L'Ebrellec (Laudine), James G. Nunn (Tristram), Ronan Summers (Lucan), Ian Sharp (Gareth), Emily Haigh (Lady of the Lake)
---
Plot
King Arthur and his knights are away fighting the Saxons. Arthur has left his son Modred in charge of Camelot. However, the scheming Modred seeks to steal the throne for himself and marry Queen Guinevere. With the aid of the witch Vortigone, Modred sends his men to lure and kill Arthur and his knights. When news of Modred's plans reaches Arthur, he sets out to sneak back to Camelot and prevent the wedding taking place.
---
The stories of King Arthur, Merlin and the Knights of the Round Table have a long history on film ranging from at least the silent era. There have been numerous spinoffs, modernisations, parodies and deconstructions. For my money, the best version was always John Boorman's Excalibur (1981). (For a greater overview see Films About the Arthurian Legends).
Arthur & Merlin: Knights of Camelot is B-budget King Arthur, which places it in the company of films like Merlin and the Book of Beasts (2008) and King Arthur: Excalibur Rising (2017). We get an Arthur, Merlin, Guinevere, Lancelot etc along with a Camelot but the film never seems particularly steeped in the myth of the cycle. It feels more like it is riffing on the basics – creating a new story that does not appear in the original Arthurian legends where Arthur and the knights fight off the dastardly Modred as he attempts to usurp the crown and force Guinevere to marry him.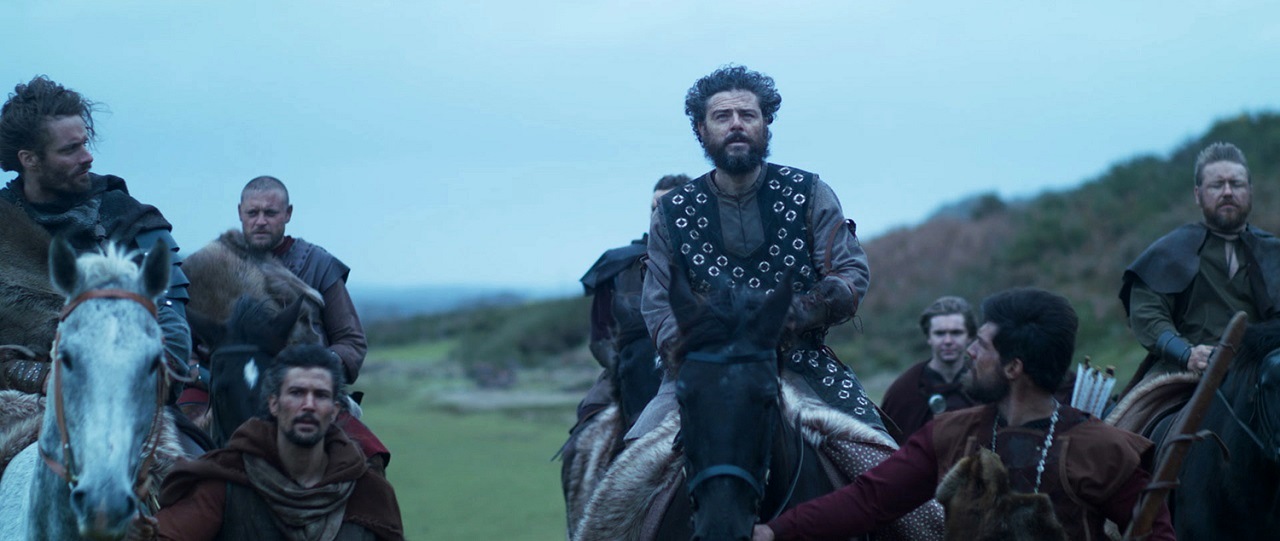 The result feels more like B-budget fantasy film – something more akin to The Dark Kingdom (2018) or a slightly better budgeted Hawk the Slayer (1980) – than a work that engages with the epic myth of the Arthurian cycle. The film often feels like an attempt to repackage the Arthurian legends as a Game of Thrones (2011-9) copy – a fantasy where the emphasis is on the earthy, gritty and muddy. This is something Giles Alderson does with intermittent effect.
Richard Short makes little distinction as Arthur, although Joel Phillmore makes for a cold and contemptuous Modred. The oddest piece of casting is Richard Brake, who rose to prominence in recent years as a Rob Zombie regular, who is cast as Merlin and makes the role seem much harsher than the wisely wizard we usually get.
Arthur & Merlin: Knights of Camelot was the third feature film for British director Giles Alderson. Alderson had previously made World of Darkness (2017), a documentary about Magic: The Gathering, and the imprisonment thriller The Dare (2019), as well as producing Bullets of Justice (2019) and A Serial Killer's Guide to Life (2019).
---
Trailer here
---