---
Crew
Director – Alain Berliner, Screenplay – Ron Bass & David Field, Producers – Ron Bass, Tom Rosenberg & Carole Scotta, Photography – Eduardo Serra, Music – Randy Edelman, Production Design – Pierre-Francois Limbosch. Production Company – Paramount Classics/Lakeshore Entertainment/Ron Bass Productions.
Cast
Demi Moore (Marty Talridge/Marie Willis), Stellan Skarsgård (William Granther), William Fichtner (Aaron Riley), Sinead Cusack (Jessie), Peter Riegert (Dr Peters), Eloise Eonnert (Jennifer Willis), Chaya Cuenot (Sarah Willis), Joss Ackland (Dr Langer)
---
Plot
Marie Willis is a widowed literary critic living in France with two children. Every night when she goes to sleep she dreams that she is Marty Talridge, a single literary agent in New York City. And when Marty goes to sleep she dreams that she is Marie. Each identity is so real that neither of them is sure which of them is real person and which one is the dreamed. At the same time, both lower their reserves to become involved with men – Marie with William Granther, a novelist she wrote a damning review of, and Marty with accountant Aaron Riley. However, both of them have difficulty trying to explain their dream life to the two men.
---
The 1990s saw the emergence of a new subgenre known as the Chick Flick, fostered through the likes of Steel Magnolias (1987), Thelma and Louise (1991), Boys on the Side (1994), The Bridges of Madison County (1995), Circle of Friends (1995), How to Make an American Quilt (1995), even such cod posturings as the all-girl Western Bad Girls (1994). Indeed, Passion of Mind writer/producer Ron Bass has written several of these Chick Flicks himself – The Joy Luck Club (1993), When a Man Loves a Woman (1994), Waiting to Exhale (1995), How Stella Got Her Groove Back (1998) and Stepmom (1999). This is a genre that falls halfway between being romantic fantasy and self-actualisation message. One surprise subgenre to develop out of the Chick Flick has been a brand of romantic fantasy films dealing with speculative alternate outcomes of life pathways that women choose – notably Sliding Doors (1998), the tv movie Twice Upon a Time (1998), Twice Upon a Yesterday (1998) and Me Myself I (1999).
Ron Bass has given Passion of Mind a highly intriguing premise – what if a woman dreamt that she was another woman and the other woman dreamt that she was the first, such that neither was sure who is the real person and who the dreamed? It is a premise that buzzes with all manner of possibilities – labyrinths of dream and reality, of plot conundrums that could arise when either woman tried to prove she is the correct one or even meet the other. There are undeniable similarities to the obscure Julia and Julia (1987), which had Kathleen Turner slipping between two alternate lives, as well as Krzysztof Kieslowski's The Double Life of Veronique (1991). There is also undeniable similarity to the children's book Charlotte Sometimes (1969) by British writer Penelope Farmer.
However, of all the possibilities inherent in the idea, what emerges is surely the most unimaginative – that of merely allowing the dual Demi Moore's to find romantic fulfilment in their lives. One of the marks of good storytelling is that there always be dramatic conflict within a story – but Demi's two loves fall into her life with a stultifying lack of emotional affect. It is only in the last fifteen minutes or so when one of Demi's men starts demanding that she choose between he and the man in her dream that Passion of Mind starts to put a dramatic spin on the idea.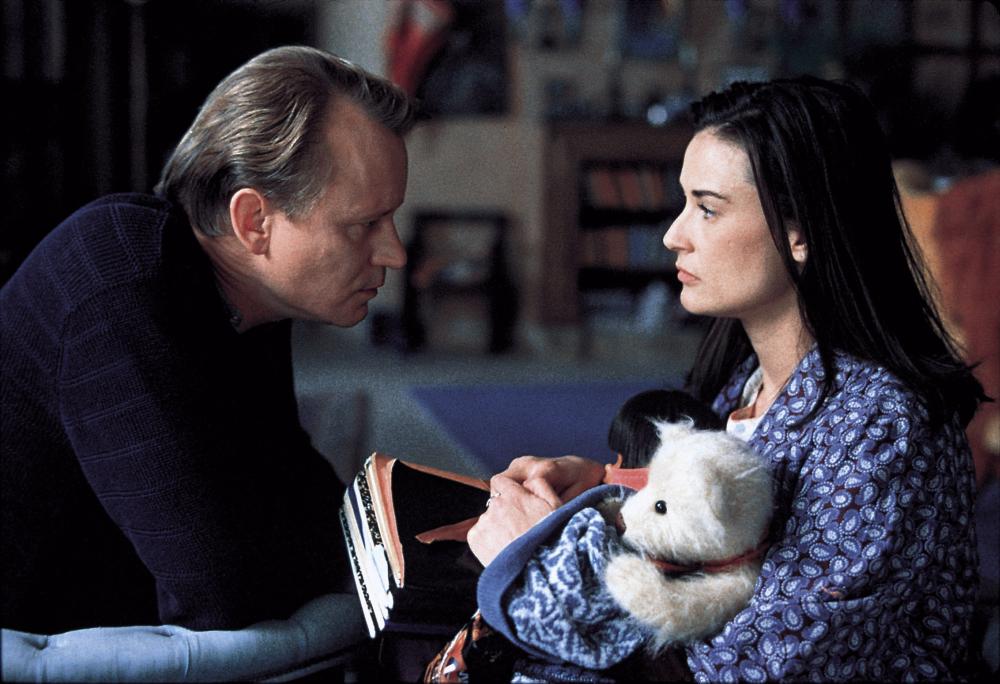 Everything is resolved in a mundane ending that fails to satisfy or even explain away the fantastic premise. Despite its title, the film lacks in any passion. Demi Moore is a bland actress whose only real ability is to flash her eyes to denote intensity but little else – she is also one of the least warm actresses around. The romantic scenes barely seem to arouse a single emotional expression in her. Whatever passion there is in the film comes from the two men – the ever-reliable Stellan Skarsgård and William Fichtner, who for the first time is cast as something other than a tightass bureaucrat or villain.
The one other thing about Passion of Mind is that it is one of the most beautifully photographed films one has seen in some time. Belgian director Alain Berliner – who has dabbled in Magical Realism before in Ma Vie en Rose (1997) and – and Portuguese photographer Eduardo Serra decorate the film with exquisite Provencal rural landscapes stretching away in the background every time the camera goes out of doors in France. Some shots like those of evening countrysides lit up in beautiful filigrees of light look like the work of Dutch masters that you could hang on your wall. Correspondingly, New York is photographed in ways that you have never seen New York before. In both cases, these are landscapes that comes with an exquisite hyper-real beauty that you could easily imagine as something that inhabits a dream.
The premise of Passion of Mind was reworked much more substantially in the anime Your Name. (2016).
Director Alain Berliner previously had a reasonable international arthouse hit with the quasi-fantastical Ma Vie en Rose (1997). Berliner also made The Wall (1998), a Magical Realist dystopia about a wall that linguistically divides Belgium. All of Berliner's subsequent films have been made in Belgium where his only other work of fantasy has been the tv movie The Skin of Chagrin (2010) about a magic donkey skin with wishing powers.
(Winner Best Cinematography at this site's Best of 2000 Awards).
---
---