---
Crew
Director – Mark Rosman, Screenplay – Leigh Dunlap, Producers – Ilyssa Goodman, Hunt Lowry, Dylan Sellers & Clifford Werber, Photography – Tony Richmond, Music – Christophe Beck, Visual Effects Supervisor – Eric Durst, Visual Effects – Digital Dimension (Supervisor – Benoit (Ben) Girard), Special Effects Supervisors – John Hartigan & Chris Walkowiak, Production Design – Charles Breen. Production Company – A Clifford Werber Production/Dylan Sellers Productions.
Cast
Hilary Duff (Sam Montgomery), Chad Michael Murray (Austin Ames), Jennifer Coolidge (Fiona Montgomery), Dan Byrd (Carter Farrell), Regina King (Rhonda), Madeline Zima (Brianna), Andrea Avery (Gabriella), Julie Gonzalo (Shelby Cummings), Lin Shaye (Mrs Wells), Mary Pat Gleason (Eleanor), Paul Rodriguez (Bobby), Kevin Kilner (Big Andy Ames), Whip Hubley (Harold Montgomery), Simon Helberg (Terry), Brad Bufanda (David), Aimee Lynn Chadwick (DJ)
---
Plot
Sam Montgomery grows up, raised by her father who runs a diner in the San Fernando Valley. After marrying Fiona, Sam's father is killed in an earthquake. In the absence of a will, Fiona claims everything and then makes Sam serve her and her two daughters Brianna and Gabriella and work in the diner in order to pay her way to university. Sam has struck up an anonymous e-mail relationship with a guy she met in an internet chatroom. Unknown to her this is Austin Ames, the student president and football team captain. The two agree to meet at a school dance. Instead, Fiona insists that Sam work at the diner that night. However, Sam's co-worker Rhonda dresses her for the dance. With her identity hidden behind a mask, Sam and Austin hit it off. She has to flee back to work at midnight but drops her cellphone in her haste. As Austin tries to find the identity of his Cinderella, Brianna and Gabriella discover it is Sam and scheme to humiliate her.
---
A Cinderella Story has the distinction of being one of two different Hollywood reworkings of Cinderella to be released in 2004, along with the excruciating Ella Enchanted (2004). Both films are squarely aimed at teenage girls in the 12-17 age bracket – the sort of demographic to whom the question "Lindsay Lohan or Hilary Duff?" is one of world-shattering importance.
This is a Cinderella that has been updated to a contemporary California high school. It is Cinderella by way of Clueless (1995) and with a few dashes of You've Got Mail (1998). The updatings prove occasionally amusing – instead of dropping a glass slipper when she flees the ball, Cinderella leaves behind a cellphone; there is no fairy godmother, instead Cinderella gets her dress from sassy co-worker Regina King and in place of a mice-drawn coaches she is driven there by a geeky friend in his father's Rolls.
Most amusingly is in seeing the milieu of a fantasyland Mediaeval kingdom updated to a modern high school – there is no prince but much mention of Princeton; Cinderella's serfdom is equated with having a minimum-wage job; and in lieu of royalty, the prince equivalent is captain of the high school football team and hangs out with an exclusive clique.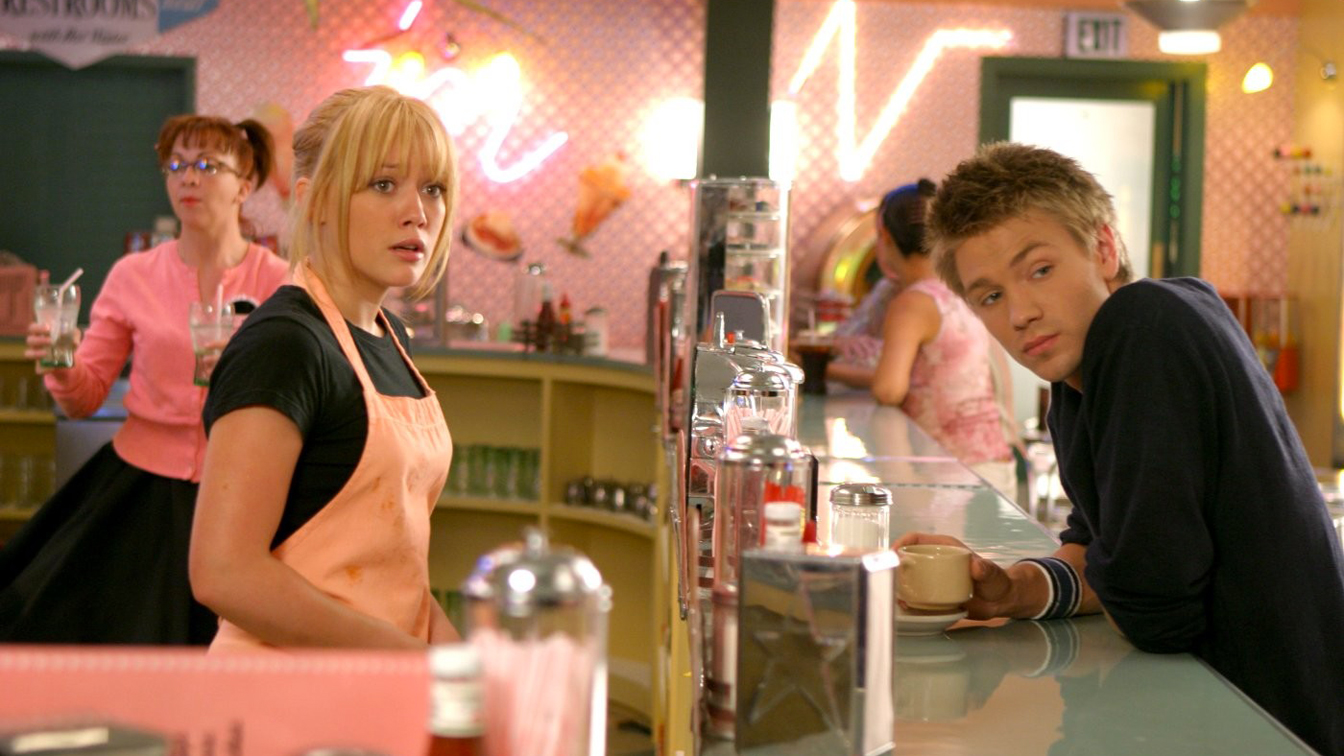 A Cinderella Story proves more likeable than one expected. Almost all of the supporting characterisations are caricatured to one extent or another but the two central players, Hilary Duff and Chad Michael Murray, have natural warmth. Alas the casting of Hilary Duff spears A Cinderella Story's one major problem – Hilary Duff is beautiful and even when she is trying to dress down in shapeless trainers and baseball cap does not convince that she is downtrodden and unable to see any beauty in herself.
This is perhaps the conceptual failing of A Cinderella Story – that its parable of downtroddenness eventually winning out is, well, so relative. At most, the film offers up a message about people discovering their self-worth and of hard work eventually being rewarded. Here the original fairytale's parable of the downtrodden triumphing has been distorted into a so-very-contemporary message about true beauty winning out over falseness.
Hilary Duff's eventual triumph is less one of true love and the proverbial fairytale ending winning out than it is in her and the prince defying the phoniness that surrounds them – the bitchy self-important cliquery and those whose looks come from plastic surgery and botox fakery – and allowing their natural beauty to shine through and following the paths of their heart's desire. It is a fair point the film makes, although you cannot help but feel that it might have made it more potently if it were a full-figured or less attractive girl making the journey rather than someone naturally good-looking like Hilary Duff.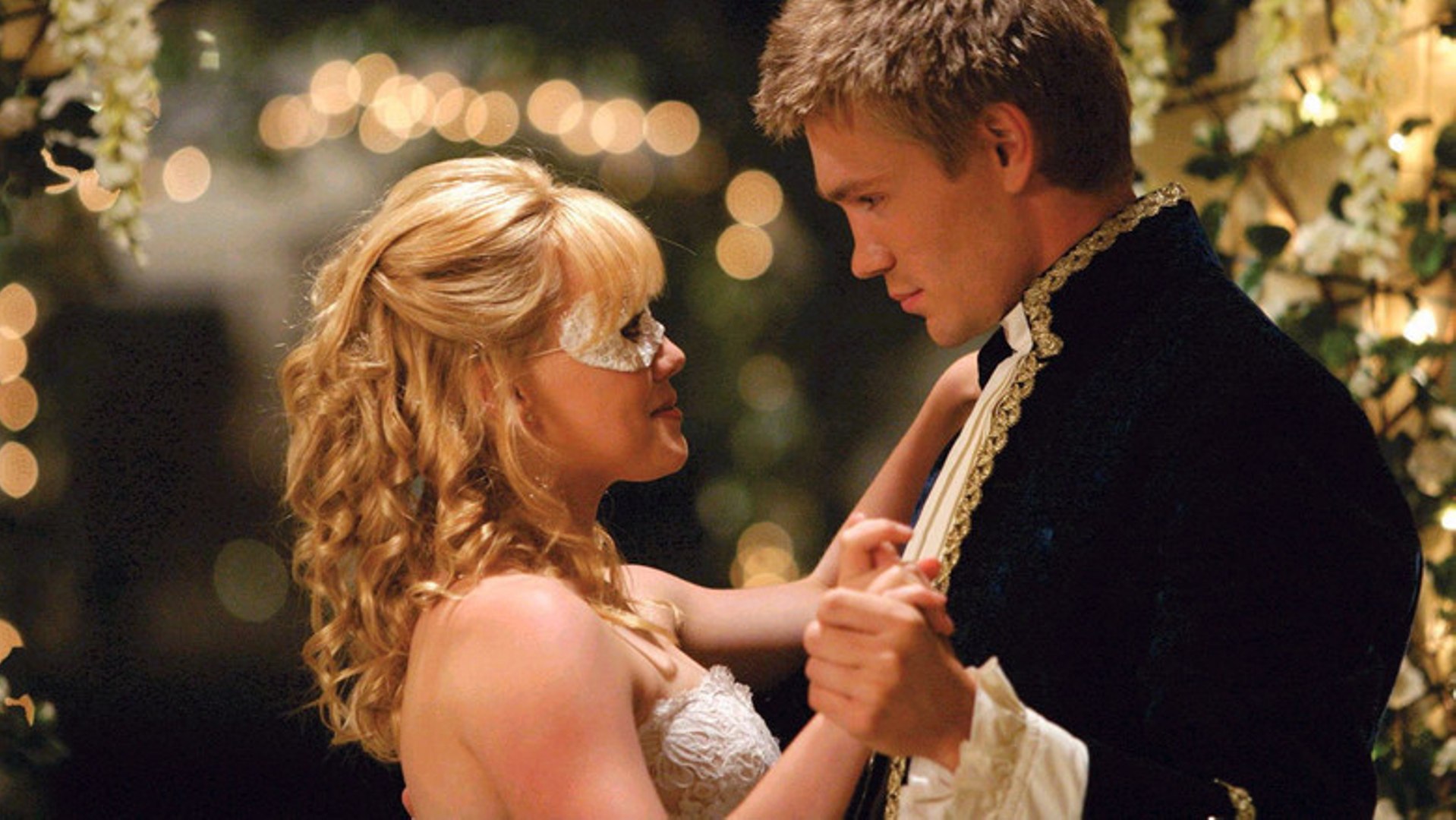 There were two sequels, for which read retelling with different cast with Another Cinderella Story (2008) starring Selena Gomez and A Cinderella Story: Once Upon a Song (2011) with Lucy Hale.
Director Mark Rosman has a surprising number of genre associations. He started out as a director with the slasher movie The House on Sorority Row (1982) and went onto make the genre likes of the children's time travel tv movie The Blue Yonder (1985); The Force (1994) about a disembodied soul; the killer robot film Evolver (1995); the alien impregnation film The Invader (1997); Life-Size (tv movie, 2000) where Lindsay Lohan brings one of her dolls to life; the Christmas fantasy Snow 2: Brain Freeze (2008); the children's film Time Toys (2016); as well as produced the modern slasher film Sorority Row (2009). Rosman previously directed Hilary Duff in various episodes of her tv series Lizzie McGuire (2001-3) and subsequently in The Perfect Man (2005). Rosman also visited modernised fairytales with the tv movie Princess (2008).
---
---