---
USA. 2000.
Crew
Director – Lasse Hallström, Screenplay – Joanne Harris, Based on the Novel by Robert Nelson Jacobs, Producers – David Brown, Kit Golden & Leslie Holleran, Photography – Roger Pratt, Music – Rachel Portman, Visual Effects – Mill Film, Special Effects Supervisor – Stuart Brisdon, Production Design – David Gropman. Production Company – David Brown Productions.
Cast
Juliette Binoche (Vianne Rocher), Alfred Molina (Comte Paul de Reynaud), Johnny Depp (Roux), Lena Olin (Josephine Muscat), Judi Dench (Amande Voizin), Victoire Thivisol (Anouk Rocher), Peter Stormare (Serge Muscat), Aurelien Parent-Koening (Luc Clairmont), Carrie-Ann Moss (Caroline Clairmont), Hugh O'Conor (Pere Henri), John Wood (Guillaume Bierot), Leslie Caron (Madame Audel)
---
Plot
1959. The tranquil French village of Lansquernet is upset by the arrival of Vianne Rocher who sets up a chocolaterie. The town's mayor, the Comte de Reynaud, a strong supporter of tradition and morality, dislikes the fact that Vianne is unwed and has a daughter, that she does not attend church and has opened her shop on Lent. While he stirs trouble, Vianne's chocolates, which are made according to her South American Indian mother's tribal ways, serve to unleash the townspeople's secret passions and longings.
---
Chocolat falls into a certain mini-theme that has been staked out by Magical Realism films in recent years – magical cooking. This trend began with Babettes Feast (1987), was popularised with Like Water for Chocolate (1992) and has blossomed with the likes of Simply Irresistible (1999), Woman on Top (2000) and The Mistress of Spices (2005).
The director of Chocolat is Lasse Hallström who previously made the likes of Abba – The Movie (1977) and just prior to this made the incredibly overrated The Cider House Rules (1999), a work that reduced John Irving's fine black comic bite and line-up of eccentrics to typical Hollywood sentimental mush, and later did little better with Annie Proulx's novel in The Shipping News (2001) or Casanova (2005), before finding his true calling with Nicholas Sparks adaptations such as Dear John (2010) and Safe Haven (2013), followed by the A Dog's Purpose (2017) and as co-director of The Nutcracker and the Four Realms (2018).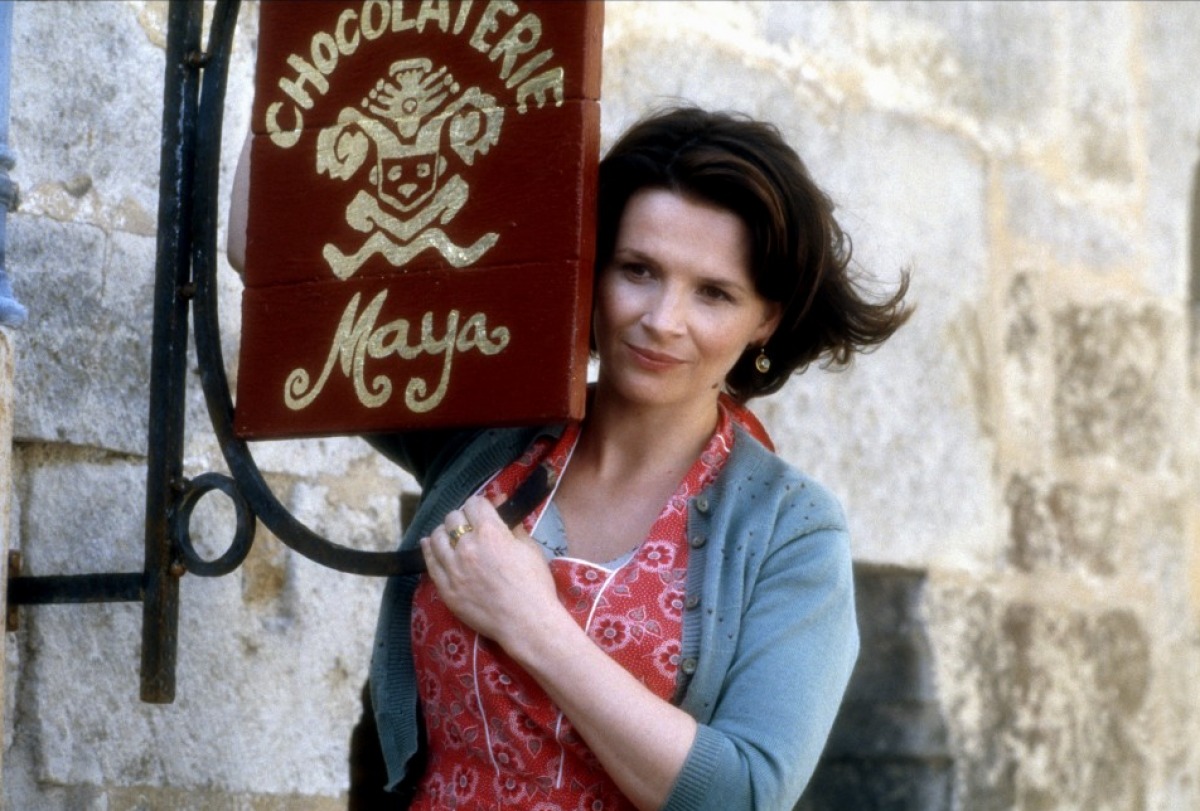 That same banality infects Chocolat. Chocolat sets up clichéd Apollonian-Dionysian conflicts – free-spiritiedness and joie de vivre vs order, tradition, religion and temperance. Although, having staked its conflict out, the film never gets particularly worked up about its outrages and the end lets the antagonists off the hook incredibly lightly.
Throughout, Lasse Hallstrom never finds anything to say that is not a cliché. For all Chocolat's championing of joie de vivre over tranquilite, one suspects that Hallstrom was more on the side of tranquilite – the film is so frustratingly mannered. The way it is pitched it suggests that Juliette Binoche is a catalyst in the unleashing of frustrated passions but when it comes to passions everything almost entirely takes places almost off screen – the most we ever see is Juliette Binoche and Johnny Depp kissing in medium angle, for instance.
In fact, Lasse Hallström seems opposed to the Magical Realist elements and plays them down, making the magical transformations of personality seem wholly unremarkable. Compare Chocolat to either Like Water for Chocolate or Woman on Top – these are films where the respective directors delight in and takes exuberant flights of fantasy along with the unleashed passions. At most, Chocolat's big climactic transformation has Alfred Molina found drunk in the shop window after an orgy of chocolate eating.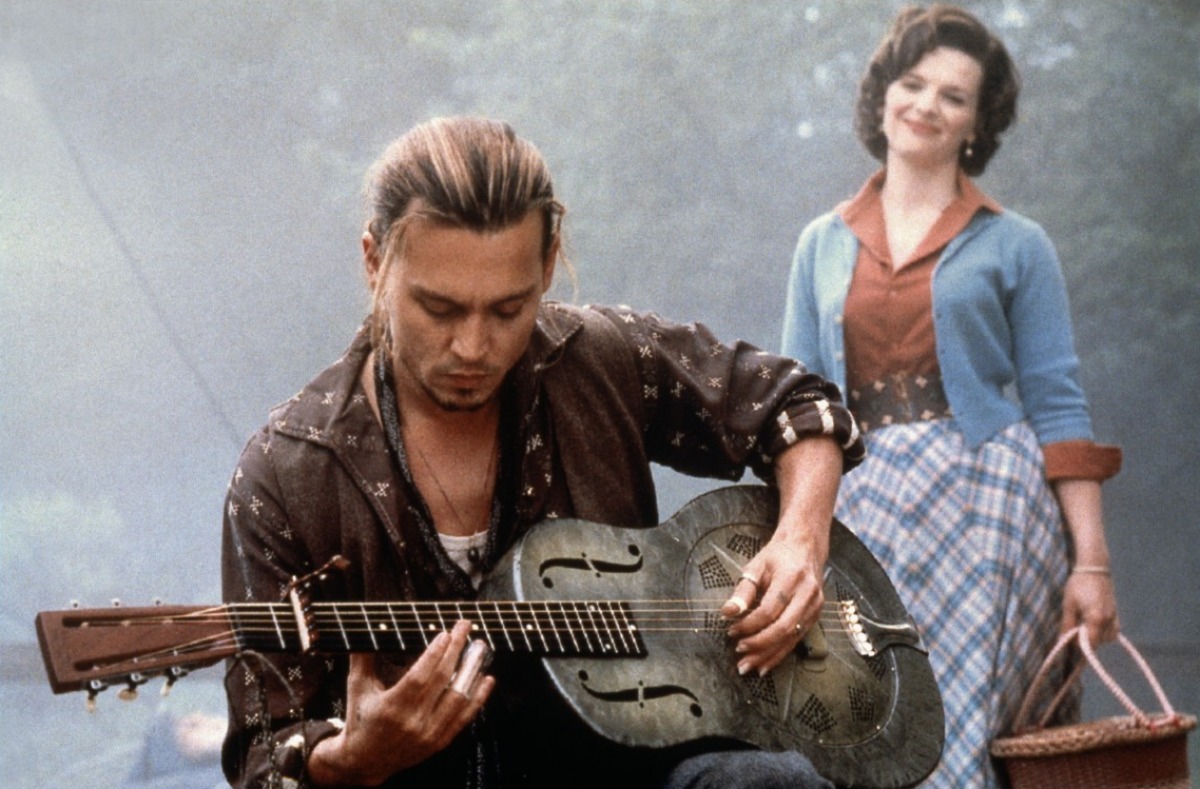 Juliette Binoche is a lovely actress but she is all wrong for the part (apart from being the only actor in the principal cast who is actually French). Her persona is a shy and quiet. Unfortunately, the role here is one that needs someone who shines larger than life with either the sunniness that Penelope Cruz displayed in Woman on Top or the saintly radiance of Lumi Cavazos in Like Water for Chocolate.
For reasons inexplicable, Chocolat became a favourite with the Academy Awards crowd and it was nominated for that year's Best Picture Award, Best Adapted Screenplay, Best Music, Juliette Binoche for Best Actress and Judi Dench for Best Supporting Actress, although won none of these.
---
---