---
Crew
Director – Brad Silberling, Screenplay – Dana Stevens, Based on the film Wings of Desire Written by Peter Handke & Wim Wenders, Producers – Charles Roven & Dawn Steel, Photography – John Seale, Music – Gabriel Yared, Visual Effects – Sony Pictures Imageworks (Supervisor – John Nelson), Special Effects Supervisor – David Blitstein, Makeup Effects – The Burman Studio, Production Design – Lilly Kilvert. Production Company – Regency Enterprises/Atlas Entertainment.
Cast
Nicolas Cage (Seth), Meg Ryan (Dr Maggie Rice), Dennis Franz (Nathaniel Messinger), Colm Feore (Dr Jordan Ferris), Andre Braugher (Cassiel), Robin Bartlett (Annie)
---
Plot
Angels hover over Los Angeles, invisibly listening in on people's thoughts. One angel Seth aches to touch and feel the things that ordinary people do. He is drawn to Maggie Rice, a heart surgeon whose life starts falling apart after a patient she cared about died. Seth appears to her, offering comfort and solace. Gradually the two fall in love and Seth faces the choice of whether or not to fall from being an angel and become an ordinary mortal so that he can be with her.
---
Wim Wenders' Wings of Desire (1987) was one of the great fantasy films of the 1980s. It lacked anything appreciable in the way of the trite moral epiphanies of any traditional Hollywood angel fantasy but instead used angels as an extraordinary and beautiful poetic meditation on the human condition. City of Angels is the Hollywood remake of Wings of Desire and is sadly exactly the banal result that one would expect of a European arthouse film having been passed through the studio grinder.
In Wings of Desire, the romance was one aspect but not necessarily the primary subplot; in City of Angels, the romance is propelled to the forefront and told in the most shameless Hollywood romantic sentiments conceivable. Certainly, one must admit, this is something at which City of Angels conducts itself passably. There are some passages that come with tenderly written feeling – especially the opening scene where Nicolas Cage takes the soul of a child from a hospital operating theatre – "Will Mummy understand?" "She will". It is just that when you compare it to Wings of Desire, City of Angels cannot help but seem an inferior effort.
Director Brad Silberling ably imitates Wim Wenders' stylistic moves, serenely circling the camera through the air as though being operated by angels. There are even moments when the film seems to play with the double meaninged title (the play between City of Angels and Los Angeles) and the visual iconography that one might associate with it in a very Wenders-esque way – angels nonchalantly holding conversations atop downtown street signs or sitting atop the Hollywood sign.
City of Angels even takes the ending to further places than Wings of Desire ever went to by opting for a tragic ending to the romance in order to add the comment that the joy of life entails pain as well (a corollary that Wim Wenders left it to his Wings of Desire sequel Faraway, So Close! (1993) before getting around to making).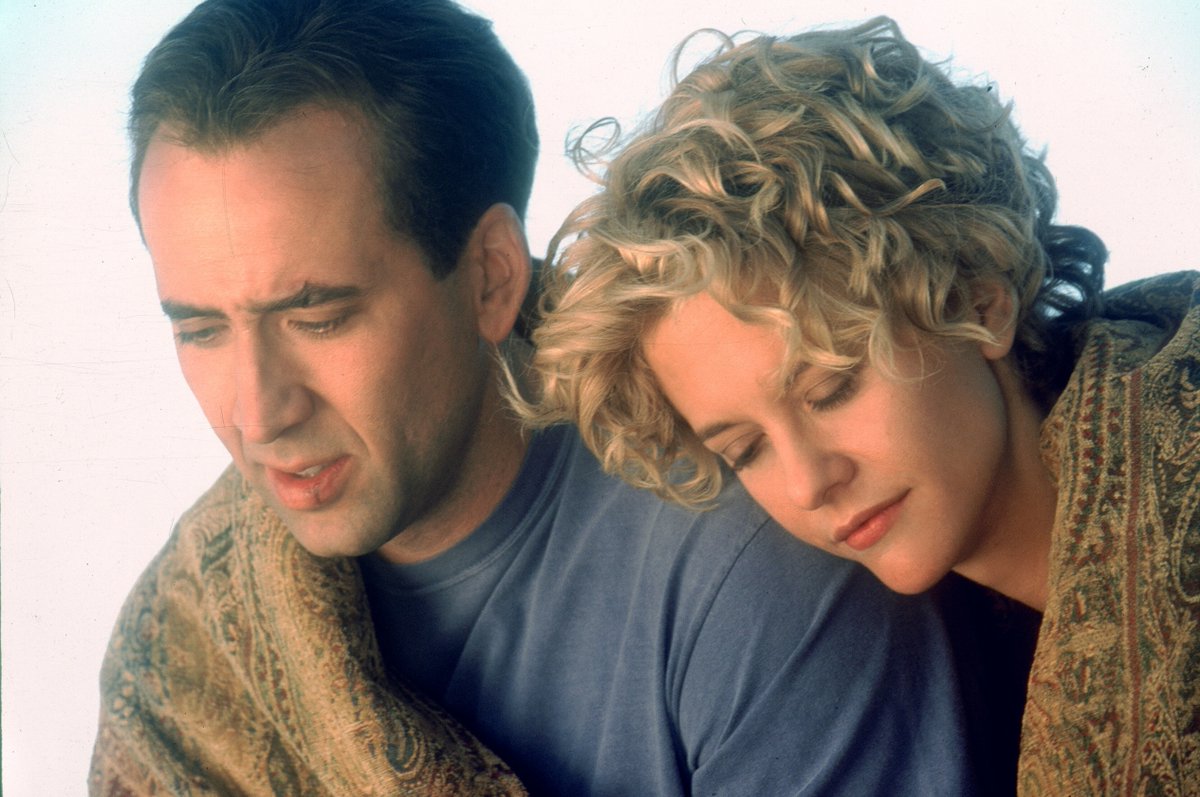 Where Wim Wenders achieved a numinously divine poetry about the aching fragility and beauty of the human condition, City of Angels is left straining at romantic cliche. Brad Silberling cannot help but overdo it. One of the most haunting images in Wings of Desire was a beautiful tracking shot that showed angels invisibly sitting amongst the people in a library. Brad Silberling repeats this in City of Angels but overplays it to the point of absurdity – the library becomes a focal location in the story and Silberling tricks it out with absurdly heavy-handed shots like having all the angels sinisterly looking down from the balconies. (In an odd piece of location recasting, the library is the San Francisco main public library rather than anywhere in Los Angeles).
However, where City of Angels loses it altogether is in the disastrous casting. Nicolas Cage is appallingly miscast as an angel – where he should radiate a beatific grace and drift through listening to human thoughts with a boundless empathy, Cage comes across as dopey. The most laughable parts are when it comes to the film's celebration of the joy of life where Cage's attempts at running about animated by the ecstasy of sensation make him look like a total lunatic.
Equally, Meg Ryan is miscast in the part of a heart surgeon. Meg Ryan is a light comedy actress and is almost impossible to believe as a surgeon on the emotional brink. (She is not exactly helped by poorly motivated script – it is hard to believe an experienced surgeon would suddenly go to pieces for no well-defined reason after the medically inexplicable death of a child she never knew). Between this absurd box-office oriented miscasting and Brad Silberling's heavy-handed mishandling of the story, the poetry of Wim Wenders' original topples into risibility.
Director Brad Silberling had earlier ventured into the fantasy genre with Casper (1995), adapted from popular children's cartoon character and comic-book, and would return with the Gothic children's fantasy Lemony Snicket's A Series of Unfortunate Events (2004) and the big-screen comedy adaptation of the tv series Land of the Lost (2009).
---
---