---
Crew
Director – Frederik Du Chau, Screenplay – David Schmidt, Story – Kirk DeMicco, Frederik Du Chau, David Schmidt & Steven P. Wegner, Producers – Broderick Johnson, Andrew A. Koskove, Edward McDonnell & Lloyd Phillips, Photography – David Eggby, Music – Mark Isham, Music Supervisor – Deva Anderson, Visual Effects Supervisors – Marc Hall & Eric Mises-Rosenfeld, Visual Effects – Digiscope (Supervisor – Heather Merkovich), Digital Domain, Hybride, Peerless Camera Co & PRPVFX Ltd (Supervisor – George Port), Special Effects Supervisor – Corotel McQueen, Production Design – Wolf Kroeger. Production Company – Alcon Entertainment
Cast
Bruce Greenwood (Nolan Walsh), Hayden Panettiere (Channing Walsh), Wendie Malick (Clara Dalrymple), M. Emmet Walsh (Woodsie), Gary Bullock (Cooper), Caspar Poyck (Mailman)
Voices
Frankie Muniz (Stripes), Dustin Hoffman (Tucker), Mandy Moore (Sandy), Joe Pantoliano (Goose), Whoopi Goldberg (Franny), David Spade (Scuzz), Steve Harvey (Buzz), Joshua Jackson (Trenton's Pride), Michael Rosenbaum (Ruffshodd), Fred Dalton Thompson (Sir Trenton), Jeff Foxworthy (Reggie), Snoop Dogg (Lightning), Jansen Panettiere (Young Stripes)
---
Plot
A baby zebra is accidentally left behind when a circus truck breaks down in the midst of a storm while passing through rural Kentucky. The zebra is found by farmer Nolan Walsh who adopts it upon the urging of his daughter Channing, they naming it Stripes. As he grows up, Stripes looks down upon the adjoining Turfway Park horseracing track. The other horses laugh at him because of his stripes but Stripes, not realising that he is a zebra, decides that he wants to become a racehorse. The other barnyard animals contrive to sabotage Channing's motorcycle so that she is granted the opportunity to ride Stripes and is able to see just how fast he can run. Channing enters Stripes in a race but he gets mud in his eye and falls. Ridiculed by the self-important Clara Dalrymple, his former employer, Nolan forbids Channing to race Stripes any further. Both the animals and a former trainer contrive various means to persuade Nolan to allow Channing to fulfil her dream and accept Clara's challenge to enter Stripes in the derby.
---
It is fair to say that without Babe (1995) there would never have been a Racing Stripes. Babe did a superb job in taking a story that would under any other circumstances be told as an animated film and played it seriously, with beautiful and often sadly touching effect. Racing Stripes has borrowed the same idea. It tells its story on the same two levels that Babe did – contrasting the lives of the animals in the barnyard with those of the humans blissfully unaware of the animals' secret life. In both films, there is a near identical plot with the title animal training and eventually triumphing in a competition (sheepdog trials in Babe, a horserace here) despite being the wrong type of animal.
On the other hand, Racing Stripes ends up being a completely schizophrenic film. It is trying to be two different films. On one level, it wants to model itself on Babe, offering up a live-action depiction of talking barnyard animals; on another, it is trying to be an earnest children's story about the training of a racing horse along the lines of films such as Phar Lap (1983), Seabiscuit (2003) and in particular National Velvet (1944) – from which the human side of the story could have been virtually photocopied.
The two stories do not mix. The human story is a serious one about the (clichéd) triumph of the underdog and is played with an earnest seriousness, while the talking animal story is overrun with hip jokes. The film seems to want to have its cake and eat it in terms of its approach – one minute we are drawn into the pitfalls and triumphs of training the zebra for the race, the next minute the tone is undercut by jokes about a pooping pelican and farting flies.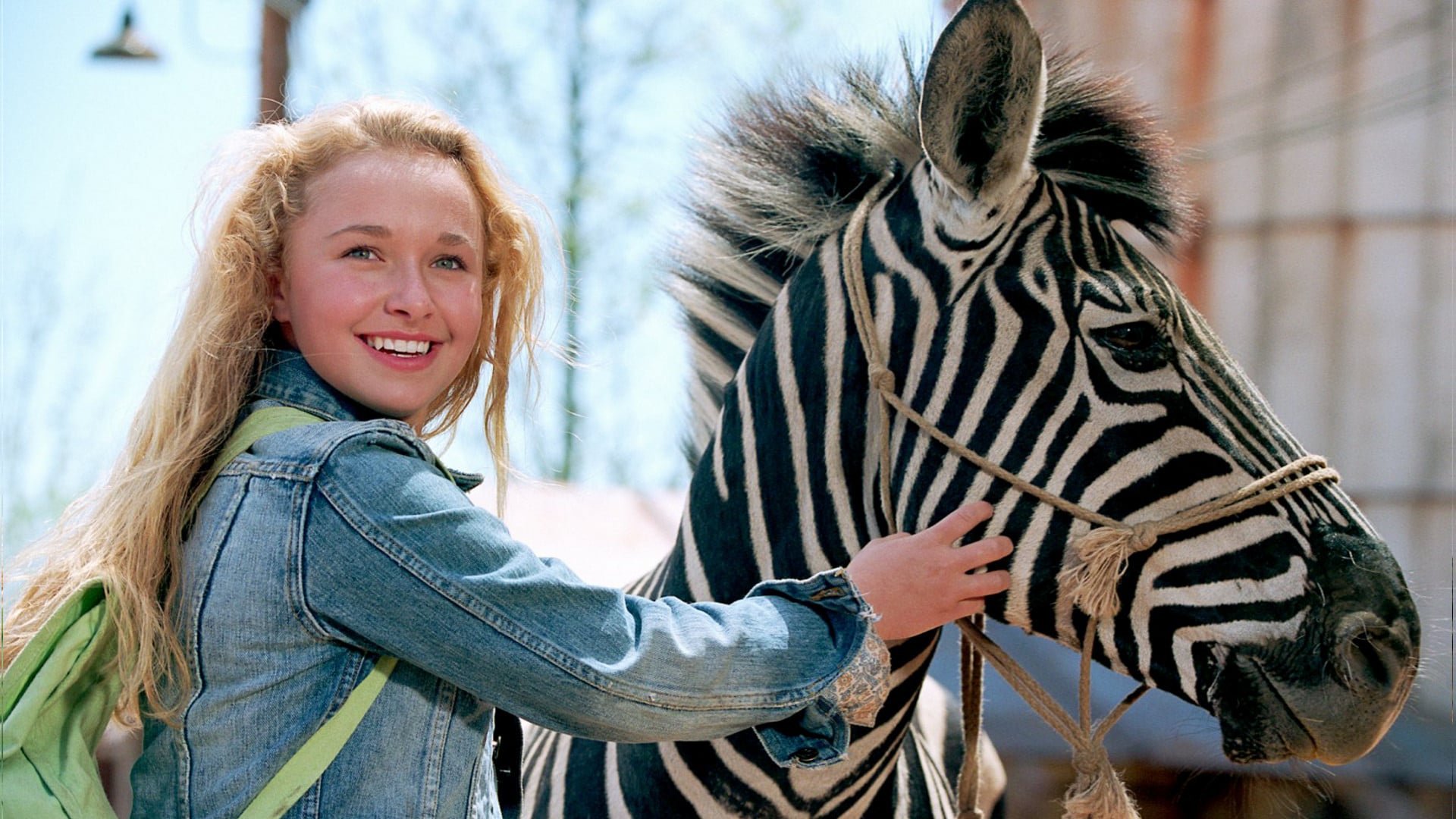 Not that the earnest human story is that good either. It only seems to deal in clichés – the bitchy one-dimensional villainess, the bullies, the single father holding back his daughter's dreams because he is embittered and overprotective over past failings, the daughter and zebra that only need a dose of self-confidence and the opportunity to fulfil their dream, the triumph of the underdog outsider, the nail-biting race to the finishing line and so on.
In Babe, the contrasting two levels of the film – the talking barnyard animals and the human world – worked with beautiful effect; in Racing Stripes, it collapses into an irritatingly unfunny film. The difference is that Babe took itself seriously; Racing Stripes feels like a film that is desperate to make its audiences like it – there is nothing it will not do to get a laugh. Joe Pantoliano turns up voicing a pelican that is a failed Mafioso; David Spade and Steve Harvey appear as two flies constantly doing impressions of various songs that range from the Paul McCartney/Stevie Wonder number Ebony and Ivory (1982) to rappers like MC Hammer and Run DMC; while the barnyard animals are constantly firing off snappy one-liners and sassy comebacks. I have elsewhere voiced irritation at this constant need in modern fantasy cinema to dumb fantastic milieus down to the level of contemporary culture and throw in quickshot references to things that audiences will get but that the characters could not possibly know.
Racing Stripes doubly compounds its irritation by throwing in a good deal of toilet humour – flies relishing landing on horse dung, farting in espressos, being splattered in horse snot, the pelican constantly pooping on people's heads. I am not a prude by any means but I find this constant reaching for a bodily substance in lieu of anything funny to be tiresome and unimaginative. Racing Stripes' very desperation to get a quickshot reaction from its audience at every opportunity, its wildly differing tone between earnestly clichéd story one minute and smartass humour the next only makes for an incredibly unfunny and thoroughly unlikeable film.
Frederik Du Chau had previously directed the animated Quest for Camelot (1998) and subsequently went onto make Underdog (2007), a live-action version of the cartoon series about a superpowered dog. Both films are overrun by the same irritatingly cutsie humour.
---
---