---
Crew
Directors – Alessandro Carloni & Jennifer Yuh Nelson, Screenplay – Jonathan Aibel & Glenn Berger, Producer – Melissa Cobb, Music – Hans Zimmer, Visual Effects Supervisor – Mark Edwards, Animation Supervisors – Ludovic Bouncheau, Rodolphe Guenoden, Willy Harber, Philippe Le Brun, Jason Reisig, William Salazar & Alexis Wanneroy, Production Design – Raymond Zibach. Production Company – DreamWorks Animation SKG/China Film Co., Ltd/Oriental Dreamworks/Zhong Ming You Ying Film.
Voices
Jack Black (Po), Bryan Cranston (Li Shan), J.K. Simmons (General Kai), Dustin Hoffman (Master Shifu), James Hong (Mr Ping), Angelina Jolie (Tigress), Seth Rogen (Mantis), David Cross (Crane), Kate Hudson (Mei Mei), Jackie Chan (Monkey), Lucy Liu (Viper), Randall Duk Kim (Oogway), Steele Gagnon (Bao), Liam Knight (Lei Lei), Wayne Knight (Big Fun/Hom Lee)
---
Plot
Master Shifu decides to step down and appoints Po as the Dragon Master. However, Po's attempts to train the others proves to be a disaster. Meanwhile, General Kai make an escape from the afterlife and returns, having taken Oogway's chi. He sets out, capturing the chi of all who stand before him and turning them into jade zombies. In the marketplace, Po meets a man who can match his own capacity for eating and discovers that this is his father Li Shan. They happily reunite but as Kai's zombies threaten, Li insists that Po come away with him to the secret mountain village of the pandas. There Po happily throws himself into the lifestyle of laziness that the other pandas enjoy. However, this is soon threatened by General Kai who has transformed the Furious Five into jade zombies and comes determined to absorb Po's chi too.
---
This was the third of the animated films that began with Kung Fu Panda (2008). The original proved to be one of the biggest successes for DreamWorks SKG and it was duly sequelised as Kung Fu Panda 2 (2011) where Jennifer Yuh Nelson inherited the directorial reins – a role that she continues here.
I am not much of a fan of the Kung Fu Panda series. The plots of the series are driven by a series of martial arts film cliches that have been overrun with the Jack Black presence, making a lot of jokes about his being fat, lazy and inept at everything he does. DreamWorks Animation CEO Jeffrey Katzenberg has stated there were will be at least three more sequels.
Most modern animated franchises – particular offenders being the Ice Age series and to a lesser extent the Madagascar films – are stuck with trying to pad out films that should have never amounted to anything more than a single entry. When you have animal characters in the wild without civilisation around them, there are only a limited number of plots that can be generated.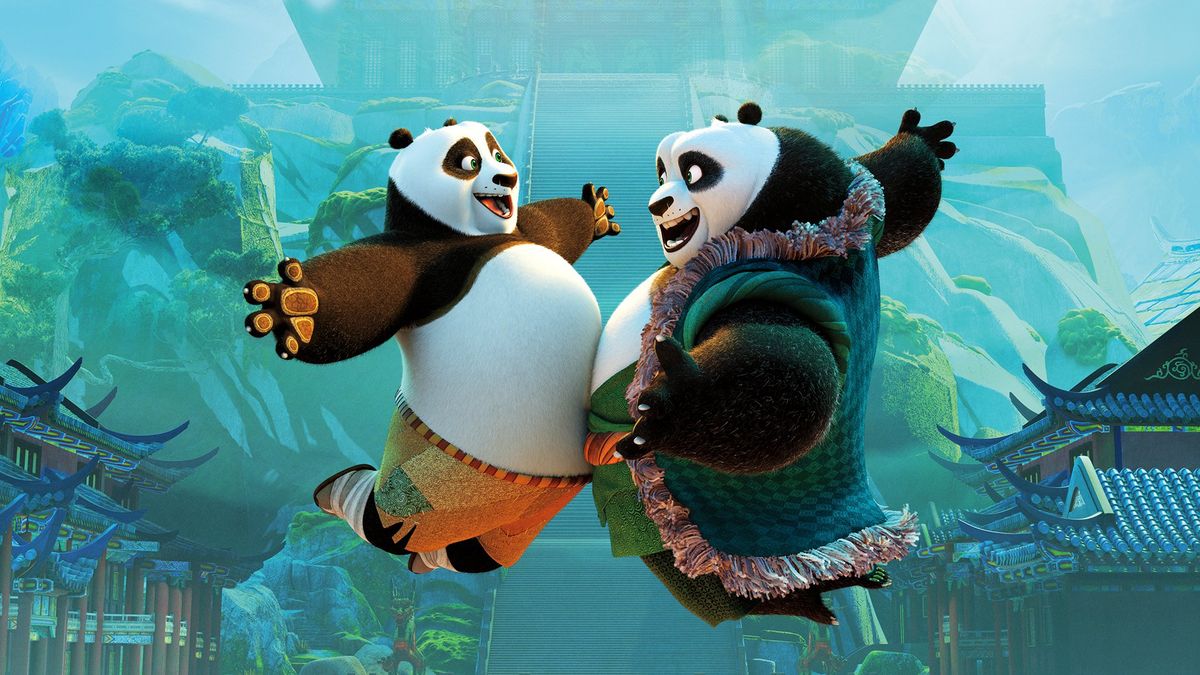 Kung Fu Panda 3 goes with the old standby of introducing a lost member of the hero's family – Bryan Cranston as Po's birth father who takes him to see his remote home village. (It should be noted that we don't get to see Po's mother, no doubt keeping her in reserve for future instalments). The comic scenes in the village with the other pandas and the threat of General Kai does shake the series up somewhat, otherwise there are still the same old fat and laziness jokes. There are still all the gags about Po's bumbling incompetence – even when he is appointed the Dragon Master.
The one thing about Jennifer Yuh Nelson is that in her entries she seems to constantly be wanting to elevate what started as undemanding slapstick efforts made for family audiences to the level of art. The quality of art in the backgrounds and little pieces like where we see traditional lithographs come to animated life seem of a far higher quality than the film itself which comes with a fairly lowbrow pitch to audience-pleasing gags.
---
---