---
Crew
Directors – Barry Cook & Neil Nightingale, Screenplay – John Collee, Producers – Mike Devlin, Luke Hetherington, Amanda Hill & Deepak Nayar, Photography (3D) – John Brooks, Music – Paul Morgan-Leonard, Visual Effects Supervisor – Will Reichelt, Visual Effects – Animal Logic, Animation Director – Marco Marenghi, Special Effects Supervisor – Dean Clarke, Production Design – Grant Major. Production Company – BBC Earth/Reliance Big Entertainment/Evergreen Films/IM Global.
Cast
Charlie Rowe (Ricky), Karl Urban (Uncle Zack), Angourie Rice (Jade)
Voices
Justin Long (Patchi), John Leguizamo (Alex), Tiya Sircar (Juniper), Skyler Stone (Scowler)
---
Plot
Ricky and Jade join their palaeontologist uncle Zack on a field trip. Bored, Ricky stays behind, only to have a bird come talk to him and tell him the story of its prehistoric ancestor Alex the alexornis. Alex was friends with the baby pachyrhinosaurus Patchi. Growing up, Patchi met and became attracted to Juniper from a different herd. During their migration south, they were caught in a forest fire and Patchi's parents killed. Patchi's more aggressive brother Scowler challenged to become the leader of the herd, which meant that Patchi had to have his heart broken and see Juniper parted from him to become Scowler's mate.
---
The British tv series Walking With Dinosaurs (1999) was an enormous hit. Produced by the BBC and narrated by Kenneth Branagh, it employed then cutting edge CGI animation to give life to dinosaurs. An army of palaeontologists were hired to make sure that it was authentic to what was known about prehistoric life. The results proved a huge success around the world – it being shown on the National Geographic channel in the US where Branagh's narration was redubbed by Avery Brooks. Producer/creator Tim Haines created a series of sequels Walking With Beasts (2001), Walking With Cavemen (2003) and Walking With Monsters (2005), which cover life in various other prehistoric eras.
Tim Haines subsequently went onto produce several other genre tv series usually in a prehistoric vein with The Lost World (2001), Primeval (2007-11), Sinbad (2012) and Beowulf Return to the Shieldlands (2016). The success of the series saw Walking With Dinosaurs becoming a brand-name franchise with the release of videogames, Making Of books and illustrated books, even rather peculiarly a live stage show that toured the world. There was then this film spinoff.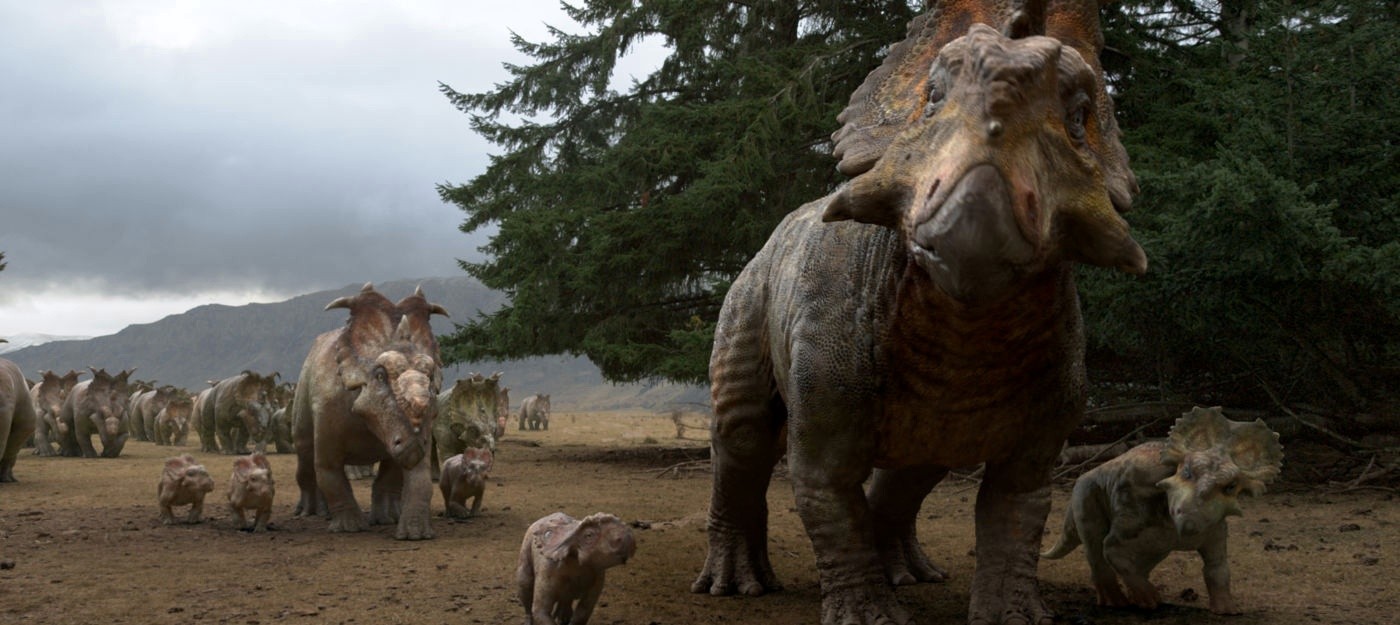 Unfortunately, there seems a major disconnect that has gone on between Walking With Dinosaurs the tv series and by the time of this film. Both nominally seem to exist somewhere between an illustrated walk through prehistory and animated nature documentary that looks at the typical behaviour and habits of a variety of dinosaurs. The tv series was made for an adult audience – indeed, a substantial part of the reason for its success was that it did something novel for adult audiences. The film version fails to see that that was the target audience and has gleaned on one single aspect of the idea – the animation – and reconceived the documentary as a film with talking dinosaurs and a story about one poor little kid dinosaur trying to get the girl of his dreams. One was an adult documentary series; the other is a cutsie talking animal film for kids.
To be fair to the film, you get the impression that the film has scrupulously studied its palaeontology and made sure it is depicting dinosaurs in as much as is known about their behaviour and biology. The animation even stops still for illustrated diagrams that introduces us to each of the various dinosaurs. The quality of the animation is frequently exceptional. It is just that this would-be serious illustrated prehistory lesson for the young is frequently (and agonisingly) overtaken by another whole film.
You sort of feel that the film was the subject of a creative struggle either between its two directors – one being Barry Cook who has co-directed typical animation fare such as Disney's Mulan (1998) and Arthur Christmas (2011), the other Neil Nightingale who has produced numerous nature specials for tv – or that different people gathered around the boardroom wanted to take it in different directions and what we ended up with was an ungainly mess that tried to make all of the diverse parties happy.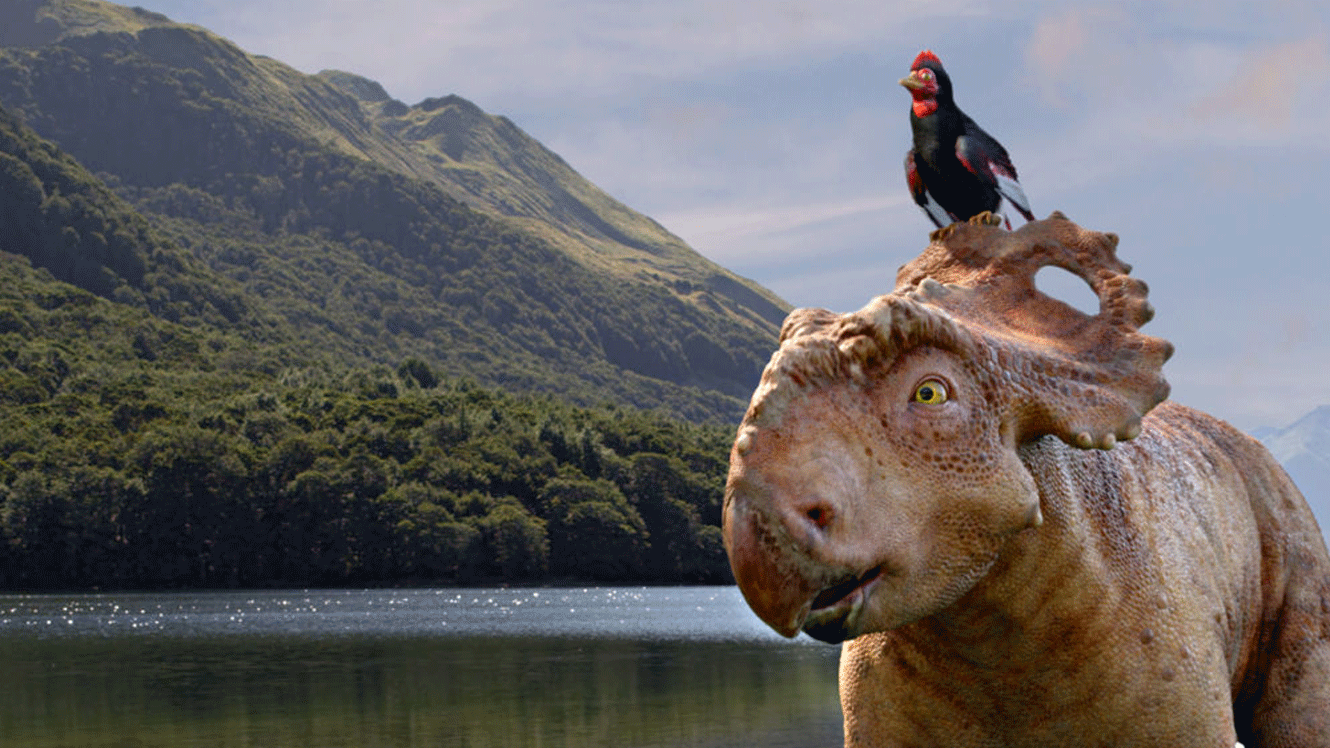 This is a film that is almost entirely killed off by bad dubbing. On the credits is the guilty name of Tim Hill, who directed films like Garfield: A Tale of Two Kitties (2006), Alvin and the Chipmunks (2007) and Hop (2011), all of which are premised around cutsie animals doing/saying smartass things, dropping pop culture quotes and the like. This influence is allowed to take over here and drags an otherwise laudable quasi-documentary down with jarringly anachronistic voiceovers, smartass one-liners and poop jokes.
The animals are constantly quipping, delivering lines like "You kicked his butt all the way to the Stone Age," "Don't get too attached – one day, this'll be an oilfield." We get dinosaurs using numerous anachronistic terms and referring to things such as long weekends and right of way, even ninjas. We even get John Leguizamo as a bird that talks with a caricatured Latino accent.
About the point where the diagrams introduce us to the Gorgosaurus and Leguizamo's narrator stops in mid-speech to laugh at the creature's stubby little arms, even replays the scene to do so, any pretence that this is a serious documentary has gone down to the toilet and we realise that we are watching an animated farce created for audiences in the single digit age group.
---