---
Crew
Director – Don Bluth, Live Action Scenes Directed by Victor French & Beau Van Den Ecker, Screenplay – David N. Weiss, Story – Don Bluth, David N. Weiss, Gary Goldman, T.J. Kuenster, John Pomeroy & David Steinberg, Producers – Don Bluth, Gary Goldman & John Pomeroy, Live Action Scenes Produced by Robert Enrietto, Live Action Photography – Robert Paynter, Music – Robert Folk, Songs – T.J. Kuenster, Visual Effects Supervisor – Fred Craig, Production Design – Dave Goetz. Production Company – Goldcrest/Sullivan-Bluth Studios Ireland Ltd.
Cast
Toby Scott Granger (Edmund)
Voices
Glenn Campbell (Chanticleer), Ellen Greene (Goldie Pheasant), Christopher Plummer (The Grand Duke), Phil Harris (Patou), Sandy Duncan (Peepers), Eddie Deezen (Snipes), Charles Nelson-Reilly (Hunch), Sorrell Booke (Pinky)
---
Plot
Young Edmund is transported into the world of one of his children's stories. There the singing rooster Chanticleer has abandoned the farmyard for fame as a rock'n'roll star known as The King. His crow is needed to stop an impending storm. Edmund joins a group of farmyard animals on a quest out into the wider world to persuade Chanticleer to return to the farm.
---
Don Bluth was originally an animator with Disney Studios. He and several associates became disenchanted with the way that Disney Studios in the 1970s had betrayed their style of classic animation. They departed the studio in 1979, setting out to make their own return to classic animation. The result was the enchanting The Secret of N.I.M.H. (1982).
Unfortunately, N.I.M.H. failed at the box-office, despite glowing reviews. Sadly, Don Bluth and co's resultant efforts – An American Tail (1986), The Land Before Time (1988), All Dogs Go to Heaven (1989), this, Thumbelina (1994), A Troll in Central Park (1994), The Pebble and the Penguin (1995) and Bartok the Magnificent (1999) – slid toward an even worse degree of schmaltz than Disney ever indulged. Bluth did briefly pick up with the bigger budgeted Anastasia (1997) and Titan A.E. (2000), but the latter proved a flop that caused Bluth to close up business as a filmmaker.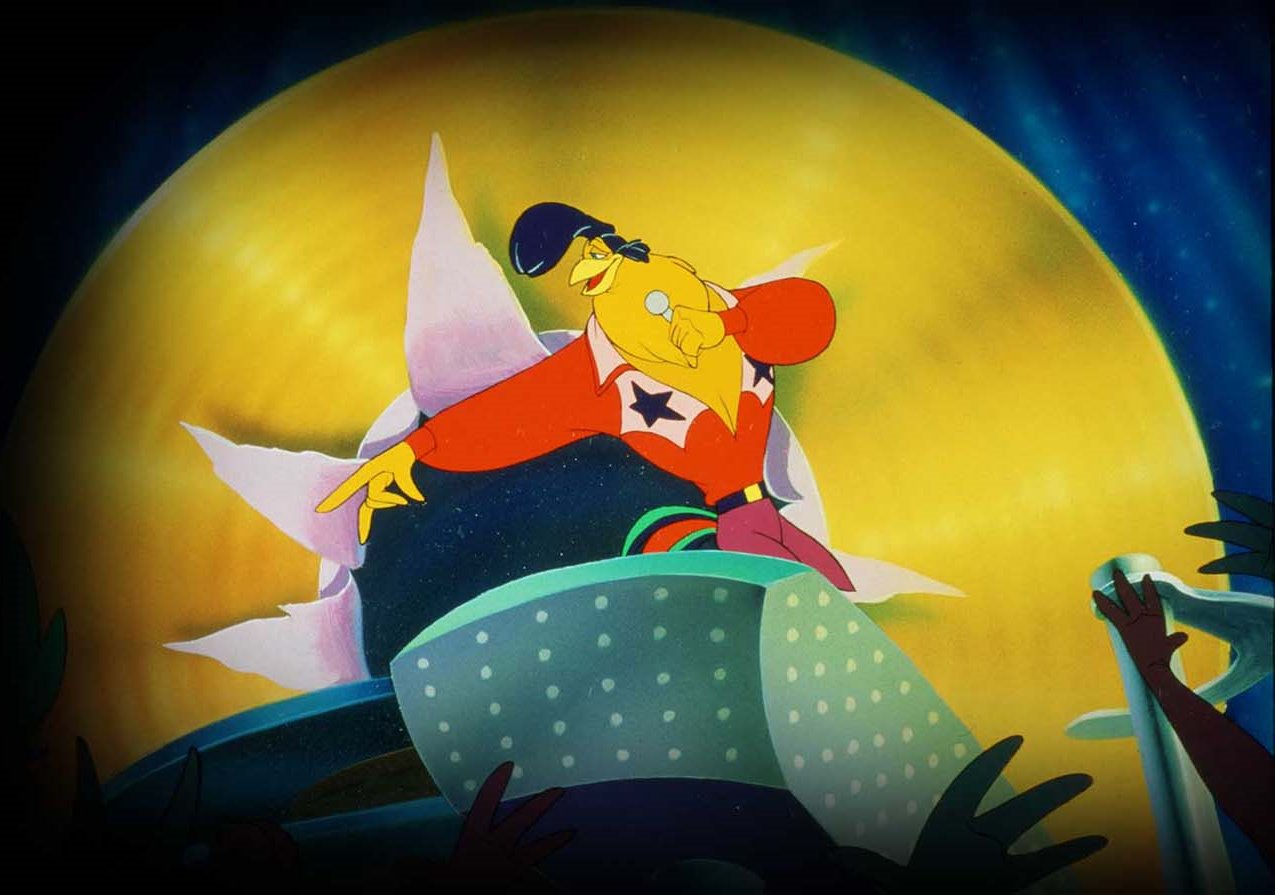 Rock-a-Doodle is unquestionably the worst of Don Bluth's animated films. The mix of animation and live-action in the bookend sequences adds little. The idea the film has been premised on – of a rooster doing Elvis impersonations – promptly falls flat. The never-ending slapstick sequences that Bluth directs are tedious. The kid – Toby Scott Granger – is infuriatingly sickly in his casting.
The best thing about the film is Ellen Greene – Audrey from the Little Shop of Horrors (1986) – as Goldie Pheasant, whose remarkable singing range gives much life to the insipid songs.
---
---