---
Crew
Director – Don Bluth, Screenplay – Judy Freudberg & Tony Geiss, Story – Judy Freudberg, Tony Geiss & David Kirschner, Producers – Don Bluth, Gary Goldman & John Pomeroy, Animation Supervisor – John Pomeroy, Dan Kuenster & Linda Miller, Music – James Horner, Songs – James Horner, Barry Mann & Cynthia Well. Production Company – Don Bluth Associates/Amblin.
Voices
Philip Glasser (Fievel Mousekewitz), Nehemiah Persoff (Papa Mousekewitz), Amy Green (Tania Mousekewitz), Dom de Luise (Tiger), Pat Musick (Tony Taponi), John Finnegan (Warren T. Rat), Erica Yohn (Mama Mousekewitz), Madeline Kahn (Gussie Mausheimer), Christopher Plummer (Henri), Neil Ross (Honest John)
---
Plot
The Mousekewitz mouse family decide to leave Russia and go to America where the streets are supposedly paved with cheese and there are no marauding Cossack cats. They sneak aboard a ship only for a young Fievel is washed away during a storm. Believing him lost, the rest of the family land in America. They soon find Manhattan Island to be somewhat less than their expectations. However, Fievel survives and is washed ashore in New York. He searches for his Papa but instead falls prey to the ruthless Warren T. Rat who sells young immigrants into slavery. As he tries to reunite with his family, Fievel becomes involved in a mouse revolution to rid the city of all cats.
---
After taking the world by storm with Jaws (1975), Close Encounters of the Third Kind (1977), E.T. – The Extra-Terrestrial (1982) et al, Steven Spielberg began to develop a social conscience. Instead of making sentimental films about white middle-class Americans, he, with his bowdlerising of Alice Walker's The Colour Purple (1985), and exec producing here on An American Tail, discovered he could make sentimental films about ethnic and working-class Americans too. Spielberg's social conscience would reach its maturity with Schindler's List (1993), Amistad (1997) and Saving Private Ryan (1998) in taking on the Holocaust, the issue of slavery and questions about the morality of war.
An American Tail is the immigrant story – with cartoon mice. Here Spielberg has collaborated with director Don Bluth, who previously made the dazzling The Secret of N.I.M.H. (1982). Bluth creates a very nicely animated film – with lovely stylised vistas of New York and images such as a half-built Statue of Liberty and a storm sequence with anthropomorphised waves – but An American Tail is also disappointing. Every situation the young hero falls into is intensely familiar to the point it is like a paint-by-numbers trip through the cartoon cliche-book. The film works passably and is certainly better than some of the insipid efforts that Bluth directed throughout the 1990s.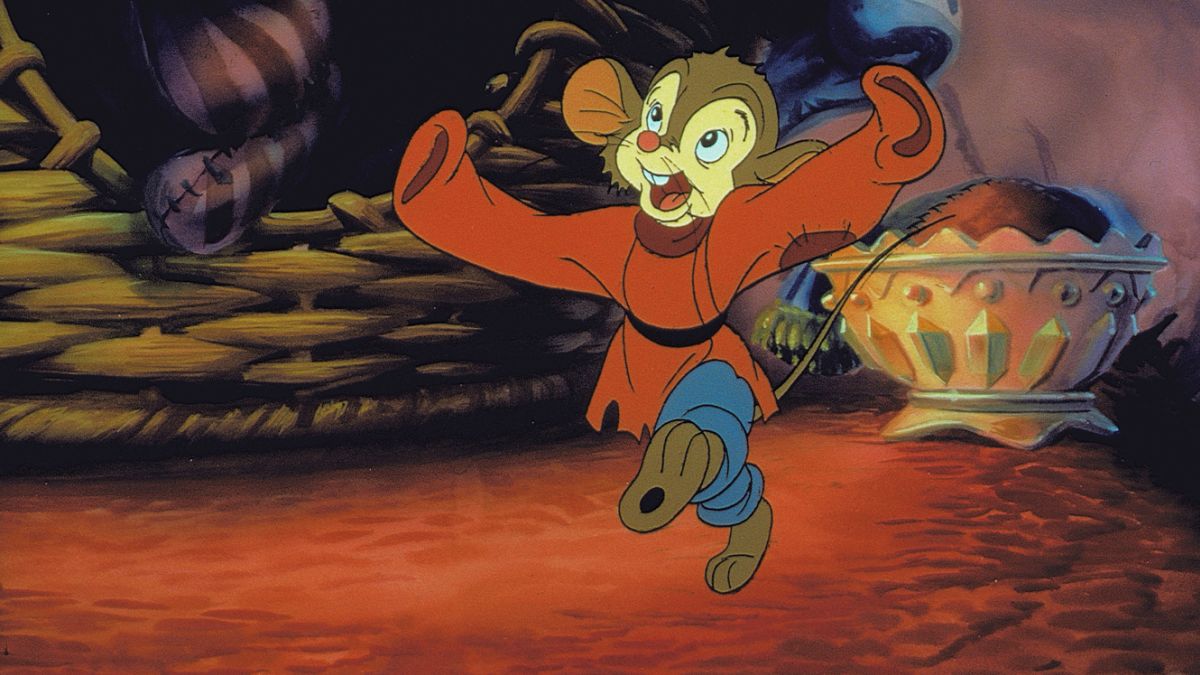 An American Tail was the beginning of Spielberg's association with animation, having lent his name to films such as We're Back: A Dinosaur's Story (1993), Balto (1995), Antz (1998) and The Prince of Egypt (1998) and animated tv series such as Family Dog (1992), Animaniacs (1993), Freakazoid (1996) and Invasion: America (1998), as well as his directing the motion-capture animated The Adventures of Tintin (2011). He and Don Bluth combined again on The Land Before Time (1988). Amblin went on to make the superior sequel to this with An American Tail: Fievel Goes West (1991), while Universal took over the franchise for two video sequels An American Tail III: The Treasure of Manhattan Island (1998) and An American Tail: The Mystery of the Night Monster (1999). All were made made without Don Bluth's participation.
Don Bluth's other films are:– The Secret of N.I.M.H. (1982), The Land Before Time (1988), All Dogs Go to Heaven (1989), Rock-a-Doodle (1991), Thumbelina (1994), A Troll in Central Park (1994), The Pebble and the Penguin (1995), Anastasia (1997), Bartok the Magnificent (1999) and Titan A.E. (2000).
---
---