---
Crew
Director – Norman Z. McLeod, Screenplay – Ken Englund & Everett Freeman, Based on the Short Story by James Thurber, Producer – Samuel Goldwyn, Photography – Lee Garmes, Music – David Raksin, Songs – Sylvia Fine, Special Effects – John Fulton, Makeup – Robert Stephanoff, Art Direction – Perry Ferguson & George Jenkins. Production Company – Samuel Goldwyn Productions, Inc.
Cast
Danny Kaye (Walter Mitty), Virginia Mayo (Rosalind van Hoorn), Thurston Hall (Bruce Pierce), Boris Karloff (Dr Hugo Hollingshead), Fay Bainter (Eunice Mitty), Ann Rutherford (Gertrude Griswold), Konstantin Shayne (Peter van Hoorn), Gordon Jones (Tubby Wadsworth), Florence Bates (Mrs Griswold), Henry Corden (Hendrick)
---
Plot
Walter Mitty is an assistant editor for Pierce Publications in New York City and engaged to Gertrude Griswold. He is always ending up in trouble for his daydreaming. On the train to work, he meets the beautiful Rosalind van Hoorn who pretends to know him and then gives him a kiss. Following her, she slips him a notebook containing a list of the whereabouts of various stolen Dutch art treasures. Walter then becomes hunted by international criminals who are wanting the notebook but has difficulty convincing people he is not still wrapped up in his daydreams.
---
James Thurber (1894-1961) was one of America's foremost humourists and cartoonists back in his day. He wrote a number of witty essays and short stories, which can be found in numerous published collections. The Secret Life of Walter Mitty (1939) was one of Thurber's short stories, originally published in The New Yorker. In the story, which only runs to 2000 words, Mitty is a dull married man. The story consists of him drifting off into daydreams of himself in the Navy, the RAF during World War II, as a surgeon and a crack marksman, while engaged in mundane activities such as driving his wife to the hairdresser, parking the car and going to the shop. The story makes comically ironic contrast between the mundanity of Mitty's life and the flights of fancy that he spins things out into.
Unfortunately for Thurber, his short story was turned into a vehicle for Danny Kaye. Danny Kaye began as a Borscht Belt comedian in the 1930s and made his first screen appearance in several short films and then the feature-length Up in Arms (1944). Kaye went onto make a further seventeen films, including the likes of Wonder Man (1944), The Kid from Brooklyn (1946), A Song is Born (1948) and Hans Christian Andersen (1952).
Kaye is a very much a divided figure. His skilled but often fey and effeminate slapstick is very much a love and hate affair, while in more recent years he has been hailed as a gay icon (although Kaye's private life has an ambiguity that makes such unclear. There is the oft repeated claim that he engaged in a long term affair with Laurence Olivier and was found in bed by Olivier's wife Virginia Leigh, although Olivier's biographers and surviving wife Joan Plowright have denied this, meaning it surely has no more a basis in confirmed factuality than a tabloid headline speculating about some star's sexuality).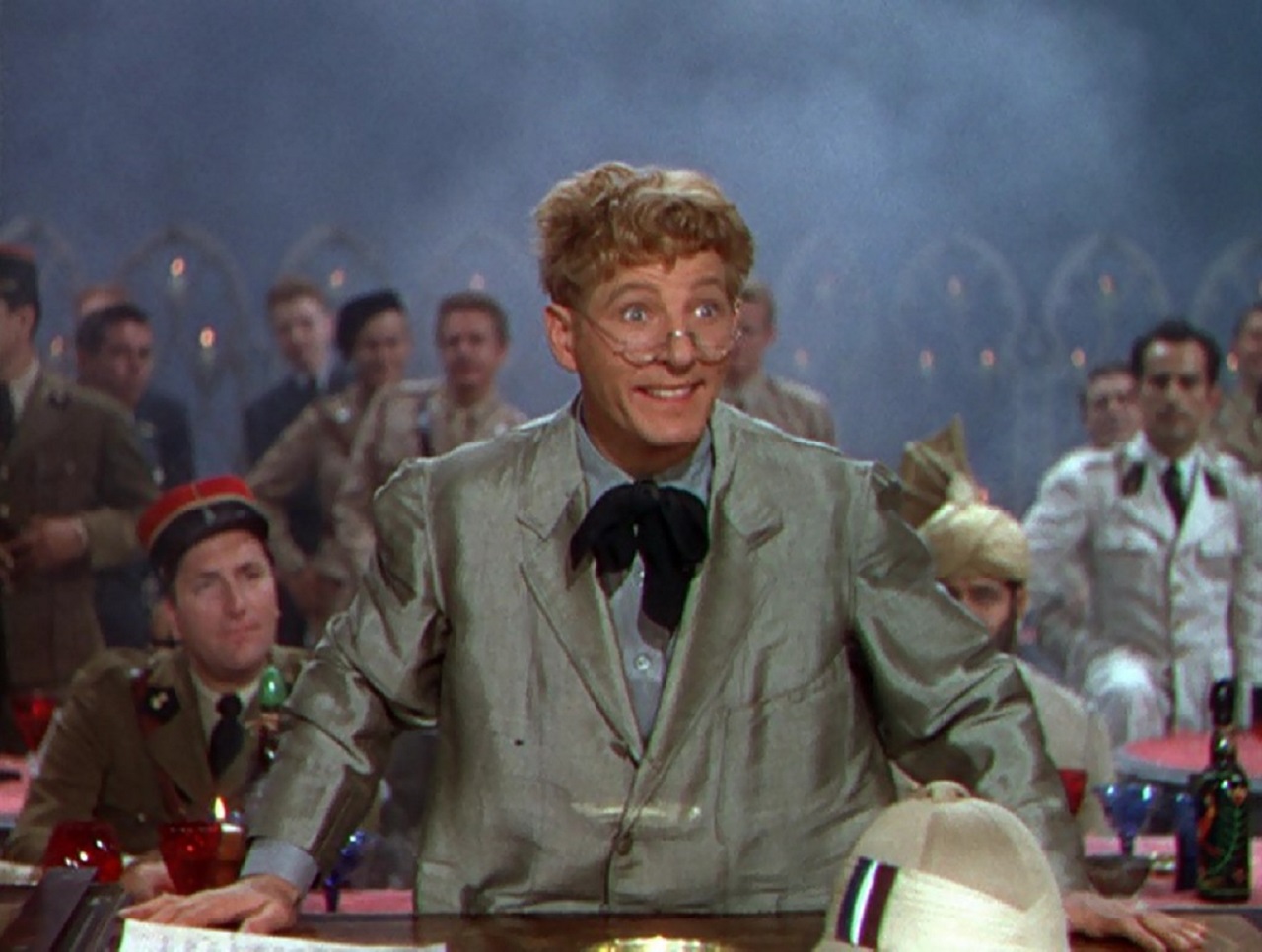 I have no liking for Danny Kaye's sappy backboneless persona, nor the bumbling idiocy that most of his comedy routines seem to consist of. Most of the ones here were conceived by Kaye's wife Sylvia Fine who pushed to have more included in the film. As a result, they drown out James Thurber's light and enjoyable story, dragging what should have been a light-hearted comedy out to a bloated and ponderous 110 minutes. The film is padded with slapstick sequences involving Danny Kaye bumbling around trying to put cushions on chairs or climbing through his boss's office window.
What should be daydream fantasy sequences where Kaye imagines himself in various heroic roles (most of which are loosely derived from the Thurber story) are overtaken by musical comedy numbers. A fairly straightforward scene with Kaye imagining himself as a surgeon gets waylaid by him performing an operation with cheese graters, floor wax and knitting needles. Kaye goes to a fashion show for the sole reason that he can imagine himself into a sequence with an outrageous French accent in a song number titled Anatole of France.
Especially superfluous in this regard is a dream that starts out with Kaye imagining himself as a British flyer in World War II, which suddenly turns into a sequence entitled Symphony for the Unstrung Tongue where he puts on a lab coat and affects an outrageous German accent and sings a number stumbling over polysyllabic pronunciation. There is a technical cleverness to the performance but it injects a note of thorough inanity into the film.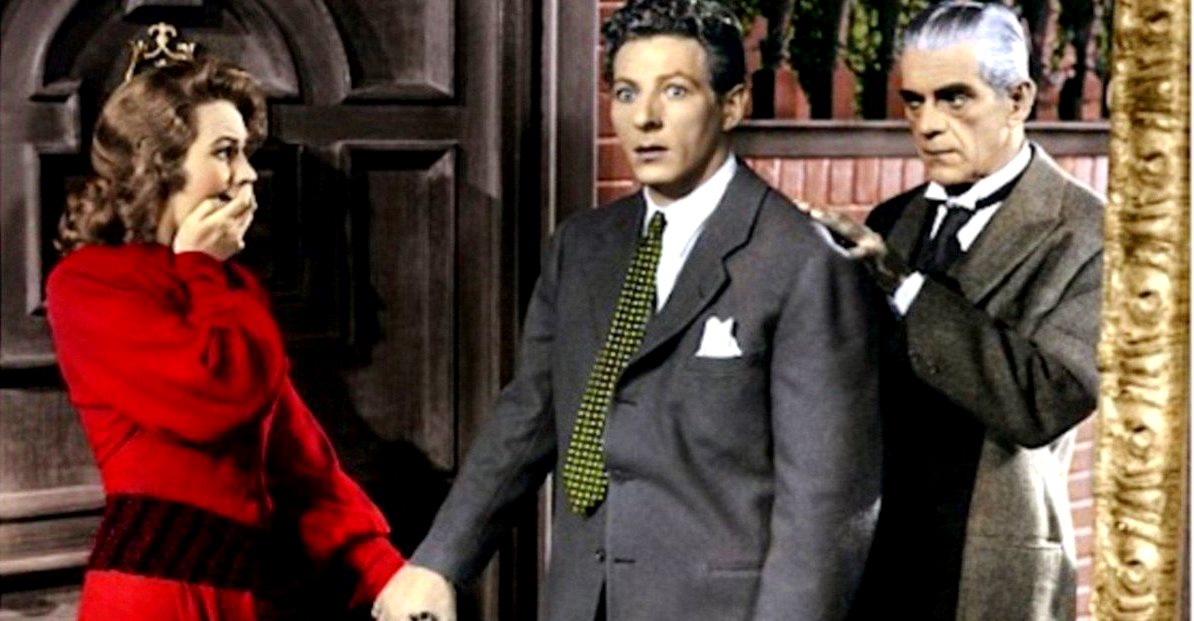 Moreover, while James Thurber's story was a light and capricious whimsy about a dull ordinary man and his daydreams, emphasising the gulf between daydreamer and mundanity, the film sees fit to add an entire plot to this about Mitty getting caught up with a beautiful femme fatale, international spies and the hunt for a notebook that contains the whereabouts of a treasure, even elaborate schemes by the villainy (represented by a suitably sinister Boris Karloff, among others) to convince Danny Kaye he has hallucinated everything. In other words, the film almost completely contradicts the story – where the story points out the gulf between fantasy and reality, the film simply shoehorns everything onto an absurdly unreal spy caper plot.
The basic idea of the Walter Mitty fantasy has played out in a number of other films such as Every Home Should Have One (1970) and The Projectionist (1971). In particular, the French film Beauties of the Night (1952) from director Rene Clair does a much more appealing and witty variation on the same idea than the film here does.
The film was later remade as The Secret Life of Walter Mitty (2013) directed by and starring Ben Stiller.
Director Norman Z. McLeod was a classic comedy director of the 1930s and 40s. He made early Marx Brothers films such as Monkey Business (1931) and Horse Feathers (1932), It's a Gift (1934) with W.C. Fields and Road to Rio (1947), the fifth of the Bob Hope-Bing Crosby Road movies. In genre material, McLeod also made the live-action all-star Alice in Wonderland (1933) and the ghost screwball comedy Topper (1937) and its sequel Topper Takes a Trip (1938).
---
---