---
Crew
Director – Charles Jarrott, Screenplay – Larry Warner, Based on the Novel by James Hilton, Producer – Ross Hunter, Photography – Robert Surtees, Music – Burt Bacharach, Lyrics – Hal David, Photographic Effects – Butler-Glouner Inc, Makeup – Thomas Burman, Production Design – Preston Ames. Production Company – Ross Hunter.
Cast
Peter Finch (Richard Conway), Liv Ullman (Catherine), John Gielgud (Chang), Michael York (George Conway), Sally Kellerman (Sally Hughes), George Kennedy (Sam Cornelius), Bobby Van (Harry Lovett), Olivia Hussey (Maria), Charles Boyer (High Lama)
---
Plot
With the Japanese invasion of China, a group of Western civilians flee aboard a plane. Moments before they take off, the pilot is chloroformed and someone else takes their place and flies off, heading in the opposite direction. The plane then loses one engine and crashlands in the mountains of Tibet. There the group are found by monks and taken to the monastery of Shangri-La where they are welcomed by its people. The monastery is situated in a valley among the mountains where freak weather conditions allow it to exist as a luxuriant paradise. In Shangri-La, they learn that freed from the worries of civilisation that everybody lives in perfect peace, that there is no illness and they can be guaranteed lives of more than two hundred years – the only requirement being that they never leave the valley.
---
Frank Capra's Lost Horizon (1937), based on James Hilton's 1933 novel, is one of the great Hollywood kitsch classics. The original is a somewhat dated effort when seen today but back in the 1930s, coming just at the end of the Great Depression, the film's fantasy of a place in the world where one can escape from all the stresses of life and live forever held an undeniable appeal for audiences.
This Lost Horizon remake was mounted as a musical by producer Ross Hunter. However, the remake ended up being a flop of epic magnitude – it even gets a listing as one of the Medved Brothers' The Fifty Worst Films of All Time (1977). Ross Hunter had gained a reasonable reputation as a producer, having been responsible for hits like the various Tammy films, Imitation of Life (1959), Pillow Talk (1959) and Thoroughly Modern Millie (1967). Just prior to taking on Lost Horizon, Hunter had produced the massively successful Airport (1970), which became the second top-earning film of its year – and incidentally created the 1970s genre of the disaster movie. The measure of the flop that Lost Horizon was can be seen in that despite a worthy career and a number of hits, afterwards Hunter could only find sporadic employment in television.
Director Charles Jarrott emerged out of US television in the 1950s and had made historical films such as Anne of a Thousand Days (1969) and Mary, Queen of Scotts (1971), plus the drama The Other Side of Midnight (1977) and the Disney film The Last Flight of Noah's Ark (1979). His one other genre outing was the flop Disney superhero spoof Condorman (1981).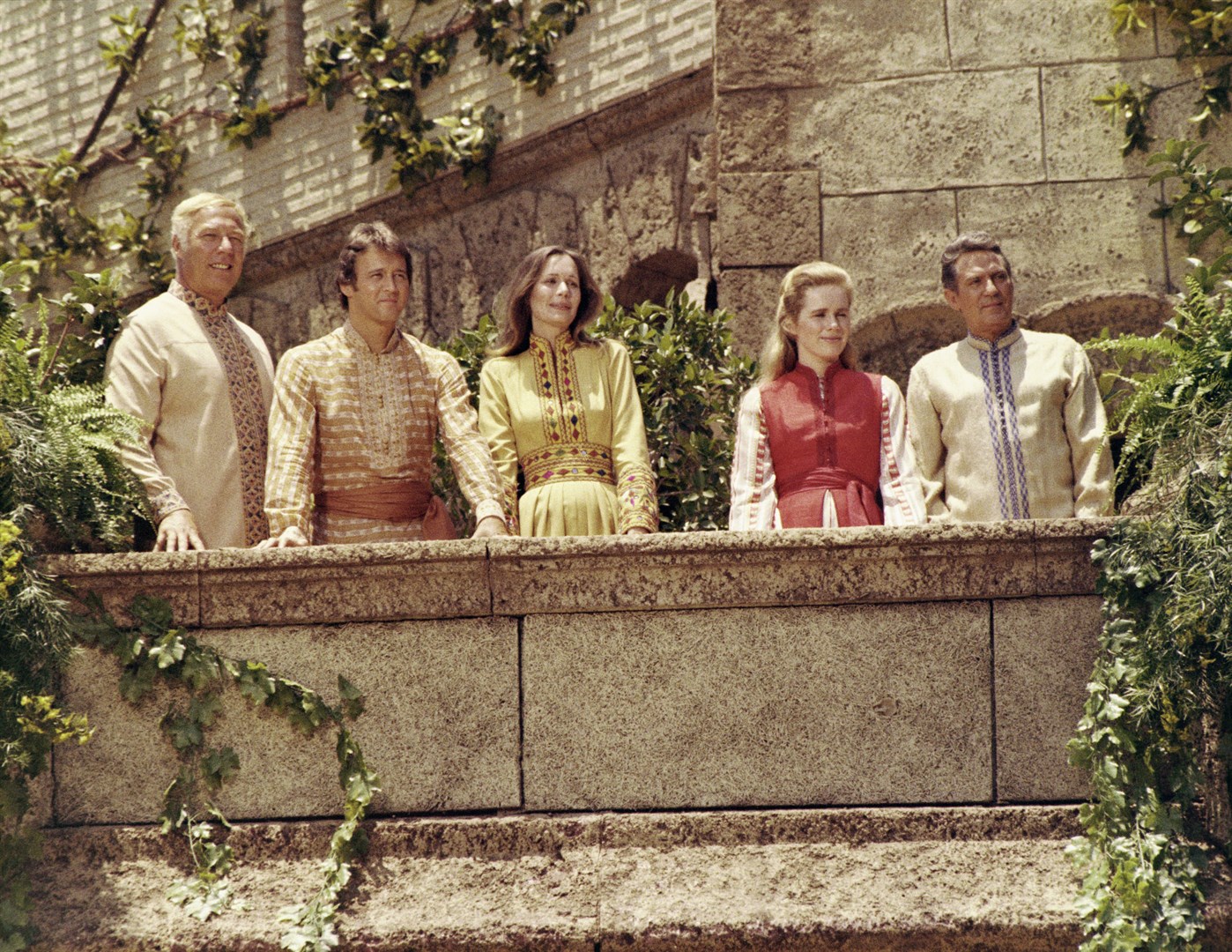 The musical had reached a peak in the previous decade with enormous hits like West Side Story (1961), My Fair Lady (1964), The Sound of Music (1965) and Doctor Dolittle (1967). However, a few years later, attempts to copy these successes had resulted in a heap of bloated, over-budgeted box-office flops, including the likes of Chitty Chitty Bang Bang (1968), Finian's Rainbow (1968), Star! (1968), Hello Dolly (1969), On a Clear Day You Can See Forever (1970), The Little Prince (1974), At Long Last Love (1975) and The Slipper and the Rose (1976).
Among these, Lost Horizon was regarded as the turkey of the bunch that fairly much killed the musical off for good. Although there were a number of musicals that were successes during this era, the problem was largely the drastic failing of studios to see that youth audience had gravitated towards different films – this was the Easy Rider (1969) generation who in terms of music were being drawn towards glitter and rock operas like Jesus Christ Superstar (1973), The Rocky Horror Picture Show (1975) and Tommy (1976) – whereas studio management remained in a rut that failed to adapt to the times and just kept making more of what they always had.
There are some that regard Lost Horizon 1973 as a lost classic and ask people to look beyond the cheesy production values and bad acting to see it in terms of its sentiments. That may work for someone looking back at a film they saw as a child but is hardly a critical outlook. Although when one thinks about it, the musical is the perfect form for Lost Horizon's feelgood mysticism and the Hollywood kitsch idea of Heaven on Earth. Viewed today, Lost Horizon 1973 is a stodgy and bloated production that flails about on screen and dies a protracted and ungainly death. There is a great deal to laugh about in the film's badly dated and ill-fitting costumery and especially in the clumsy dance choreography from Hermes Pan, the famed Hollywood choreographer who arranged the footsteps for a number of Fred Astaire classics.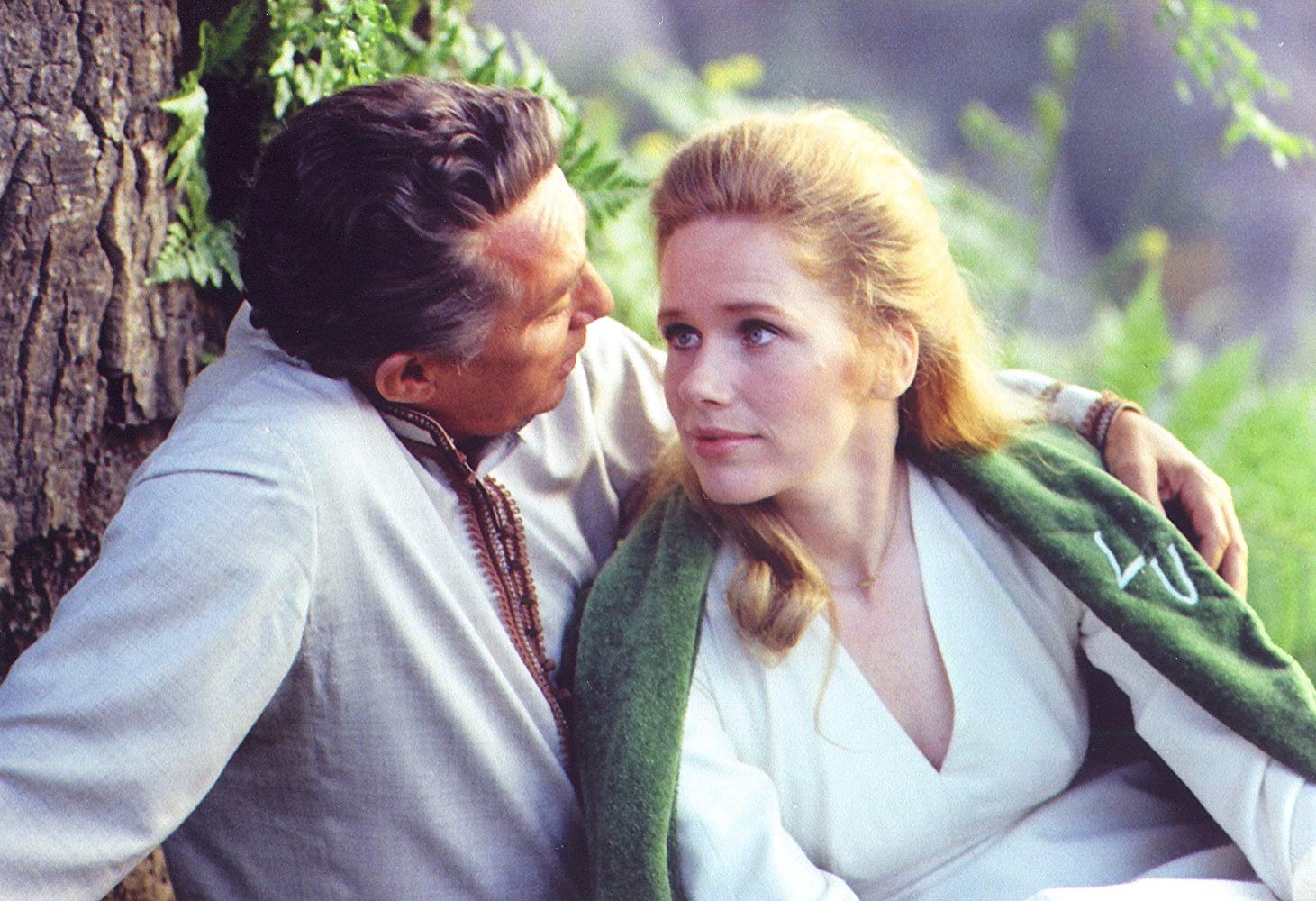 The cast are name faces that wallow in roles that none of them seem attuned to. The stolid-faced Peter Firth is so wooden he might as well be dead. Michael York tries another of his dreadfully earnest performances, his voice modulating in a way that must be causing him pain. Nor do a vapid Liv Ullman; the sloppy, ungainly George Kennedy; madly grinning leprechaun Bobby Van; and Sally Kellerman who seems to be biting back the opportunity to flutter her eyelids and deliver throaty Mae West-one liners manage to convince in their respective roles. Choosing to be unconventional among the group are Charles Boyer who is surprisingly affecting as the High Lama and John Gielgud, looking like a wrinkled monkey and offering a wry likeability as the abbot Chang.
At times though, Lost Horizon 1973 is hard not to like. The sentiments of the Burt Bacharach-Hal David songs are irritatingly banal but you cannot deny that the songs are often catchy. The colour is wonderful – all the kitsch pageantry, the mountain and desert scenery eventually has a rather breathtaking sweep. If the film had consisted of only the first 40 minutes leading up to the arrival at Shangri-La, it would have been an entirely different and potentially exciting adventure film. It is just that the arrival at the supposed paradise valley drags the show out for an interminable 2½ hours of stodgy romance and half-baked mysticism. Still there have been worse films made.
---
---