USA. 2018.
Crew
Director – Steve Carr, Teleplay – Bridget Carpenter, Based on the Musical Written by Bridget Carpenter of the Novel by Mary Rodgers, Producers – Lisa Towers, Photography – Adam Santelli, Music – David Lawrence, Songs – Tom Kitt & Brian Yorkey, Visual Effects – Encore VFX (Supervisor – Bob Habros), Production Design – Perry Andelin Blake, Choreography – John Carrafa. Production Company – Disney/Bad Angels Productions.
Cast
Cozi Zuehlsdorff (Ellie Blake), Heidi Blickenstaff (Katherine Blake), Jason Maybaum (Fletcher Blake), Alex Desert (Mike Harper), Ricky He (Adam), Dara Renee (Savannah), Kahyun Kim (Torrey Min), Isaiah Lehtinen (Karl Carlson), Jennifer Laporte (Monica Yang), Rukiya Bernard (Danielle), Lauren McGibbon (Ms Meyers), Joshua Pak (Luis)
---
Plot
Katherine Blake is preparing for her wedding to Mike Harper and is fretting over getting every detail right because she has planned the entire thing herself. A magazine is coming to cover the wedding and this is a big boost to Katherine's catering company. Katherine and her teenage daughter Ellie argue after she forbids Ellie from participating in a school scavenger hunt organised by her friends that evening. As the two fight, they are holding onto an hourglass that was left to Ellie by her late father. This causes them to swap bodies but the hourglass is then shattered. Realising what has happened, they must cope with either's day – in her mother's body, Ellie has to deal the wedding preparations and people from the magazine, while Katherine has to navigate the bitcheries of a school day in Ellie's body. They need the second hourglass in order to return to their own bodies but Katherine has sold it to an antique store. However, when they try to retrieve it, they find the store has closed down and sold off its stock.
---
This was the fourth film adaptation of Mary Rodgers children's book Freaky Friday (1972). Disney purchased the rights to the book and made the first film version Freaky Friday (1976) with Barbara Harris and Jodie Foster as the mother and daughter who swap bodies for one day. This proved one of their more enjoyable live-action films of this period. This was subsequently remade as the tv movie Freaky Friday (1995) with Shelley Long and Gaby Hoffmann as mother and daughter and then the cinematically released Freaky Friday (2003) with Jamie Lee Curtis and Lindsay Lohan as the mother and daughter.
Freaky Friday was adapted into a stage musical by Disney Theatrical Productions in 2016. This played various venues across the US (although not on Broadway). The script for the musical was written by Bridget Carpenter, a producer/writer on tv shows such as Dead Like Me (2003-4), Friday Night Lights (2006-11), Parenthood (2010-5) and the Stephen King adapted mini-series 11.22.63 (2016). The musical was then adapted into this fourth film version of the story that appeared on the Disney Channel. The film retains the songs from the musical, as well as actress Heidi Blickenstaff who had played the mother in all the stage versions of the musical, while Bridget Carpenter reprises the scripting honours.
I had enjoyed both the other theatrical versions of Freaky Friday but cannot say the same about this one. Part of the problem is two labels – 'musical' and 'Disney Channel film'. The musical is not one of my favoured forms of film-watching (although I have a good many exceptions to this – see those listed on the Musicals theme links below) and this does nothing to change one's opinion. The songs, which include a number about dissecting frogs at one point, are a singularly forgettable line-up of pop numbers that leaves one squirming through each sequence.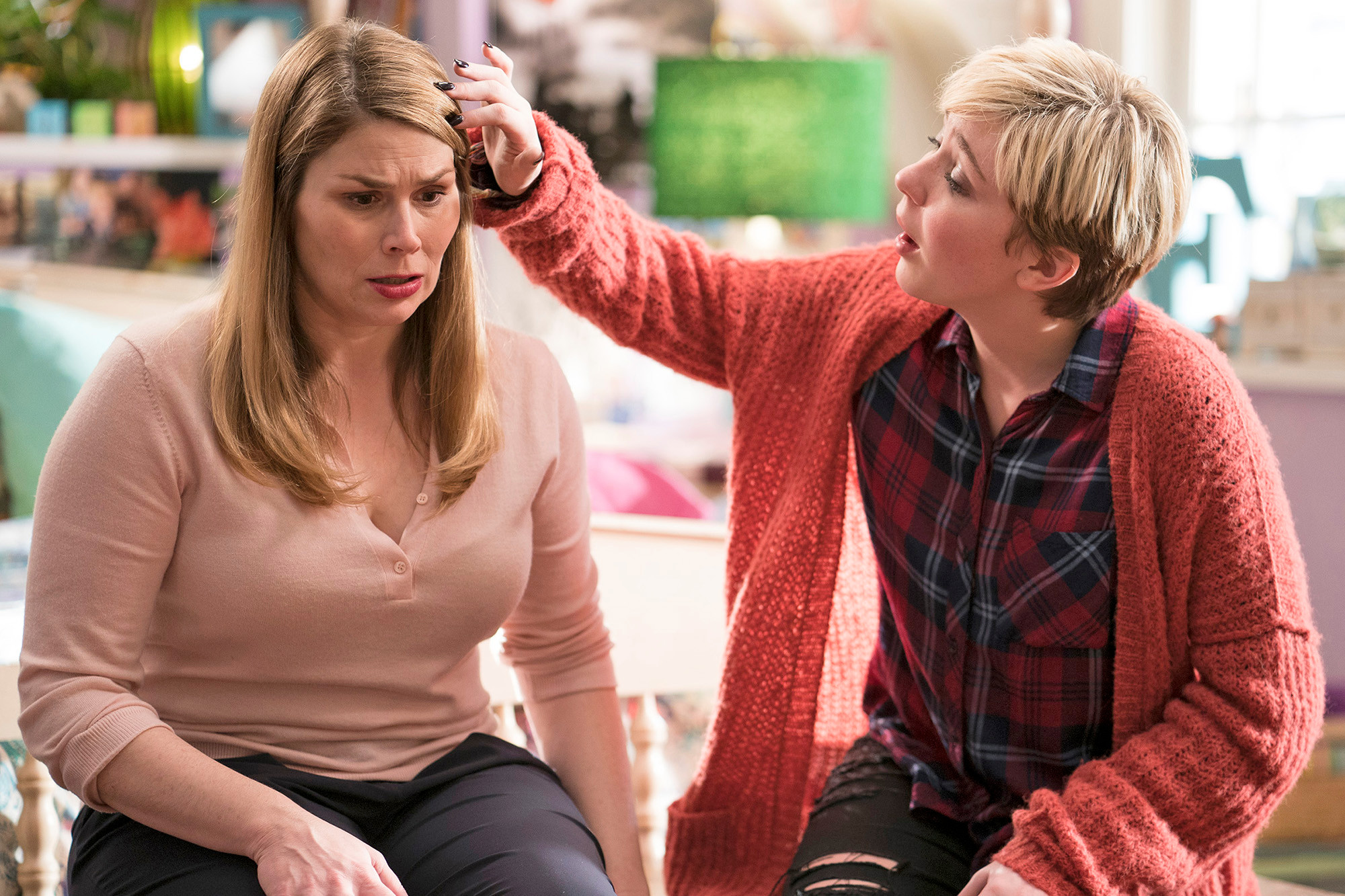 The Disney Channel aspect gives us a version of Freaky Friday that feels pitched to a teenage demographic far more so than all of the other versions. It seems to centre around much in the way of petty high school bitcheries and competitions – more so than the other versions. The mother's side of the equation seems focused around the need to throw the perfect DIY wedding and show it off to reporters from a prestigious magazine (if this is a film that is pitched to a Young Adult audience, you wonder what exactly the message it is saying to today's youth). This version also has the addition of two magic hourglasses that affect the bodyswap whereas the previous versions have all used the agency of a wish – the hourglass feels like a gratingly inserted McGuffin that is there for the sole reason to drive drama in the latter half of the show.
The previous versions of the film have always been an acting tour-de-force for the respective lead actresses. You have to commend both Cozi Zuehlsdorff and Heidi Blickenstaff here as either do a reasonable job when they get to swap bodies and try to play teens/mothers. On the other hand, the supporting cast leaves much to be desired. As with much of Hollywood productions coming out in 2018 and beyond, a major effort is made to display diversity among the supporting cast with various roles played by African-American, Chinese and Korean actors. Although the problem I would criticise in these cases (with the exception of the wonderfully bitchy Dara Renee) is that this is casting that has placed affirmative action above actual acting skill. In the cases of both Alex Desert and Ricky He, both actors and the respective women they are paired with look uncomfortable and the relationships don't click in any way that seems to convey a convincing chemistry on screen.
Steve Carr is a director who has specialised in mainstream comedies with the likes of Next Friday (2000), Dr. Dolittle 2 (2001), Daddy Day Care (2003), Are We Done Yet? (2007), Paul Blart: Mall Cop (2009) and Middle School: The Worst Years of My Life (2016), as well as the The Proposition segment of Movie 43 (2013).
---
---