(Man Qing Shi Da Ku Xing)
---
Crew
Director – Bosco Lam, Screenplay – Cheuk Bing, Producer – Wong Jing, Photography – Tony Miu. Production Company – Wong Jing's Workshop Ltd.
Cast
Yvonne Yung Hung (Little Cabbage), Lawrence Ng (Yang Nai Mu), Tonny Wong (Chiu Daai), Kwong Leung Wong (Got Siu Tai), Siu-Kee Lee (Lau Shek Tung), Ching Mai (Jane), Elvis Tsui (Wing Chung-Lung), Julie Lee (Kai Dun Fung)
---
Plot
A man is discovered having been killed by an aphrodisiac so strong it caused his penis to explode. His wife Little Cabbage and the scholar Yang Ni-mu are dragged before a judge, both protesting their innocence, and are charged with adultery and conspiring to kill the husband. Unknown to them, the real killers are the judge's own son and the scholar's wife who added the aphrodisiac to a medicinal prescription. In court, Little Cabbage and Yang Ni-mu tell the story of how they became lovers, he taking her on as a maid because her father could not afford to pay rent and the two then becoming attracted, something that inspired a host of jealousies. The judge now conspires to frame and torture the two innocents into confession.
---
The title may give the mistaken impression that this is either a film about sadomasochism or a study in human degradation along the lines of Salo or 120 Days of Sodom (1975). In fact, Chinese Torture Chamber Story is neither. What it is is a rather funny Hong Kong sex comedy, along the lines of the body of films that popped up following the success of Sex and Zen (1991). Hong Kong sex comedies are nothing at all like their Western counterparts. They show as much upfront as do any of the likes of 9½ Weeks (1986) or Basic Instinct (1992) but there is a remarkable lack of either the seriousness or underlying puritanical guilt that lurks beneath most Western erotic films.
Hong Kong sex films are able to balance onscreen erotic set-pieces and comedy with an effortlessness that Western directors have so far failed to find. The (pardon the pun) climax of the film here involves the heroine masturbating her husband's ankle-length member to a deadly ejaculation that showers her in blood and kills him, a set-piece that manages to be both hysterically funny and tender at the same time. Another scene features a husband trying to tackle an invisible rapist and ending up with a mouthful of semen.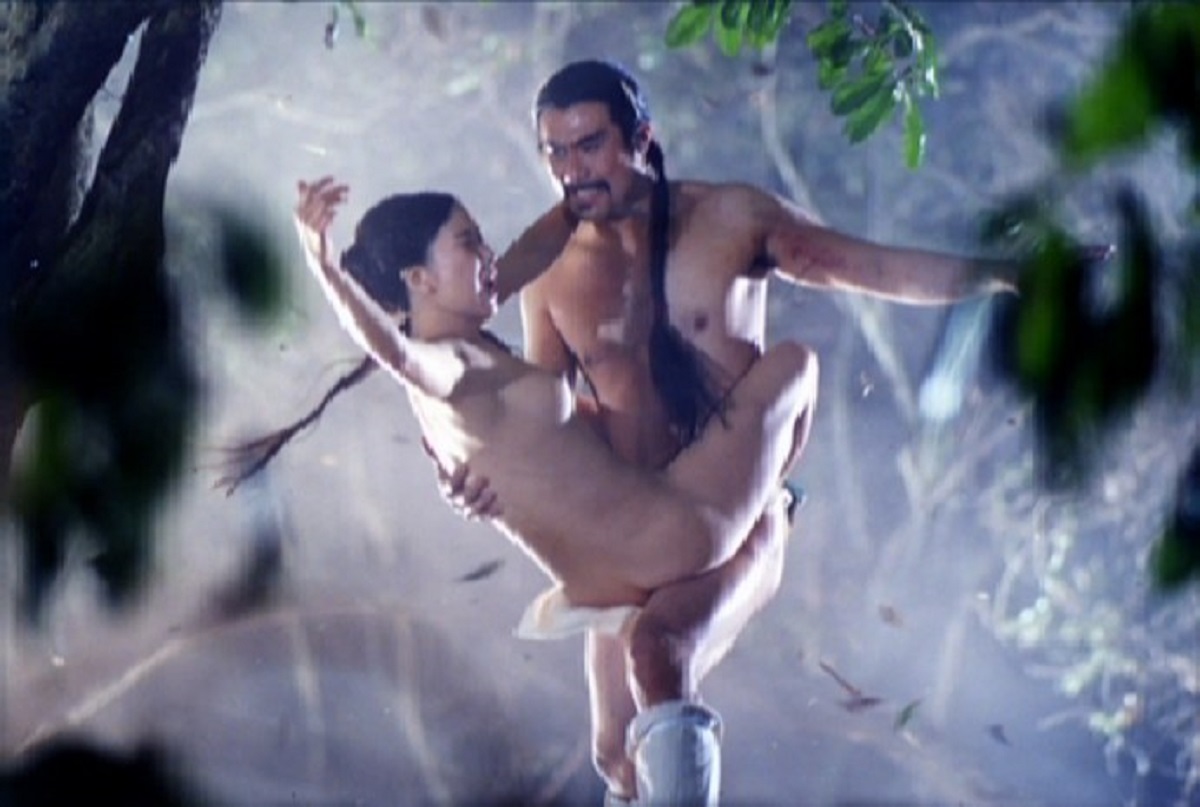 The film is much ruder and cruder than the delightful Sex and Zen was but when it is funny it is very funny. There is a highly amusing sequence parodying the likes of A Chinese Ghost Story (1987), Swordsman (1990) and their various sequels, which routinely have martial arts combatants flying through the air and bouncing of trees, with a married couple whose connubial couplings competitively take place in mid-air, bouncing off trees and adapting impossible martial maneuvers.
Of course, the entire film is a bizarre fantasy, one that plays on the popular fantasy of China's dynastic past and where men can have penises that stretch all the way down to their ankles. Even the scenes of torture in the film manage to be more comic and disarming than they do disturbing.
There was a sequel with Chinese Torture Chamber Story II (1998).
---
---