---
Crew
Director – Michael Lehmann, Screenplay – Steven E. de Souza & Daniel Waters, Story – Robert Kraft & Bruce Willis, Producer – Joel Silver, Photography – Dante Spinotti, Music – Robert Kraft & Michael Kamen, Visual Effects – The Magic Camera Co (Supervisor – Derek Meddings), Makeup Effects – Thomas R. Burman, Bari Dreisand-Burman & Scott H. Eddo, Production Design – Jack DeGovia. Production Company – Tri-Star
Cast
Bruce Willis (Eddie 'Hudson Hawk' Hawkins), Danny Aiello (Tommy Five-Tone), Andie McDowell (Anna Baragli), Richard E. Grant (Darwin Mayflower), Sandra Bernhard (Minerva Mayflower), James Coburn (George Kaplan), Donald Burton (Alfred)
---
Plot
The world's greatest cat burglar Eddie Hawkins, nicknamed 'The Hudson Hawk', gets out of jail following a ten-year sentence. He is immediately surrounded by various members of the Mafia, the CIA, Vatican agents and an eccentric billionaire all trying to forcibly persuade him to go back to work to steal a series of Leonardo Da Vinci art treasures from various locations around the world. Caught up in a mind-boggling series of counterplots, Hudson finds that everybody is attempting to piece together a Da Vinci transmutation machine that can transform base metal into gold.
---
Hudson Hawk had its origin in a meeting between Bruce Willis and singer/songwriter Robert Kraft at a cabaret in New York City some ten years earlier. The two spun out a story based on one of the songs in Kraft's repertoire. Bruce Willis, following his subsequent stardom on tv's Moonlighting (1985-9), parlayed his success to get the idea produced as a film. However, this was the early 1990s where Bruce Willis had had a huge hit with Die Hard (1988) but had not ascended the A-list that he tops today. Around this period, all that Bruce was making was a string of flops – see the likes of The Bonfire of the Vanities (1990), Billy Bathgate (1991), Striking Distance (1993), Color of Night (1994). Among these, Hudson Hawk was a colossal disaster that crowned the junkpile. Hudson Hawk was widely pilloried and made a clear sweep of all categories at that year's Golden Raspberry Awards, including Worst Picture.
The Robert Kraft song aside, the story's probable origin could just as equally have been Mario Bava's delightful comic-book jaunt Danger: Diabolik (1967) – Hudson Hawk almost reads as a remake of Diabolik as filtered through the campy extravagance of the Roger Moore James Bond films. Despite universally negative reviews, one found Hudson Hawk to be a peculiarly likeable film. It is certainly loud, noisy and gigantically out of control. And it is not a film that easily knows the meaning of restraint – either in its acting or in budget. Its plot is so massive and sprawling, its satirical twists and escalation of conspiracies so extravagant and the acting by most of the cast delivered at such an OTT pitch, that it frequently leaves one exhausted.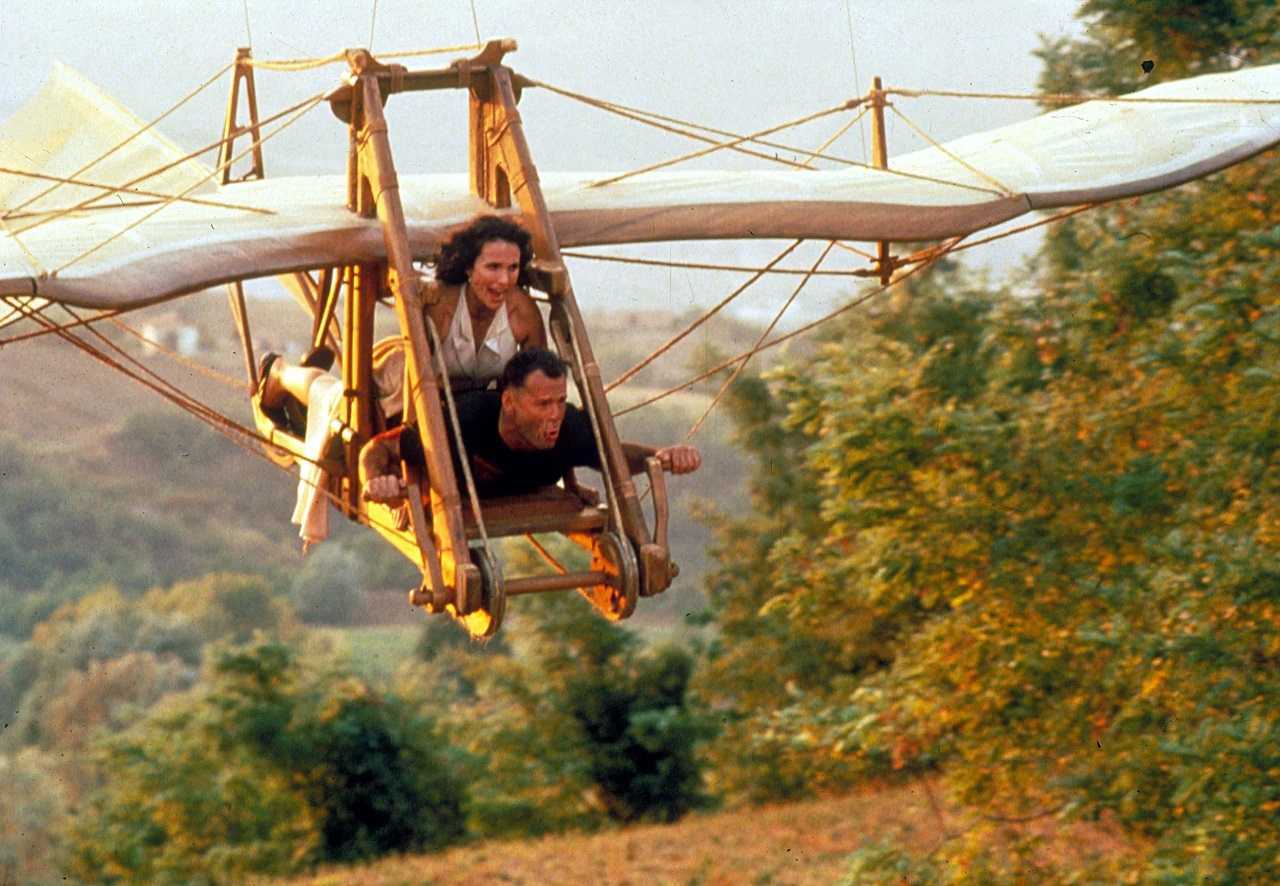 Amidst all of this, Hudson Hawk has a kinetic, lightning-paced sense of slapstick humour that arrives with a surreal dizziness – like the scene with Bruce Willis being dragged along behind an ambulance on a stretcher, hanging on by a sheet that is tearing, taking drags from cigarette butts thrown out the windows of passing cars and tossing a pocketful of coins in the general direction of a toll booth that manage to open the gate. The scenes with the CIA operative staggering about with a sucker-tipped bazooka attached to his own forehead and Andie McDowell and Bruce Willis's attempts to kiss while paralysed and her rambling in dolphin-talk while drugged are hilarious.
The one person the nonsense all ironically does suit rather well is Bruce Willis whose chirpily agog bedroom eyes and he-man wit ties-in well with the role at hand. It is hard to hate a film that can have throwaway vignettes showing Leonardo Da Vinci painting the Mona Lisa and leaving the smile blank because the model had crooked teeth, or showing the Pope getting up to wave his mitre in anger when Bruce Willis's rooftop passing disturbs his watching of Mr Ed (1961-6).
Hudson Hawk was directed by Michael Lehmann who had just come from the acclaim of the cult black comedy Heathers (1989) and the same year as this also made the much more modest talking bug black comedy Meet the Applegates (1991). Lehmann has since gone onto make the more mainstream likes of Airheads (1994), The Truth About Cats and Dogs (1996) and 40 Days and 40 Nights (2002) but has since the mid-2000s directed for television.
---
Trailer here
---