---
USA. 1998.
Crew
Director – John Landis, Screenplay – John Landis & Dan Aykroyd, Producers – Dan Aykroyd, John Landis & Leslie Belzberg, Photography – David Herrington, Music – Paul Shaffer, Visual Effects – Available Light Inc (Supervisor – John Van Vliet) & Optical Illusions, Special Effects Supervisor – Martin Malvoire, Ghost Rider Effects – Steve Johnson's XFX Inc, Production Design – Bill Brodie. Production Company – Universal.
Cast
Dan Aykroyd (Elwood Blues), John Goodman (Mighty Mack McTeer), J. Evan Bonifant (Buster), Joe Morton (Commander Cabel Chamberlain), Nia Peeples (Lieutenant Elizondo), Kathleen Freeman (Mother Mary Stigmata), Erykah Badu (Queen Mousette), Steve Cropper (Steve 'The Colonel' Cropper), Donald Dunn (Donald 'Duck' Dunn), Murphy Dunne (Murph), Willie Hall (Willie 'Too Big' Hall), Lou Marini (Blue Lou), Tom Malone (Tom 'Bones' Malone), Alan Rubin (Mr Fabulous), Matt Murphy (Matt 'Guitar' Murphy), Aretha Franklin (Mrs Murphy), James Brown (Reverend Cleophus James), B.B. King (Malvern Gasperon)
---
Plot
Elwood Blues is released from jail, only to learn that his brother Jake has died while in incarceration. Forming a new band along with a bartender, a juvenile delinquent and a police chief whose personality has been miraculously transformed during a Gospel mission, Elwood sets out to reunite the remaining members of the backup band and play a new gig. However, this is a journey that turns into a massive cross-country chase as they are pursued by police, Russian mafia and right-wing militia groups.
---
The original The Blues Brothers (1980), although disliked by most critics at the time of its release, became a cult classic. Borderline fantasy at most, its enduring appeal lay somewhere between a great blues soundtrack, its anarchically surreal parody of a car chase movie and the laconically cool duo of Dan Aykroyd and John Belushi.
This sequel, made fifteen years on, reunites one half of the title duo, Dan Aykroyd, and original director John Landis, who has failed to make anything that has the freshness of The Blues Brothers in the time between the two films. And despite his replacement by three other characters, the absence of John Belushi, who died of a heroin overdose in an L.A. motel room in 1982, hangs over the entire reunion exercise and leaves it with an odour of bad judgement.
Indeed, not unlike the various reunion concerts performed in recent years by bands such as Kiss, The Eagles and The Sex Pistols, the reunion smacks of a cynicism – of former creative forces sunken into a flabby and unbecoming middle-age whose get-together has been motivated less by a desire to explore new creative directions than of a desire to milk fans' nostalgia for more money. (Around the same time, Dan Aykroyd also authorized The Blues Brothers Animated Series (1997), but only eight episodes were ever made and the show was cancelled before they ever aired).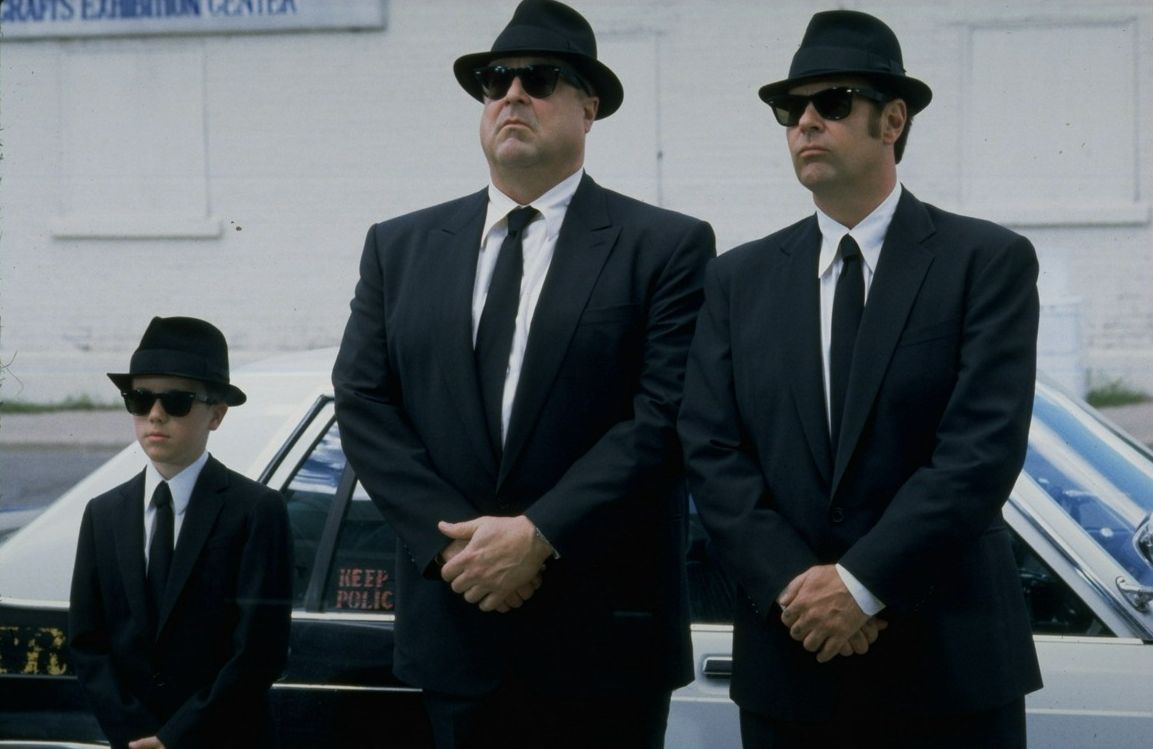 Sadly, Blues Brothers 2000 is all of these things. It lacks any original ideas. The plot simply rehashes that of the first film – Blues Brothers(s) get out of jail and sets about reuniting the band and a quest, which, as the film progresses, escalates into a surreally overblown chase with the police and various terrorist groups. The plot traipses from one incident to the next without anything except the musical numbers to hold it together. Indeed, the end of the film seems to peter out of plot altogether and anti-climactically ends by trying to get as many famous blues legends as possible on stage for a massive jam session. The sequel even lacks the original's deadpan anarchism – there is one sequence with about fifty cop cars all piling into one another that goes on and on for about five minutes in a numbingly excessive way.
Blues Brothers 2000 is a good deal more fantastic than its predecessor – miraculous personality changes in the midst of a gospel mission; the Blues Brothers transformed by a voodoo priestess into green-skinned zombies for a calypso number; an appearance of the Four Horsemen of the Apocalypse above the stage during one performance. Why, one might ask? One might indeed ask but to do so might serve as much purpose as asking what the '2000' in the title refers to. The only answer would seem to lie in the same sense of haphazardness with which the film itself appears to have been slung together.
John Landis's other genre films include:- the monster movie parody Schlock (1973), An American Werewolf in London (1981), the infamous first segment of Twilight Zone – The Movie (1983), the famous MTV video for Michael Jackson's horror movie homage Thriller (1983), the lame spy comedy Spies Like Us (1985), episodes of Amazon Women on the Moon (1987), the vampire film Innocent Blood/A French Vampire in America (1992), the gonzo comedy The Stupids (1996) and a comedy version of the story of the historical grave robbers Burke & Hare (2010). Landis has also produced various genre tv series such as Weird Science (1994-6), Honey I Shrunk the Kids (1997) and The Lost World (1999).
---
---