(Guo Chan Ling Ling Qi)
---
Crew
Director – Stephen Chow.
Cast
Stephen Chow (Ling Ling Chai), Anita Yuen (Li Heung Kam)
---
Plot
The Chinese are trying to transport a dinosaur head that is a national treasure. This is then stolen and their operatives killed by a criminal organization headed by an armoured and visored mastermind who wields a powerful golden handgun. Secret service head Commander Chang recalls back into action Ling Ling Chai, a bumbling agent who has been out of service and working in the provinces as a pork vendor for ten years. Chai goes to Hong Kong to track down the Man with the Golden Gun. However, the Man with the Golden Gun is in fact Commander Chang who dispatches a female assassin Le Heung Kam to kill Chai.
---
While all attention focuses on Jackie Chan, countryman Stephen Chow is a much less known actor/director whose work is far more witty and sophisticated than Chan's knockabout slapstick. Stephen Chow first appeared as a children's tv host in the series 430 Space Shuttle (1983) and then on film in various martial arts films and comedies beginning from 1988, with his first starring role being in the gambling comedy All for the Winner/God of Gamblers II (1990). Stephen Chow's funniest work has been when he has taken the director's chair and From Beijing with Love was his first outing as director, as well as star.
Chow would go onto direct/star in other wittily sophisticated works such as the almost indescribable Forbidden City Cop (1996); The God of Cookery (1996) about rivalry between television chefs; The King of Comedy (1999), a sharply observed spoof of the Hong Kong film industry, Shaolin Soccer (2001), which combined flying martial arts of the Wu Xia cycle with soccer, before having great crossover success in the West with the Wu Xia parody Kung Fu Hustle (2004) and then going onto the children's film CJ7 (2008), Journey to the West: Conquering the Demons (2013) and The Mermaid (2016), as well as producing the English-language Dragonball: Evolution (2009).
From Beijing with Love is Stephen Chow's spoof-come-homage to the James Bond films. In fact, it is probably the best Bond send-up ever made and a dozen times funnier than Austin Powers, International Man of Mystery (1997) and any of its sequels and imitators. Chow cheerfully acknowledges the Bond films at every opportunity – he copies their music, there is a character named The Man with the Golden Gun and another modelled after the steel-toothed henchman Jaws. At one point, Chow is even seen looking at a collection of Bond pictures and videotapes as he tries to get himself back in training.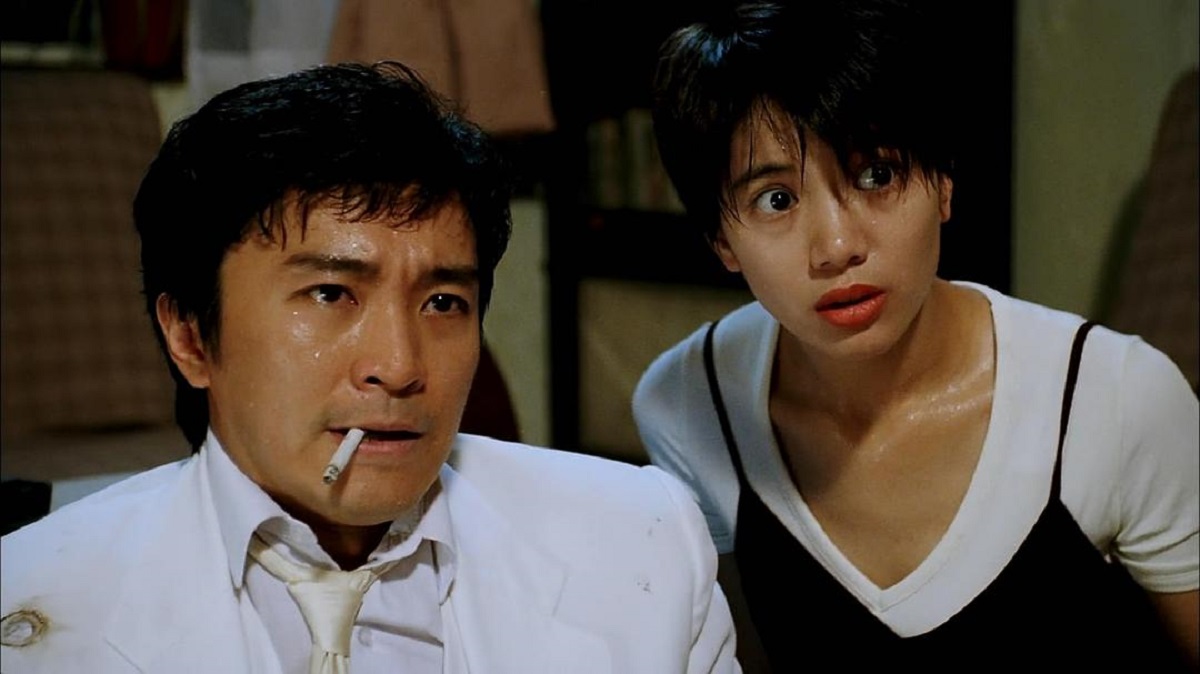 Parts of the film cheerfully send-up entire sections of the James Bond films – like the Maurice Binder credits sequence where the shadow silhouetted figure swings a woman around and we then hear glass shattering as he accidentally drops her off-screen; or of the end of the Bond films where we usually see Bond making out with the woman of the show.
However, From Beijing with Love is considerably more than just a string of cute parrotings of its models. Stephen Chow has an infectiously light touch with the comedy. There are a number of wonderful scenes – like where he demonstrates a cellphone that is really an electric razor, an electric razor that is really a hairdryer and a hairdryer and shoes that are really electric razors; his attempts to leap over a wall using the spring-loaded briefcase; the firing squad victim who manages to escape in a deft display of the wild martial arts that usually inhabit Hong Kong's fantasy films only to be bazookaed down as he flies off into the air; even touches like the cigarette butt that remains glued to Chow's bottom lip as he entertains the party on the piano.
The most memorably funny scene is the one where Anita Yuen removes the bullet from Stephen Chow's leg with a chisel and he uses a pornographic video to distract himself during the operation, a scene that in its absurdity also manages to be surprisingly tender.
---
---