---
USA. 1998.
Crew
Director – Abel Ferrara, Screenplay – Abel Ferrara & Christ Zois, Based on the Short Story The New Rose Hotel by William Gibson, Producer – Edward R. Pressman, Photography – Ken Kelsch, Music – Schoolly D, Mattes – Paul Killian, Production Design – Frank DeCurtis. Production Company – Quadra Entertainment/Edward R. Pressman Productions.
Cast
Willem DaFoe (X), Christopher Walken (Fox), Asia Argento (Sandii), Yoshitaka Amano (Dr Hiroshi Imori), Annabella Sciorra (Madame Rosa)
---
Plot
Fox and X, two industrial espionage experts who specialize in stealing industrial talent and selling it to rival corporations, plan an elaborate scheme to lure the brilliant but bored geneticist Dr Hiroshi Imori away from Maas Biolabs. As part of the plan, they offer a prostitute Sandii one million dollars and train her to seduce Hiroshi at a conference in Vienna. However, the operation is endangered when X falls in love with Sandii.
---
With the publication of Neuromancer (1984), William Gibson took the science-fiction world by storm. Neuromancer made a clean sweep of the Hugo, Nebula and Philip K. Dick Awards in the year it was published. William Gibson's vision of a densely detailed future, vying between corporate echelons and a teeming streetlife packed with hi-tech hackers and rogue genetic engineers, and a background filled with affectedly casual information-dense in-references to brand name technological and pop culture innovations heralded a stylistic revolution, the likes of which science-fiction had not quite seen before. Gibson's was a vision of the future that was neither utopian nor dystopian but a complex sociological extrapolation of the here and now. This made William Gibson into a cult figure. A small concept of his known as 'cyberspace' inflamed the metaphoric imagination of the just-impacting paradigm of the Internet and World Wide Web and Gibson's works soon became regarded as manifestos by hackers and computer geeks.
Cyberpunk, as the movement that William Gibson created became named, may be the first occasion where filmed science-fiction has presaged a trend in literary science fiction. The vision that Gibson was aiming for was beaten to the punch by Blade Runner (1982), which Gibson confesses nearly made him give up writing Neuromancer. Since Blade Runner, filmed Cyberpunk has fared variably. Most Cyberpunk efforts – the likes of the tv series Supercop (1990-2), Harley Davidson and the Marlboro Man (1991), Freejack (1992), Nemesis (1993), Virtuosity (1995) and, at their best, the Robo-Cop films – were happy to take the look of Cyberpunk but only used it for routine action film variants. There have, however, been a handful of more thoughtfully minded efforts – the tv series' Max Headroom (1985, 1987-8), Wild Palms (1993) and Altered Carbon (2018-20) and films like Hardware (1990), Cybertech P.D. (1995), Nirvana (1997) and Strange Days (1995), as well as anime such as Ghost in the Shell (1995) and Ghost in the Shell 2: Innocence (2004) – but the majority has proven to be disappointingly run of the mill dross.
William Gibson's work has been popular with filmmakers. Neuromancer has been oft-announced as a project, at one point under Russell Mulcahy, more recently from Vincenzo Natali. So too has a script for Burning Chrome written by Gibson himself, which has passed through several hands including James Cameron. The short story The New Rose Hotel (1981) was at one point a project being developed by Strange Days director Kathryn Bigelow, while in the late 00s Peter Weir was planning a version of Pattern Recognition (2003). William Gibson was also hired as a scriptwriter on Alien3 (1992) at one point. Out of these, the only Gibson film to make it to the screen so far, aside from a couple of scripts he wrote for The X Files (1993-2002, 2016-8), has been Johnny Mnemonic (1995), for which Gibson adapted his own short story. Although not liked by many, this is a competent enough airing of most of the basics of William Gibson's work. Gibson is also the subject of the documentary No Maps for These Territories (2000).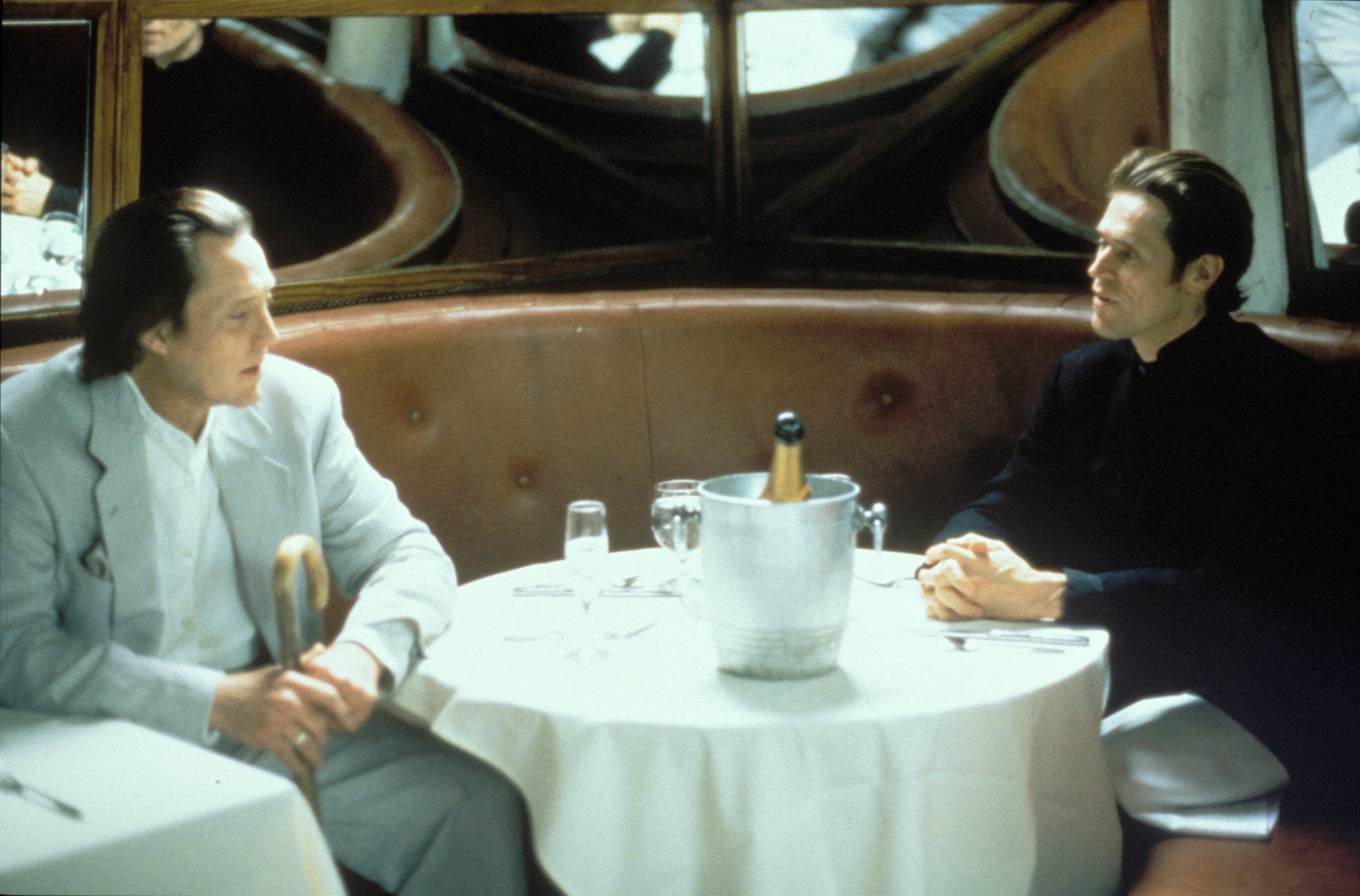 New Rose Hotel comes to the screen courtesy of director Abel Ferrara. Abel Ferrara is known for works of grim, unrelenting social realism such as The Driller Killer (1979), The King of New York (1990) and Bad Lieutenant (1992). Ferrara has frequently strayed into the horror-fantasy genre with various efforts (see below).
Abel Ferrara's approach is almost completely the opposite of William Gibson's. Where William Gibson is fascinated by the details of the background of his future – sometimes at the expense of characters and plot – Ferrara is completely disinterested in the background of the future in this film. He sketches such details in the most minimal terms possible – it is never clear, for instance, that the titular establishment is meant to be a Japanese coffin hotel. There are no Blade Runner-esque densely packed city streets, nor any of the flourishes of cool technological innovation that Cyberpunk delights in. The film shows off an internationality – the credits, for instance, are shown in several different languages – and claims world-spanning locations from Berlin to Marrakesh to Tokyo. Despite which though, New Rose Hotel never travels beyond bars or hotel rooms and we see almost no exteriors. A brief street scene in Morocco looks like it has been shot on video and edited in.
The film itself is shot mostly in tight closeups as though intended direct for video release, which is somewhat disconcerting on the eye in a theatre. Another director or a better-budgeted production of the story would have concentrated on the caper aspect of the story and the seduction of the scientist or built up the climax of the film where the two protagonists identities are erased and they find themselves on the run but Abel Ferrara seems wholly disinterested in any of these. The sting takes place off-screen – we never even get to meet the scientist except as someone who is being watched on a videoscreen – and the chase aspect is directed in the most cursory way possible – simply Christopher Walken and Willem DaFoe facing several assassin on a balcony and Walken jumping off.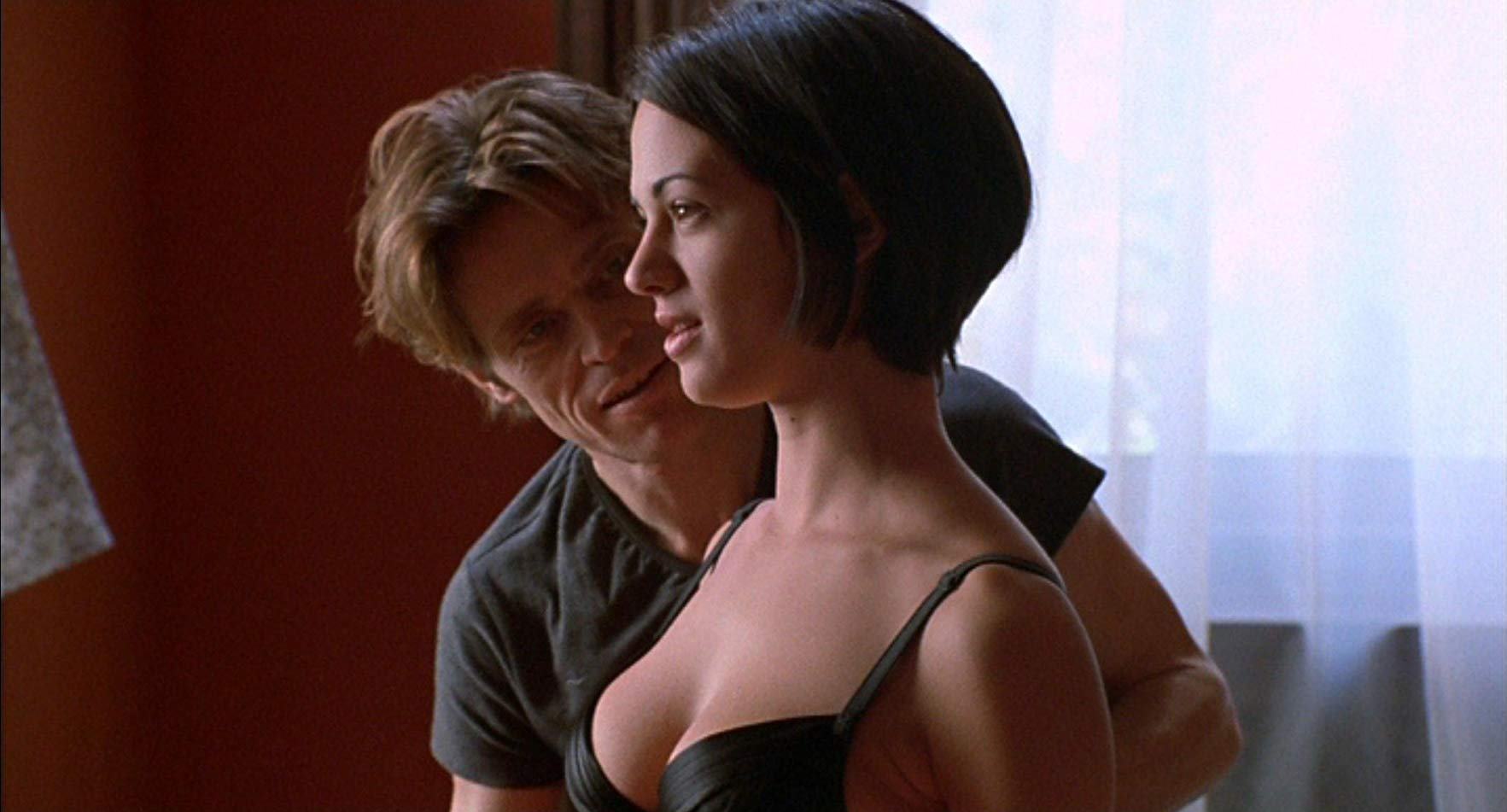 Part of the reason for this could well be a limited budget. However, Abel Ferrara also has other intentions. For him, William Gibson's background is little more than stage upon which to set the principal drama. The background and thriller mechanics are sketched in minimalistic terms because for Abel Ferrara the story is a character study rather than a thriller. Willem DaFoe and, in particular, frequent Ferrara collaborator Christopher Walken have a ball – so much so it seems that both actors were happy to take associate producer credits on the film. Indeed, if New Rose Hotel did not have the wry sense of humour that Christopher Walken brings to it in the scenes where he explains what is required to Asia Argento, it would be a good deal less engaging than it is. Asia Argento also shines in the part of the alluring femme fatale. In her work for her father, Italian horror-meister Dario Argento – Trauma (1993), The Stendhal Syndrome (1996), The Phantom of the Opera (1998) and Mother of Tears: The Third Mother (2007) – Asia has always comes across flat but demonstrates some real acting talent here. Indeed, it could well be that Asia does her best when away from Argento pere's influence.
Abel Ferrara's films are always challenging – they are thematically audacious, although not always easy to absorb oneself in dramatically. With Ferrara's deliberate eschewal of almost all the dramatic possibilities and the film's concentration into a series of bare, tightly framed closeups, New Rose Hotel is even more challenging than any of his previous films. Nevertheless, whenever Christopher Walken in particular is on screen, New Rose Hotel is absorbing. It is less so in the latter half, particularly the last fifteen minutes or so, which consists of a series of flashbacks with Willem DaFoe mulling over what went wrong in the hotel room that go on for far too long. One can see Abel Ferrara's intent but the length of time devoted to the flashbacks – some ten minutes or so – tire the audience well before the point is made.
Abel Ferrara's other genre films are:– the notorious The Driller Killer (1979), which was banned as a video nasty in several countries; the rape/revenge drama Ms 45/Angel of Vengeance (1981); Fear City (1984) about a serial killer stalking strippers; the worthwhile and underrated remake of Body Snatchers (1993); the vampire film The Addiction (1995); the End of the World film 4:44 Last Day on Earth (2011); and Siberia (2020) with Willem Dafoe on a surreal journey in search of the meaning of life.
(Nominee for Best Actor (Christopher Walken) and Best Actress (Asia Argento) at this site's Best of 1998 Awards).
---
---